This post may contain affiliate links which won't change your price but will share some commission.
Potato Salad with Eggs and Pickles is super easy to make and it tastes incredible. The combination of eggs, pickles and an assortment of herbs make for a decadent, yet simple and unique dish. You can call it Polish Potato Salad if you wish.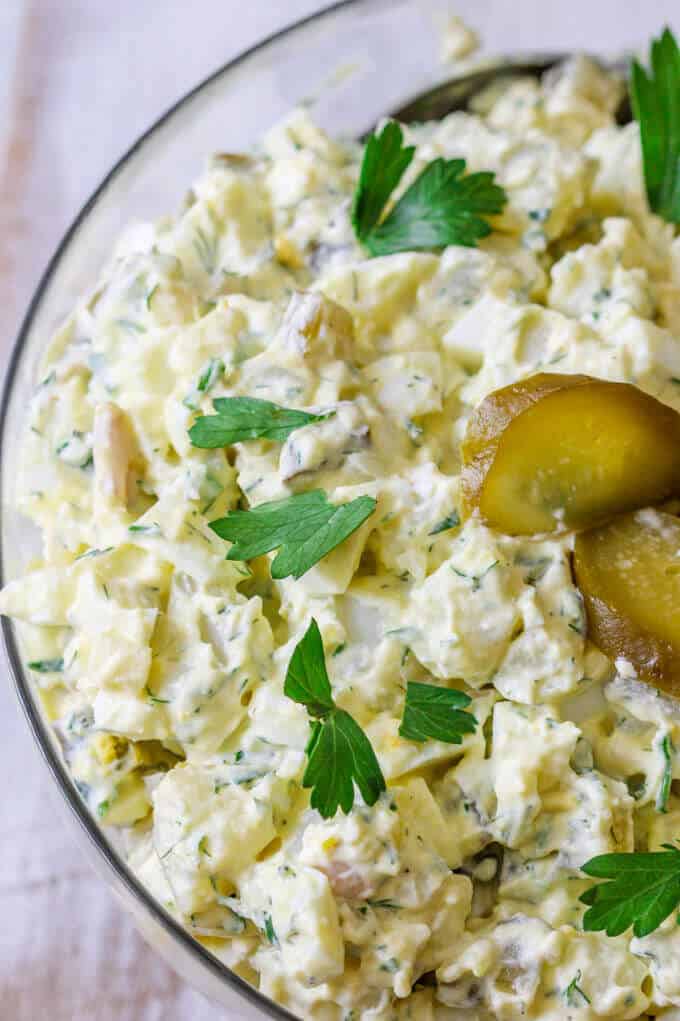 Polish Potato Salad with Eggs and Pickles is A Perfect Addition To Any Meal
Potato Salad with Eggs and Pickles reminds me of the wonderful barbecue dinners that I used to have back in Poland. This dish was a staple at every gathering.
Now, this Potato Salad with Egg and Pickles can act as a perfect addition to your next summer BBQ. It's tangy and refreshing, and it pairs well with a variety of meat.
Alternatively, it can also act as a separate vegetarian dish. However you choose to utilize it, this dish makes for a great accompaniment to any meal.
Different types of Polish Potato Salads
It seems like almost all nations have their own spin on potato salad. Variations differ by type of potatoes, additional ingredients, sauces, and spices; but they all have one thing in common (obviously)….Potatoes.
In all honesty, I think there are a couple of different kinds of potato salads common in Poland. While this post is based after a less typical Polish potato salad, sometimes called the 'Jewish Salad,' the most popular is called the 'Vegetable Salad' ( in a direct translation: "Salatka Jarzynowa", also known as Russian Salad or Olivier Salad).
The Vegetable Salad contains other root vegetables too, usually also peas, sometimes corn, and sometimes apples.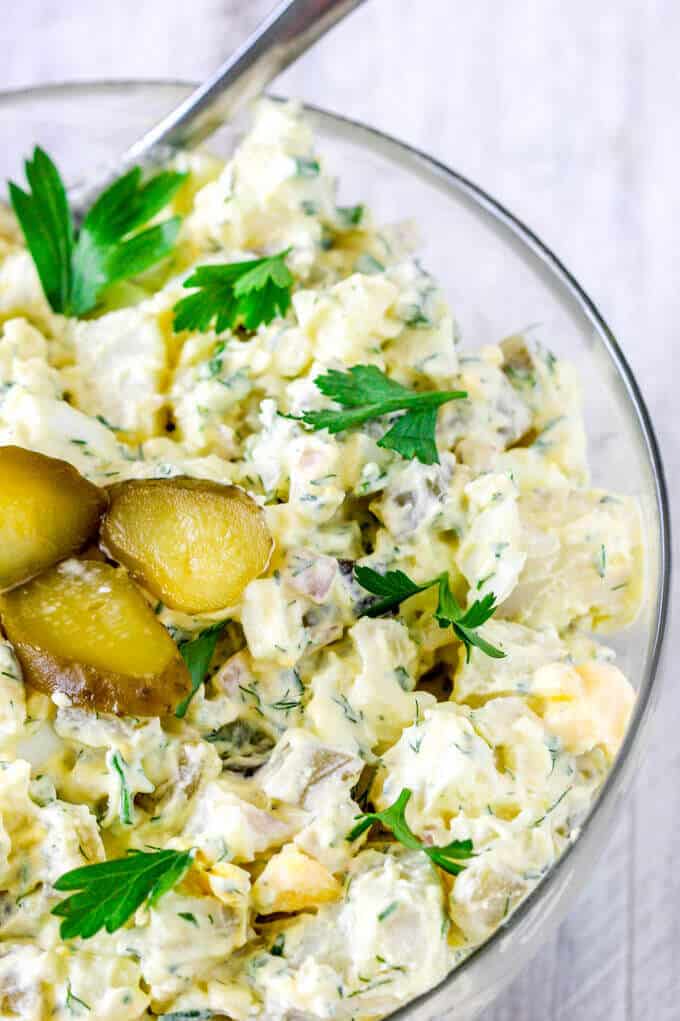 Potatoes – the Most Common Ingredient in Polish Cusine
There are several different schools of thought as to how to make this Vegetable Salad, and for sure you can get it in every Polish house. I usually make mine for Christmas and I will certainly create a post about it in the future.
My family loves it and they always clamor for it around the holidays. I assume that some Poles are actually cringing now, as I term our beloved Vegetable Salad a "potato salad," but it seems to me like it's the right way to categorize it 🙂
Polish cuisine is famous for its use of potatoes. You can find them mashed (like in these Brown Butter Dill Mashed Potatoes), roasted, fried, baked, grated, fried into potato pancakes (like these Super Easy European Style Potato Pancakes), put in pierogis (like these Authentic Polish Pierogi with Potatoes and Cheese), added to soups, and serve as primary ingredients in potato salads.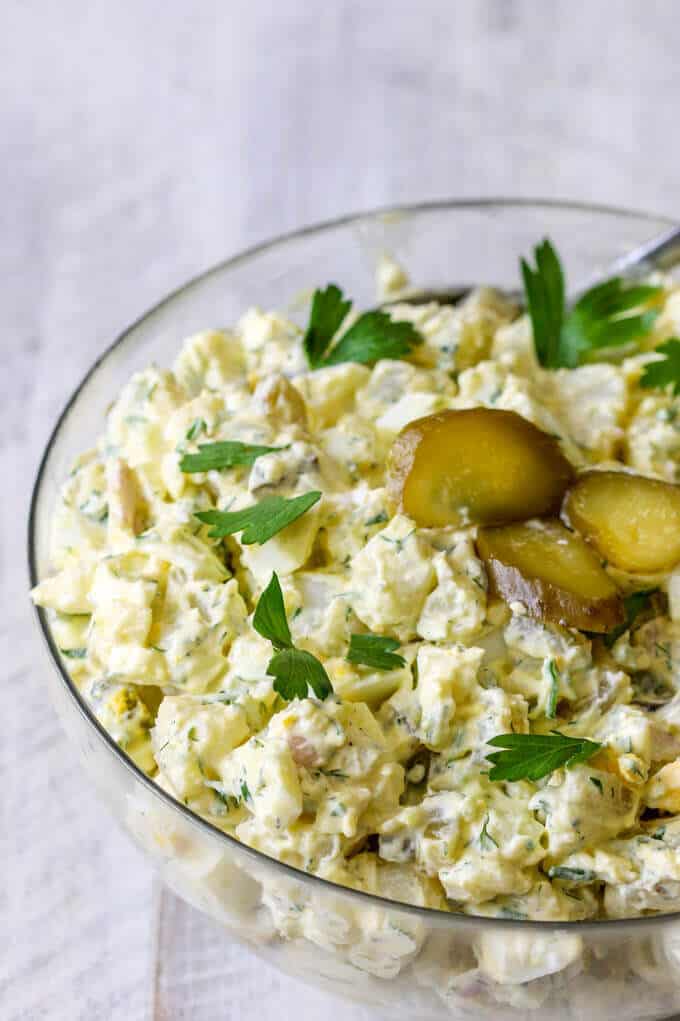 Simple Ingredients in Polish Potato Salad
So, coming back to this Jewish/Polish Salad….it seems like there are a lot of influences between Polish and Jewish cuisine. For example potato pancakes, pickles, chicken soup, stuffed cabbage and many more.
All really speak to me. While I can't really tell you more about the origins of this salad, what I can tell you is that it's delicious!
Traditionally, this Potato Salad with Eggs and Pickles contains:
Potatoes – any kind can work, but I think that russet potatoes taste the best in this salad;
Eggs;
Onions – red onion is the best, but you can also use shallots instead; and
Pickles – they need to be in brine not in vinegar (check this Traditional Polish Dill Pickle Soup where I talk about pickles in brine); and
Here's my secret…I've added 3 types of fresh herbs: parsley, dill, and chives, to really capture the taste of spring in Poland.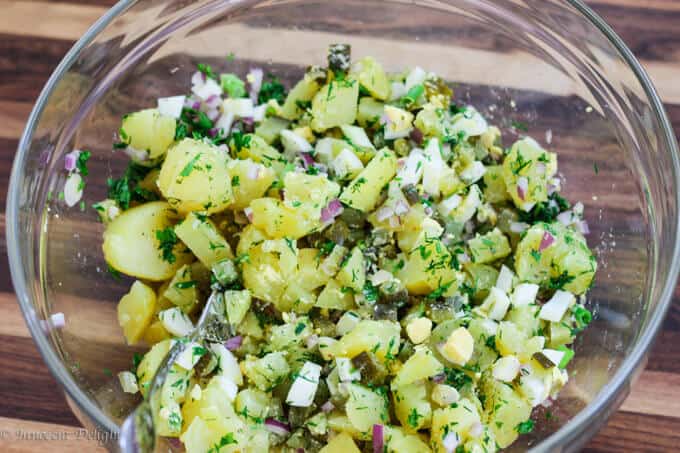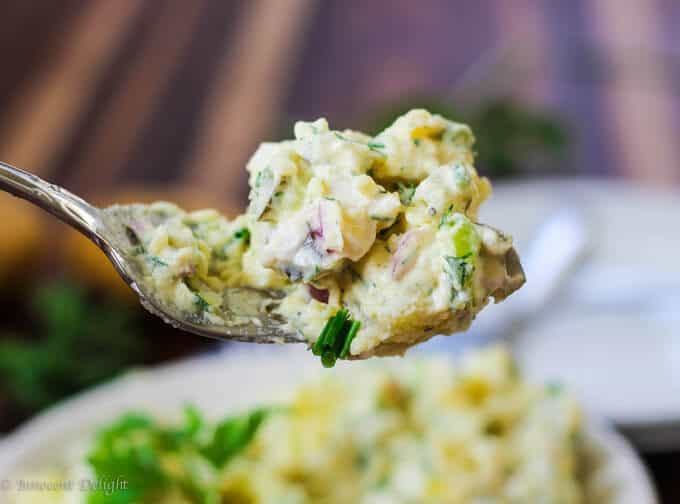 We recently had it with our neighbors who'd invited us over for a BBQ. We paired it with their delicious ribs and shrimp from the grill.
So, if you're looking for some unique addition to your next BBQ, then use this Potato Salad with Eggs and Pickles recipe and neither you nor your guest will be disappointed.
Comments and questions are very welcome. Let me know if you have a favorite potato salad.
Other Recipes with Potatoes to Try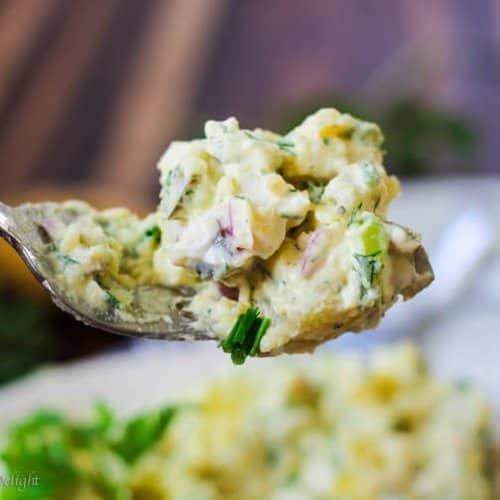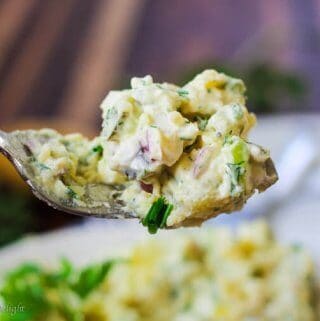 Polish Potato Salad with Eggs and Pickles
Potato Salad with Eggs and Pickles is super easy to make and it tastes incredible. The combination of eggs, pickles and an assortment of herbs make for a decadent, yet simple and unique dish.
Print
Pin
Rate
Ingredients
8

potatoes

small/medium gold

4

eggs

3

pickles

medium, in brine

1/2

red onion

small, chopped

3

green onions

chopped

2

tablespoon

dill, chives, parsley

1/2

cup

mayonnaise

1/2

cup

greek yogurt

plain

2

tablespoon

sour cream

1

tablespoon

Dijon Mustard

Salt and pepper to taste
Instructions
Brush down potatoes and put them into a pot of water. Boil until tender when pierced with fork; about 20-30 minutes

In a medium pot, boil the water for the eggs;

Once the water is boiling, punch the egg shells, add a pinch of salt and place eggs into the boiling water;

After potatoes and eggs are cooked, set them aside and let cool down;

In the meantime chop pickles, onions and herbs and to big bowl;

In a separate bowl, mix together mayo, yogurt, sour cream, mustard salt, and pepper;

Once potatoes and eggs have cooled down, chop them and add to the bowl with pickles, onions, and herbs;
Nutrition
Calories:
246
kcal
|
Carbohydrates:
23
g
|
Protein:
8
g
|
Fat:
13
g
|
Saturated Fat:
2
g
|
Cholesterol:
89
mg
|
Sodium:
379
mg
|
Potassium:
794
mg
|
Fiber:
4
g
|
Sugar:
1
g
|
Vitamin A:
235
IU
|
Vitamin C:
21
mg
|
Calcium:
95
mg
|
Iron:
6.1
mg
This post was originally published on July 9, 2014, and was since then updated to provide additional information.
Read about the author Edyta here or follow Eating European on social media: Facebook, Instagram, Pinterest, and Twitter.
If you like this recipe, you may also like these Polish recipes:
New Dill Potatoes with Scallion Cream Sauce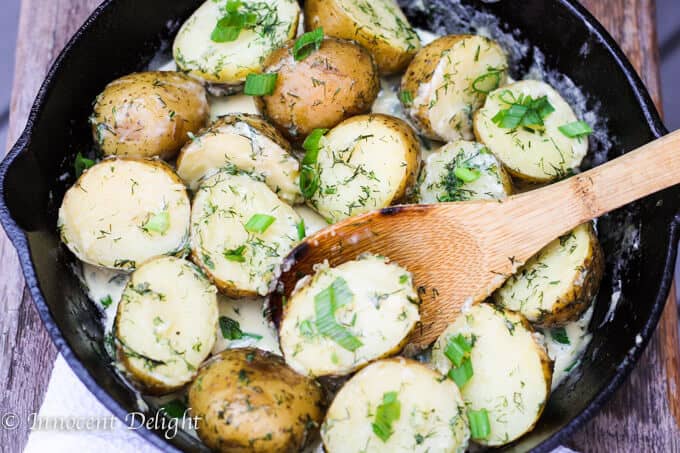 Polish Fluffy Apple Pancakes – Racuchy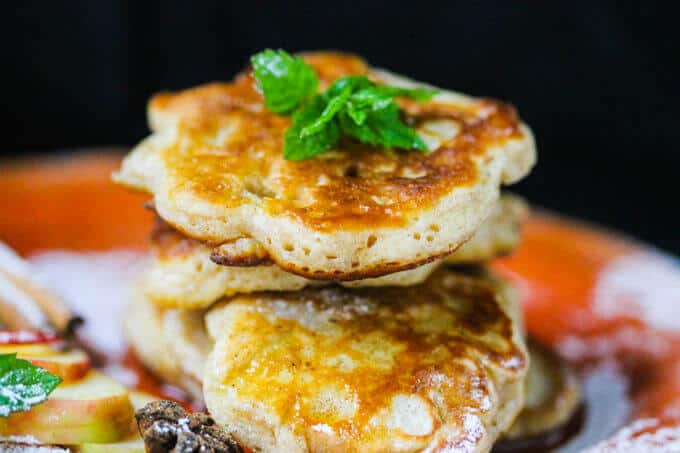 Polish Stuffed Cabbage Rolls – skinny Golabki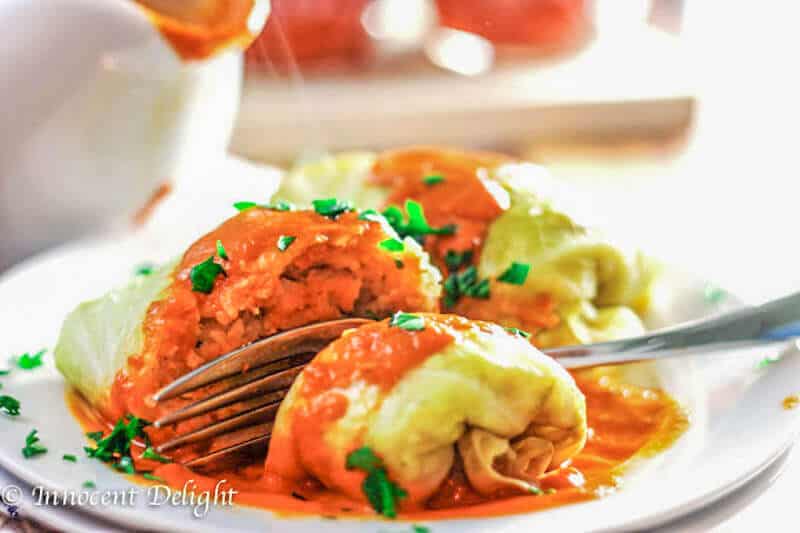 Sauerkraut and Mushrooms Pierogi from Scratch