This post may contain affiliate links which won't change your price but will share some commission.
This Slow Cooker Cabbage Soup is a very simple cabbage soup recipe that requires zero nurturing…. just drop it in a slow cooker and give it time. The list of ingredients is short, and the preparation takes no more than 15 minutes. The rest is done by your crock pot.
Even though it's extremely easy to make, it's not short on taste. The end result is very fragrant and satisfying. This version of slow cooker soup is vegan and gluten-free but the recipe can be easily adapted to your likings or needs.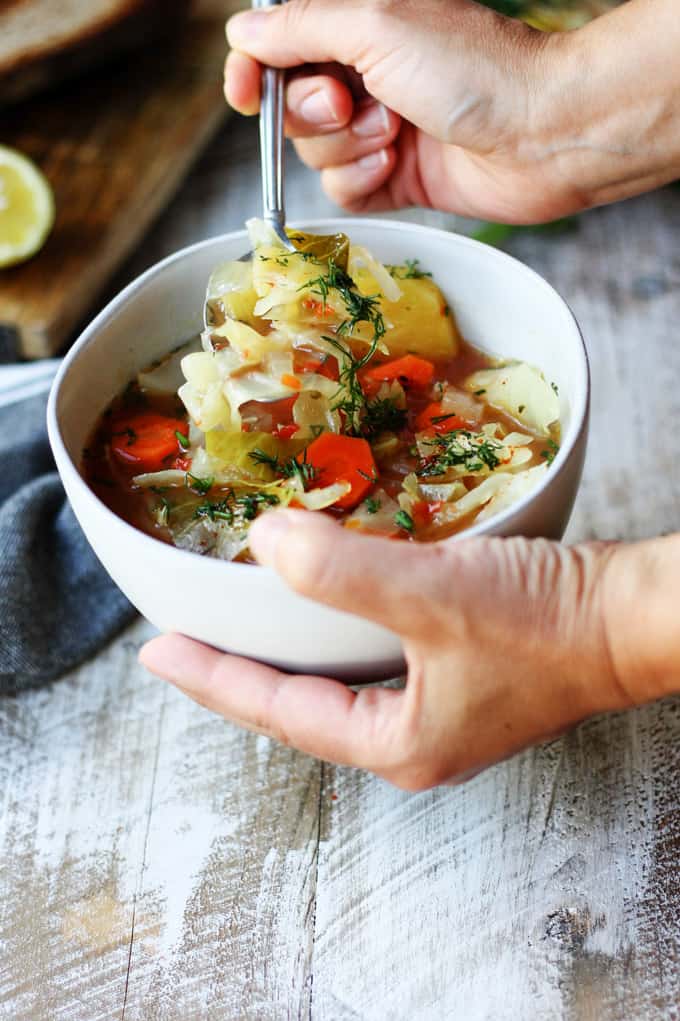 Cabbage Soup is Popular in Europe
It seems like every European and Mediterranean country has its own version of the cabbage soup recipe. In Poland, cabbage soup is called 'Kapusniak' and it can be made from fresh cabbage or sauerkraut.
What you'll find is that this is one of the most popular soups in the summer, and it utilizes the abundance of new cabbage found during the season. However, because the cabbage is available all year long, this soup is perfect during any time of the year.
The cabbage soup is very popular in many European cuisines. In both Polish and Greek versions of this recipe,  you'll find that it's always accompanied by a healthy amount of fresh dill. For some reason, cabbage and dill go hand-in-hand.
I made this Slow Cooker Cabbage Soup based on my Mom's simple cabbage soup recipe. This is a vegetarian cabbage soup or to be more specific….. vegan, but it's very versatile and can be easily adjusted. Below I'll give you some examples of how you can alter this recipe and adjust to your liking.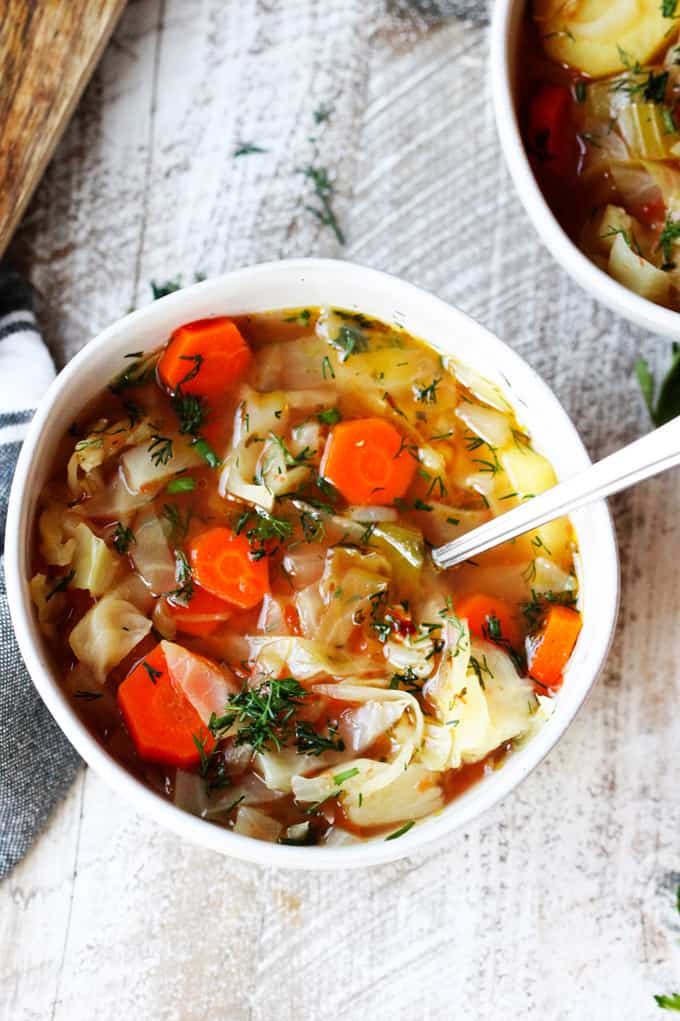 How to make Slow Cooker Cabbage Soup
The simple answer to this question is just throw everything in your slow cooker or crockpot, then set it and forget it. That's how I made it here, but there are a few other options….
This cabbage soup recipe calls for pureed tomatoes. However, these tomatoes are slightly acidic, which makes the broth a little sour. In keeping that in mind, the vegetables (like potatoes, carrots, celery, and cabbage) will require more time because of the acidity in the broth.  But if you want to cook it faster, then avoid adding the tomatoes at the beginning. Add them once the vegetables are almost fully cooked (ie. during the last hour of cooking).
To make the soup richer and more fragrant you could also saute your onions first, with a tablespoon of olive oil on the stove and then add them to the crockpot.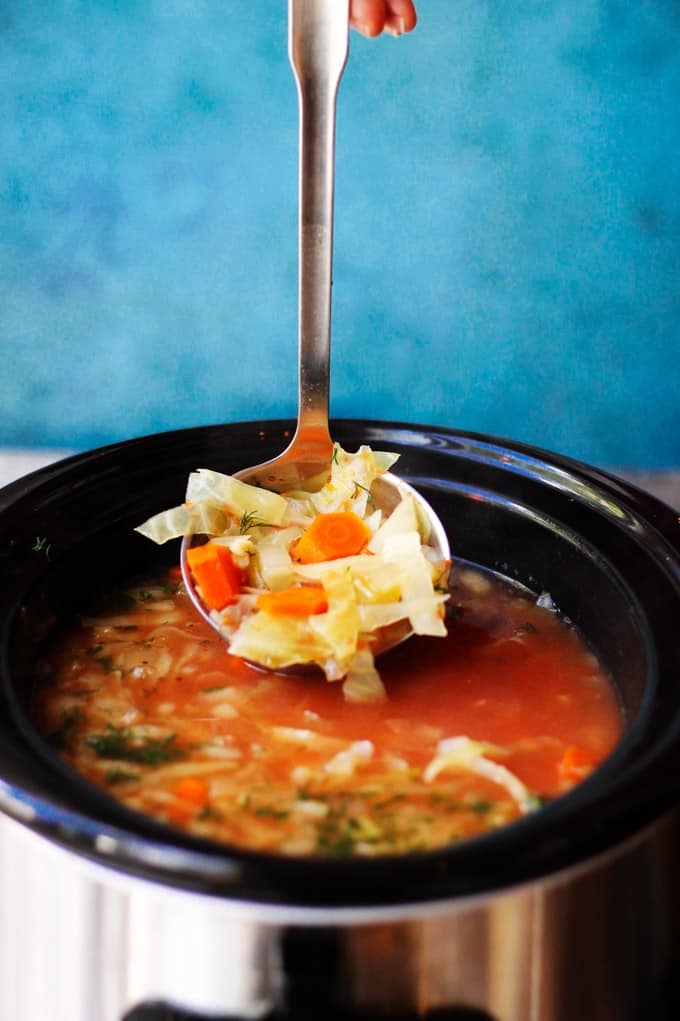 What Ingredients Are Needed for This Cabbage Soup
This slow cooker cabbage soup recipe is made from just a few simple ingredients: vegetables, broth, canned tomatoes, and spices. The list of vegetables is not exclusive. You can modify and add any veggies you'd like.
Mind you, this is not the cabbage soup diet recipe that was so popular a few years back which had tons of different veggies in it but definitely could be. So go for it, be creative and add whatever you like. Here is what I used for this (in my opinion) the best cabbage soup recipe.
Vegetables
New Cabbage;
New Potatoes;
Carrots;
Celery;
Onions;
Parsley.
Broth
I used vegetable broth because I wanted to make a vegetarian cabbage soup. But you can use chicken broth or even a beef broth for more flavor. However, I wouldn't just use water, as you can get an extra boost of flavor from the broth. Use whichever broth you have or like.
Canned Tomatoes
I used pureed canned tomatoes, but you can use chopped tomatoes or tomato paste instead. If you happened to have fresh, good tomatoes, then I encourage you to chop them up and use fresh tomatoes instead of canned.
Spices, toppings
Because you will be using broth, I wouldn't add any salt at the beginning of cooking. All broths have different salt levels, so you don't want to end up with a soup that is too salty. You can always add it at the end and adjust to your needs.
Here again, I suggest adding freshly ground pepper at the end, to fit your taste.
I added marjoram because, according to my Mom (who by the way is an excellent cook too, trained in the food industry), it helps with the digestion of certain cruciferous vegetables, like cabbage. My Mom would always add marjoram to dishes like Kapusta, Bigos or Cabbage with Kielbasa.
I've heard that caraway can be helpful too, and some people may prefer it over marjoram. Add whichever suits your taste.
For a little bit of heat, I love adding Spanish Hot Smoked Paprika. I truly believe that there is no better spice in a world than that. I can literally add it to everything. Yet because my kids' palates shy aware from a spice, and I wanted them to enjoy this soup too, I didn't add it to the crockpot but sprinkled it for the individual servings.
To make this soup very fragrant and fresh add tons of chopped dill! In Poland, we use it all the time. It is so good. (Check this Polish Cucumber Salad or Brown Butter Dill Mashed Potatoes)
And last, but not least, drizzle a healthy amount of good quality Extra Virgin Olive Oil on top of your bowl. Not only does it taste delicious, but the good fats from the olive oil will help with the absorption of nutrients from the soup. A win-win situation.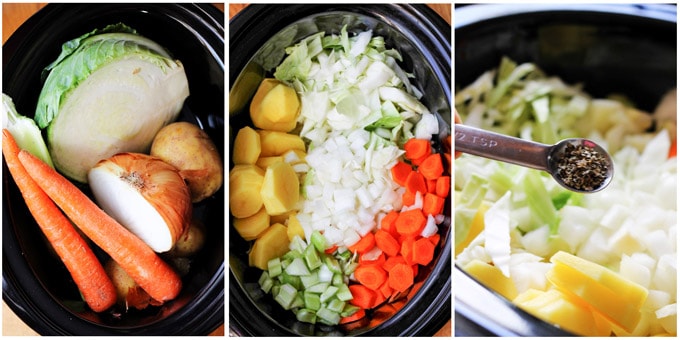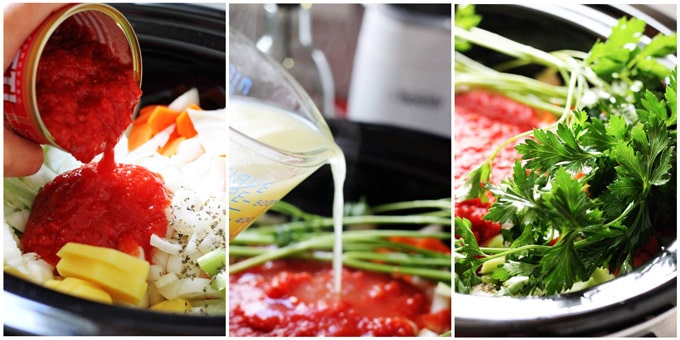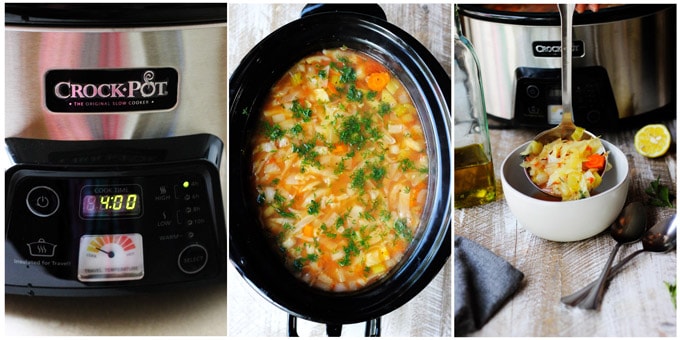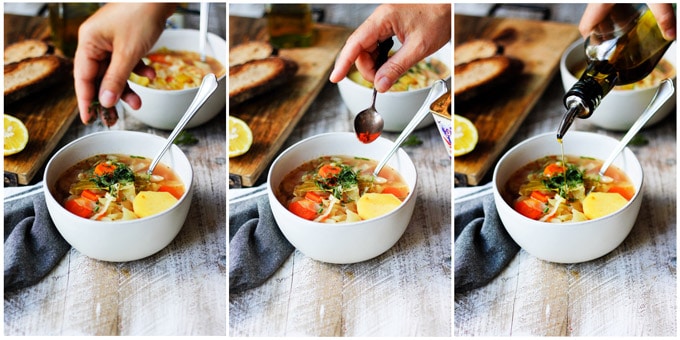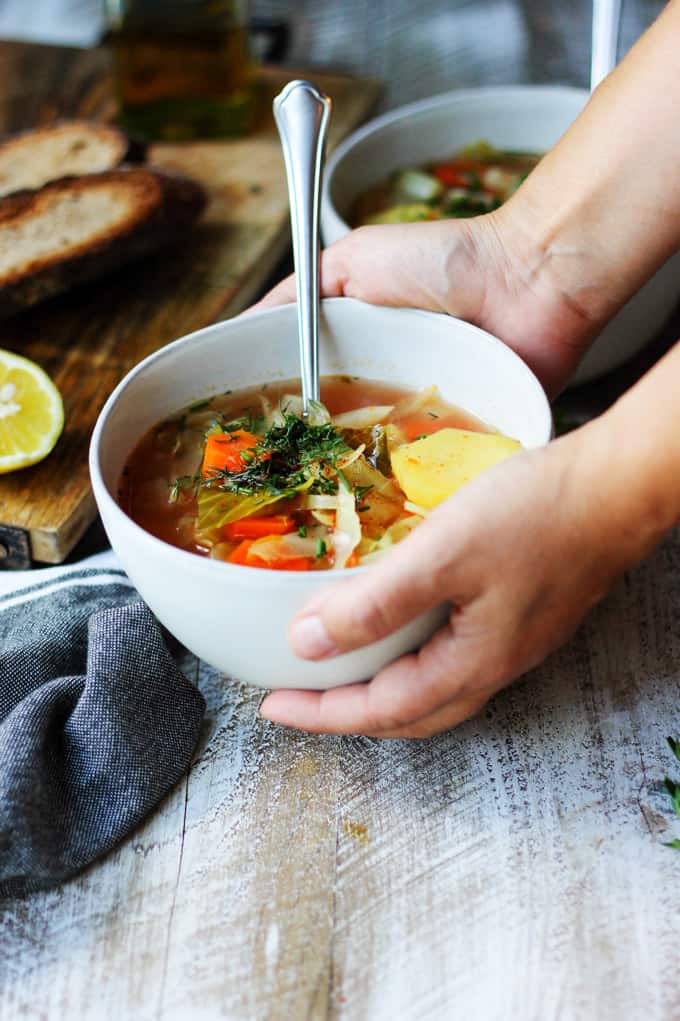 How Long Does It Take to make this cabbage soup in a crockpot
As I mentioned above, if you add tomatoes to your crockpot right away with all the veggies it may take 5-6 hours on high and about 9 hours on low to cook. But, if you chose this option and you're in a rush in the morning and still want to have a soup ready when you return home then add everything to your slow cooker, cover it and cook for 9 hours. It will cook in time and it will still be delicious.
If you do want your soup to cook quicker, then don't add the tomatoes right away.  Add them in the last hour of cooking. This way all your veggies will be soft before you add the acidity to your crockpot. It could take 4 hours on high and 8 hours on low to cook.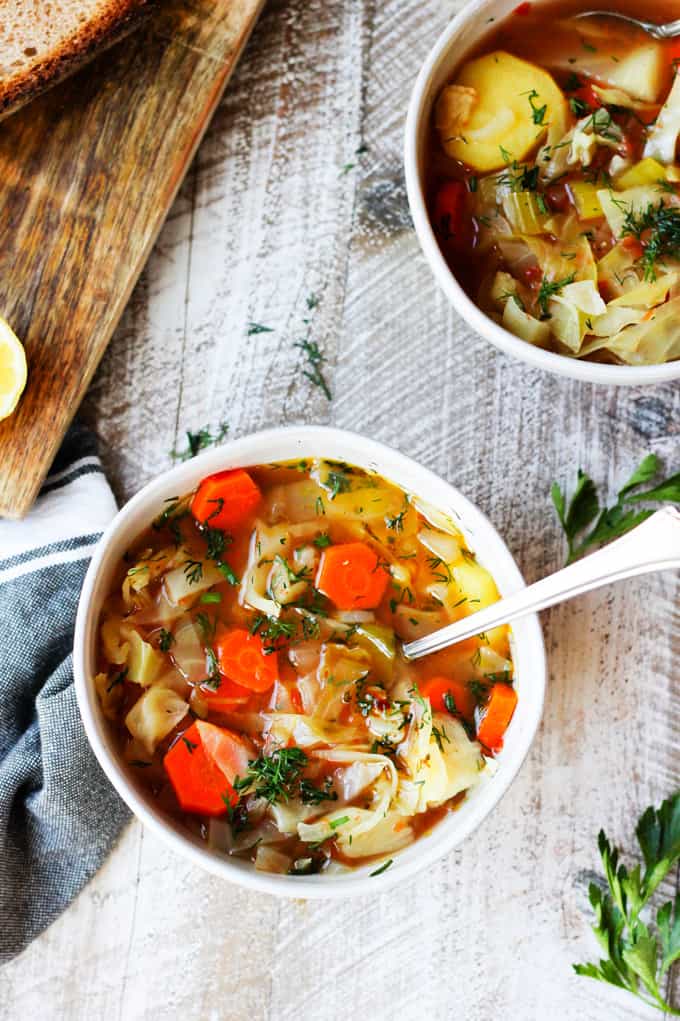 Stove Top Version of Cabbage Soup
If you don't have a crockpot or other slow cooker and you still want to make this soup, no problem. You can cook it all on a stovetop.
To achieve the most flavorful version here, saute the onions first in one tablespoon of olive oil, then add the veggies and broth. Cover and cook for about 45 minutes until the veggies are soft. Add tomatoes and cook for another 15 minutes. Season it to your liking and serve with dill, smoked paprika, and extra olive oil.
How to Freeze the Slow Cooker Cabbage Soup
You can simply place in freezer-safe containers or Ziploc bags and freeze them for up to two months. To defrost it, either use a microwave or place it in the fridge in the evening and then heat it up the next day.
What Additions Can Be Added To This Cabbage Soup
I made my slow cooker cabbage soup "vegetarian", with just the veggies. But you can alter this recipe:
You can add fried Polish sausage (that's really delicious addition);
You can add lentils, chickpeas, or beans for a vegetarian protein;
You can add rice or noodles for more texture.
Whatever version you choose, make sure to add Spanish Smoked Paprika and Olive Oil! You won't regret it! Cheers!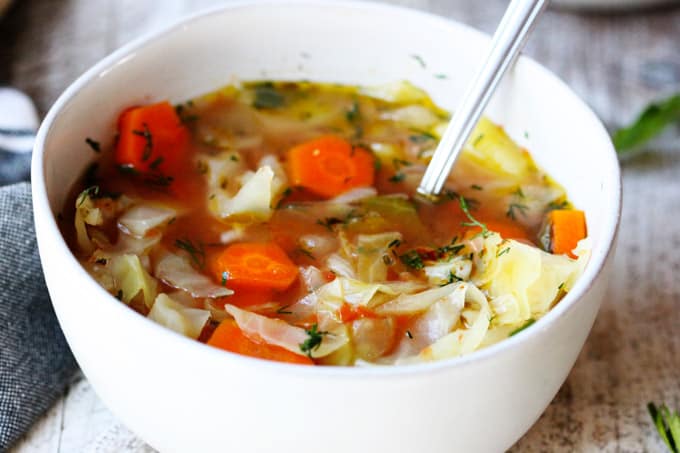 If you're looking for more soup recipes, check these out:
If you're looking for more Slow Cooker recipes, check these out: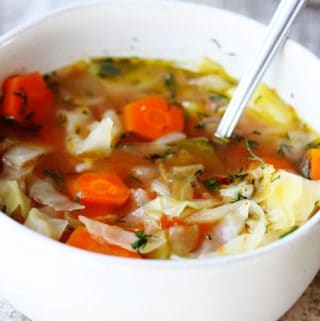 Slow Cooker Cabbage Soup
This Slow Cooker Cabbage Soup is a very simple cabbage soup recipe that requires zero nurturing.... just drop it in a slow cooker and give it time. The list of ingredients is short, and the preparation takes no more than 15 minutes. The rest is done by your crock pot.
Print
Pin
Rate
Ingredients
1/2

head

New Cabbage

chopped

4

Potatoes

medium, yellow, cut in cubes

2

Carrots

medium, chopped

2

sticks

Celery

chopped

1/2

Vidalia Onion

large, chopped

1

can

Tomato Pure

15 oz.

4

springs

Parsley

fresh

1/2

teaspoon

Marjoram

8

cups

Vegetable Stock

Salt & Pepper to taste

1/2

cup

Dill

fresh, chopped

Spanish Smoked Paprika

optional, to serve

3

tbsp

Extra Virgin Olive Oil

optional, to serve
Instructions
To your slow cooker add chopped cabbage, diced potatoes, chopped celery, carrots, and onions.

Add tomato puree, parsley, marjoram, and vegetable stock.

Cover and cook on high for 5 hours or on low for 9 hours until all the vegetables are soft.

Once the soup is cooked add chopped dill. Serve with a pinch of hot Spanish Smoked Paprika and drizzle with Extra Virgin Olive Oil. Crusty Bread is going to be a perfect addition to this light soup. Enjoy!
Nutrition
Calories:
158
kcal
|
Carbohydrates:
25
g
|
Protein:
4
g
|
Fat:
5
g
|
Sodium:
989
mg
|
Potassium:
750
mg
|
Fiber:
5
g
|
Sugar:
6
g
|
Vitamin A:
3525
IU
|
Vitamin C:
40.5
mg
|
Calcium:
78
mg
|
Iron:
4.4
mg
Read about the author Edyta here or follow Eating European on social media: Facebook, Instagram, Pinterest, and Twitter.
This recipe was originally published in September 2018 and was since then updated to provide additional information.