This Greek Lentil soup is called 'Fakes' and it's a staple of traditional Greek cuisine. And its deservingly achieved staple status. Fakes is served with lots of olive oil(!), red wine vinegar, and topped with feta; thereby elevating Lentil Soup to another level.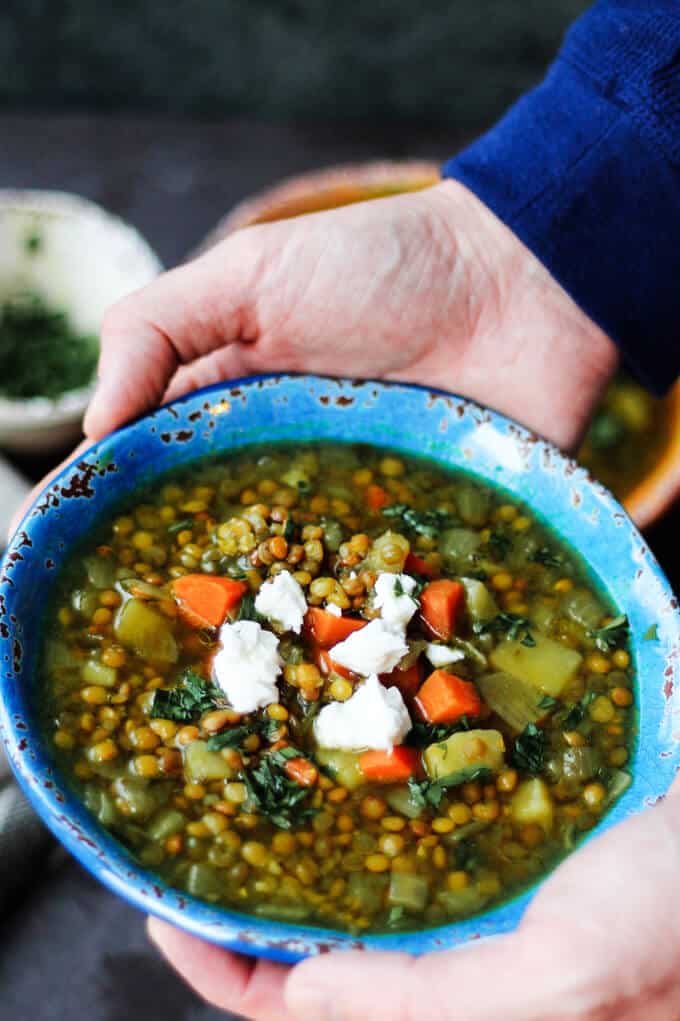 The Best Greek Lentil Soup
So, my friend told me that her husband makes the best lentil soup ever – and typically she's spot on. He's Greek and has some pretty good recipes in his repertoire, like this amazing Greek Spinach Rice with Feta. I had been asking for this soup recipe for a really long time and they finally consented to let it go public.
Recently, he called me and revealed all his little secrets to make this Greek Lentil Soup with Feta outstanding. Keep reading….you won't be disappointed.
What is needed to make the best Greek Lentil Soup
First off, you can use any lentils you want. They differ in the time required to cook, but you'll be able to taste along the way and see if your lentils need more time or are done. I used green lentils, as I always buy them at my local Trader Joe's.
If you want to make this soup creamier you could also use red lentils, as I did in this Tomatoes Red Lentil Coconut Soup.
Next, you'll need some good quality olive oil. As with most Mediterranean cuisines, this soup is cooked with a generous helping of olive oil.
The first secret that my friend disclosed is that he uses just a  bit of olive oil at the beginning to sauté veggies, and the then he bookends it with LOTS of olive oil to drizzle once the soup is cooked. This way, as he put it, 'you can really taste the amazing fresh taste of olive oil in your soup.'
How to Make Fakes (Greek Lentil Soup)
To start this Greek Lentil Soup, you'll need to saute some onions, carrots, and potatoes in olive oil. Traditionally, the potato is not part of this soup, but he adds it to give it another level of texture. And I love potatoes, so I was all in.
After the veggies saute for a couple of minutes, you can add rinsed lentils to coat them with olive oil and veggie juices.
Following this comes the seasoning. According to my friend, you can get a little creative here. He adds a couple of spices that surprised me: some turmeric, and brace yourself for this…a little bit of soy sauce. Who would have thought it…soy sauce in a Greek dish? I gave it a go and absolutely loved it. Use your discretion on that one, but I think it really works.
Then you just add either water or veggie broth and let everybody cook together until veggies and lentils are soft.
Check for seasoning, and add some salt and pepper as required.
Now, time to stick the landing! You can either do it in the pot or once the soup is portioned out into the bowls – I chose the latter. I added soup to the bowls and then drizzled it generously with olive oil and a splash of red wine vinegar.
Then I added crumbled feta cheese and some parsley.
The finished product: UNBELIEVABLE! If you're a lentil lover, you will want to make this Greek Lentil Soup with Feta all the time. I'm sure about that. Enjoy my friends.
Newest Greek Recipes to Try: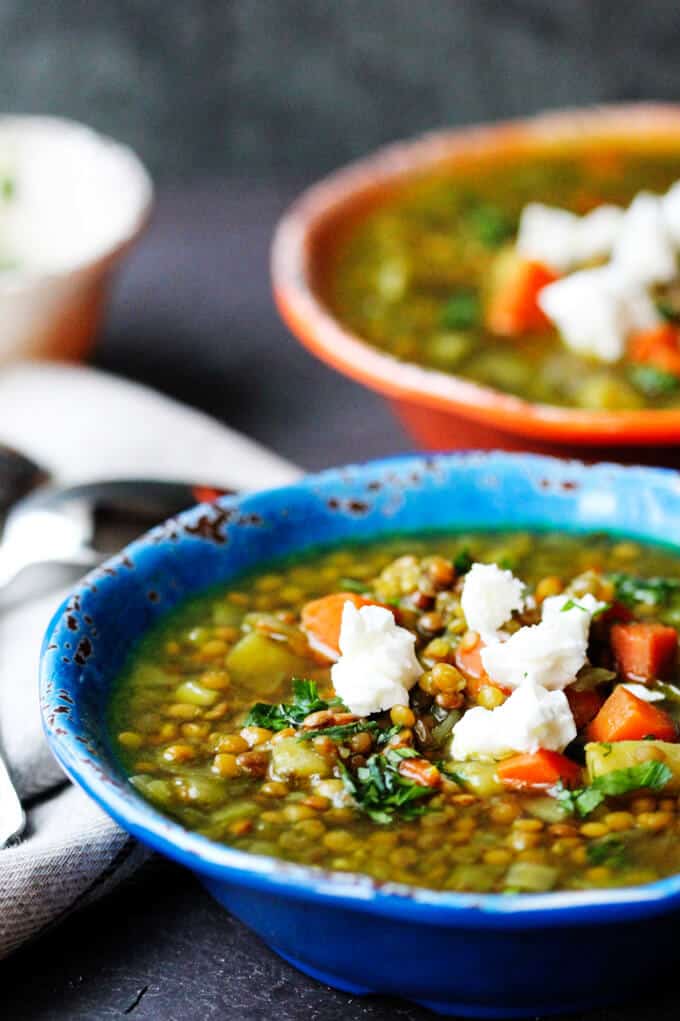 Here is your printable recipe: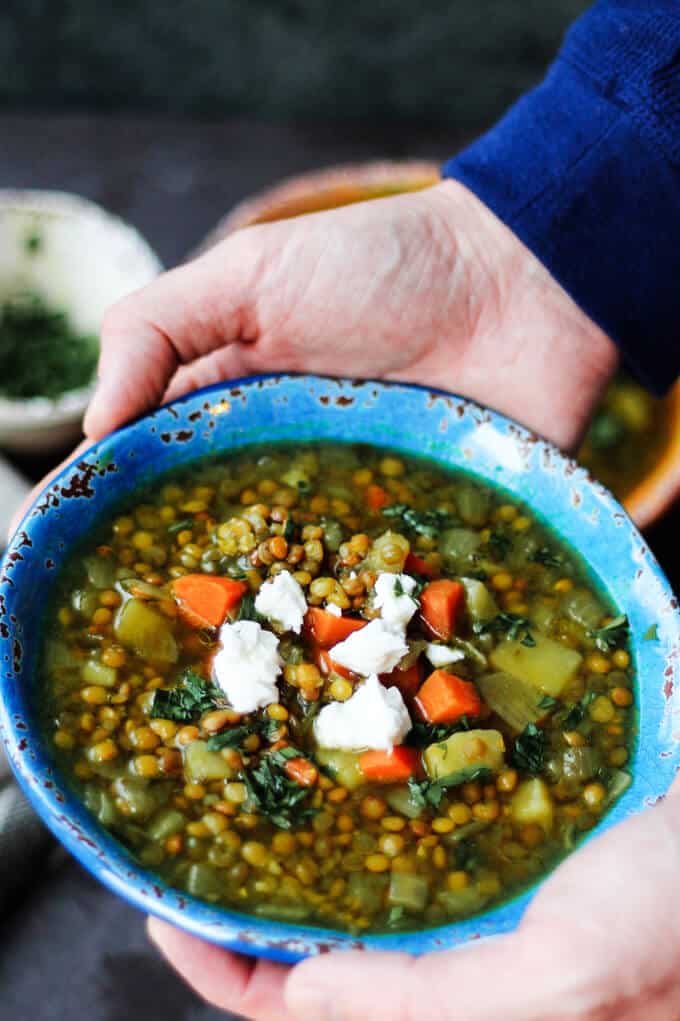 Ingredients
2

tablespoon

Olive oil

For sautéing veggies and about 1/2 to 1 tablespoon per serving (See note 1)

1

Onion

Medium yellow, chopped

1

Potato

Russet, peeled and cubed (See note 2)

1

Carrot

Medium, peeled and sliced

2

cloves

Garlic

Chopped

1

cup

Lentils

Rinsed (See note 3)

1

tablespoon

Soy sauce

, 1/4 teaspoon of turmeric, 1/4 teaspoon of coriander, 1/4 teaspoon of dried oregano - all of these are optional (See note 4)

5-6

cups

Vegetable broth

Or Water ( See note 5)

Salt and pepper to taste

Red wine vinegar

(about 1 teaspoon per serving) ( See note 6)

Crumbled feta

(about 1 teaspoon per serving) ( See note 7)

Chopped parsley for garnish
Instructions
Add 2 tablespoons of olive oil to the dutch oven or other heavy pot;

Add onions and saute for 2-3 minutes until translucent;

Add carrot and potato and saute for another 2 minutes;

Add garlic and cook for a minute;

Add rinsed lentils and let them cook for a minute;

Add spices as you wish (soy sauce, turmeric, coriander, dried oregano, salt, pepper);

Add 5 cups of water or vegetable broth;

Cook for about 30 minutes or until the lentils and vegetables are cooked, add water or broth if needed;

Check for seasoning, add salt and pepper if desired;

Once the soup is cooked, divide into soup bowls, add 1/2 to 1 tablespoon of extra virgin olive oil to each soup, 1 teaspoon of red wine vinegar and 1 teaspoon of crumbled feta;

Add some chopped parsley for garnish;

You can also add a little bit of dried oregano (Greek would be best);

Serve and enjoy.
Notes
1. The secret to the amazing taste of this soup is a fresh extra virgin olive oil added once the soup is cooked.
2. Potato is optional as it is not traditionally part of the Greek soup but it adds texture and tastes great.
3. You can use any lentils you like; they differ in the time they cook but you can always taste them and see if they need more time.
4. All this seasoning is optional; you can use any spices you like.
5. I suggest starting with 5 cups of water or broth and adding more if the soup is too thick.
6. Red wine vinegar, as well as extra virgin olive oil, makes this soup so unique.
7. For the finish touches, you can add crumbled feta, parsley and/or dried oregano.
Nutrition
Calories:
373
kcal
|
Carbohydrates:
44
g
|
Protein:
15
g
|
Fat:
15
g
|
Saturated Fat:
2
g
|
Cholesterol:
4
mg
|
Sodium:
1501
mg
|
Potassium:
776
mg
|
Fiber:
16
g
|
Sugar:
5
g
|
Vitamin A:
64.3
%
|
Vitamin C:
14
%
|
Calcium:
8.1
%
|
Iron:
31.3
%
If you like this recipe you may also like these other Mediterranean recipes:
Kolokhitopita – Greek Zucchini Pie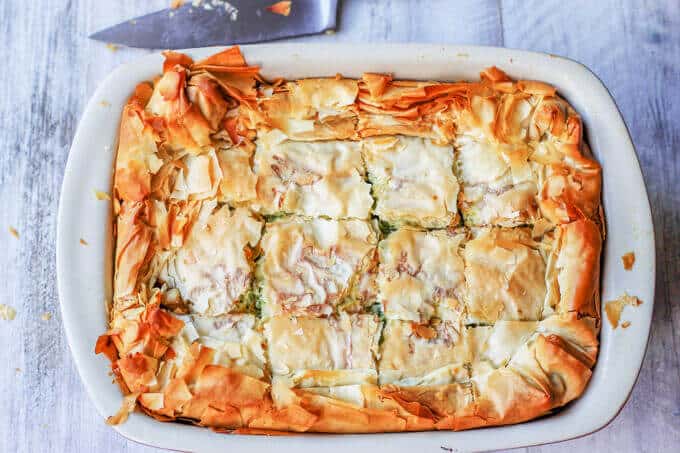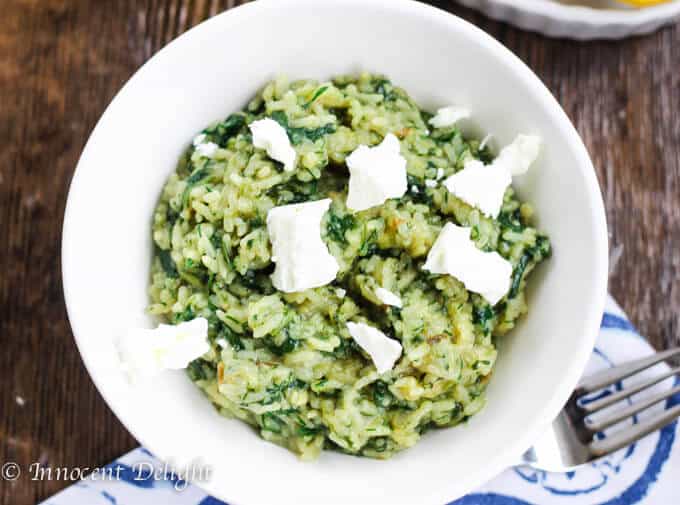 Greek Chicken with Tomatoes, Cauliflower and Feta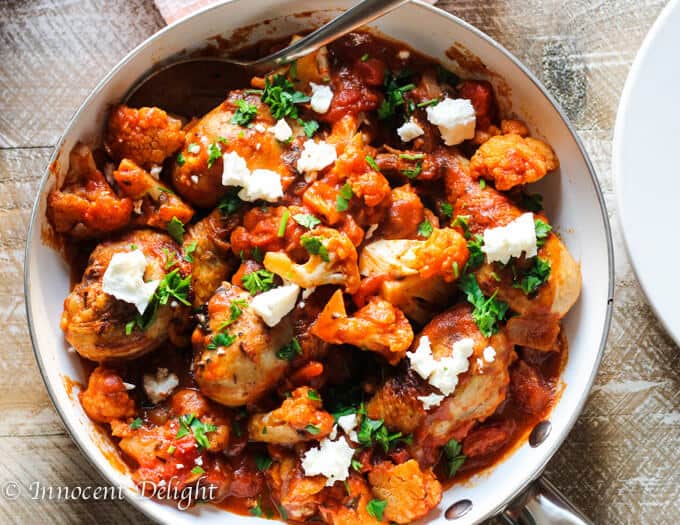 Turkish Inspired Eggplant with Feta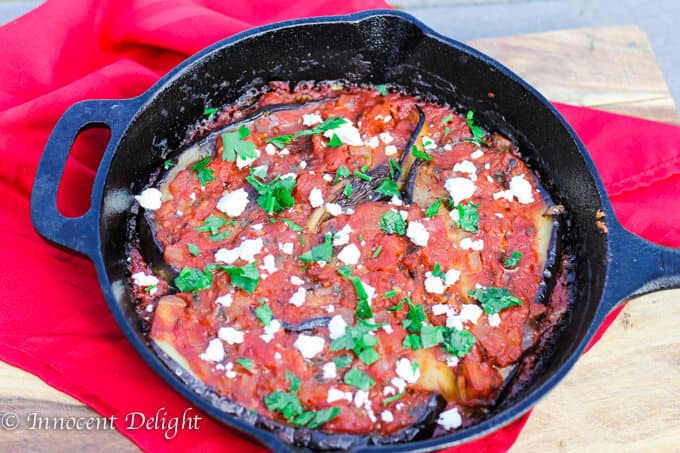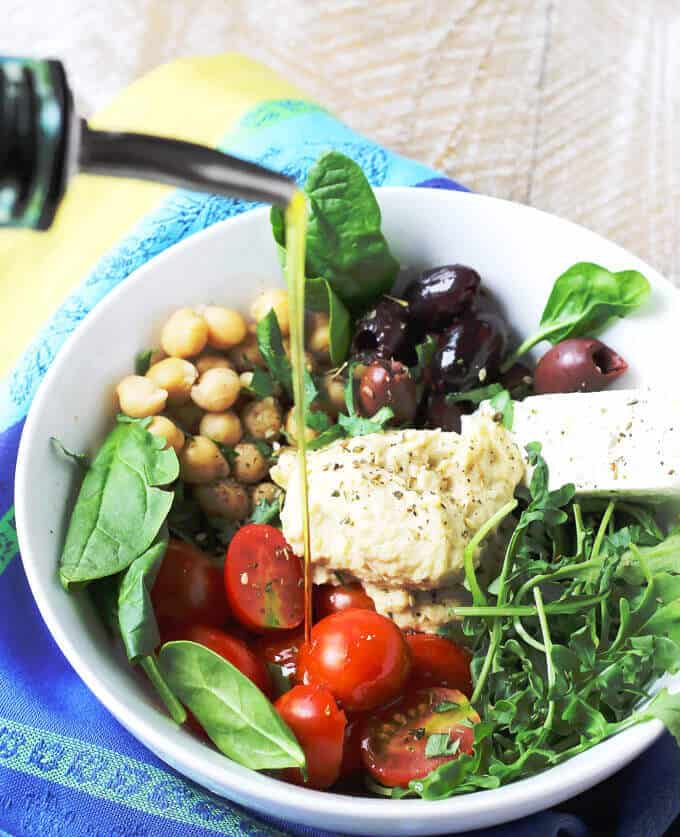 Read about the author Edyta here or follow Eating European on social media: Facebook, Instagram, Pinterest, and Twitter.