This Greek Spinach Rice also known as 'Spanakorizo,' is perhaps one of the most popular, healthy, traditional and authentic of Greek dishes. It has a soft and creamy texture with an abundance of nutrients from the cooked spinach, fresh herbs, lemon juice and extra virgin olive oil.
It can be served as a main dish or as a side dish to any of your favorite meats or fish. Also, you can go vegan with it, if you nix the feta, or vegetarian with its delicious salty feta cheese.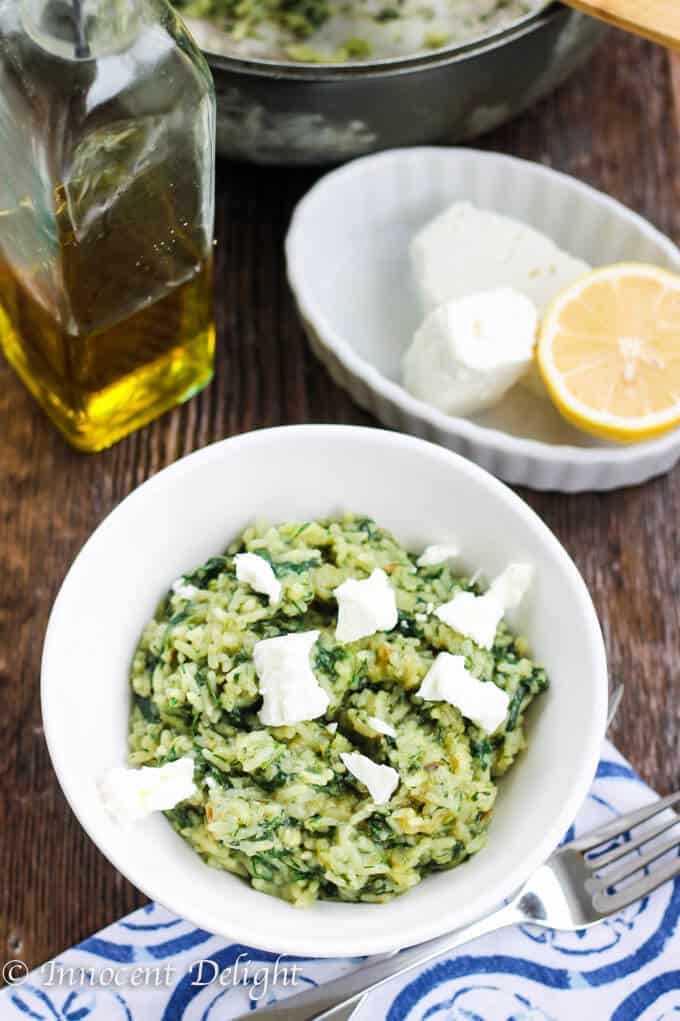 Spanakorizo Recipe, Straight from Greece
This is a great Greek recipe is absolutely one of my favorites! I originally got from my close friend Marta, who had it passed down from her Greek Family (thanks, Marta). So as you can see, this spinach and rice recipe comes straight from Greece and is simply delicious. Ever since I recreated it for the first time, it seems to find its way to our menu at least once a week. It really is that good!!!
Even my husband, who isn't much of a spinach fan, likes this dish. Not to mention, my 2 little kiddos even shovel it down by the pound.  It's a fantastic way to add some green veggies into your loved ones' diet. You'll need to add pretty significant amount of spinach to it, but because it wilts, you cannot really say that there's too many greens in this rice.
Traditionally this Greek rice pilaf is served during winter months, but don't constrain yourself – anytime you have an abundance of Spinach you can make it and enjoy it year round.
How to make Spinach Rice the Greek Way
As my friend Marta would tell you, you shouldn't rush it. It's not one of those dishes that you just throw in a pot and forget about. Rather, you'll need to nurture it along the way; but it is totally worth it. It should take about 45 minutes to prepare it, from beginning to the end, and it will require some stirring along the way, like with a risotto.
Here are the easy steps to follow to make this Greek Spanakorizo (printable recipe can be found below):
In a deep frying pan (affiliate link), heat up some olive oil;
Add onions and cook for 5 minutes;
Then add leeks and dried thyme and cook for another 2 minutes;
Add 1/2 cup of water or broth and then add all of your spinach (let it wilt);
Add rice and let it cook for an additional 2 minutes, to get covered with all the liquids;
Keep adding 1/2 cup of water or broth until rice absorbs it;
It will take about 20-25 minutes until the rice is done;
Adjust seasoning with salt and pepper;
Turn off the heat, add chopped dill, lemon juice & olive oil;
Cover with lid & let sit for about 10 minutes;
Serve with some additional lemon juice, olive oil and Feta Cheese on top.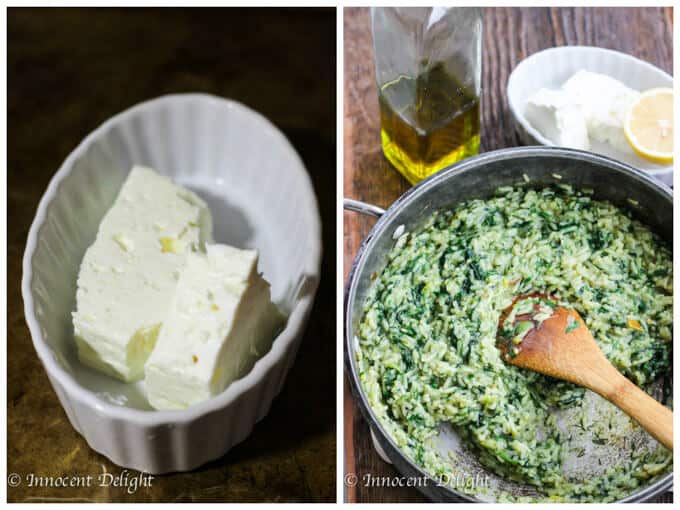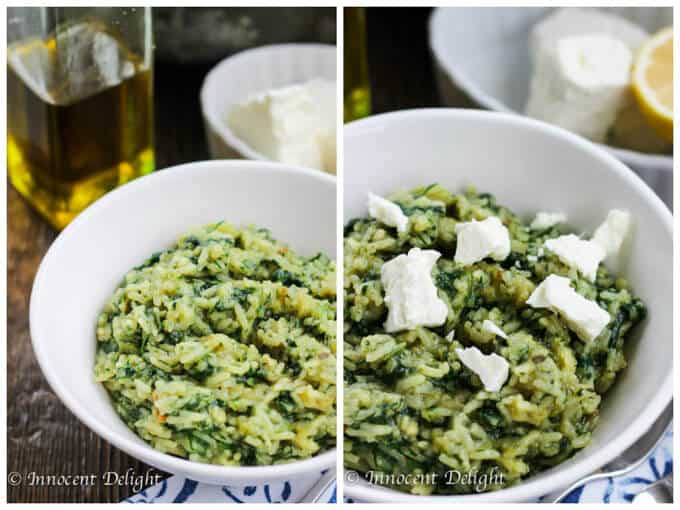 What rice works best for this Greek Rice recipe
The concept of this Greek rice is actually very similar to an Italian risotto. Traditionally Italians use Arborio rice, whereas the Greeks would use a medium or long grain rice for their rice pilaf. However, frankly I think that you can use any rice you have. I usually have Thai Jasmin rice in my house, but recently I bought Organic Indian Basmati from Trader's Joe and it works well for this recipe too.
Now, I assume it doesn't come as surprise that Chinese eat the most rice in the world – over 4 pounds of uncooked rice per person each week. Obviously it's a staple in other Asian countries as well. However, it may come as a surprise that it is pretty popular in Mediterranean countries too.
In Greece the most popular type is long grain rice. It's used in different kinds of pilafs, like this one with Greek Spinach Rice. What is interesting is that brown rice was never dominant in either Asian or Mediterranean cuisines. Meanwhile, we've been led to believe that brown rice has superior nutritional values over white rice.
In light of recent discoveries of the traces of arsenic in rice however, especially in the outer layer that white rice has stripped off, it seems like the Asians and Mediterraneans may have been onto something with the white rice…go figure. How long it will take us to discover it and trust those who've been eating rice for centuries?
Long story short, my advise for this Greek rice recipe is to use white rice, as the Greeks do.
But it you're a brown rice enthusiast, wondering if it'd work for this recipe…I'd say, yes (it's personal preference). However, bear in mind that brown rice cooks much longer then white rice and you may end up having really overcooked spinach.
How to serve this Spanakorizo Greek Rice
There are number of ways you could serve this spinach rice.
As a vegetarian main dish, topped either with feta cheese (as in this recipe) or with a fried egg (also a very popular option in Greece);
As a vegan main dish.  Just as is, without any additions. Or if you're feeling like you need some protein, you could top it with some fried tofu (not necessarily Greek, but it'll definitely work);
As a side dish to any of your meat or fish dishes. If you're looking for suggestions, these Mediterranean Chicken Kebabs or Pan Fried Haddock Mediterranean Style would work perfectly.
I normally serve it hot, but it is very common in Greece to serve it cold as well;
If your looking for total emersion, then after dinner you can serve this Greek Frappe Coffee with your dessert. It's so good!
How to Alter this Greek Rice Recipe
I usually add leeks to this recipe (they just add this soft sweet flavor) but this isn't necessary;
Some recipes calls for the addition of garlic. I've never added garlic to my Spinach Rice, but you can experiment and see which version you prefer;
This a version is considered the "white Spanakorizo," but there's also a "red Spanakorizo" version which would have chopped tomatoes added.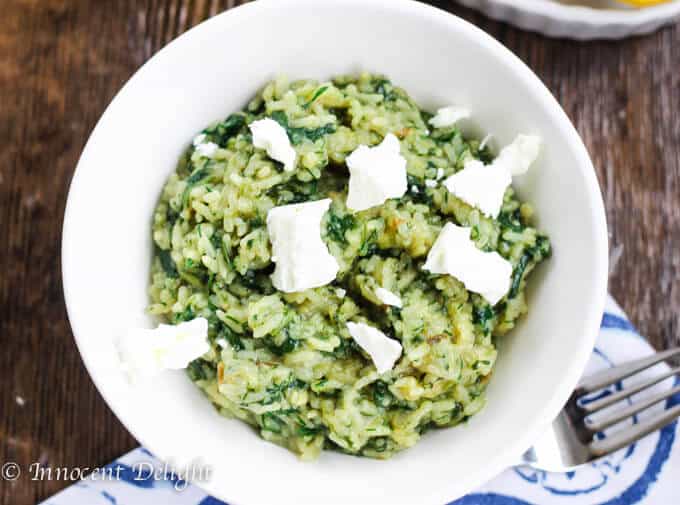 How to use Leftovers of this Spinach Rice
I usually make a double batch of this spinach and rice because everyone in my family loves it (including my picky eaters)! So I always end up with leftovers. Here are my suggestions on how to use them:
It reheats perfectly (either in microwave, with a splash of water, or on the stove, with a bit of liquid as well), so you can easily use it the next day for lunch or dinner.
But, the perfect way to use up these spinach rice leftovers is to stuff it with either peppers or tomatoes and bake in the oven until the veggies are cooked through.
Is Greek Spinach Rice Healthy?
Very short answer to this question is: absolutely! Spinach Rice is very healthy, and here's why:
Spinach is full of antioxidants, vitamins and nutrients like calcium and iron;
Cooking spinach actually increases it's health benefits (cooked spinach outweighs raw spinach big time!);
Lemon juice and the fat from extra virgin olive oil, help with the absorption of both iron and calcium from spinach;
Extra virgin olive oils is full of heart-healthy, monounsaturated fats;
Rice is a good source of carbohydrates.
And because of the above, I make it a point to serve it to my family at least once a week. Believe it or not my pickiest eater, my 5 year old, actually requests it! Try this awesome recipe and let me know how your loved once reacted (I'm very curious).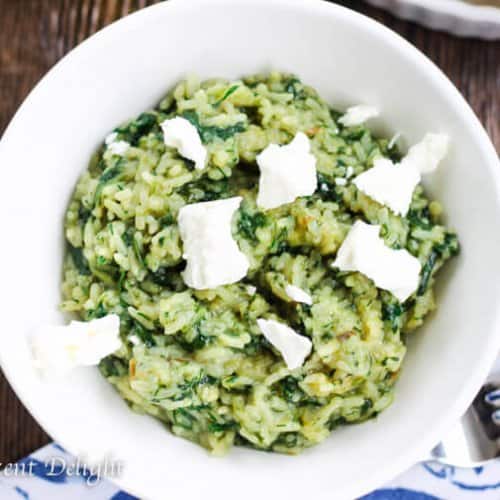 Greek Spinach Rice With Feta
This Greek Spinach Rice also known as Spanakorizo is one of the most popular and healthy traditional and authentic Greek dishes. It has soft and creamy texture with abundance of nutrients coming from cooked spinach, fresh herbs, lemon juice and extra virgin olive oil. It can be served as main dish or side dish to any of your favorite meats or fish. It can be vegan without feta or vegetarian with delicious salty feta cheese.
Print
Pin
Rate
Ingredients
1

Onion

mild, yellow; medium, finely chopped;

2

Leeks

small or one big (only white parts)

1

tablespoon

Thyme

fresh

6

oz

Bag of Baby Spinach

1

cup

Jasmin or Basmati rice

2

cups

Water or Vegetable broth

2

tablespoons

Fresh dill

chopped

1/2

cup

Feta Cheese

1/2

Lemon juiced

to sprinkle over rice

4

tablespoon

Olive Oil

2 for cooking and more for drizzle on top

Salt and freshly ground black pepper to taste
Instructions
In a deep pan heat up 1 tablespoon of olive oil;

Add onion and simmer for about 10 minutes on low heat;

Add thyme and leaks and simmer for another 5 minutes;

Add half a cup of water and broth base, then simmer for another 5 minutes;

Add spinach and cook until wilted;

Add rice and let it cook for about 2 minutes;

Add half a cup of water and stir;

Keep adding half a cup of water at the time once the rice absorbs it;

It can take about 20 minutes until rice is fully cooked;

At the end add dill and mix well;

Take off the burner and cover it up; Add lemon juice and olive oil;

Let it sit for about 5-10 minutes to have all the liquid absorbed;

When serving, sprinkle more lemon juice, olive oil and top it with Feta Cheese. Enjoy!
Notes
You can also serve feta on a side instead of the top of the rice. I know some people prefer it this way.
Nutrition
Calories:
263
kcal
|
Carbohydrates:
33
g
|
Protein:
5
g
|
Fat:
12
g
|
Saturated Fat:
3
g
|
Cholesterol:
11
mg
|
Sodium:
170
mg
|
Potassium:
301
mg
|
Fiber:
2
g
|
Sugar:
2
g
|
Vitamin A:
65.4
%
|
Vitamin C:
23.7
%
|
Calcium:
12.7
%
|
Iron:
11.5
%
If you are looking for more Greek Recipes here are couple of my absolute favorites:
Read about the author Edyta here or follow Eating European on social media: Facebook, Instagram, Pinterest, and Twitter.
[mc4wp_form id="6774″]