This post may contain affiliate links which won't change your price but will share some commission.
Greek Frappe Coffee is an amazingly light and creamy iced coffee that is both refreshing and comforting, all at once. Fluffy and chilled coffee(?)……yes, please.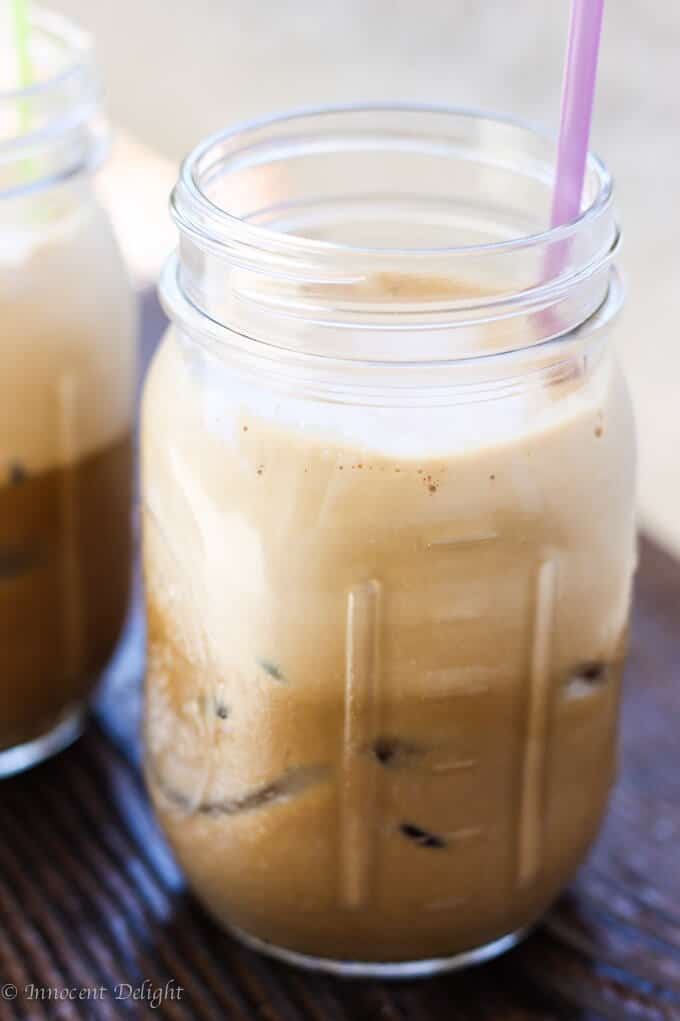 Have you ever tried a genuine Greek Frappe Coffee? If not then I highly encourage you to try. There are Greek Specialty stores and restaurants which serve this delicious variation of iced coffee, riddled throughout my area. If you happen to live in the NYC area, then I recommend Titan Foods  a Greek food specialty store in Astoria, Queens. You can satisfy all your Greek desires there, including homemade yogurt, 12 types of different feta cheeses and of course a made to order Frappe.
If you're already in Astoria, I also recommend stopping by Taverna Kyclades. Having spent some time in Greece, I feel equipped to recognize real, authentic Greek cuisine; which they serve.  Tzatziki (garlic and cucumber yogurt sauce)…Horiatiki salad (Greek salad with just tomatoes, cucumbers, olives, onions and Kalamata olives)…Saganaki (fried kafalograviera cheese – to die for!!!)…whole grilled fish, are just the few of my favorites on the menu.  With that said, I attest that Taverna Kyclades is by far the best Greek restaurant (outside of Greece) that I've ever tried. Every time I go there, I'm almost rolling out of the restaurant because I'm soo engorged on the food.
My first experience with this gorgeous Greek Frappe Coffee was back in 2009, when I traveled to Cyprus for my best friend's wedding. I arrived a week before the wedding to both help with the preparations and to do some Cyprian sightseeing. Another one of the bride's friends also arrived earlier. She used to live in Cyprus and the two of them announced that we needed to go get a "frapka," after which they both got super excited. I was puzzled. What is "frapka" – I asked. And they simply replied that this was the best iced coffee I'll ever try. So we went to a café on the beach and order 3 "medium frappes."
They actually ordered it for me and explained later that medium means not too milky and not too sweet…just right. The waitress arrived with cold, tall glasses filled with fluffy, foamy and yet creamy coffee goodness. I was amazed. How did they make it? It turned out that every café, bar or restaurant has this special machine designed to fluff the coffee.  I left Cyprus after 10 wonderful days and I knew that I'd miss my new addiction: Greek Frappe Coffee.
A few years after I returned to Greece and had a layover in the middle of the night in Athens. I was waiting for my connecting flight to Santorini – I had 5 hours to kill. And trust me, none of the seats were comfortable enough to take a nap. I also was super excited to see Santorini and couldn't fall asleep.
So obviously I went outside of the main entrance to the airport, and to my surprise there was a little cafe with al fresco tables, open 24 hours a day. I came closer and again to my surprise I found out that they were serving frappe!!! I was beyond excited.
I ordered a medium one – remember it's not the size, it's the amount of milk and sweetness – sat down at the table, took a sip and was immediately transported back to my vacation in Cyprus, where we first met. 'She' was as delicious, as I'd remembered. I texted my friend in Cyprus and told her that I felt like she was going to show up around the corner at any second. This time travel through my taste buds was quite spectacular. And as you can imagine, throughout my Greek vacation I enjoyed my Greek Frappe Coffee every day.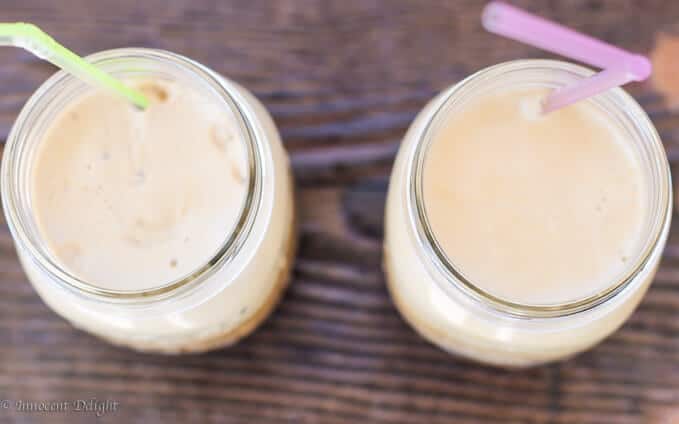 Back in US I really missed my Frappe and even had a crazy thought of buying this special machine. But once, while shopping in Titan Foods in Astoria, for my beloved feta cheese and thick, real greek yogurt, I noticed a little dessert counter, and behind the counter: a FRAPPE MACHINE!!!! I couldn't believe my eyes. They can make me my frappe…. I ordered a medium 🙂
Again, the first sip transported me to Greece and to Cyprus. I chatted with the merchant for a little while, expressing my huge love for this amazing coffee and how much I wished I were able to make it at home… She looked at me and said, "of course you can make it at home; you just need to have hand blender." I was astonished.
I had this tool at my disposable all these years and it'd never crossed my mind to use it for Frappes. She laughed and said, this special machine uses similar concept. Obviously I got a can of my Nestle Frappe Instant Coffee and went back home to give it a try. In fact, you don't even need to have Frappe Instant Coffee. Any kind of instant coffee works. These images show the result…I hope you'll enjoy it. It's perfect for this hot summer season.
To further set the Frappe mood, here are couple of photos from my travel to Greece few years ago. Isn't this place just breathtaking? Have you been to Greece? If so, let me know in the comments what you like best about this country.
Me in Santorini – my absolute favorite place to visit:
Maze in Mykonos – so much fun and so easy to get lost.
Don't you just want to sip Greek Frappe Coffee right at this table?
Greek Frappe Coffee
Greek Frappe Coffee is an amazingly light and creamy iced coffee that is both refreshing and comforting, all at once. Fluffy and chilled coffee(?)......yes, please.
Print
Pin
Rate
Ingredients
1

teaspoon

Instant Coffee

2

teaspoon

sugar

or stevia (optional)

1/3

cup

water

1/3

cup

milk

Toll glass or mason jar filled with ice
Instructions
Add coffee, sugar and water to tall glass;

Using hand blander mix it until fluffed and doubled in amount;

Pour over ice and add milk on top;
Notes
Nutrition Facts
Greek Frappe Coffee
Amount Per Serving
Calories 84
Calories from Fat 18
% Daily Value*
Fat 2g3%
Cholesterol 8mg3%
Sodium 39mg2%
Potassium 142mg4%
Carbohydrates 12g4%
Protein 2g4%
Vitamin A 130IU3%
Calcium 92mg9%
* Percent Daily Values are based on a 2000 calorie diet.
Nutrition
Calories:
84
kcal
|
Carbohydrates:
12
g
|
Protein:
2
g
|
Fat:
2
g
|
Saturated Fat:
1
g
|
Cholesterol:
8
mg
|
Sodium:
39
mg
|
Potassium:
142
mg
|
Sugar:
12
g
|
Vitamin A:
130
IU
|
Calcium:
92
mg
This post was originally published on July 15, 2014 and was since updated to provide additional information.
If you like this recipe you may also like these Greek specialties:
Traditional Greek Tzatziki Recipe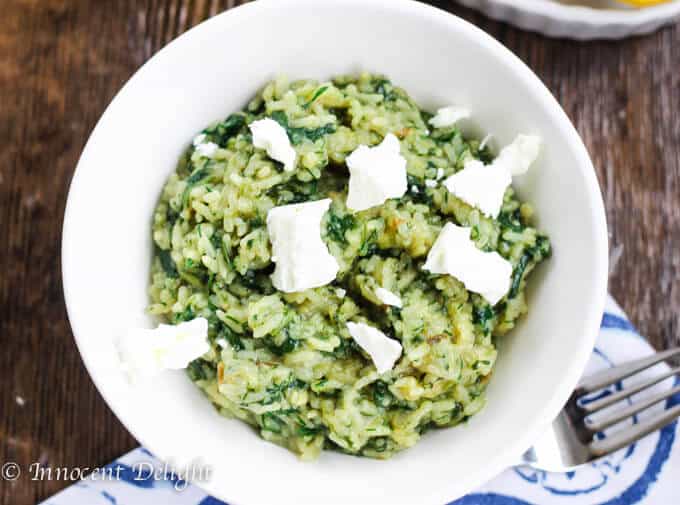 Greek Panzanella Salad with Garlic Lemon Vinaigrette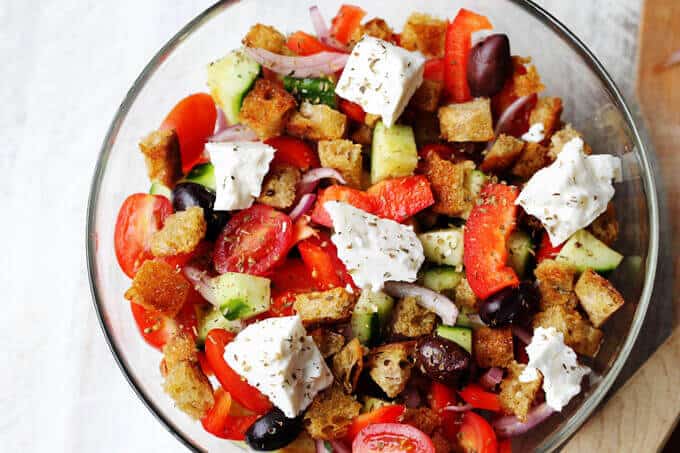 Greek Lentil Soup with Feta – Fakes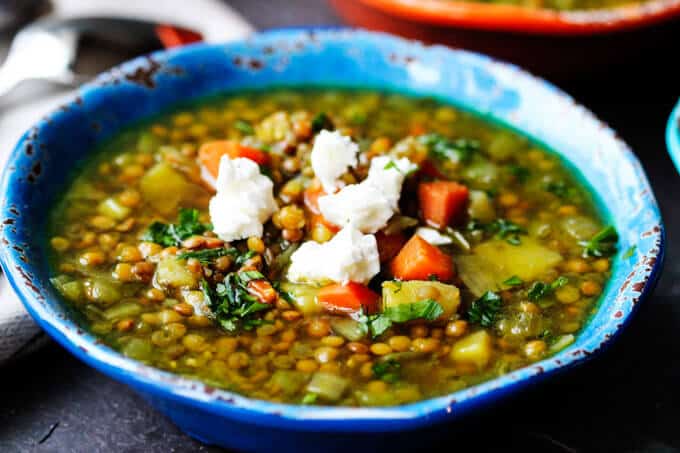 Greek Chicken with Tomatoes, Cauliflower and Feta