This post may contain affiliate links which won't change your price but will share some commission.
Greek Chicken with Tomatoes, Cauliflower and Feta – Super delicious  and easy dinner, packed with healthy vegetables and unique spices. Topped with Feta makes it irresistible.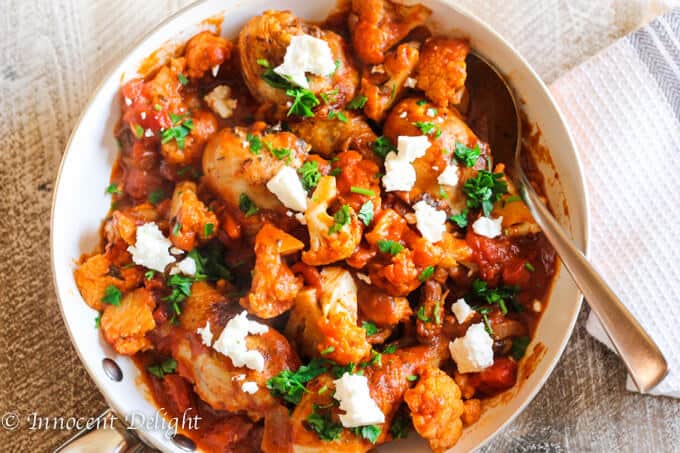 Recently I saw a similar recipe to this one in one of the newspapers. I think it might have been New York Times but I couldn't find it later on when I was trying to recreate it. I remember that I've read this recipe and I absolutely loved it. It had chicken simmered in tomatoes and onions, with some cinnamon and oregano. Almost at the end the cauliflower and Kalamata olives were added. The dish was served with the sprinkles of feta cheese and parsley. Brilliant. Because I couldn't find this recipe I decided to create it on my own and hence the Greek Chicken with Tomatoes, Cauliflower and Feta ended up on our dinner table. And it was as good as it sounds.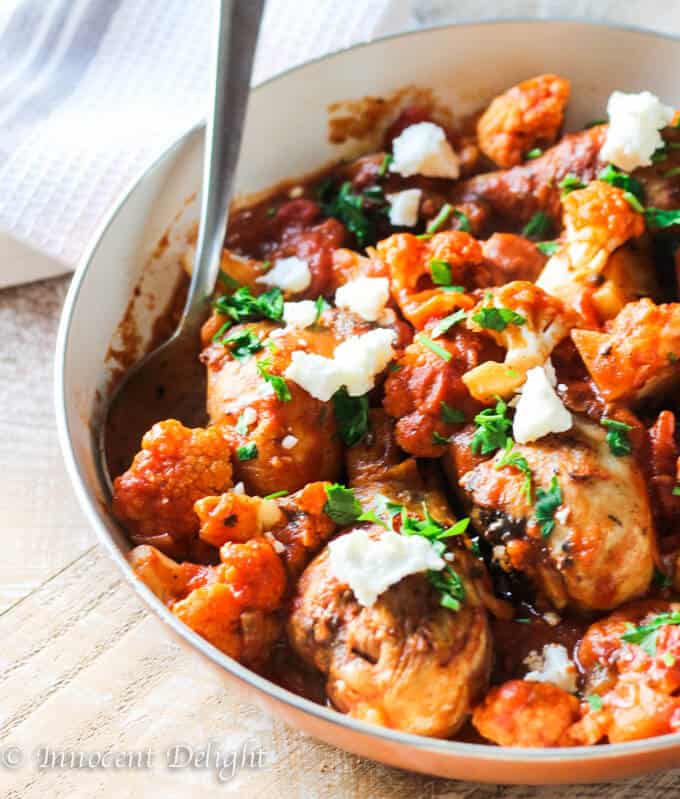 Mediterranean flavors are my ultimate favorites. Ever since I tried Pasticio, a Greek pasta with meat and tomato sauce, I was hooked. The spices made the difference though. Meat and tomato sauce screams Italian, but Greeks make it different. They add cinnamon to their tomatoes sauce and it's out of this world. Apparently it is not just the Greek thing, cinnamon is added to dishes in Turkey and Morocco as well. If you are up for this kind of flavors check my recipes for the Turkish Inspired Eggplant  or Moroccan Spiced Beef Stew. You won't regret it.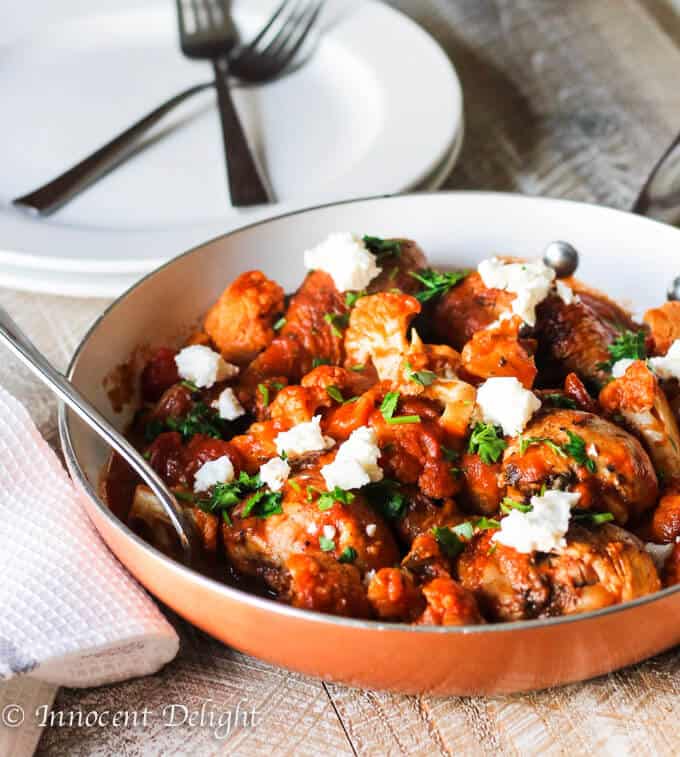 I made this Greek Chicken with Tomatoes, Cauliflower and Feta recently for dinner. To accompany this dish I made my all times favorite (at least in my house) Greek Spinach Rice and brussels sprouts with bacon and balsamic reduction. My husbands started eating the dinner and was impressed with all the flavors. But at some point he looked at me and said: "Do not think that I don't know what is going on here…". What he meant by this was that there were veggies ALL over. We had spinach in rice, we had brussels sprouts and we had cauliflower and tomatoes in chicken.  I could have way more veggies but my hubby is so not veggie friendly. But I'm working on it and I think I have been pretty successful.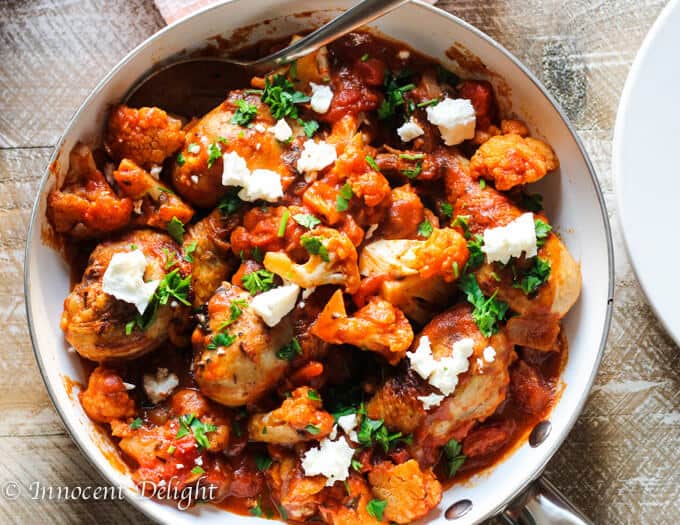 Anyways, coming back to the dish that I found in the newspaper, it had olives in it. Feta and Olives. It cannot get any more Greek than this. Unfortunately my husband despise olives. He cannot even be close to them. So my version does not include olives but if you're up for it, add some Kalamata Olives and enjoy this amazing Greek Chicken with Tomatoes, Cauliflower and Feta.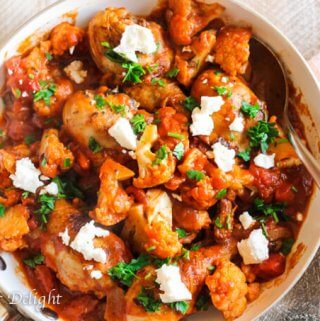 Ingredients
6

chicken pieces

(drumsticks and/or tights, but just the dark meat)

1

medium yellow onion

, chopped

1

small can of chopped tomatoes

(14 oz)

1/2

medium cauliflower

, chopped into florets

1/2

teaspoon

cinnamon

1/2

teaspoon

dried oregano

Salt and freshly ground pepper to taste

1/4

cup

of Feta cheese

, crumbled (you can add more if you like but use good quality Feta cheese)

1

tablespoon

of freshly chopped parsley

2

tablespoons

of olive oil or grape-seed oil

(or other oil of your choice)
Instructions
In a skillet heat up the oil

Season the chicken with salt and pepper

Add the chicken to the pan and brown on each side

Remove the chicken from the pan

Pour out all but one tablespoon of oil from the pan

Add onions and saute for 3 minutes until translucent

Add cinnamon and oregano and cook for a minute

Add tomatoes and cook for about 5 minutes

Add chicken back to the pan and cook for about 25-30 minutes until the chicken is cooked through

Add cauliflower and cook for another 10 minutes until tender but not hard or mushy

Check seasoning and adjust with salt and pepper

Sprinkle with feta and parsley and serve immediately
Notes
If you want to use olives, add them at the same time the cauliflower is added to the pan.