This post may contain affiliate links which won't change your price but will share some commission.
Turkish Inspired Eggplant with Tomatoes – Imam Bayildi made right in a skillet.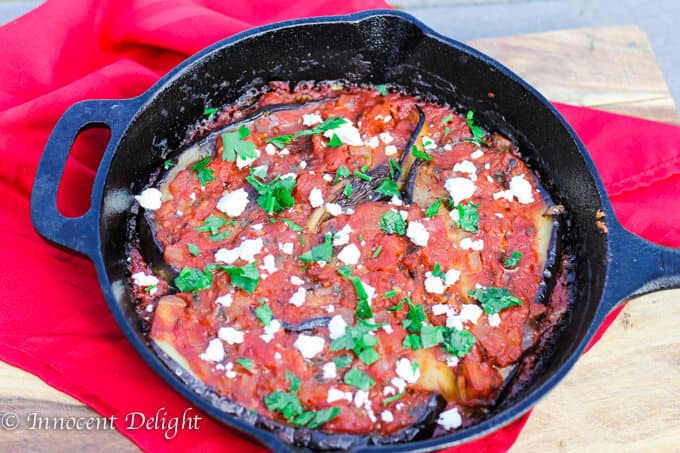 Turkish Inspired Eggplant with Tomatoes is our new family favorite.
Eggplant is one of the vegetables that my husband actually likes, without the need for repurposing, so I'm trying to find new ways to incorporate it into different dishes. This one is inspired by Turkish dish called: Imam Bayildi.
There are a lot of different versions of this dish, with subtle variations. Personally, I can understand this, as I know how many different version of the same Polish dish can be found in my country.
I'm not Turkish but I love all the Meditereanean flavors, so this dish was on my to do list for a while. I knew that staples for this dish were: eggplant, tomatoes, onions, garlic, parsley and cinnamon. And I took it from there….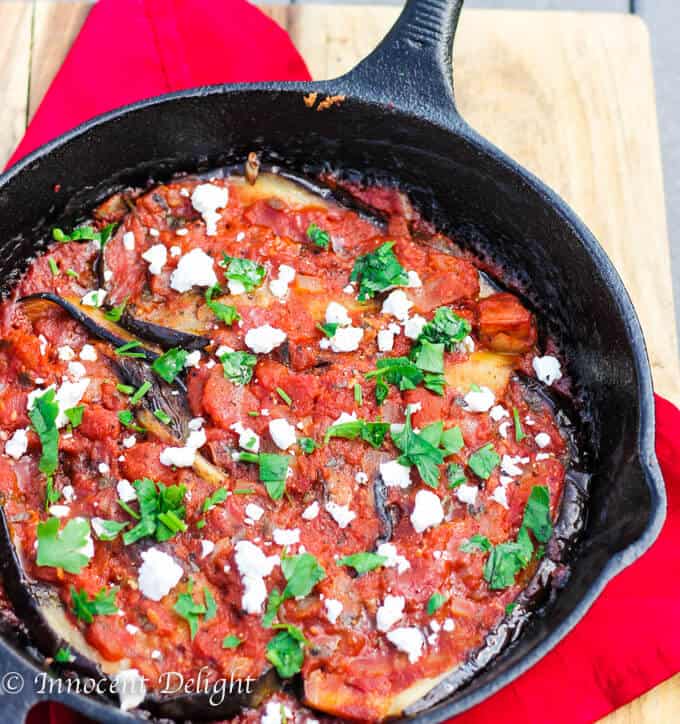 It's pretty easy to make this Turkish Inspired Eggplant with Tomatoes dish. First you'll need to slice the eggplant and salt it on both sides. Then let it rest for about 20 minutes.
The eggplant will release the water that you can dab away with paper towels. Then using olive oil you'll need to fry each slice on both sides, on a cast iron pan or another heavy pan, in batches. After you're done with all of the slices, remove them from the pan.
Then add onions to the very same pan and sauté until translucent. You'll then add garlic, chili flakes and cinnamon.
Later on, add the tomatoes and cook for about 10 minutes. You'll need to remove 2/3 of the sauce and place the eggplant slices into the pan in layers, covering each layer with sauce.
Ultimately the dish will finish up cooking in the oven. I chose to sprinkle it with feta cheese afterwards – as everything tastes better with feta. Check the recipe below for more details.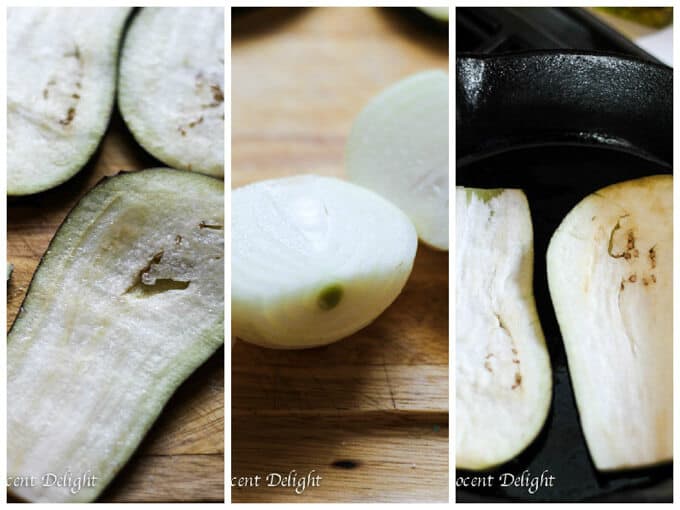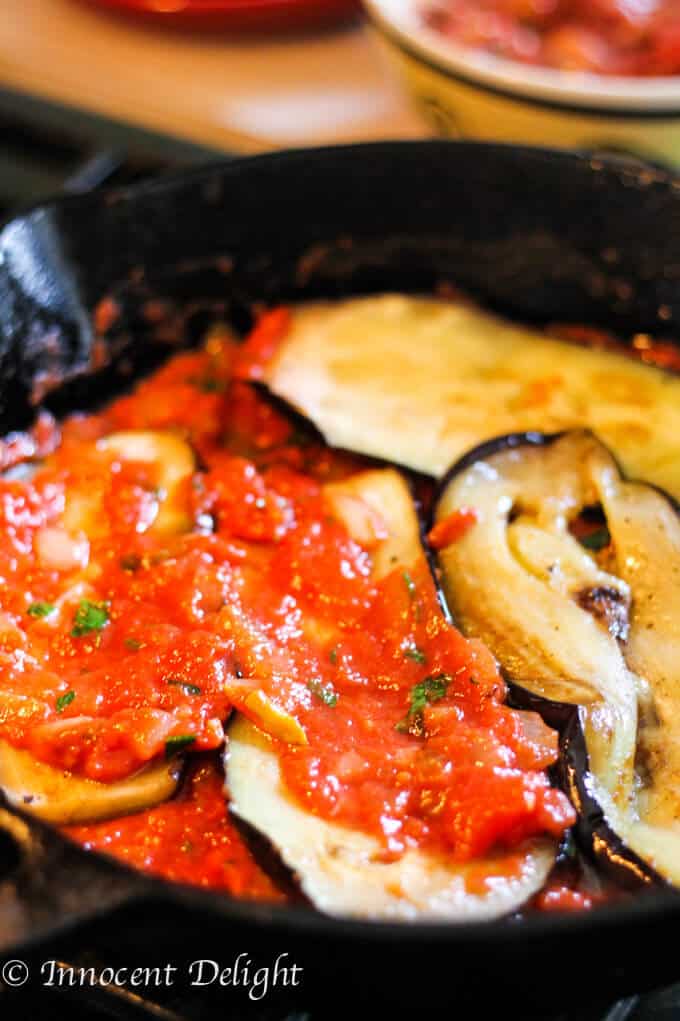 When I made this Turkish Inspired Eggplant with Tomatoes for me and my husband it hadn't even crossed my mind to give it a try to my 22 month old toddler.
However, when my husband had some leftovers for a snack the next day, our son really wanted to try. And guess what…our toddler bullied my husband off the plate. Our little man loved this dish so much that he ate almost all of the leftovers.
It was incredible! Try this dish for your fussy eaters and they won't be able to resist it.  🙂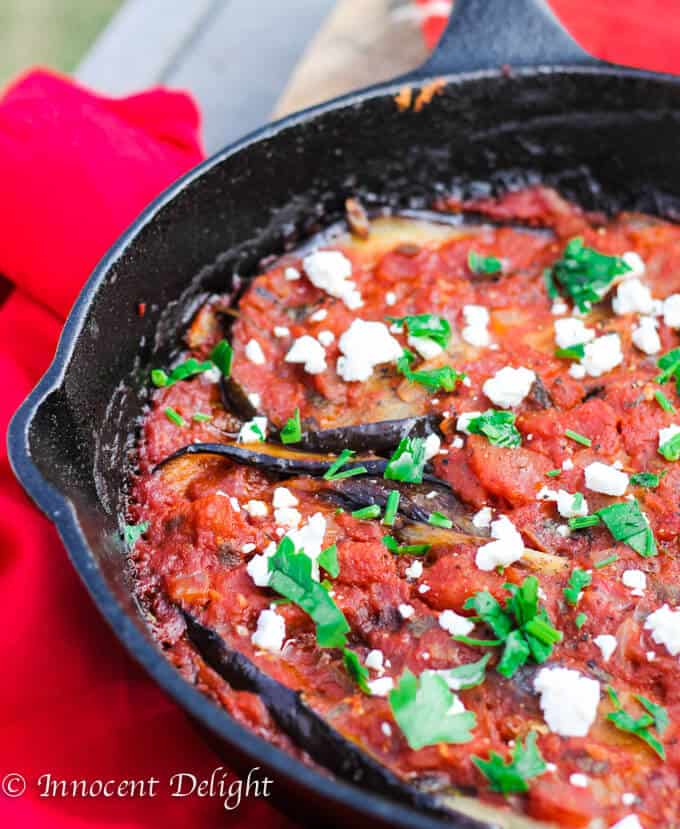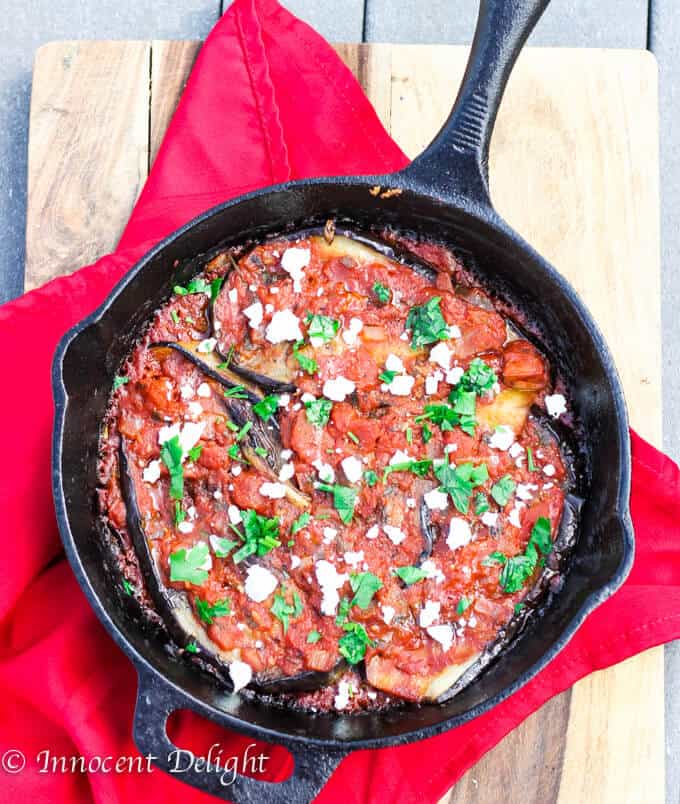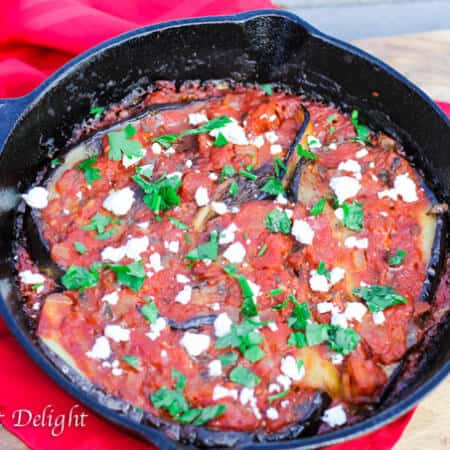 Ingredients
1

big eggplant

, sliced length wise

1

small yellow onion

, chopped

2

garlic cloves

, minced

15

oz

can of diced tomatoes

1/4

teaspoon

of cinnamon

1/4

teaspoon

of chili flakes

Olive oil

(few tablespoons depending on how much the eggplant absorbs)

Sea salt and black pepper

2

tablespoon

of flat leaf parsley

2

tablespoon

of crumbled feta cheese
Instructions
Preheat the oven to 400 F

Cut the eggplant in slices and season with salt

Let it sit for 20 minutes

Pat dry eggplant slices to remove excess water

Heat a tablespoon of olive oil and add first batch of eggplant slices

Fry them on both sides until slightly brown

Repeat with the remaining slices of eggplant

Once all the eggplant is fried and removed from the pan; add another tablespoon of olive oil

Add onions and cook them until translucent - about 5 minutes

Add garlic, cinnamon and chili flakes and cook for about 2 minutes

Add tomatoes and simmer for about 5 minutes

Add parsley and stir

Remove 2/3 of the sauce from the skillet and add first layer of eggplant slices

Top with the sauce and add another level of eggplant

Continue until all the eggplant slices and sauce are used.

Cover with foil and move it to the oven

Bake for 35 minutes and let it stand for couple more minutes after you take it from the oven

Sprinkle with feta and parsley and serve
Adapted from Turkish Eggplant Casserole with Tomatoes (Imam Bayildi) by Feed Me Phoebe.