This post may contain affiliate links which won't change your price but will share some commission.
It's a football season again and if you feel like having something that tastes like Buffalo sauce but without all the calories, this recipe is just for you. These Buffalo turkey lettuce wraps with carrot celery slaw taste amazing and are super light. This dish will for sure not disappoint. 
This post was originally published on September 12, 2014. I decided to share it again because I truly love recipes with big tastes but low calories. Who wouldn't?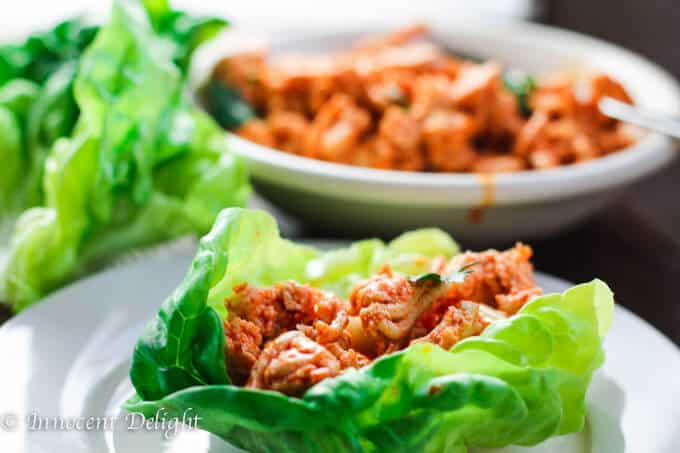 The recipe is super easy:
Heat up a little bit of oil (1 tablespoon) in a frying pan, add unseasoned ground turkey (about 1/2 pound), separate the meat with wooden spoon in a small pieces and fry until cooked through.
Once meat is cooked add 1-3 tablespoons of Frank's Buffalo sauce and mix together
In a bowl shred 2 carrots, add chopped 2 celery sticks, mix it with 2 tablespoon of Blue Cheese Dressing
Assemble the wraps: get lettuce leaves, add carrots-celery slaw, top it with buffalo turkey and enjoy!
It's a fun, interactive dish; you can serve lettuce wraps, turkey and slaw separately and have your guests assemble the wraps themselves. Full, printable recipe is below.
Living in the United States for the last 9 years has taught me how big the sports are in this county. I have never experienced anything like this in Europe. Given, we do have soccer, tennis, and ski jumping, all of which are huge, but nothing close to  football here in US. It seems that here almost everybody – men, women, boys & girls – regardless of age, are all fans of some sport(s) and some team(s). You can rarely find a person who is indifferent about sports.
For Europeans looking in, it's a phenomena. Another thing that's very unusual is that they play the National Anthem at almost every game. Personally, I've only heard the Polish Anthem at governmental events, but certainly not sporting events (with exception of the Olympic medals…when we medal). I've found it fascinating and believe that this tradition of playing the anthem really is unifying.
But, what comes with this sports culture is the food, of course. Chicken wings and pizza are a must! Obviously, backups include: chicken fingers, nachos, chili, steak and french fries (or any combination thereof, i.e. 'nacho fries'). To complete the experience, needs to be flushed with a bottle or two(+) of domestic drafts. With the stage thus set, you just need to wait for a touchdown.
The start of football season in our house is a pretty big deal. My husband, a few weeks in advance, was asking me if I'm ready for chicken wings and pizza. And there's no shortcut to that. I don't eat either on a regular basis, so once in awhile is totally healthy indulgence for my soul.
I do believe in the 80/20 rule. If you're good with your diet 80% of the time you can slack the 20% of the time; and you will be way more successful than someone who deprives themselves entirely of bad food. More often than not, those people will just start eating crap once they are off their diets, and obviously carefully lost pounds come back quickly.
So our house embraces chicken wings and pizza at the kickoff.
Football season is long and the games are 3x a week! If we were to stick to wings and pizza throughout it, in February we wouldn't fit within our door frames. So I needed to come up with healthy alternatives to our faves.
These Buffalo turkey lettuce wraps with carrot celery slaw, mixed with blue cheese dressing, are my newest invention. My husband tried it and said that he likes the flavors but he knows what I'm up to, and that football food isn't suppose to be healthy. Oh well, I guess I'm changing the rules.
These buffalo turkey lettuce wraps were inspired by chicken lettuce wraps from PF Changs. I haven't had them in a very long time, but I do remember thinking that the lettuce wraps were such a splendid idea. So I decided to take this Asian favorite and transform it to the American all-times favorite Buffalo style!  It's so good & you won't actually know that it's super light and healthy. Enjoy your football season!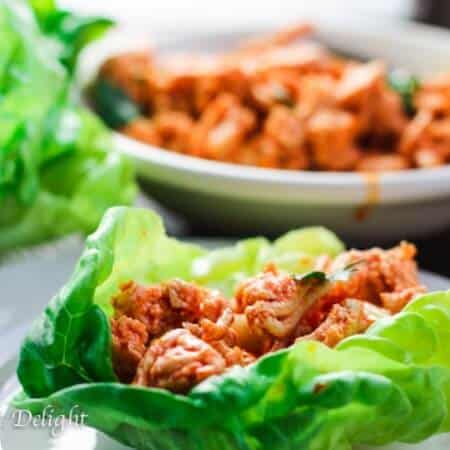 Ingredients
1/2

pound

of ground turkey

1-3

tablespoons

of Frank's hot sauce

(depending on how much spice do you like)

Butter lettuce for wrapping

2

carrots

2

celery sticks

2

tablespoon

of good quality blue cheese dressing

1

tablespoon

of canola oil
Instructions
Carrots and celery slaw
Shred the carrots on a shredder using the largest holes

Chop the celery into small pieces

Add blue cheese dressing and mix together

Set aside
Buffalo turkey
Heat up 1 tablespoon of canola oil in a frying pan

Add unseasoned meat, separate it with wooden spoon and fry until cooked through

Add hot sauce and mix together
Assemble
On a piece of lettuce add one tablespoon of carrot celery slaw,

Add buffalo turkey on top of the slaw

Serve immediately
Notes
Make sure to not season the meat as Frank's hot sauce will give you all the flavors and you don't want this to be too salty or too spicy.
If you like this recipe, you may also like these light recipes:
Crispy Baked Chicken Tenders with Honey Mustard