This post may contain affiliate links which won't change your price but will share some commission.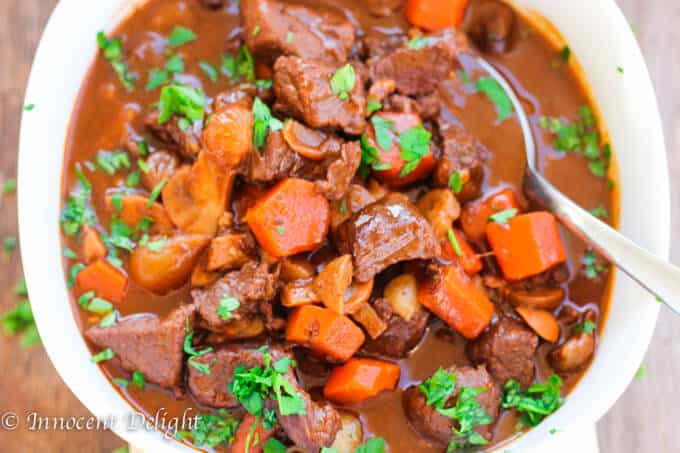 Moroccan Spiced Beef Stew is a wonderful comfort food. It's best appreciated during the cold winter days when dishes like stews, soups, and sauces; simmer forever and make the house smell amazing! Its so homey and brings childhood memories rushing back. I really love the smell of some good stew boiling in a pot on Sunday afternoon. This time I decided to add some additional layer of flavors to my beef stew.
For this recipe, I went all Moroccan… The addition of cinnamon, ginger, and cumin were mesmerizing. It's pretty interesting how couple of spices can change a regular beef stew to something so extra ordinary. The smell in the house was incredible. For this one, my husband chose not to have any appetizers or snacks before dinner because he didn't want to spoil his appetite. He said that this dish smelled so good that he couldn't have anything else until he tried this Moroccan Spiced Beef Stew.
Moroccans are famous for their spices. If you've ever been there, you'll know what I'm talking about. Usually Moroccan towns have an enclosed old town and the markets with little shops called 'Souks' inside. The Souks with spices have baskets of different spices that are shaped like little pyramids with spices of different colors. It all looks very impressive. I went to Marrakech many years ago but the picture of theses spices is still very vivid in my memory. If you are a fan of Sex and the City, you may know what I am talking about. In the sequel movie the girls went to Abu Dhabi. To me the scenes filmed in the Souks looked as if they'd actually been filmed in Marrakech. Several scenes filmed in the Souks (like when Carrie lost her passport trying on the shoes) showed images of the colorful "pyramids" of spices. Worth checking out. Anyways, try to add some of these Moroccan spices to your next stew and you won't regret it. Moroccan Spiced Beef Stew is a go to dish for a cold winter night.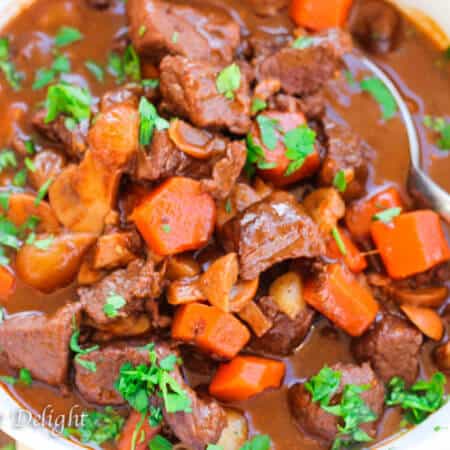 Ingredients
1 1/2

pound

of grass fed beef cut into chunks

1 1/2

cups

of pearl onions

8

oz

of button mushrooms

1

cup

of carrots

, chopped

5

prunes

, cut into few pieces

1

cup

of red wine

2 1/2

cups

of beef stock

1

tablespoon

of ghee or oil for cooking

2

cloves

of garlic

, chopped

1

tablespoon

of tomato paste

1

teaspoon

of cumin

1

teaspoon

of sweet paprika

1/4

teaspoon

of cinamon

1/4

teaspoon

of ginger

1

tablespoon

of flour

(optional)

Parsley for garnish

Salt and Pepper
Instructions
Heat up ghee or oil in a Dutch Oven or other heavy pot

Season the meat with salt and pepper

Put the meat in a pot and brown on each side

Once browned remove meat from the pot

Add spices to the pot: cumin, paprika, cinnamon, ginger and cook for a minute

Add tomato paste and garlic and cook for another minute

Add mushrooms and pearl onions and cook for 5 minutes

Add wine and cook for a couple of minutes

Add meat back to the pot

Add carrots and prunes

Pour the stock, cover and cook for about 50 minutes until the meat is tender.

If the sauce is not thick enough, you can mix flour with 1/3 cup of water, mix it well and add it to the pot

Let it cook for a few minutes more

Sprinkle some parsley and serve the stew with mashed potatoes.