This post may contain affiliate links which won't change your price but will share some commission.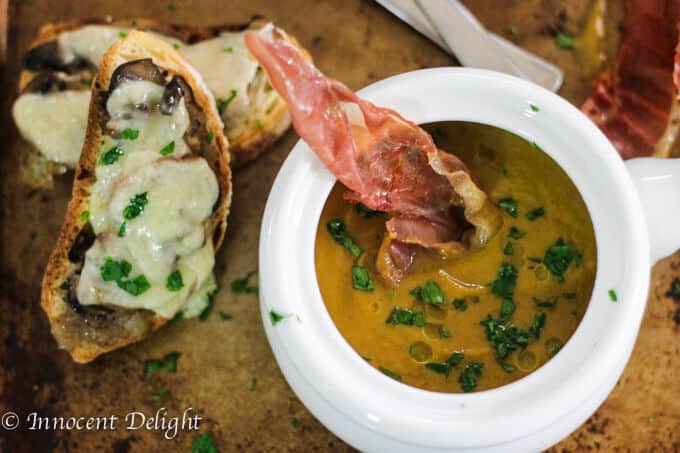 Truffled Butternut Squash and Mushroom Soup with Gruyere Mushroom Toast – it is seriously one of the best combos I've ever made. And that's not just my opinion.
Anyhow, I had this beautiful butternut squash from my organic farmers market and I really wanted to make something spectacular with it. To my surprise I came across this recipe for Butternut Squash Soup with Truffle Oil from White on Rice Couple and I was intrigued. I won't lie here, I did have a dilemma. On the one hand I'd wanted to try this recipe, but on the other hand I was skeptical about using butternut squash and mushrooms together.
Sweet butternut squash with earthy mushrooms…I didn't know. It just didn't make sense to me. Yet, as this post attests, I was sorely mistaken.
Ultimately I decided to be courageous and give it a try. I told my husband that I want to make it for dinner with Gruyere Mushroom Toasts and his first reaction was: what's the protein (usually the question in my house when red meat isn't on the plate). I didn't really know how to get around this. Yet he had suggested that maybe prosciutto would work well. I thought about it and decided to give it a go. Fast forward to after we ate the meal and I can tell you that it was an absolutely splendid idea.
Before I served this soup, my husband was still a little leery too and he kept telling me that I am constantly trying convert him into a vegan.
Obviously this is ridiculous, because I cook meat for him all the time. But if I choose to go meatless one time, I hear him accusing me of making him vegan. What makes this even more ridiculous is that usually these "vegan" dishes have eggs, butter, cream, cheese and/or other non-vegan ingredients.
But who am I to reason with him… So, proscuitto it was. I crisped it up in the oven and put it on top of the soup and the toast as well. When I served it to my husband, he was absolutely speechless for a few seconds.
At first I wasn't sure how to read him, but after a minute of indulgence, he finely spoke up and said: "this is the one of the best things you've ever made". And at every subsequent bite, he was closing his eyes and going somewhere (nirvana maybe…).
He is kind of spoiled when it comes to good food, as I always try to make exceptional dishes, but I have never had the reaction like this. And further vindicating me, this was a dish he'd disgustedly referred to as "vegan."
So, I would like to thank the blog White on Rice Couple for this amazing inspiration and a great recipe! I love, love, love it and it has earned a place as a staple in my house when the fall season arrives and the squash is ripe.
Ingredients
For the Soup:
1

large onion

20

oz

. of button or baby bella mushrooms

(some of these you will use for the toasts)

1

medium butternut squash

(about 1.25 lbs), cut into squares

1

tablespoon

of fresh thyme + a couple of sprigs from the bundle

About 10 sprigs of fresh parsley

2

bay leaves

4

cups

of vegetable of chicken stock

Kosher salt and freshly ground black pepper to taste

1/4

cup

of heavy cream

2

tablespoon

of grape seed oil

(or other of your choice for sautéing)

2

teaspoons

of black truffle oil to sprinkle at the end

2-4

slices

of prosciutto
For the toasts:
6

slices

of ciabatta bread

Mushroom with onion mixture from the soup preparation above

2

slices

of gruyere cheese on each bread

6-10

slices

of prosciutto

Chopped fresh Italian parsley for garnish
Instructions
For the soup:
Heat up grape seed oil in a dutch oven or other heavy large pot

Add onions and cook for about 2-4 minutes

Add fresh thyme and mushrooms and cook until the mushrooms are soft, for about 10-15 minutes

Once the mushrooms are done, take out half of the mixture to the plate and use it for the mushroom toasts

Add butternut squash and cook for about 10 minutes

Bundle herbs with kitchen string (parsley, thyme and bay leave) and add it to the pot

Add the vegetable or chicken stock, cover and cook for about 20-30 minutes until the squash is tender

Remove the herb bundle, add cream and puree the soup in batches (be very careful when pureeing hot soup in a blender; either wait until it cools down, or use very small batches)

Once the soup is smooth, pour it back to the pot and bring it to a gentle boil

Add salt and black pepper as needed

Serve immediately and add black truffled oil in each serving bowl with the sprinkle of parsley.
For the toasts:
Heat up the oven to 350F

Assemble the toasts:

Put mushroom/onion mixture on top of bread

Top it with slices of gruyere cheese and toast

Once done, top it with crispy prosciutto
For the crispy prosciutto
Heat up the oven to 350F

Spread proscuitto on a baking sheet with a rack

Roast for 10 minutes until crispy

Place crispy prosciutto on top of the toasts and in the soup

Enjoy!!!!