This post may contain affiliate links which won't change your price but will share some commission.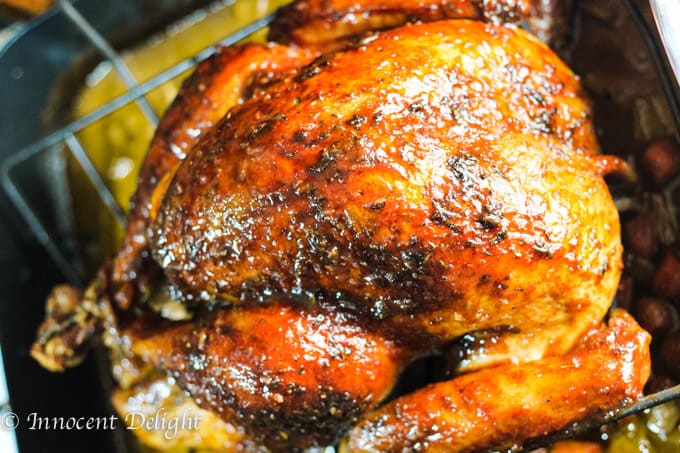 This Maple Mustard Glazed Turkey is absolutely the best I've ever had and the certainly the best I've ever made. It brined for 3 days, then it was slathered with a herbed butter, cooked to perfection and then glazed with a Maple Mustard spread. OMG it's  hard to describe just how delicious this recipe is. I'll try to start from the beginning…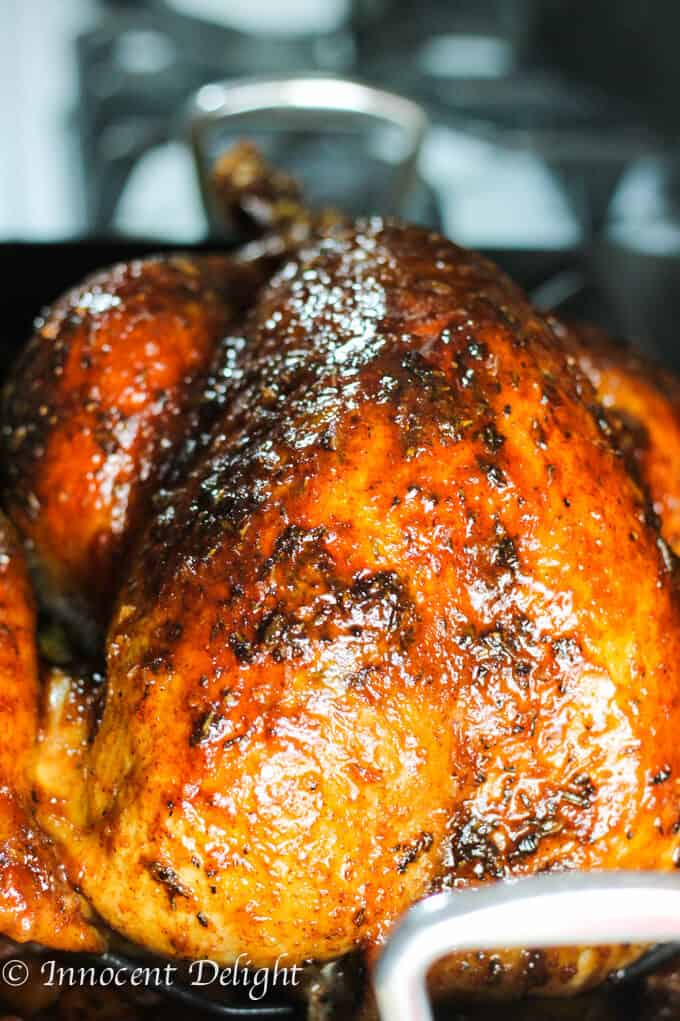 Last Thanksgiving was the first time that I tried this turkey recipe. I found it in the Food Network Magazine; it's a Anne Burrell speciality. Let me tell you one life lesson that I've learned throughout the last few years of my life: whenever you see recipe from Anne, it's going to be a winner. She's just THAT good. Obviously she does not mess around when it comes to her turkey. As I'm always receptive to suggestions from the best chefs, I decided to give this wonderful bird a try. Considering how well it went last year, I was originally planning on reviving it. However, one Food Network show introduced me to an alternative recipe that I needed to try to fuse together with my tried Anne recipe. Bobby Flay decided to sneak in and make an appearance on my Thanksgiving table (go figure!). Admittedly this fusion of recipes could have been an epic fail, but it turned out amazingly.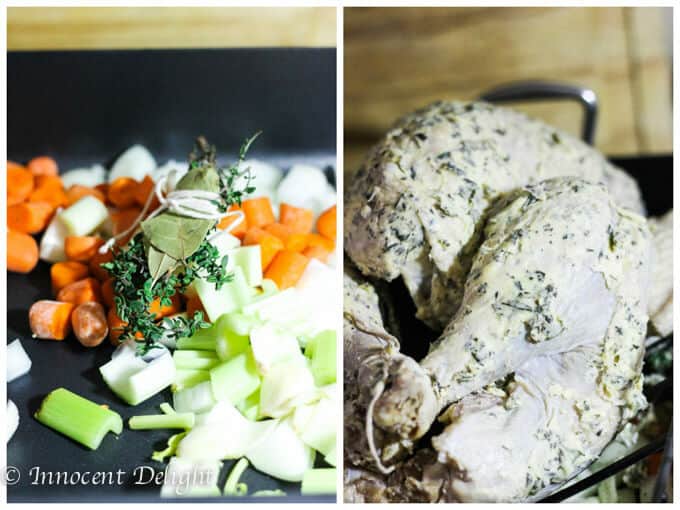 As I previously mentioned, I brined my bird for 3 days in a water full of herbs, spices, and vegetables. I used a brining bag from Bed Bath & Beyond, and every day I rotated the position of my turkey. This assured that all parts were equally brined. Then the night before Thanksgiving I took the bird out, padded it dry and massaged the herbed butter under the bird's skin. I did not put the butter on top of the skin as I wanted to avoid it harden up. So I then put this turkey, UNCOVERED, into the fridge to let the skin then dry out (it helped make it crispy). After a night of drying, I then re-buttered it the next day, all over the bird, right before going into the oven. Anne's recipe called for veggies, herbs and wine as a base for the sauce. Once the turkey is done, Anne strained the veggies off and made a gravy using flour. I decided to try it the healthier way and took all the veggies out and blended them to make base for the sauce. 
So, as I'd mentioned, I was watching this show on Food Network about Thanksgiving dishes and Bobby made a Roast Turkey with Maple – Mustard Glaze. It looked so good on TV that I really had to try. I was wrestling with my thoughts as to whether or not I should give it a shot. The risk was that Anne's version was pretty damn good and it's hard to justify tinkering with a successful recipe. Anyhow, I'll save you the suspense…I finally decided to be bold and go for it. As this post testifies, I definitely don't regret doing so. This Maple Mustard Glazed Turkey turned out to be phenomenal! So, moral of the story, try this combined Anne and Bobby recipe and be prepared to just utterly gorge yourself. Save this recipe, it will change your Holidays for the better.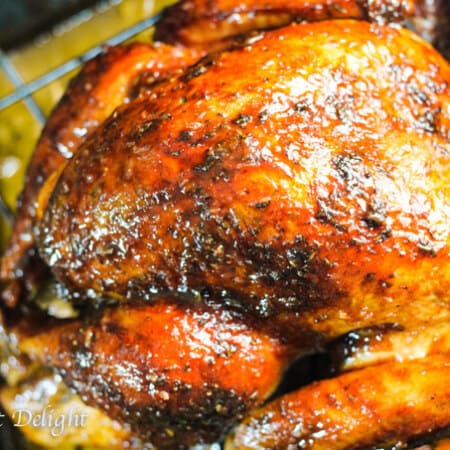 Ingredients
For the brine
2

gallons

of water

3/4

cup

kosher salt

1/3

cup

sugar

2

onions

, diced

3

celery ribs

, diced

3

carrots

, diced

1

whole garlic bulb

, cut in a half

6

strings of rosemary

6

strings of sage

6

bay leaves

2

tablespoons

of coriander seeds

2

tablespoons

of fennel seeds

1

teaspoon

of crushed red pepper

11-15

pound

turkey
For the herb butter
2

sticks unsalted butter

2

tablespoon

fresh rosemary

, chopped

2

tablespoon

fresh sage

, chopped

Kosher salt
For the gravy
3

carrots

, diced

2

onions

, diced

3

celery ribs

, diced

4-5

gloves of garlic

6-8

sprigs of fresh thyme

, tied together with 3 bay leaves

2

cups

of white wine

2 - 2,5

quarts

of chicken stock

Kosher salt
For the glaze:
1,5

cups

of maple syrup

2

tablespoons

of dijon mustard

2

tablespoon

of horseradish

1

tablespoon

of Ancho chile powder

Kosher salt and freshly ground black pepper
Instructions
'3 days prior to Holidays combine all the ingredients for the brine, add the turkey and place in a fridge

'1 day prior to Holidays, take your turkey out from the brine and pat it dry

Carefully massage half of the herbed butter under the skin

Place the turkey back to the fridge, uncovered

On the day you will be roasting the turkey use another part of the butter and massage it all over the bird

In the roasting dish combine ingredients for the sauce, place the rack on top if it and add turkey

Preheat the oven to 450 F and roast turkey on this high temperature for about 30-40 minutes

Lower the temperature to 350 F and cook turkey for about 3 to 4 more hours (17 minutes per pound, you need to do the math depending on the size of your turkey) rotating it every 30 minutes and busting with the juices

'20 minutes before taking the turkey out of the oven start glazing it every 7-10 minutes

Once the internal temperature reaches 165F take the turkey out of the oven and let it rest for half hour before carving

In the meantime remove some fat from the sauce, discard the herbs, place the vegetables in the blender and blend until smooth

Add blended veggies to the saucepan and add as much liquid from the roasting pan as needed for saucy consistency

Season with salt and pepper to taste