Roasted Butternut Squash Feta Pierogi with sage butter is an amazing dish that combines American fall flavors with a taste from the Greek islands, wrapped in Polish dough. Mind blowing….
What is unique about these Squash Feta Pierogi with Sage
I came up with this recipe for Roasted Butternut Squash Feta Pierogi because I independently love squash, feta and pierogi. I also was never adventurous enough to play with my classic pierogi. Every year, for the holidays, I would always stick with tradition.
The two varieties of pierogi that I make all the time are: Authentic Polish Pierogi with Potatoes and Cheese, and Sauerkraut Mushroom Pierogi. So this is really developmental for me. And I must admit that I really do like these pierogi.
With this seed planted, I do have a couple of ideas for my future pierogi adventures, but I will keep them a secret until I actually test the recipes. These Roasted Butternut Squash Feta Pierogi came out super delicious. They have the right amount of sweetness from the squash with the perfect amount of saltiness from the feta.
I also filled them with dried thyme and onions too to really elevate the fall flavors.
How to make Butternut Squash and Feta Pierogi
How to make pierogi dough
I showed how to make the dough from scratch in this post for Sauerkraut and Mushroom pierogi. For this batch I actually put flour with hot milk, hot water and melted butter into the bowl and work the dough in there until it was elastic enough to create a streached ball.
Then I cover it with the bowl and let it sit for half an hour before rolling it out into batches, cut the rounds, fill them up with the dough and boil.
How to make make filling for this pierogi
For the pierogi filling I used:
Roasted butternut squash;
Sautéed onions;
Dried thyme;
Feta cheese;
Salt and Pepper.
Making the squash feta pierogi  filling
The filling is very simple. You just need to give yourself some extra time as the squash needs about an hour to roast. Then it needs to cool off slightly before you can handle it and cut up in the food processor (affiliate link).  In the meantime you will have to sauté some onions with dried thyme. Once the squash is cool, in a few minutes you'll have your filling.
First add squash to the food processor (affiliate link) and process it for a minute until almost smooth.
Add your mixture of onions and feta and pulse few times, until incorporated but still having texture.
Taste for seasoning and you are ready to fill up your dough and assemble pierogi.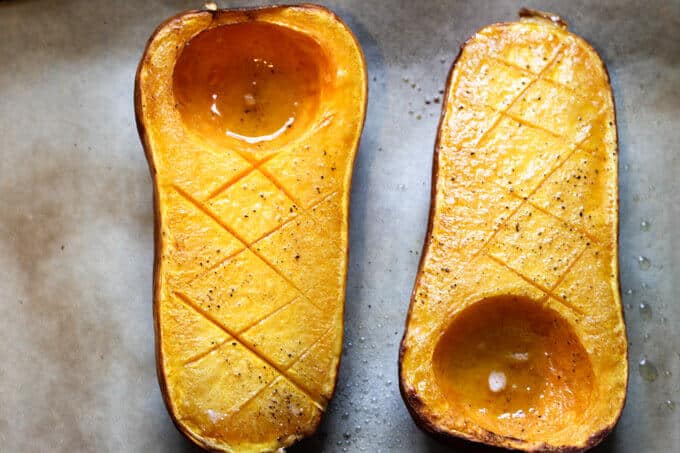 To make pierogi
To boil the pierogi you will need a pot of generously salted boiling water. Think about the saltiness level as you would do for cooking pasta. They cook pretty quickly. Don't overcrowd them – don't cook more than 8-9 at the time. Once they come to the surface, boil for another minute and then take them out.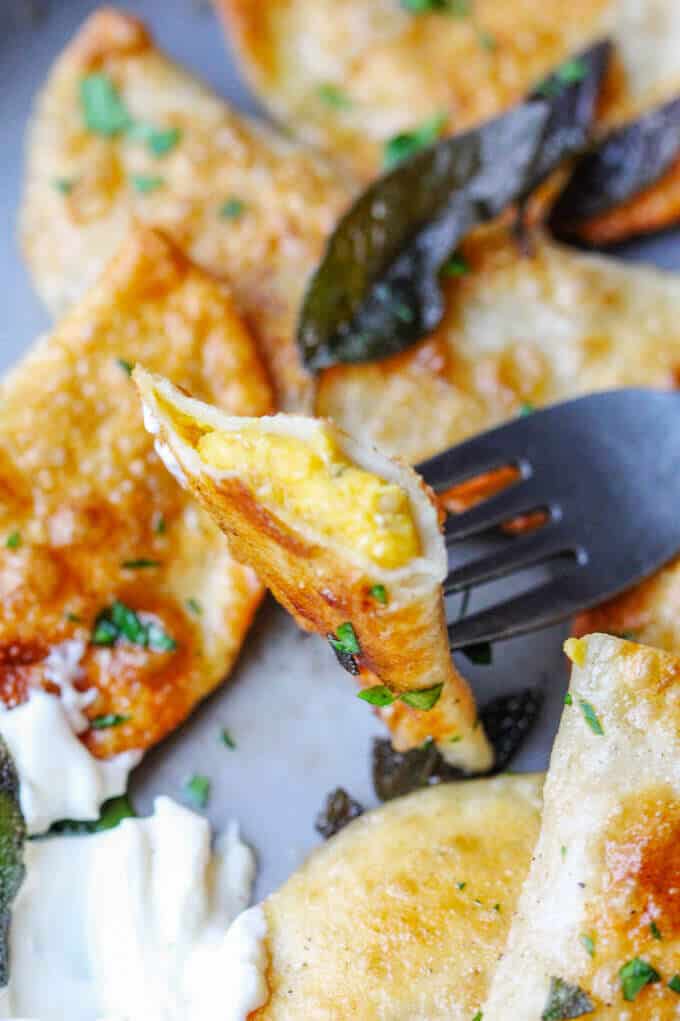 How to serve Roasted Butternut Squash Feta Pierogi
I served these Roasted Butternut Squash Feta Pierogi with fried sage and sour cream, but my husband made a valid point: bacon would've been a nice addition. I give credit, where credit is due….he's right (& he does savor those moments). I use it for my potato pierogi but for the squash ones I decided to go with just the sage.
But bacon really makes dishes taste better, so by all means, fry up some bacon bits if you feel like it. They will work great with this Roasted Butternut Squash Feta Pierogi recipe.
You can serve these Roasted Butternut Squash Feta Pierogi simply boiled, as instructed above, or fried up after boiling. (That's what I did here). If you decide to fry them up, you need to first make sure that they are dry, otherwise, the fat from the pan will splash out.
If you decide to fry them – take the pierogi out on a baking sheet or straight on your kitchen counter and let them dry out on one side first then flip them on a dry surface and let them dry on the other side. Heat up butter with olive oil in a pan fry some sage first.
Then after you take the sage out, add pierogi and fry them for a couple of minutes on each side until golden brown. You can add a splash of water at the end and cover them up for a minute to achieve a similar effect as Japanese pot stickers.
If you chose to forego frying, you can serve them boiled with just fried sage and sour cream.
Whether boiled or fried now you are ready to serve this amazing Roasted Butternut Squash Feta Pierogi. Enjoy.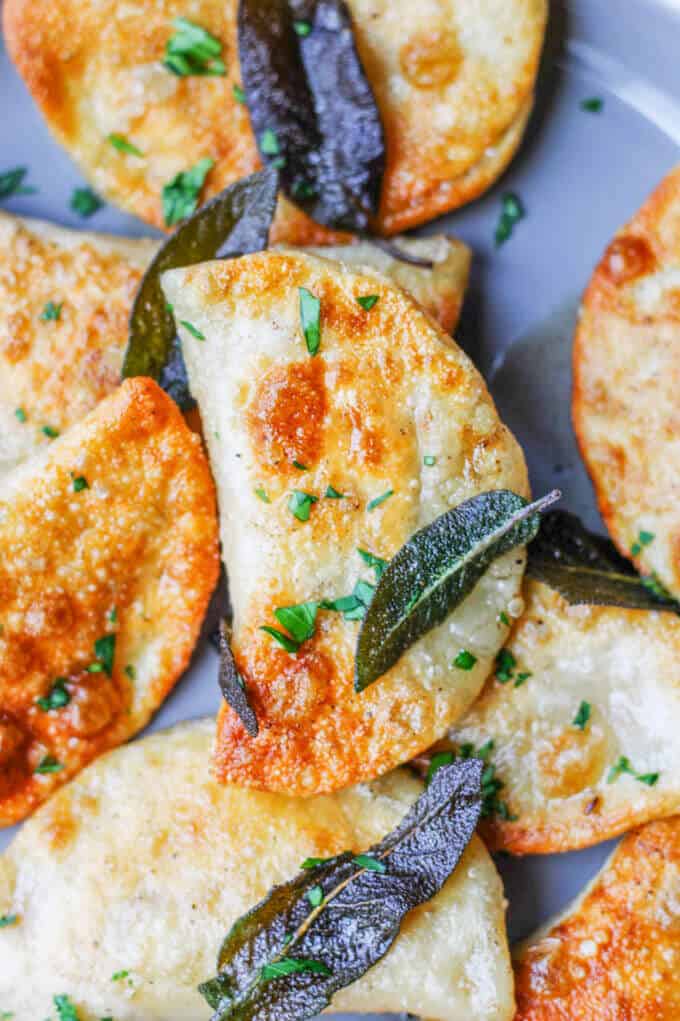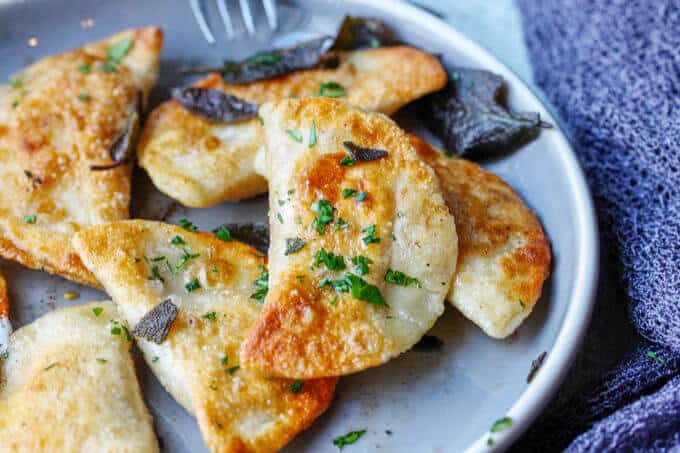 Cook Time:
1
hour
30
minutes
Total Time:
2
hours
30
minutes
Ingredients
For the Filling
1

Butternut Squash

medium, (about 3 cups if using cut up)

1

Onion

Vidalia, chopped

1/2

teaspoon

Thyme

dried

1

cup

Feta cheese

1/2

teaspoon

Salt

+ more for roasting squash

Freshly Ground Black Pepper

2

tbsp

Olive oil
For the Dough
3

cups

Flour

All Purpose

1/2

cup

Milk

very warm

1/2

cup

Water

very warm (up to 3/4 cup depending on how much your flour soaks)

1

tbsp

Butter

unsalted, melted

pinch

Kosher salt
For the toppings
1

tbsp

Butter

unsalted

1

tbsp

Olive Oil

extra virgin

6

Sage leaves
Instructions
For the Filling
Preheat the oven to 425F;

Cut up butternut squash in half; using spoon or ice cream scooper, remove seeds, brush both sided with 1 tablespoon of olive oil and season with salt and pepper;

Roast the squash for 50-60 minutes until fork tender;

In the meantime, chop the onion; add 1 tablespoon of olive oil to the pan and sauté onions until slightly brown for about 5 minutes; add dried thyme and cook for another minute; let cool off;

Once the squash is cooked, let it cool slightly and then scoop it out to the food processor;

Process it for about a minute until almost smooth;

Add onion/thyme mixture and Feta cheese, salt & pepper to the food processor and pulse 2-3 times until mixed but still having texture;

Check for seasoning and adjust if needed;
For the Dough
Pour the flour in a bowl or on a counter or other surface that will allow you to make the dough;

Add a pinch of salt;

Make a little whole in a middle and start adding milk and butter;

Add a little water at the time and work the dough until you can form a ball about 10-15 minutes;

Once done, cover it with the big bowl and let it rest for about 20-30 minutes;

Use 1/4 of the dough at the time, covering the remaining with the plastic wrap;

Roll the dough until thin (like pasta) and using either cookie cutter or large wine glass cut the circles;

Place 1 teaspoon of filling in the middle of the circle;

Wet one half of the circle and then seal it together;

Boil a large pot of water and season generously with salt;

Once the water is boiling put about 8 pierogi at the time;

Once they come to the surface let them cook for 1 minute and using spider or slotted spoon take them out on a plate;

In a frying pan heat up olive oil with butter, add sage and fry for a minute until crispy;

If serving boiled pierogi, pour over butter/olive oil sage mixture and serve immediately;

If you want to fry them like I did here, dried them up first and then use the same pan that you used to fry sage and fry pierogi on each side until golden brown for about a minute. Add extra fat if needed. Serve with sage on top.
Notes
If you are not serving pierogi immediately, take them out from a boiling water on a counter and let them cool down and dry a little bit. Make sure that they are not touching each other. Once cooled, place them on a baking sheet, again with distance from each other, place in a freezer and let them freeze. Once done, you can pack them in the plastic bag and freeze for up to two months.

You should get about 40 pierogi out of this recipe. If you serve them all at the same time you may need to adjust the amount of the topping. The amount of Sage with butter and olive oil in this recipe should be enough for about 20 pierogi.
I like to serve my pierogi with a side of sour cream but this is optional. 
You can also cut up two slices of bacon, cook it and sprinkle it on top of the pierogi.
Nutrition
Calories:
463
kcal
|
Carbohydrates:
66
g
|
Protein:
12
g
|
Fat:
17
g
|
Saturated Fat:
7
g
|
Cholesterol:
34
mg
|
Sodium:
524
mg
|
Potassium:
576
mg
|
Fiber:
4
g
|
Sugar:
5
g
|
Vitamin A:
270.6
%
|
Vitamin C:
33.8
%
|
Calcium:
22
%
|
Iron:
22.1
%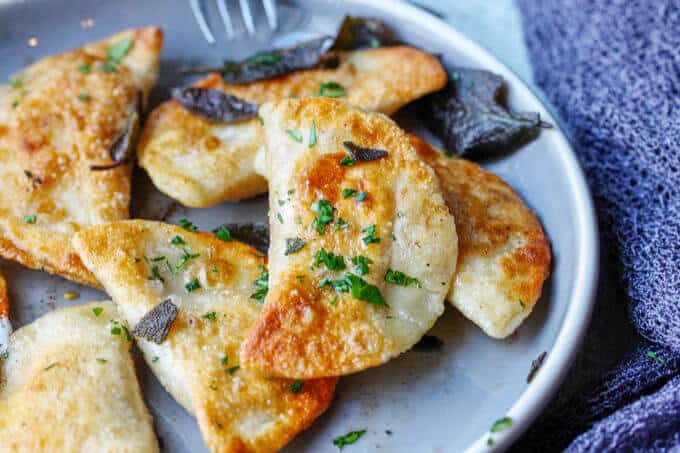 Read about the author Edyta here or follow Eating European on social media: Facebook, Instagram, Pinterest, and Twitter.
[mc4wp_form id="6774″]
If you like this recipe you may want to check other Polish and Greek Recipes like:
Traditional Polish Dill Pickle Soup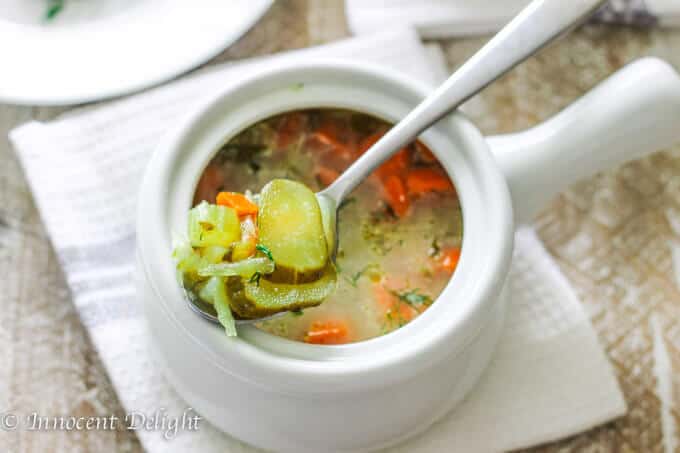 Polish Stuffed Cabbage Rolls Golabki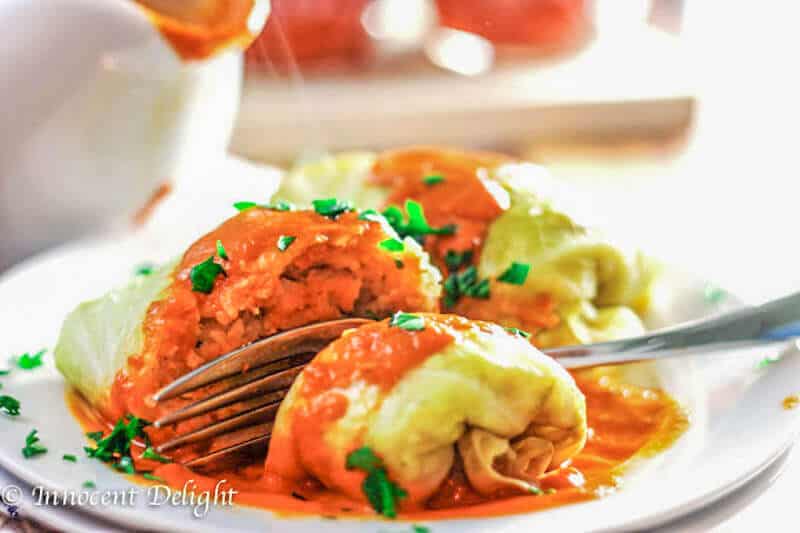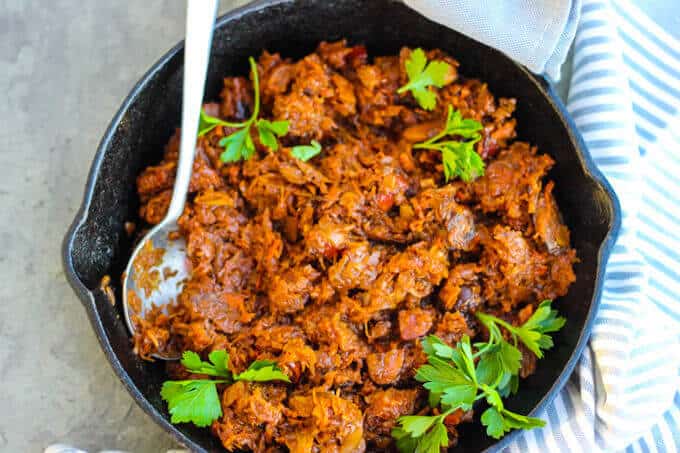 Kolokithopita  – Greek Zucchini Pie