This post may contain affiliate links which won't change your price but will share some commission.
Follow this recipe to learn how pierogi from scratch should actually be made. Sauerkraut and Mushrooms Pierogi are one of those things that remind me all about Christmas as a kid. Warm and cozy Christmas Eves with presents galore and family everywhere.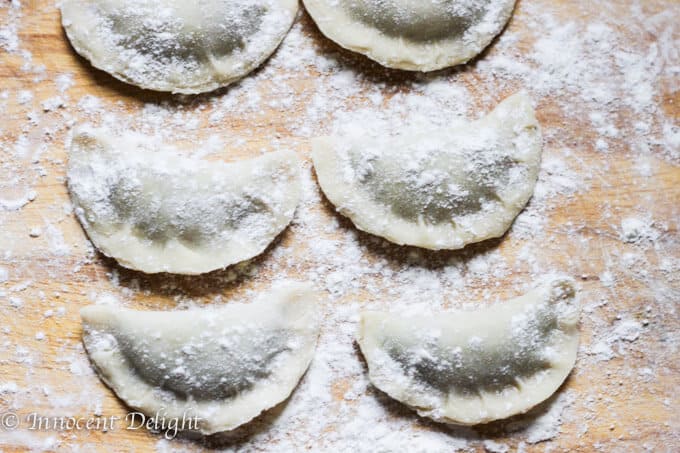 Although there are many variations of what people serve on Christmas Eve in Poland, I have not heard of one home that wouldn't serve Sauerkraut and Mushrooms Pierogi.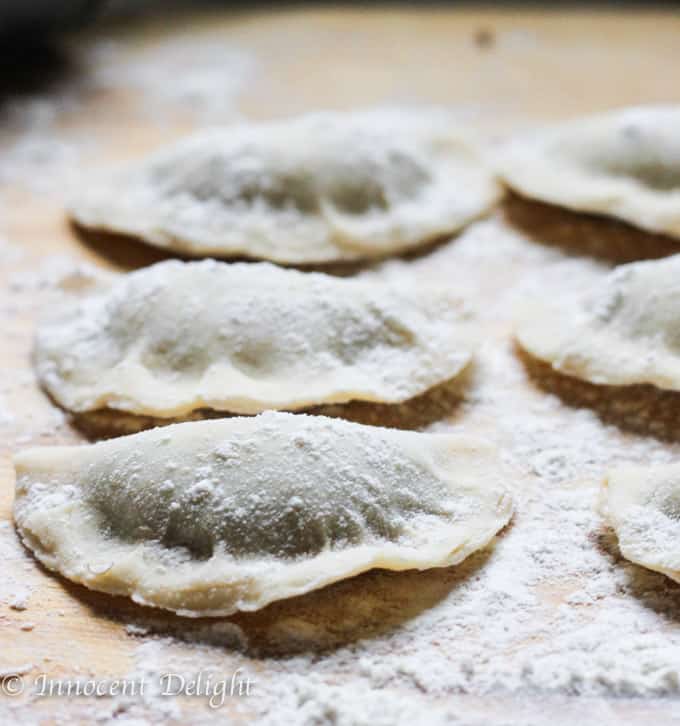 I usually make my Pierogi a few weeks before Christmas and then freeze them. This year, I only cooked for my husband and I, so I made our Pierogi on the morning of Christmas Eve.
Notably, I didn't include our  little man in the head count, as he is at the stage of eating only what he likes (e.g., he could have pizza every day). I wrote in this post about traditional foods for Christmas in Poland and how to make a perfect pierogi.
This time I want to introduce you to Sauerkraut and Mushrooms Pierogi from Scratch.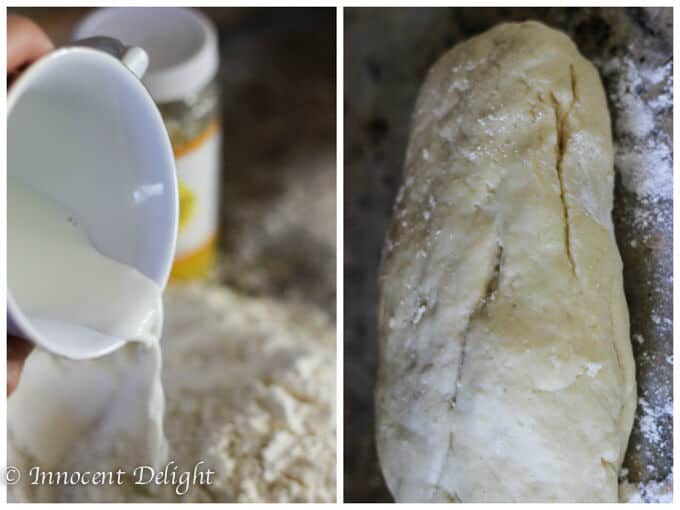 The dough is pretty simple – you just need flour, milk, water and butter. Mix it together and let it rest under a bowl for about half an hour. Then you roll the dough in batches and cut out little circular pieces of the dough, using either a cookie cutter or a wide glass.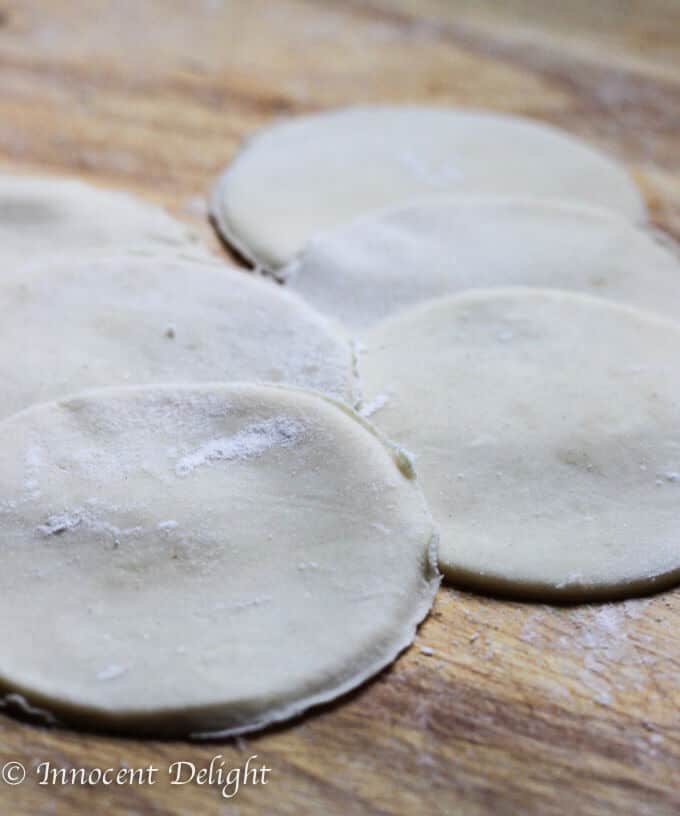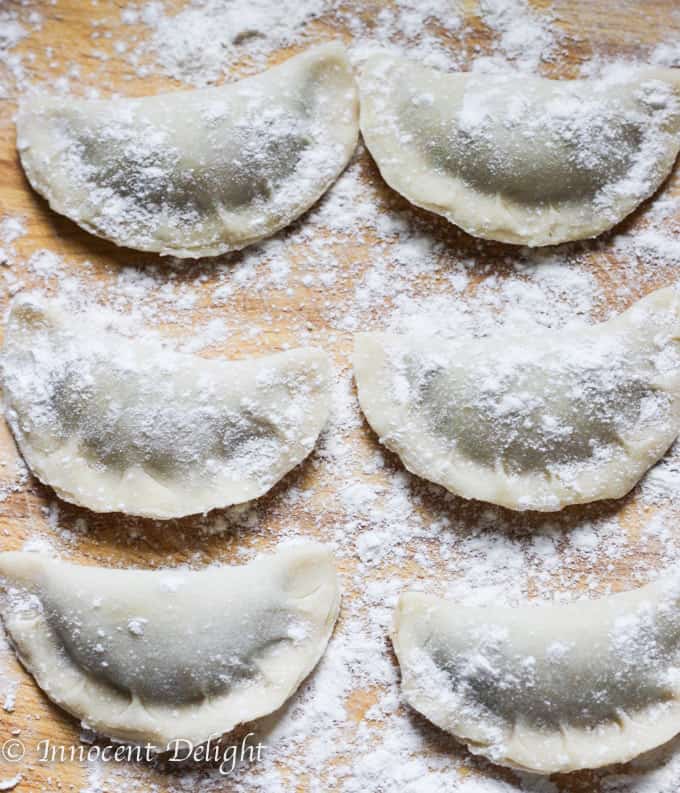 The filling for Sauerkraut and Mushrooms Pierogi from Scratch requires a little bit more work.
First, if using dried mushrooms, you need to soak them for few hours or overnight. Then you'll need to boil them in the same water that they were soaking in for roughly an hour.
In the meantime, you should rinse your sauerkraut, then cover it in water in a pot and boil until soft. It may take an hour as well. I usually do this the day before I make pierogi. Then you'll need to saute onions with fresh mushrooms until soft. This may take about 30 minutes.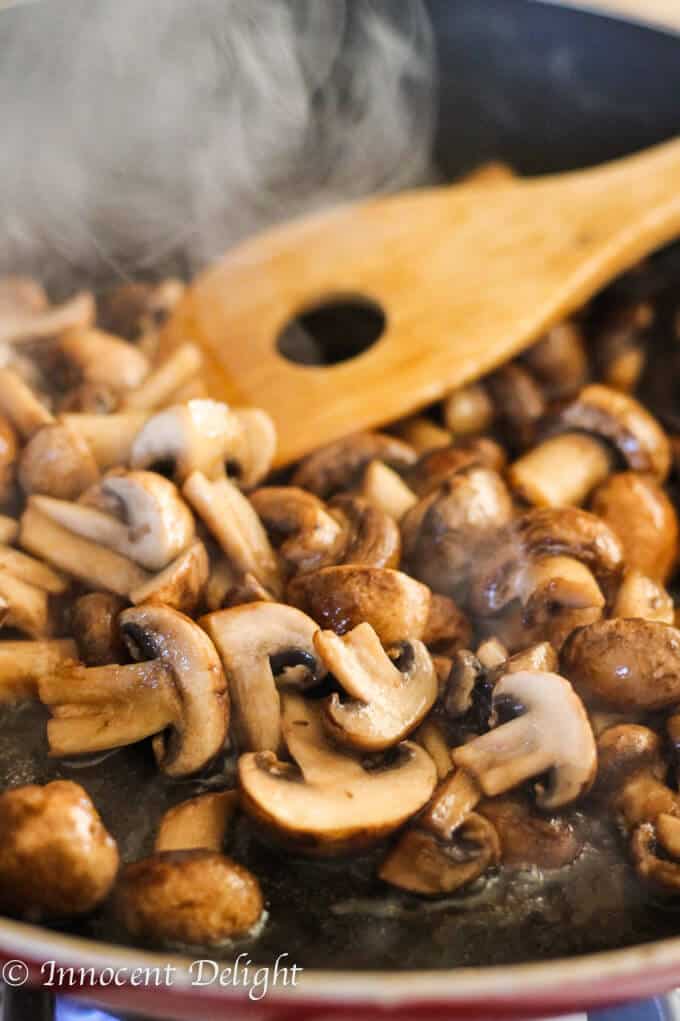 Once all your components for the filling are ready, you can use a food processor to mix them together. Make sure not to overdo it, so it has a recognized texture of sauerkraut and mushrooms.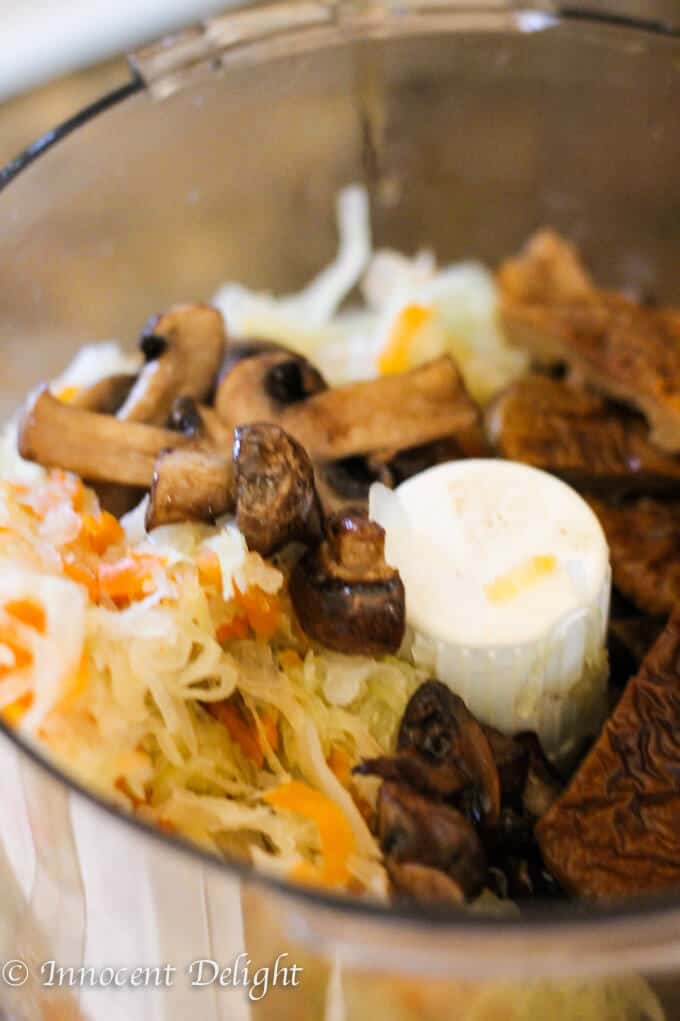 When your filling is ready, you can start to roll the dough and assemble pierogi. Have a big pot of salty water boiled so you can just drop your pierogis in batches.
I usually take 1/4 of my dough, roll it until thin and then cut out circles and fill them with filling. I then seal them and boil them. Then I move to the next part of the dough. Make sure that you keep your dough covered with the plastic wrap the whole time so that it won't dry out.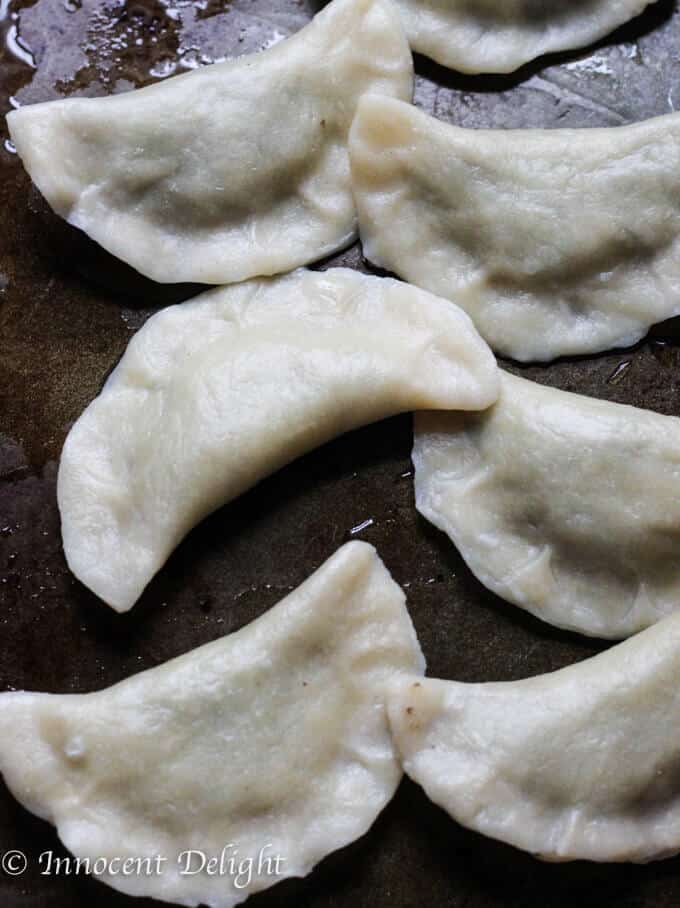 When you drop pierogi into the pot of boiling water, use wooden spoon and mix them so they do not stick to the bottom of the pot. When they eventually rise to the surface, allow them to boil for another minute.
Then take them out and dry them on the baking sheet. Be sure to separate them to avoid sticking. Continue until all the dough and filling are finished. If you end up having leftover filling, you can save it and then the next day make some French Crepes and fill them with this Sauerkraut and Mushroom Pierogi filing. And you're done.
Enjoy your Sauerkraut and Mushrooms Pierogi from Scratch!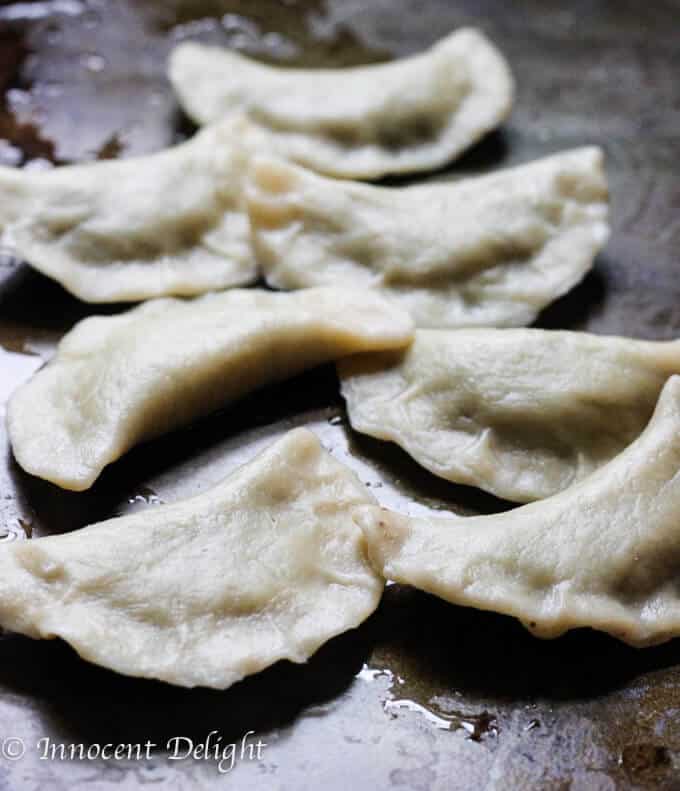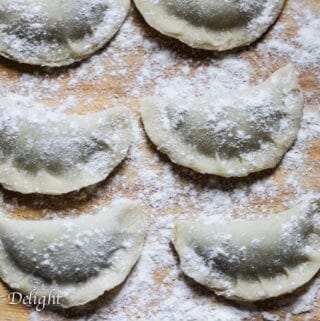 Ingredients
For the dough:
3

cups

whole purpose flour

1/2

cup

warm milk

1/2

to 3/4 cup of warm water

(depending on how much your flour soaks)

1

tablespoon

melted butter

A little bit of kosher salt
For the filling:
1

onion

, finely chopped

1

tablespoon

of oil

(whichever you like)

2

packages of fresh mushrooms

(baby bella), 10 oz. each, sliced

1

package of dried porcini mushrooms

, 1.5 oz.

2

cups

of sauerkraut

Salt and pepper to taste
Instructions
For the dough:
Pour the flour on a counter or other surface that will allow you to make the dough

Add a pinch of salt

Make a little whole in a middle and start adding milk and butter

Add a little water at the time and work the dough until you can form a ball about 10-15 minutes

Once done, cover it with the big bowl and let it rest for about 20-30 minutes

Use 1/4 of the dough at the time, covering the remaining with the plastic wrap

Roll the dough until thin (like pasta) and using either cookie cutter or large wine glass cut the circles

Place 1 teaspoon of fling in the middle of the circle

Wet one half of the circle and then seal it together

Boil large pot of water and season with salt

Once the water is boiling put about 8 pierogi at the time

Once they come to the surface let them cook for 1 minute and using spider or slotted spoon take them out on a plate

If you are not serving pierogi immediately, take them out on a counter and let them cool down and dry a little bit. Make sure that they are not touching each other. Once cooled, place them on a baking sheet, again with distance from each other, place in a freezer and let them freeze. Once done, you can pack them in the plastic bag.
For the filling:
Place dried mushrooms in a pot of water and let it stand, preferably overnight

The day of making pierogi, cook porcini mushrooms in the water that they soaked in

Rinse the sauerkraut and place in another pot, cover with water and cook for about an hour

In the meantime heat up 1 tablespoon of oil, add chopped onions and cook until soft, about 5 minutes

Add sliced fresh mushrooms to the onions and cook until soft, about 15 minutes

When dried mushrooms are cooked, remove them from the water with slotted spoon, reserve the water

Rinse them well under running water to make sure that they are perfectly clean

Once all your ingredients are cooked, you can add sauerkraut, fresh mushrooms and dried mushrooms to the food processor and process until finely chopped but not mushy

Placed processed filling back to the pan and using strainer add 1/4 to 1/2 cup of dried mushrooms water and cook for a few minutes

Check for seasoning, add salt and pepper and cook for few more minutes until all the ingredients are merged.

Let it cool before starting to assemble pierogi.
If you like this recipe you may also like this Authentic Polish Pierogi with Potato and Cheese: