Authentic Polish pierogi with potatoes and cheese – traditional Polish dish at its best. Try this recipe and never buy pierogi again. They are amazing.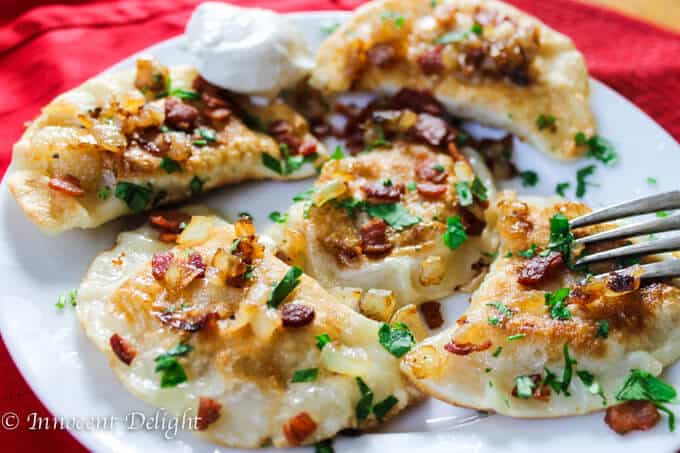 Have you ever tried real, authentic Polish pierogi?
Now I'm not talking about the frozen dish that you can purchase in almost every supermarket. In fact, these store-bought cousins are even improperly named. They're called "Pierogies."
For all Poles, this is the funniest thing ever. Reason being is that the word "Pierogi" is already pluralized (1 "pierog" is the singular). The adding of an "s" to make the English name plural is just way too funny. But obviously I get it, and I'm absolutely not offended.
Actually, it makes me proud that we have created a dish so popular that is eaten throughout the world. So, if you haven't tried a truly authentic version yet, then definitely give these a go. 'Street-cred' affirmation: I am 100% Polish, born and raised in Wroclaw, Poland, and I make pierogi every year. These are the real deal 🙂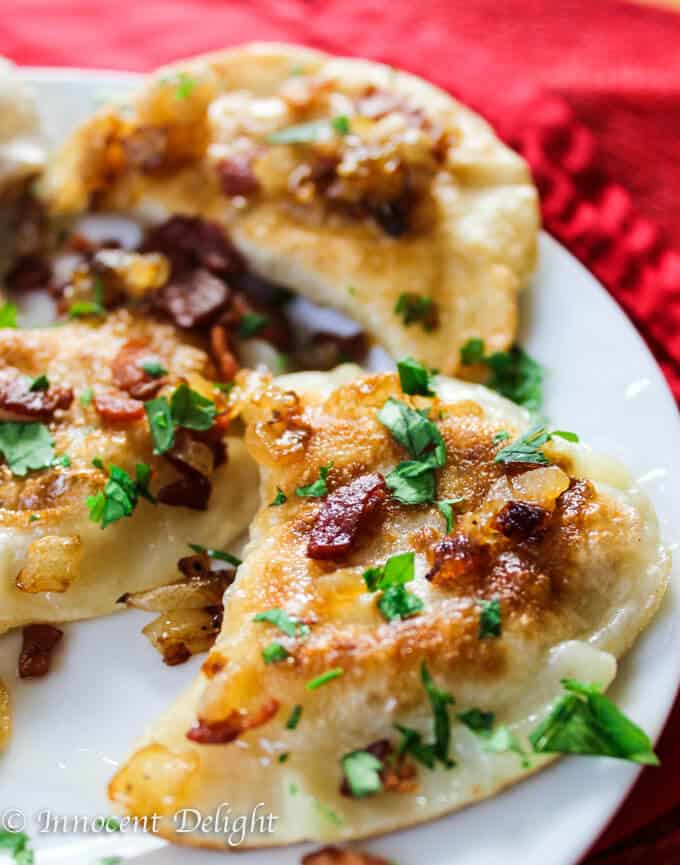 As I mentioned I make this type of Authentic Polish Pierogi every year….for Christmas. However, these aren't the variety out there; I also make pierogi with sauerkraut and mushrooms – which are far more typical for Christmas in Polish homes.
Yet, Pierogi with Potatoes and Cheese are also very popular and often cooked in Polish homes. So, long story short, I brought this culinary tradition with me to the US and every year I devote either a day or 2 to making my favorite Polish dishes for Christmas.
In an effort to perpetuate these traditions, I've been indoctrinating my new family (my husband and my in-laws) by annually hosting a Christmas Eve dinner. And while this effort to cultivate their palates to the full spectrum of my Polish Christmas menu at first was met with baby steps, I can honestly say that they're all in full stride now.
Staples of this Christmas menu include: 2 kinds of pierogi, red borsch (a clear beet soup), Bigos (hunter's stew), fish "Greek style" (funny that it's dubbed 'Greek' because it's a very Polish dish), and Salatka (a root vegetable/potato/egg salad to die for). While I could do more, I've decided to limit it and still enjoy the process of cooking and sharing with my family.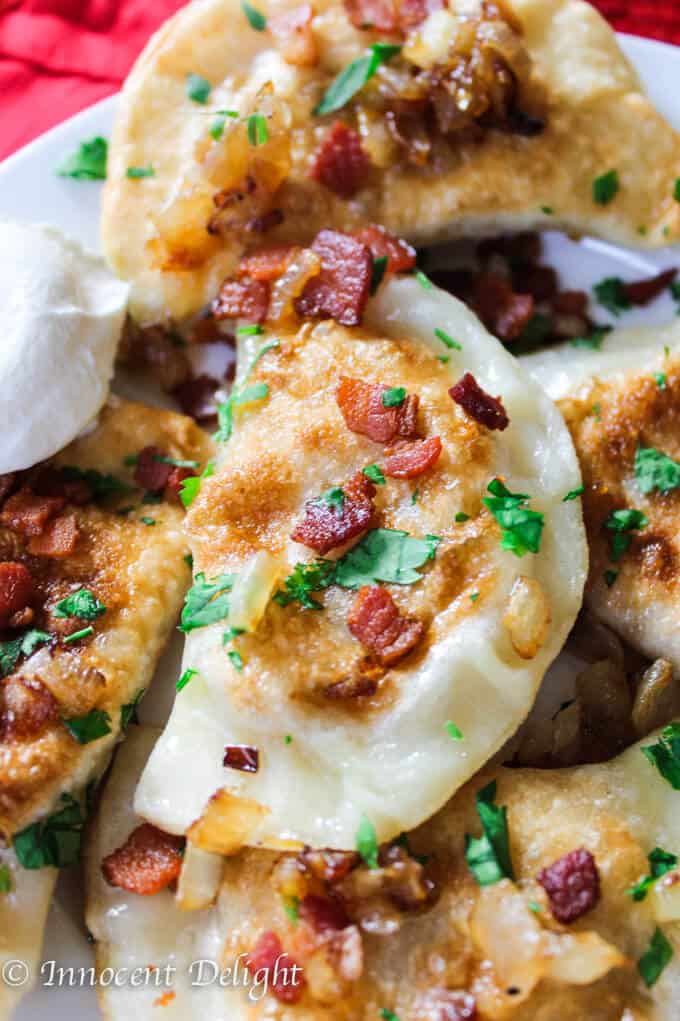 Now that we have a baby, Gabe, who is growing up way too fast (sorry for the cliche gang, but it's true). He is half Polish and I really want him to experience some of Mommy's, and therefore his own, traditions. So I try to supplement his diet with Polish dishes whenever I can.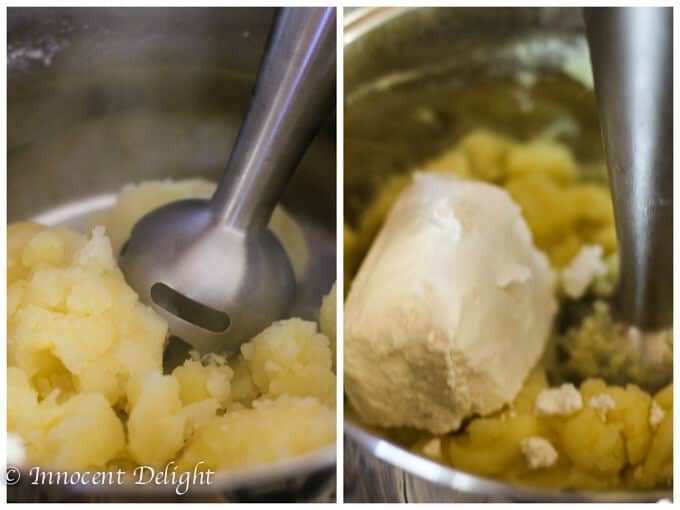 As long as I'm talking about traditions I'd like to give you a little glimpse of how a Polish Christmas looked for me when I was growing up. Obviously, I'm saying "for me" because I know that almost every home had their own little differences.
In fact, I know that as some of my Polish friends read this post that they'll be saying that this or that looked different in their houses. For instance, there was a clear divide between soup served. I'm aware that people either had borsch (my house) or a mushroom soup. With that said, there were some hybrid houses that had both soups served.
And recently I found out that there was yet another type of soup gracing Christmas tables…sauerkraut and mushroom. These variations seemed to run with geographic region (like Red & Blue states). So, as this one example attests, different parts of Poland had different traditions; but I can tell you that there were some universals for all Poles.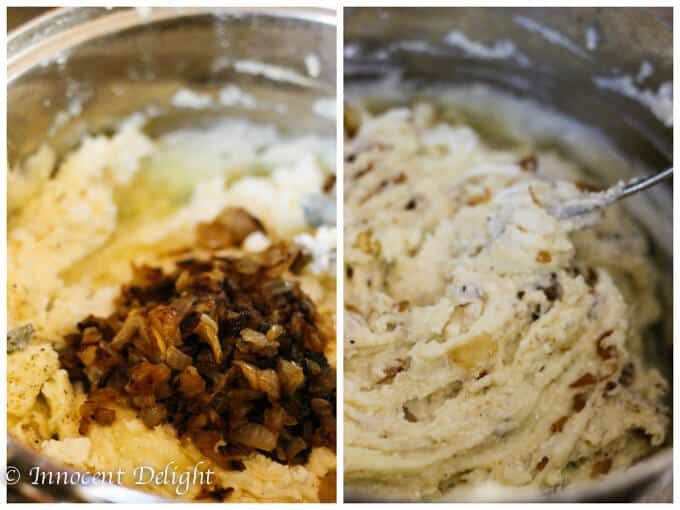 Christmas Eve dinner always kicked off the holidays. Dinner was served after the first star showed up in the sky and consisted of 12 dishes. However, atypical of most Polish meals, meat was prohibited from the Christmas Eve table. Rather, the ingredients which dominated tables were: fish, pierogi, mushrooms, sauerkraut, cabbage.
The common dishes served would be borsch with mushroom mini pierogi (kind of like a ravioli), mushroom soup, different varieties of pierogi (the most popular being with mushrooms and sauerkraut), bigos without meat (hunter's stew – sauerkraut with mushrooms, plums, tomatoes) or just sauerkraut with mushrooms, fish – Hearings served in different sauces, and the most popular being Karp. My family wasn't a huge fan of Karp because it was so boney and therefore my mom always went with Trout. Our go-to was a whole trout stuffed with lemon and butter (OMG!).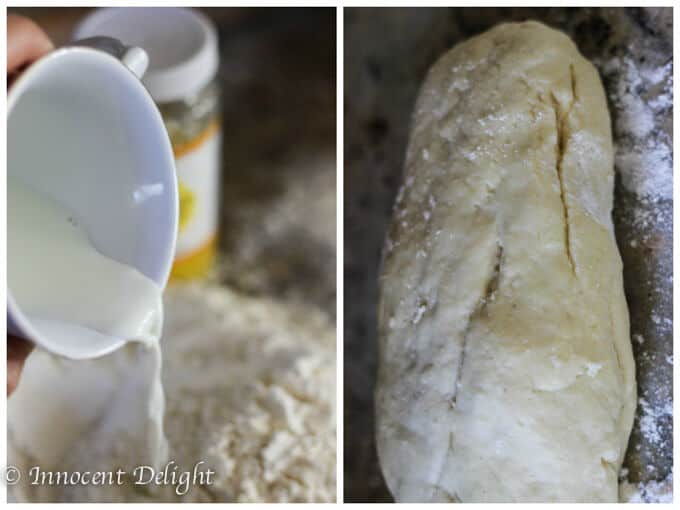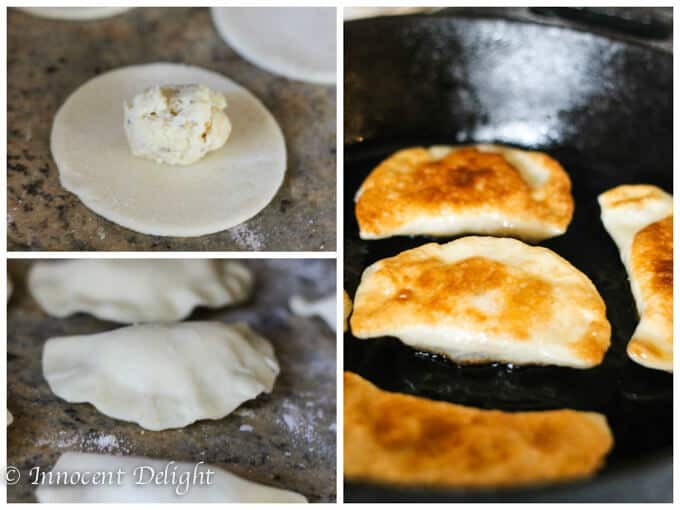 I don't know if you're familiar with our Polish Karp tradition, but it seems to me that a number of people around the world have a vague familiarity with it, as I was asked about it a few times.
Anyhow if were to visit any community in Poland right before Christmas, you would find places everywhere selling "Live Karp." As a kid, my own appreciation of this was that everyone was taking Karps home and letting them swim in the tub (cool right? a pet!). I knew nothing more than that. To this day I still question where these glorious pets would vanish to.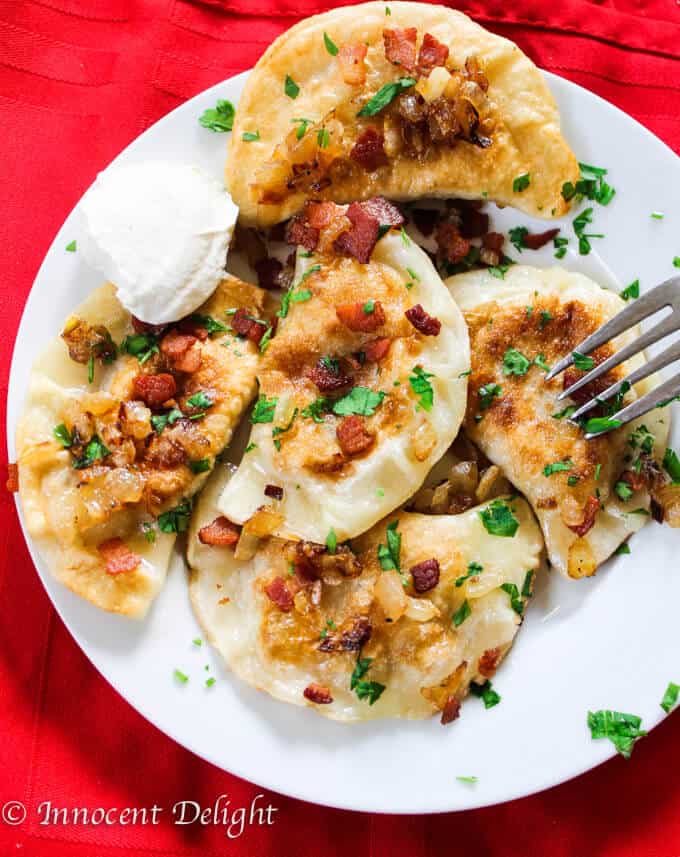 But I digress, Pierogi are a different story. I always know where they start, and where they end. They start with potatoes, cheeses, onions, spices and with the flour for the dough. I roll it, cut it into little round cutouts, insert a little ball of potatoes/cheese mixture, seal it and there you go.
While this tradition is alive, I no longer abide by the no meat on Christmas Eve mandate. So, often I sprinkle my pierogi with a little bit of chopped bacon, and likewise, I use sausage in my hunter's stew. But I know that a lot of people are still very strict about this requirement.
Anyhow, the addition of meat is purely optional. For the featured version here of Authentic Polish pierogi, I did go with some chopped bacon.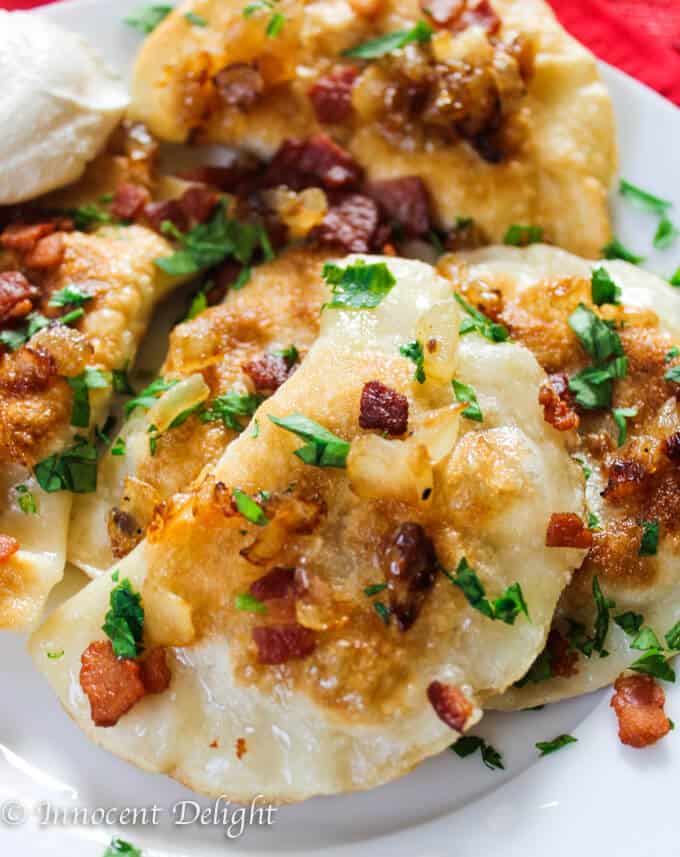 Now, I won't lie here. When you're new to the Pierogi making business it can take a while to master them. Admittedly, they seem so easy, but when you get to the point where they have to be sealed, a lot of times you'll find that they aren't very cooperative. But practice makes perfect. It used to take me hours from start to finish.
Now I can be done in 2 hours with about 80 Pierogi – ready to serve. So, if you have the patience to learn how to make them, then go ahead and give it a try. Just don't get discourage the first time out. Even if it takes time, I can guarantee that they will taste delicious and you'll be so proud of yourself that you will want to tell the whole world about them and the work you've done.
In fact, I guess I've waited a lifetime to say, 'hey world, here are Pierogi!!!!' Without further adieu, I give you my super delicious Authentic Polish Pierogi with Potatoes and Cheese. Cheers!
If you're looking for more Polish recipes here are a couple of suggestions:
Authentic Polish Pierogi with Potatoes and Cheese Recipe
Ingredients
For the filling:
5

medium potatoes

8

oz

farmers cheese

1

tablespoon

blue cheese

(optional)

2

tablespoon

cheddar cheese

(optional)

1

whole onion

, chopped

1/2

teaspoon

garlic powder

1/2

teaspoon

onion powder

1

tablespoon

of oil or ghee for onion

Kosher salt and freshly ground black pepper to taste
For the dough:
3

cups

whole purpose flour

1/2

cup

warm milk

1/2

to 3/4 cup of warm water

(depending on how much your flour soaks)

1

tablespoon

melted butter

A little bit of kosher salt

For the toppings

1

large onions

, chopped

3

slabs of bacon

, chopped (optional)

1/2

cup

of sour cream

2

tablespoon

of oil or ghee for frying
Instructions
For the filling:
Place potatoes in a pot, cover with water and cook until fork tender

In the meantime heat up the oil or ghee in a frying pan, add onions and cook until golden brown

Once potatoes are cooked, using a hand blender or potato masher, mashed potatoes so they don't have lumps

Add farmers cheese and mix together

Add onions, other cheeses, spices, salt and pepper and mix well.
For the dough:
Pour the flour on a counter or other surface that will allow you to make the dough

Add a pinch of salt

Make a little whole in a middle and start adding milk and butter

Add a little water at the time and work the dough until you can form a ball about 10-15 minutes

Once done, cover it with the big bowl and let it rest for about 20-30 minutes

Roll the dough until thin (like pasta) and using either cookie cutter or large wine glass cut the circles

Place 1 teaspoon of fling in the middle of the circle

Wet one half of the circle and then seal it together

Boil large pot of water and season with salt

Once the water is boiling put about 8 pierogi at the time

Once they come to the surface let them cook for 1 minute and using spider or slotted spoon take them out on a plate

If you want to fry them like I did here, use 1 tablespoon of oil or ghee and fry pierogi on each side until golden brown
For the toppings:
Using separate pans add oil and onions and fry the onions until golden brown and bacon until crispy (you don't need fat for bacon as it is already fatty)

Add onions and bacon on top with pierogi and serve with sour cream
Recipe Notes
1. Some people use egg for the dough. I tried all kinds of dough variations and in my opinion mine is the most delicate. Egg tends to make the dough tougher. You can add egg to the dough and reduce amount of liquid.
2. Addition of blue cheese and cheddar is something new to me. It's a simple trick from very famous Polish chef. I tried it and it really elevates this dish to another level.
3. If you are not serving pierogi immediately, take them out on a counter and let them cool down and dry a little bit. Make sure that they are not touching each other. Once cooled, place them on a baking sheet, again with distance from each other, place in a freezer and let them freeze. Once done, you can pack them in the plastic bag.
Read about the author Edyta here or follow Eating European on social media: Facebook, Instagram, Pinterest, and Twitter.