This post may contain affiliate links which won't change your price but will share some commission.
These little golden breakfast treats are super delicious, easy to make and every kid will absolutely love them. There's a secret to making these Polish fluffy apple pancakes actually fluffy without adding yeast. Read on…
You can make these Polish apple pancakes with or without yeast. The one with yeast will take much longer to prepare, as you'll need to wait for the dough to rise. I'm planning on making them with yeast one day and sharing here. Today, however, I present the version without yeast, which can be equally fluffy and delicious.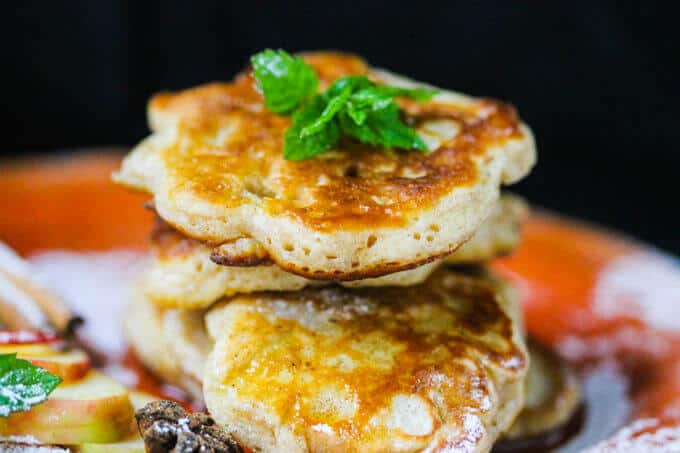 So what's the secret to Make Polish Apple Pancakes (Racuchy) Fluffy Without  Yeast?
Ok, let's break it down into a few easy steps:
In one bowl combine 2 cups of flour with 2 teaspoons of baking powder (and 1 teaspoon of cinnamon – if using), set aside;
In another bowl, add 3 tablespoons of sugar and 1 egg. Beat until smooth and fluffy (for about 3 minutes) – and that's the secret! – beating egg with sugar will give them this signature fluffiness;
Gradually add the flour mixture and milk (1 cup) to egg/sugar mixture until all combined;
Peel and cut 1 apple into small cubes and fold it in;
Heat up 1 tablespoon of coconut oil in a skillet and using a rather big spoon, scoop some of the batter on the pan;
Fry on each side until golden brown;
You can serve it with powdered sugar or maple syrup, or both 🙂
You can see the steps illustrated below in the photos.
See how fluffy they are: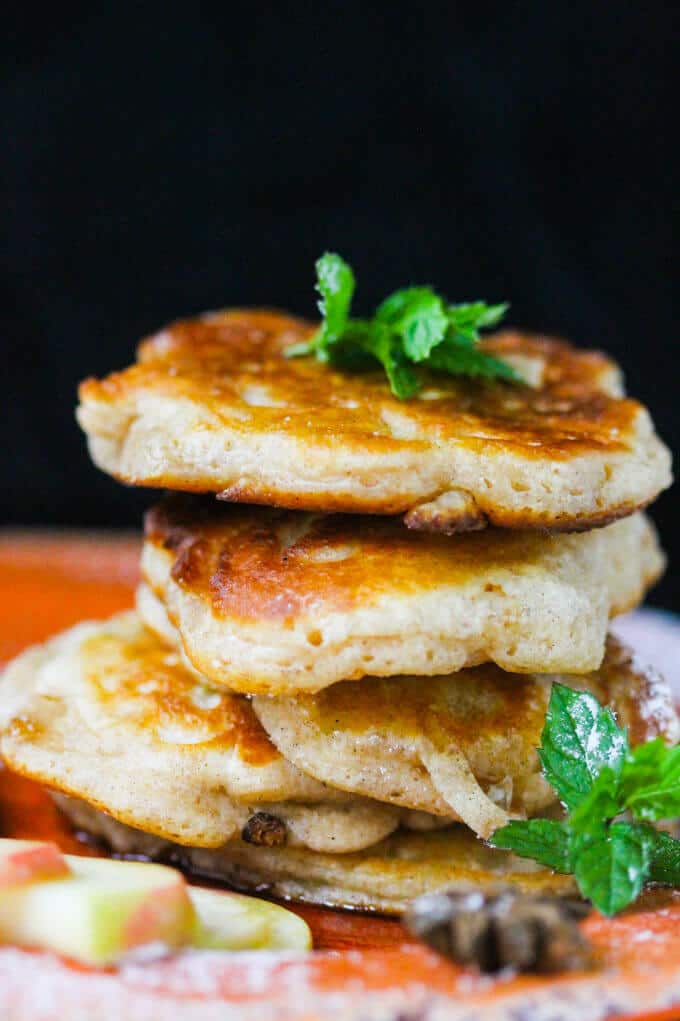 And here are the photos of the steps described above: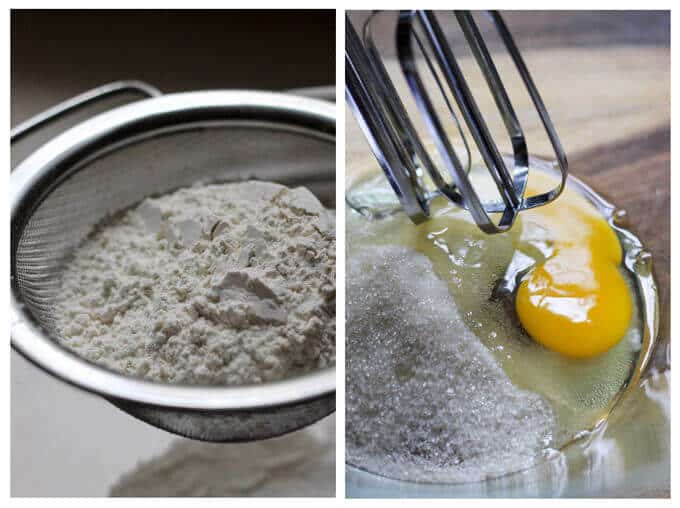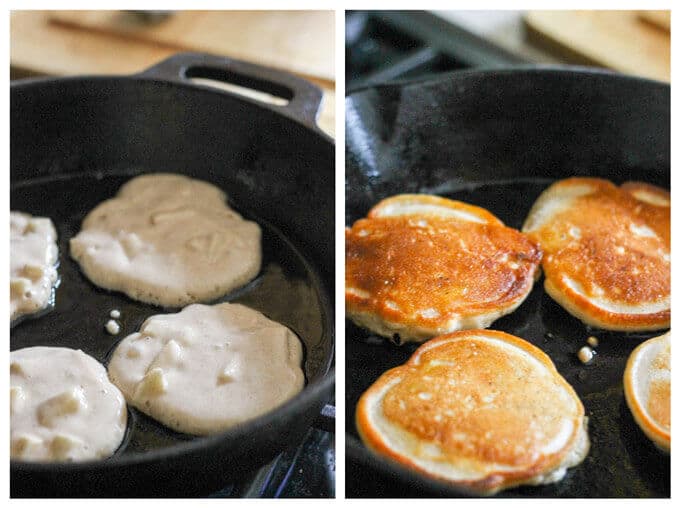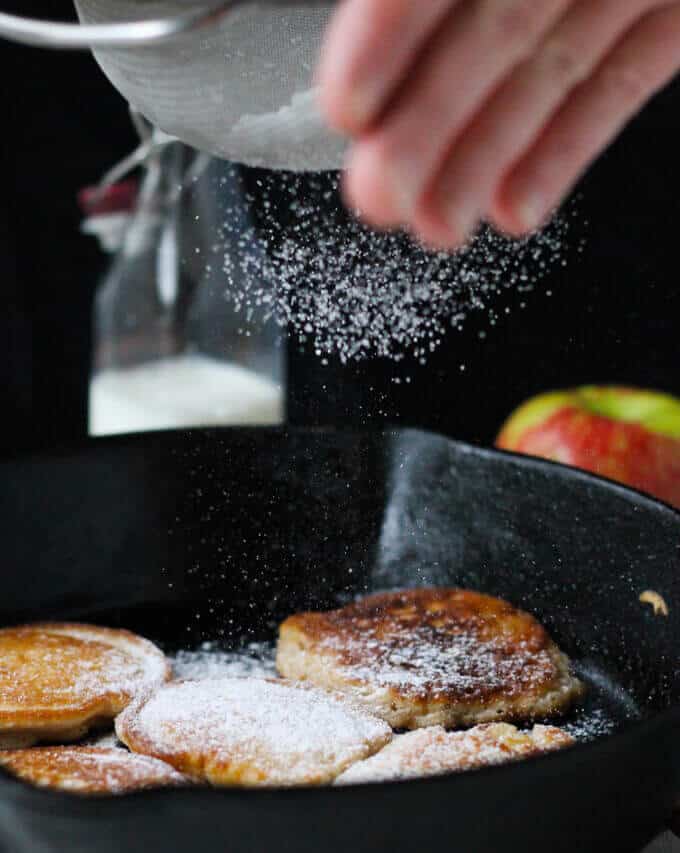 When I was growing up in Poland, we didn't have a lot of candies or cookies, muffins, etc., in stores. Almost all treats and sweets were homemade. These apple pancakes, called 'Racuchy,' were one of the favorites of all kids; especially in that, they could be served for breakfast too. Mind you, it isn't the norm to have a sweet breakfast in Poland. We usually ate farmer's cheese or eggs or even simple bread with butter and a slice of cheese. But these fluffy apple pancakes were the exception to the rule.
In contrast, it wasn't so unusual to a eat sweet dinner though. For example, we would make crepes like this Perfect French Crepes and fill them with jelly or sweet cheese filling, or potato pancakes like these European Style Potato Pancakes and serve them with sugar.
I know this may sound weird, but it's all because the main course of the day (like dinner) is actually eaten in the afternoon. It consists of a first course – which is always a soup – like for instance this Polish Dill Pickle Soup, and then a main course, with usually some kind of meat, potatoes (like these new dill potatoes) and veggies (like this rainbow carrots apple slaw);  or our signature Pierogi (like these Pierogi with potatoes and cheese, Pierogi with sauerkraut and mushrooms or Stuffed Cabbage).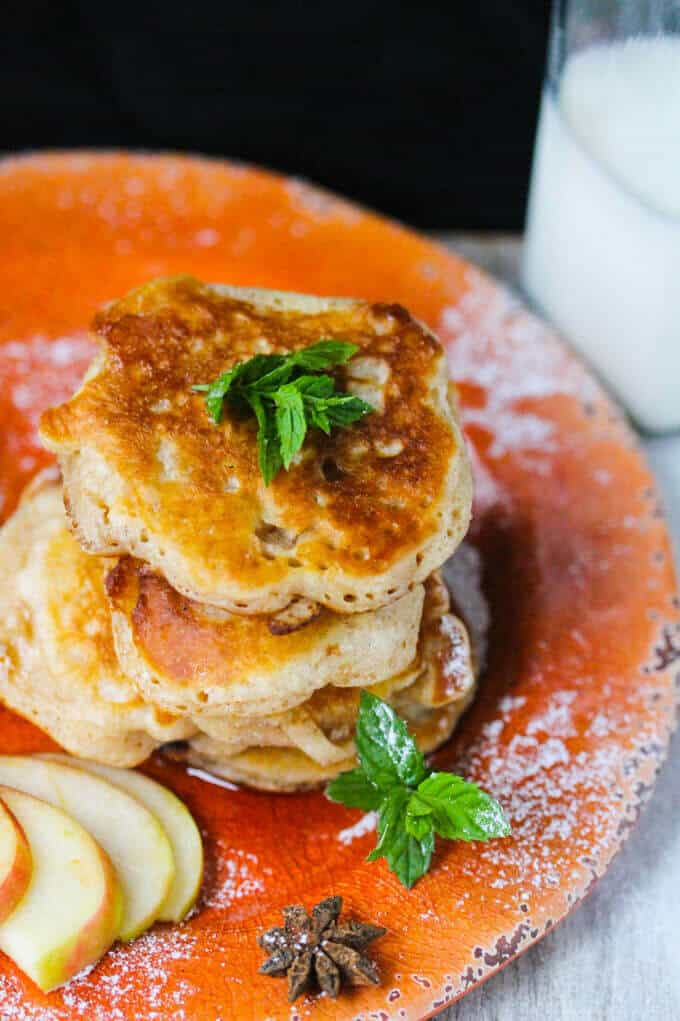 To be quite honest I hadn't actually had Racuchy since I was a kid. Therefore, I've wanted to make them for quite a while. We are in fall – aka, 'apple season' – and I thought it time to share these golden beautiful apple pancakes with my readers.
Racuchy are similar to American pancakes, but I think that the way they are prepared makes them a little different in texture. Obviously, if you like pancakes, you will love these little golden Polish treats. You can serve them with milk or coffee or juice, whatever suits your mood.
Traditionally Racuchy are saved with powder sugar, but maple syrup will work well too. It seems like everything tastes better with maple syrup, doesn't it? Give them a try and let me know in the comments how you liked them.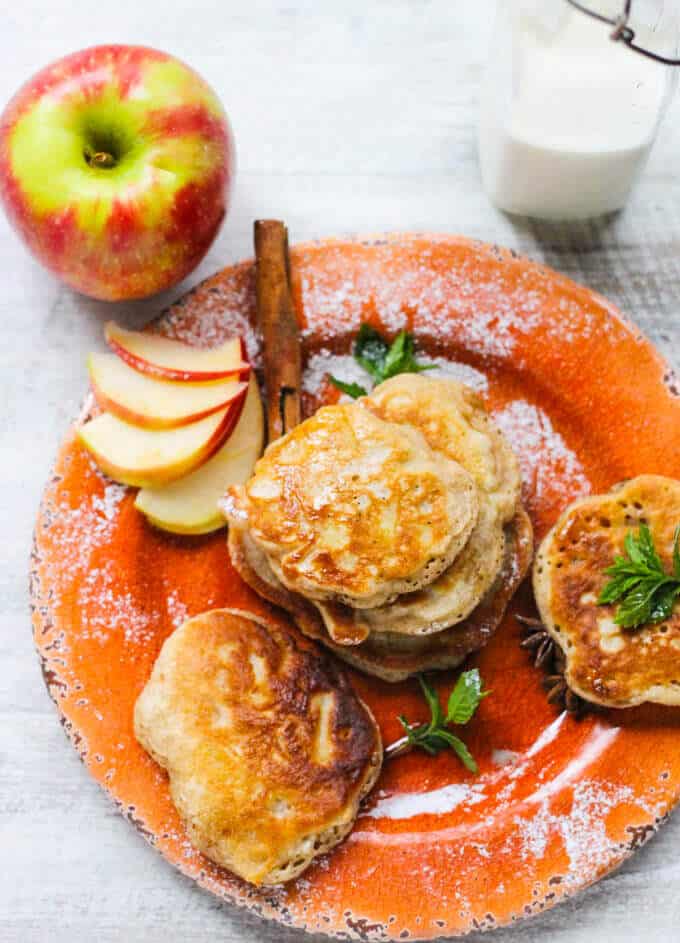 Ingredients
2

cups

all purpose flour

2

teaspoon

of baking powder

1

teaspoon

of cinnamon

(optional)

1

cup

of milk

1

egg

3

tablespoon

of sugar

1

apple

, peeled and cut into small cubes

1-2

tablespoon

of coconut oil

(or more depending on how much will be needed to finish frying the pancakes)

Maple syrup and/or powder sugar for serving
Instructions
Combine flour, baking powder and cinnamon in one bowl

In a separate bowl add sugar and eggs and beat up with the hand mixer for about 3 minutes until fluffy

Add a little bit at the time of flour mixture and and milk and combine; continue until all flour and milk are incorporated

Fold in the apples

Heat up tablespoon of coconut oil and add batter to the pan (you can make them as small or a big as you want to) and fry the pancakes on each side until golden brown

Add more oil if needed and repeat the process until all the batter is finished

Serve apple pancakes with powder sugar or maple syrup
If you like this recipe you may also like these delicious recipes used in Polish cuisine:
Perfect French Crepes (although they're French, they are highly used in Polish cooking and known as Nalesniki)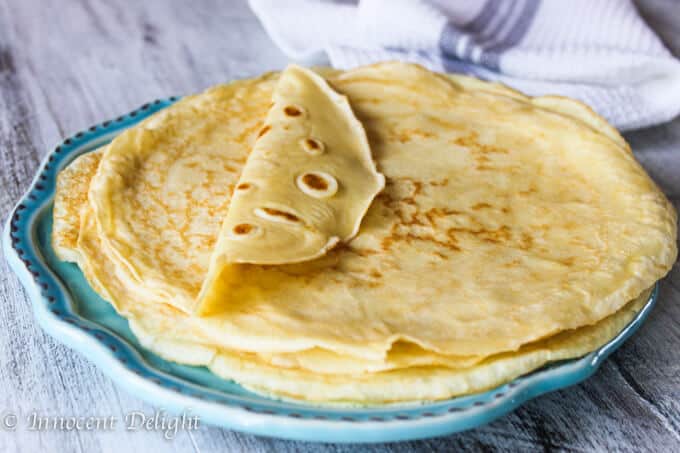 European Style Potato Pancakes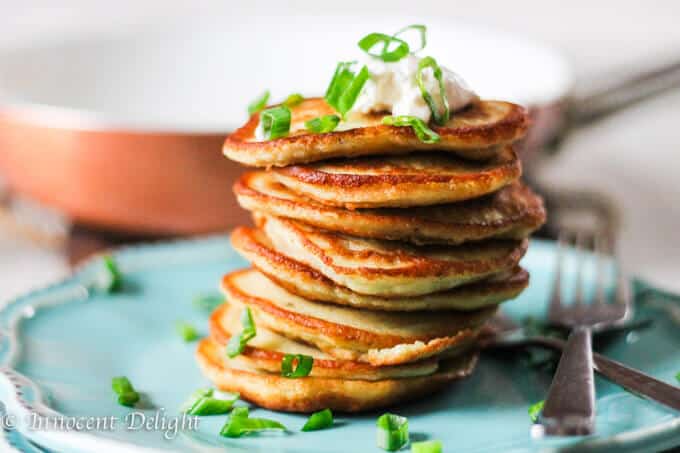 Traditional Polish Dill Pickle Soup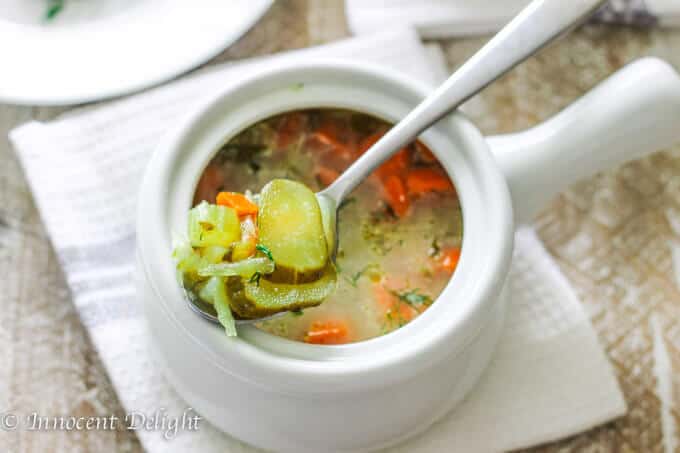 Authentic Polish Pierogi with Potatoes and Cheese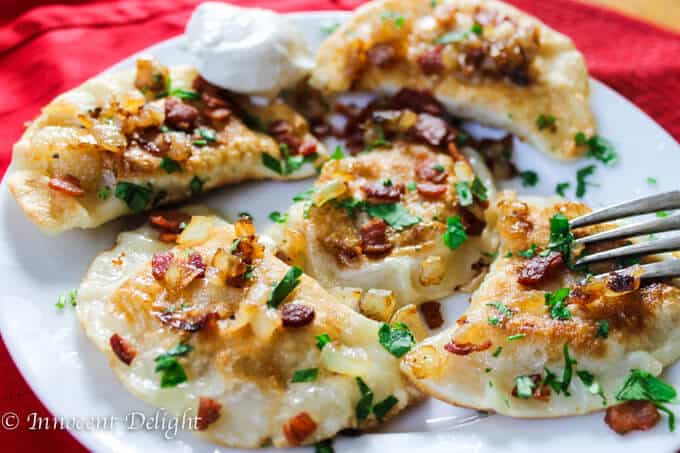 Sauerkraut and Mushrooms Pierogi from Scratch