This post may contain affiliate links which won't change your price but will share some commission.
Polish Stuffed Cabbage Rolls (Golabki) are one of the most popular Polish dishes. The skinny version uses ground turkey instead of pork or beef.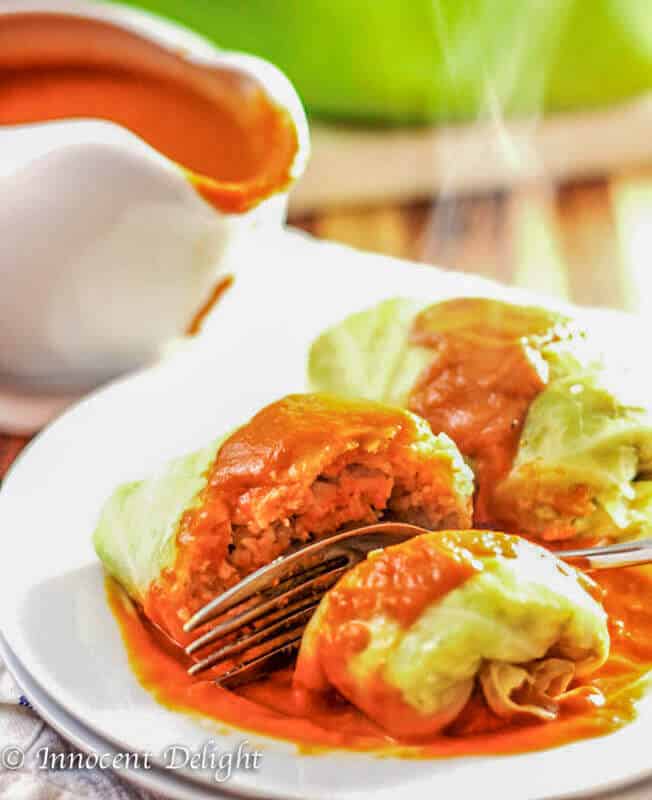 Skinny Version of Polish Stuffed Cabbage Rolls Golabki
Polish Stuffed Cabbage Rolls in this recipe are the skinny version of cabbage rolls usually stuffed with some greasy pork or heavy beef (albeit…savory). I made mine with super lean turkey meat.
Stuffed cabbage rolls seem to be a staple in almost every cuisine, from Europe to Asia and further stretches East & West, and North & South. Each country has its unique name for it and most all have some small regional differences. You may want to check what Wikipidia says about stuffed cabbage….it's pretty interesting.
Polish Stuffed Cabbage Rolls (aka, Golabki) are as popular in Poland as Authentic Polish Pierogi with Potatoes and Cheese,  Cabbage and Kielbasa or Mizeria; and that's saying a lot.
How to make Golabki
Making this Polish Stuffed Cabbage Rolls may seem complicated, but it's actually pretty simple.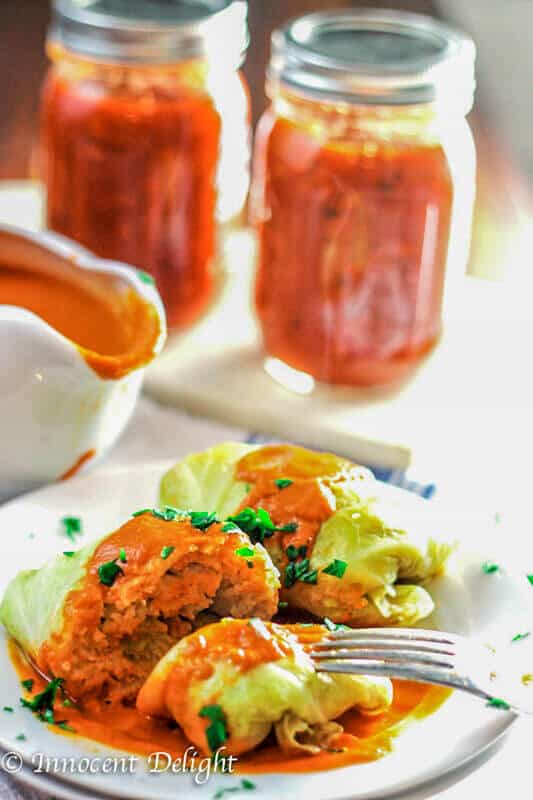 Cooking the cabbage
You'll have to boil the water in a pretty deep pot and place the whole head of cabbage into it.
It may need to be turned upside down during the boiling process, depending on how much of the cabbage is actually covered with water.
The boiling time varies depending on a size of the cabbage.
It may take roughly 20 minutes, or until the leaves are pretty soft.
Once thoroughly boiled, the tricky part will be to taking the hot cabbage out of the water. I guess the easiest way would be to just pour it all into a clean sink, but I usually use the huge forks to take it out of the water and then place it onto a cutting board.
Preparing the leaves
Once cooled, I cut out the core of the head of cabbage.
The leaves will then peel off easily.
Keep in mind, the outer leaves may not be the best for folding, but don't throw them out. Rather, line the bottom of the pot that you will be putting your cabbage rolls into.
It will actually protect the cabbage that is stuffed with filing, from burning.
If some hard part of the core is still present on your leaf, be sure to cut that off as well.
Preparing the filling
Combine boiled rice, raw turkey meat, and sautéed onions.
The important part about the preparation of the filling is that you actually need to season the rice very well before adding the meat. Once you add the raw meat, you won't be able to try it.
And I would say, you should over-season your rice because the meat will balance it out.
Folding the rolls 
Depending on a size of the leave, place 2-4 tablespoons of filling onto a leaf and start folding.
First fold the side parts of the leaf inward, and then do the same from the bottom to the top (it's the same technique you use with wraps).
Once folded, place cabbage in the bottom of your pot layered with leaves and continue until all are done and stacked up.
Once all the cabbage is packed into your pot, you may cover all of them with another layer of leaves, add water or stock, cover, and then place into the oven and cook for about 1 & 1/2 hrs. Serve these Polish Stuffed Cabbage Rolls with Easy Slow Cooker Tomato Sauce and enjoy this super lean, healthy and delicious meal. Bon appetite!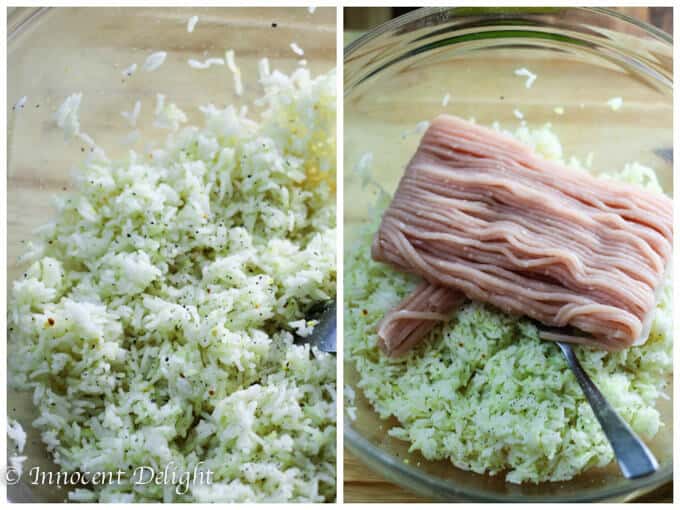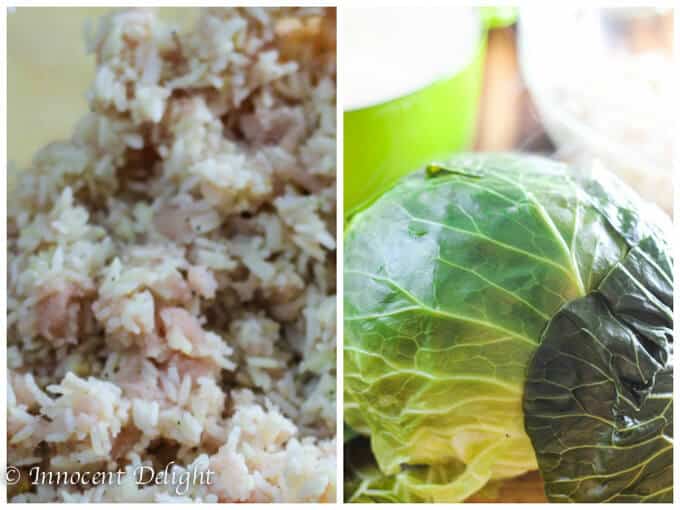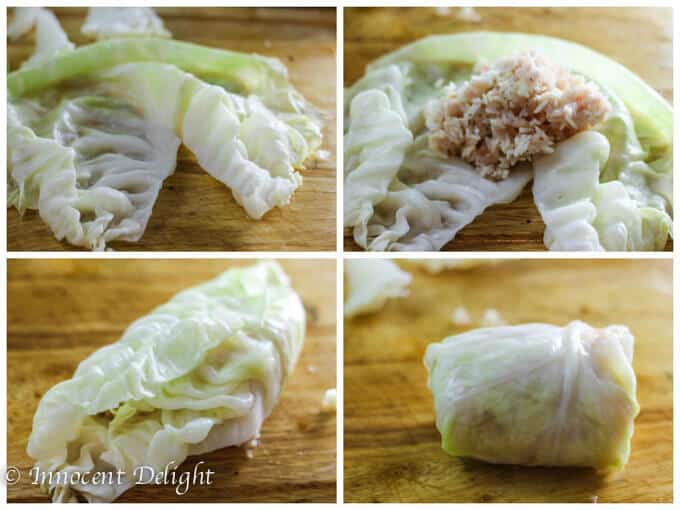 If you want to alter this recipe you may:
Use ground pork, beef or lamb instead of turkey;
Make a vegetarian version with sautéed mushrooms instead of meat;
Use brown rice instead of white;
Serve it with a creamy wild mushroom sauce instead of tomato sauce;
Use the filling in stuffed peppers instead of cabbage.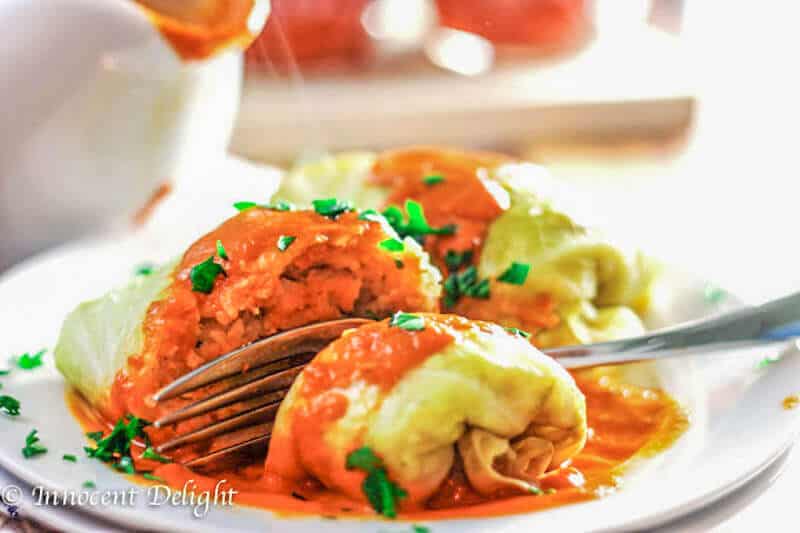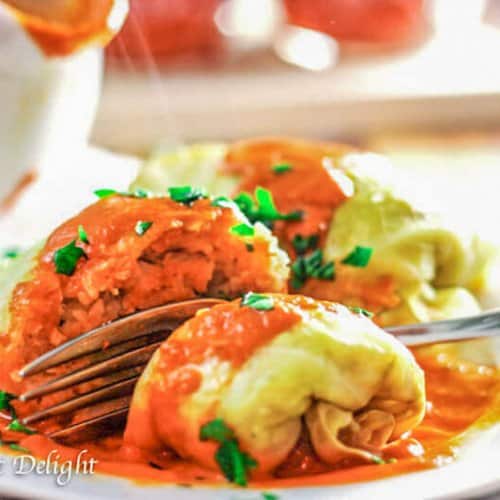 Polish Stuffed Cabbage Rolls
Polish Stuffed Cabbage Rolls is one of the most popular Polish dishes. This skinny version uses ground turkey instead of pork or beef.

Print
Pin
Rate
Ingredients
1

cabbage

1.5

cups

rice

1

pound

turkey

ground

1

onion

chopped

1

tbsp

butter

2

cups

stock

chicken or vegetables

Salt and Pepper to taste

Parsley

Italian
Instructions
Preheat the oven to 350F degrees;

In a large pot boil water and place the whole head of cabbage into it;

Boil the cabbage for about 20 minutes; if the entire cabbage Italian with water, rotate it during boiling;

In a frying pan sautéed onions with one tablespoon of oil until translucent, about 3-5 minutes;

In a separate pot, boil rice according to instructions; cold down when cooked;

In a big bowl add rice and season generously with salt and pepper (or vegetable powder stock), add meat, saute onions and mix together;

Once cabbage leaves are pretty soft, remove cabbage from boiling water and let it cool down;

Using a paring knife remove the core from the cabbage;

Save the outer leaves and place them at the bottom of the Dutch Oven or the oven safe dish/pot;

Take off one leaf at the time and place 2-4 tablespoons of filling in the middle depending on the size of the leaf;

Fold side parts of the leaf inwards and then bottom to the top (use the same technique as you would do for wraps);

Continue with the remaining leaves until all filing is used;

Stack up the cabbage rolls in an oven-proof dish;

Add water or stock, cover and cook for 1.5 hrs in 350F degree oven;

Serve hot with tomato sauce and sprinkle with Italian parsley.
Notes
You will need a large pot to boil the whole head of cabbage in it.
You can use any rice you like. I like basmati in this recipe.
Nutrition
Calories:
310
kcal
|
Carbohydrates:
48
g
|
Protein:
17
g
|
Fat:
5
g
|
Saturated Fat:
2
g
|
Cholesterol:
43
mg
|
Sodium:
420
mg
|
Potassium:
457
mg
|
Fiber:
4
g
|
Sugar:
6
g
|
Vitamin A:
405
IU
|
Vitamin C:
56.8
mg
|
Calcium:
84
mg
|
Iron:
1.6
mg
This post was originally posted on November 8, 2014, and since then it was updated to provide additional information.
If you like this recipe you may also like these Polish dishes:
Traditional Polish Dill Pickle Soup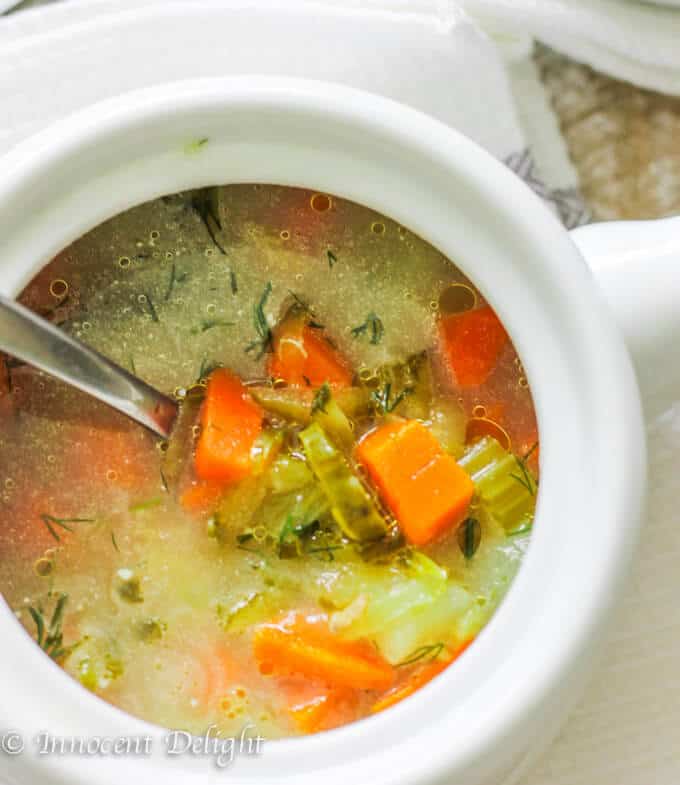 Polish Fluffy Apple Pancakes – Racuchy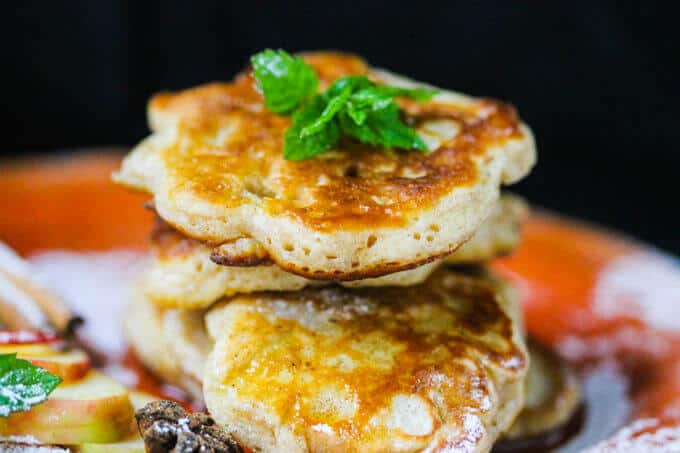 Sauerkraut and Mushrooms Pierogi from Scratch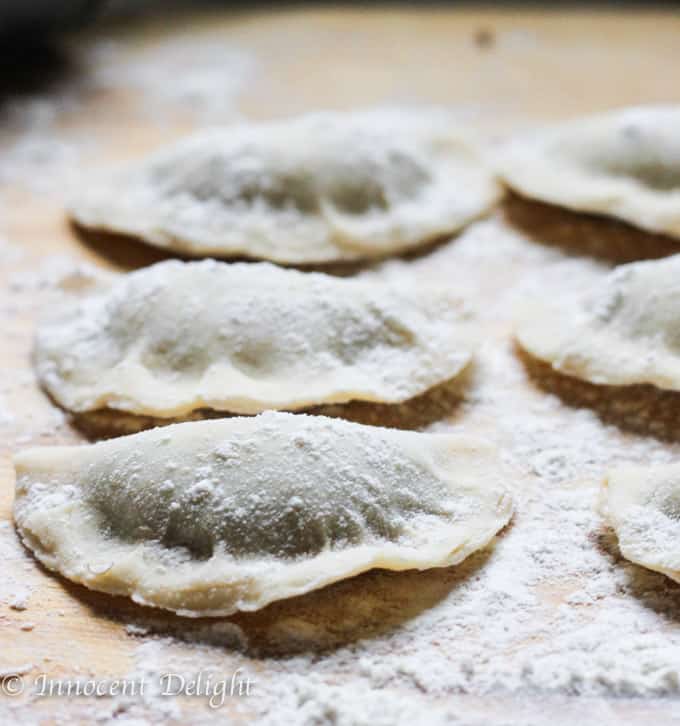 Rainbow Carrots Apple Slaw – Polish side dish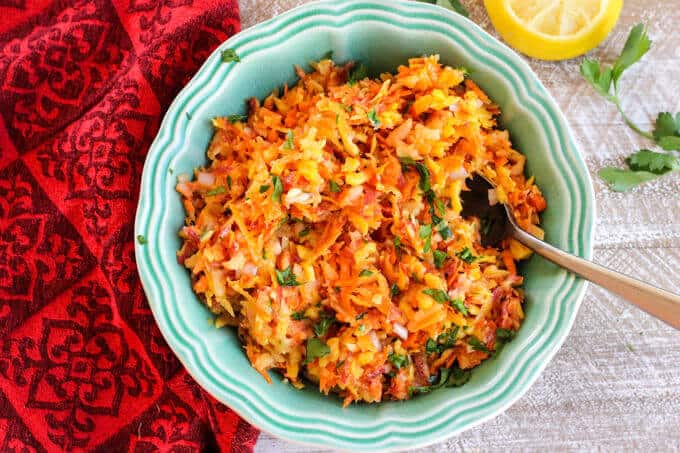 Open Face Mushroom and Cheese Sandwich – Zapiekanka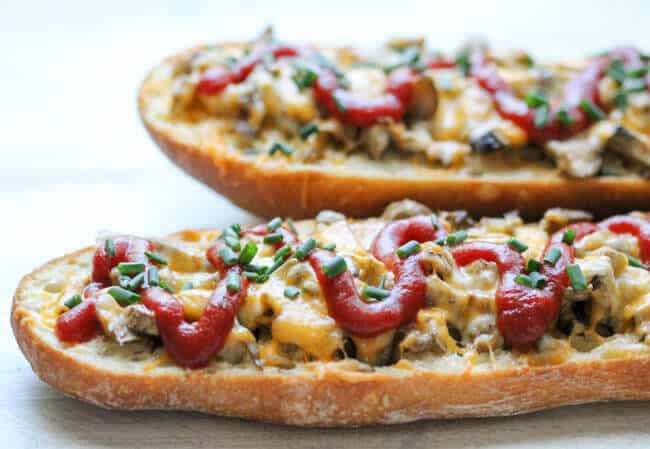 Read about the author Edyta here or follow Eating European on social media: Facebook, Instagram, Pinterest, and Twitter.
[mc4wp_form id="6774″]