Open Face Sandwich with Mushroom and Cheese is a famous Polish street food called Zapiekanka or Zapiekanki in the plural. You can find them on every corner in Poland.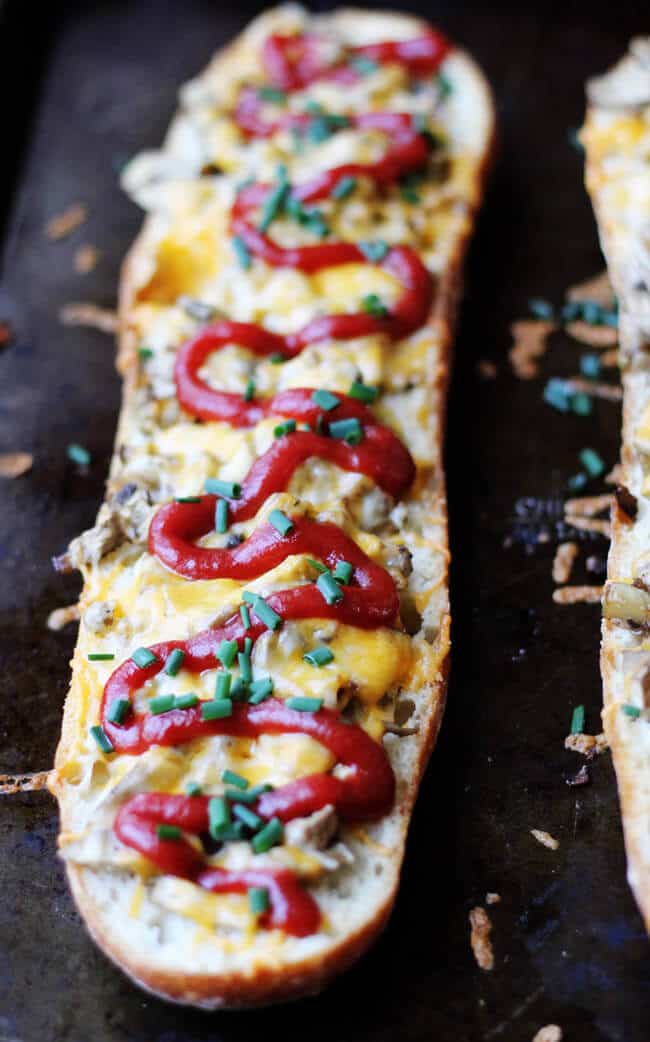 What is the Origin of Polish Open Face Sandwich Called Zapiekanka
If you've ever gone to Poland, I'm sure you've heard about Zapiekanki. We Poles love them! They are super simple and delicious. They really only have four ingredients: bread, mushrooms, cheese, and ketchup. What's not to love?
When I was a kid, I wanted to have Zapiekanki every day. It's similar to my 3-year-old who requests pizza for dinner every night. I was actually thinking about the origin of Zapiekanki and I think that it might be the Polish version of pizza.
In the former communist imposed Poland, we didn't have pizza readily accessible. I should actually say that we didn't have pizza at all. So what did we Poles do? We invented our own version of " Polish pizza"...on a piece of bread…You can read more about the origin of Zapiekanka on Wikipedia.
What Is Needed To Make Zapiekanka
Because Zapiekanka is so super simple, it can be easily made at home. You'll need:
A good baguette – My local Trader's Joe has half baguettes, which are perfect for this recipe. However, if you cannot find half baguettes, obviously just get a whole one and cut in in a half.
Mushrooms – There are actually two ways to use mushrooms for Zapiekanki. One where you sauté them with a little bit of butter and salt & pepper. The other one you'll simply shred fresh mushrooms and place them on the bread. I like both versions, but I usually make mine with sautéd mushrooms. That's just a personal preference. But if you want to go for the easier version without extra cooking, your Zapiekanka will still be very delicious.
Cheese – I used a Mexican blend in this recipe, but any well-melting cheese or combination of cheeses will do well. You can use cheddar, monster, mozzarella, whichever you prefer.
Ketchup;
Scallions or Chives for garnish.
How to Make Polish Open Face Sandwich with Mushroom and Cheese
Here's how to assemble this fantastic and super easy Open Face Sandwich with Mushroom and Cheese:
Step 1:  Grab your baguette. Slice your mushrooms and sautéd them with 1 tablespoon of butter, and some salt and pepper for about 5 minutes until nice and soft.
Step 2: Cut your baguette in half lengthwise and add your mushrooms;
Step 3: Add shredded cheese.
Step 4: Bake your Zapiekanki in the 375 F oven for a few minutes. Afterward, you can also put them under the broiler for a few minutes to have your cheese extra bubbly.
Step 5: After your Zapiekanka is cooked, add Ketchup and sprinkle with some scallions or chives. And your Open Face Mushroom and Cheese Sandwich, aka 'Zapiekanka,' is done! Enjoy this awesome Polish treat with friends.
Other Recipes With Mushrooms to Try: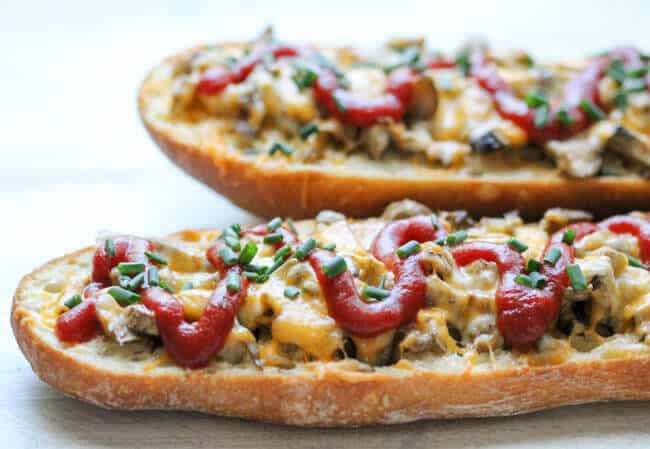 This post was originally published on June 10, 2016, and was since updated to provide additional information.
Read about the author Edyta here or follow Eating European on social media: Facebook, Instagram, Pinterest, and Twitter.