This post may contain affiliate links which won't change your price but will share some commission.
Wild Mushroom Risotto with Bacon and Leeks is exceptionally flavorful and delicious. Every bite introduces a combination of different flavors and textures.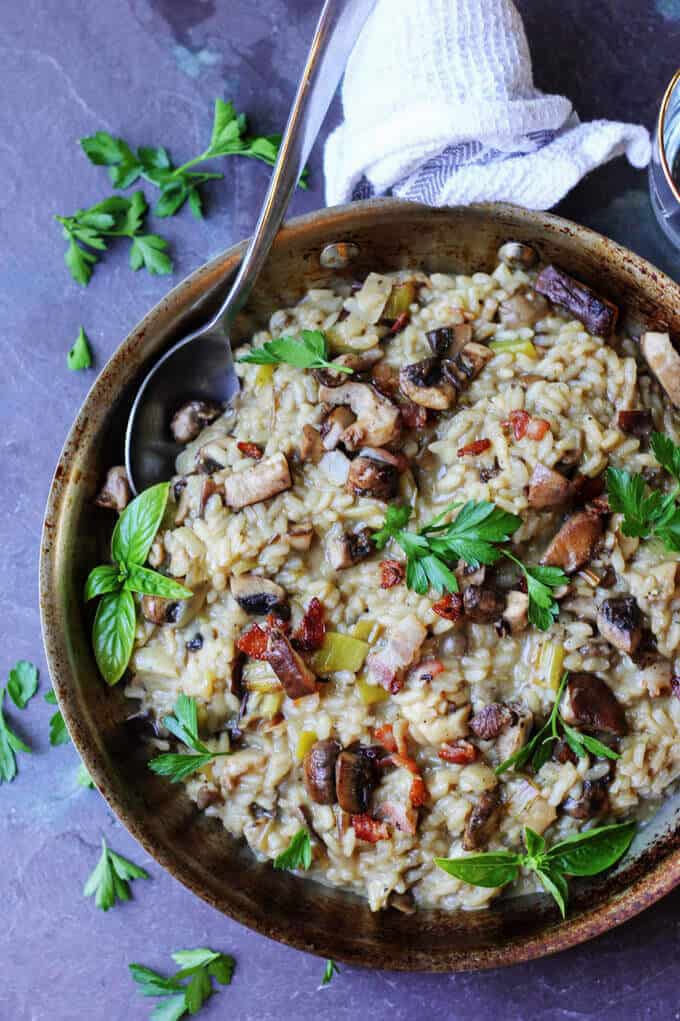 Wild Mushroom Risotto with Bacon and Leeks Far From Traditional and Boring
This Wild Mushroom Risotto with Bacon and Leeks is not your mother's risotto. In fact, it is pretty far away from traditional & boring. The combination of flavors and textures is really surprising. Earthy mushrooms combine perfectly with slightly sweet leeks and then marry together with creamy arborio rice. Finally, the dish is topped with crunchy bacon bits for an unforgettable experience.
I happen to really love risotto! Whenever I see it on the menu I always end up ordering it (I'm predictable). I'll take a rich risotto over pasta any day.
With that said, it just dawned on me that I hadn't yet posted a risotto recipe on this blog yet. Sorry guys, I dropped the ball on that one. I have pretty good Greek Spinach Rice with Feta on a blog, but not a risotto. The time has finally arrived to rectify that. And you may know this already about me, but being Polish means I really love me my mushrooms.
Why Wild Mushroom Risotto
With a risotto commitment, there was no question in my mind what kind of risotto needed to show up first on a blog…..Wild Mushroom Risotto. I first conceptualized this dish after making a risotto with leeks, peas and bacon bits. It was outstanding; and so I figured that mushroom, leeks, and bacon will really work well together.
I actually used the combination of these flavors in my Sourdough Mushroom Leek and Bacon Stuffing, and it's the best stuffing I've ever had.
I also figured this risotto would be the perfect taste of fall. I know that in America, fall flavors are pumpkin, squash, and apple; but fall is also the season for picking up mushrooms. When I was a little girl I would go into the forest with my family very early in the morning (I mean very early – like 5 AM) and we would be picking mushrooms. We had to go that early because this tradition is so popular that a lot of people are in the woods scouring for mushrooms. If you're late you may not be able to find any.
Now I just go to my local supermarket and pick up some shitake and oysters mushrooms and I'm good to go. However, I must admit that I miss those early days when we would go mushroom picking.
Ingredients Needed to Make Wild Mushroom Risotto
For this Wild Mushroom Risotto, I used only fresh mushrooms, although it is totally ok to add some dehydrated dry porcini mushrooms. They would definitely add some flavor. I made my dish simple, in a way that anyone can make it with ingredients easily found in your local supermarket. Here I used:
Shiitake mushrooms;
Oyster mushrooms;
Baby Bella mushrooms;
Leeks;
Arborio rice;
White wine;
Chicken stock;
Bacon;
Parmesan Cheese; &
Parsley.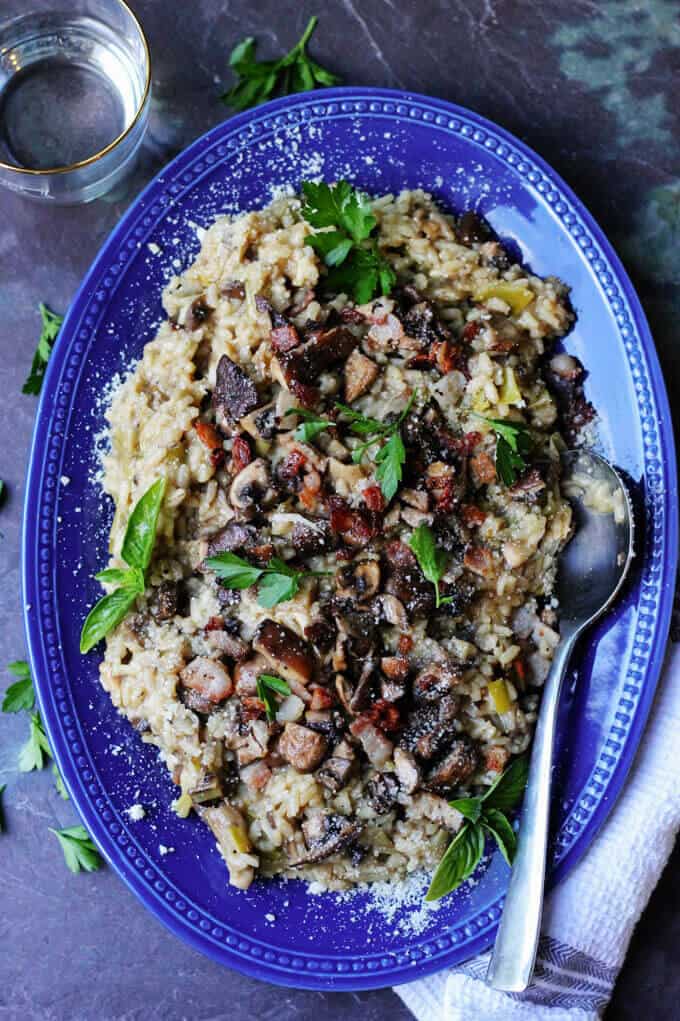 Risotto Can Be Intimidating But In Fact, It Is Easy
I know that risotto can be intimidating because you need to be constantly mixing it and be careful not to overcook it, but it's actually not that difficult to make. You just need to keep an eye on the rice and add enough liquid to cover the rice and let it absorb. Then add more liquid and continue the process until the rice is fully cooked.
It'll take about 20 minutes for the rice to get fully cooked; so even if you have to watch it carefully, it's not for a long time.
Try this Wild Mushroom Risotto with Leeks & Bacon and I guarantee that you'll not only make it perfectly, but you will want to go back to this recipe over and over. This can work as either a side dish or a dinner main course.
Wide Mushroom Risotto with Bacon and Leeks
Wild Mushroom Risotto with Bacon and Leeks is exceptionally flavorful and delicious. Every bite introduces a combination of different flavors and textures.
Print
Pin
Rate
Ingredients
2

cups

Baby Bella mushrooms

cut up

2

cups

Shiitake mushrooms

cut up

1

cup

Oyster mushrooms

cut up

6

tbsp

Butter

unsalted

3

slices

Bacon

chopped

1

Leek

chopped

1 1/4

cup

Arborio rice

1/2

cup

White wine

dry

5

cups

Chicken stock

1/2

cup

Parmesan Cheese

Salt and freshly ground back pepper

to taste

Parsley

chopped to garnish
Instructions
Heat up 2 tablespoons of butter in a frying pan, add Baby Bella mushrooms and cook untouched for 3 minutes, then mix them, add a pinch of salt and pepper and cook for another 2 minutes; remove from the pan;

Repeat the same process as above with shiitake and oyster mushrooms;

After all the mushrooms are cooked and removed from the pan, add chopped bacon to the pan and fry until crispy 3-4 minutes; remove from the pan;

In the meantime heat up 5-6 cups of chicken or vegetable stock and have it ready;

Add chopped leeks to the frying pan that was used for cooking bacon and cook until soft for about 3 minutes;

Add Arborio rice, mix and cook for 1 minute;

Add wine and let it cook until reduced in half for a few minutes;

At this time start adding one ladle of stock to the rice at the time and mix it until absorbed.

The rice should absorb between 5-5 cups of stock;

After 3 cups of stock add 2/3 of all mushrooms leaving 1/3 of them to put at the top after the risotto is cooked;

After about 20 minutes and at least 5 cups of stock the rice should be cooked; Check for seasoning and adjust as needed;

Stir in Parmesan cheese, top the risotto with remaining mushrooms, crispy bacon bits, and freshly chopped parsley. Serve immediately.
Nutrition
Calories:
421
kcal
|
Carbohydrates:
49
g
|
Protein:
13
g
|
Fat:
17
g
|
Saturated Fat:
9
g
|
Cholesterol:
42
mg
|
Sodium:
536
mg
|
Potassium:
686
mg
|
Fiber:
3
g
|
Sugar:
6
g
|
Vitamin A:
665
IU
|
Vitamin C:
2.1
mg
|
Calcium:
123
mg
|
Iron:
3.2
mg
Read about the author Edyta here or follow Eating European on social media: Facebook, Instagram, Pinterest, and Twitter.
If you like this recipe you may also like these recipes with mushrooms:
Sauerkraut and Mushroom Pierogi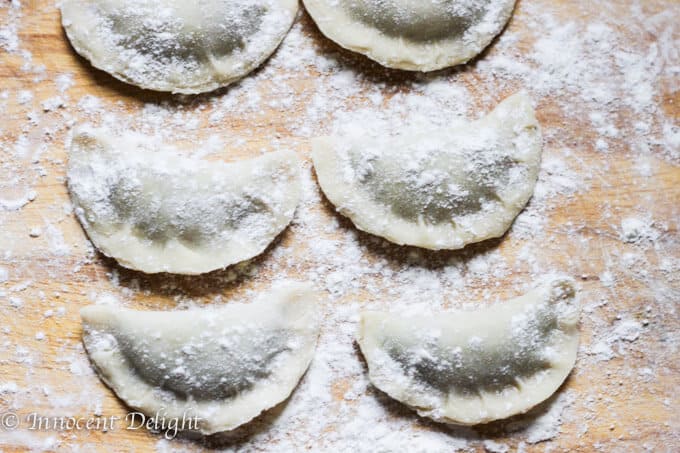 Mushroom Black Bean Veggie Burger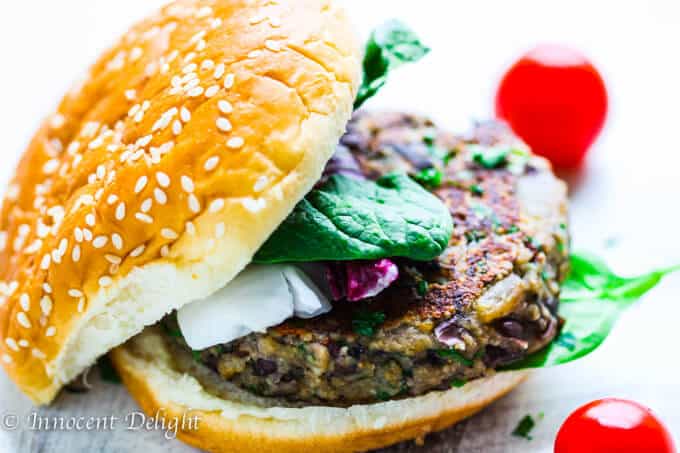 Truffled Butternut Squash Mushroom Soup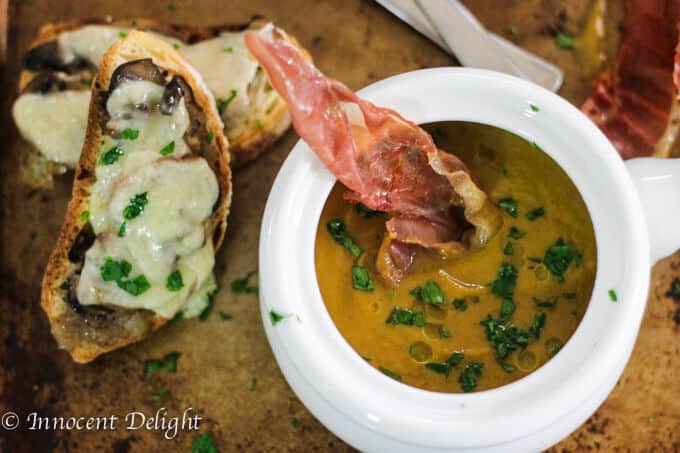 Open Face Mushroom and Cheese Sandwich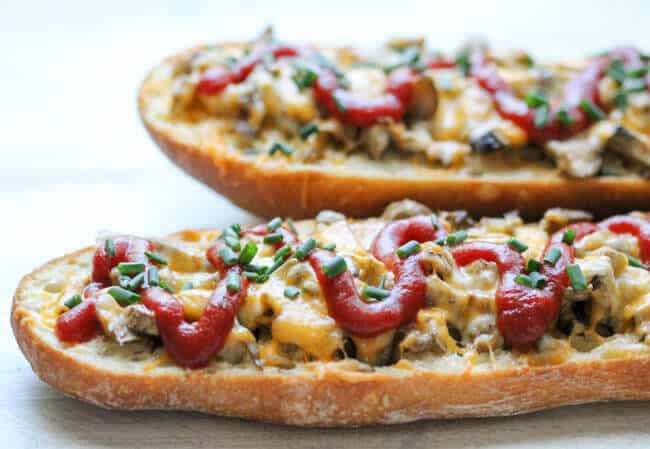 Mushroom Scallion Frittata with Parmesan Cheese