This post may contain affiliate links which won't change your price but will share some commission.
Cauliflower Crust Pizza Bites – gluten free, guilt free, low carb, delicious pizza bites. Inspired by Italian Pizza Margarita, but way more healthy.
These Cauliflower Crust Pizza Bites are so amazing that if I didn't tell you that you were eating cauliflower, you wouldn't know. I made these the other day while my husband was chatting with our neighbor over the fence. I offered them to have a bite of the "pizza" and they both were amazed at how good and fresh they were. When I told them that there was absolutely no flour in them, and that it is actually cauliflower, they didn't want to believe me. Our neighbor is Italian, so for him I was curious how he'd enjoy my manipulation of a heritage dish, but he really enjoyed this spin.
I wanted to make these Cauliflower Crust Pizza Bites ever since I saw these Cheesy Cauliflower Breadsticks by JoCooks. If you follow my blog, you may know that I love cauliflower. Obviously my prior posts: Spicy Siracha Cauliflower or this Roasted Cauliflower, will sure'll give me away. Anyhow, a pizza crust made of cauliflower was so intriguing to me that I was dying to make it. I really hoped that it was going to be good, because it struck me as another great way to have my husband eat some great veggies.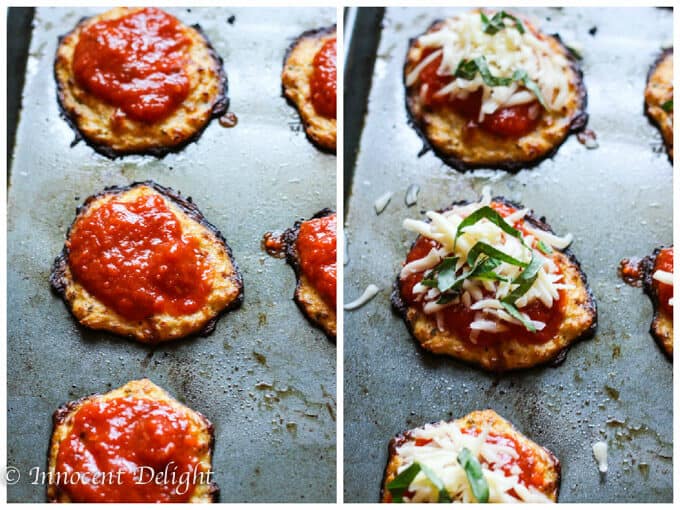 Let me tell you, the cauliflower crust didn't disappoint me and these Cauliflower Crust Pizza Bites became a huge hit. And they really are easy to make. You'll need to use a food processor, microwave and an oven. The food processor will dice your cauliflower; then you'll put it to the microwave for 10 minutes to get this cooked. After it cools down, you need to add aromatics (garlic), spices (salt, pepper, oregano) and binders (eggs and cheese) and then bake for about 20 minutes. Remove from oven and add a marinara sauce of your choice. You can use this Easy Slow Cooker Tomato sauce. Sprinkle with more cheese and basil and  then put it back into the oven for another 5 minutes. The edges will brown, and that's actually the best part.
If you are trying to watch your diet or loose some weight and you don't want to eat carbs/gluten, these Cauliflower Crust Pizza Bites are a perfect alternative. You can enjoy the flavor pizza without the guilt. Also, you can incorporate your favorite pizza toppings. Be creative. Enjoy 🙂
Adapted from JoCooks.
Ingredients
1/2

head of cauliflower

, broken into small florets

2

eggs

1

& 1/2 teaspoons of oregano

2

garlic cloves

, minced

1/2

cup

of shredded mozzarella cheese for crust

1/2

cup

of shredded parmesan cheese for crust

Salt and pepper to taste

1

cup

of shredded mozzarella for topping

8

tablespoons

of marinara sauce

1

tablespoon

of fresh basil

, julienned
Instructions
Preheat the oven to 425 F

Place cauliflower florets into the food processor and process until cauliflower resembles rice

Place in a microwave save dish, cover, and cook for 10 minutes

Let it cool down, then put into a big bowl

Add eggs, oregano, garlic, 1/2 cup of mozzarella and 1/2 cup of parmesan, salt and pepper and mix together

Spray baking sheet and spoon into little rounds on the sheet and then flatten them out

Bake for about 20 minutes

Take out and spoon marinara sauce on each round and sprinkle with mozzarella cheese and basil

Put back into the oven for another 5 minutes until the cheese is fully melted.

Take out and enjoy.
Notes
1. If you don't have microwave, it's best to first cook your cauliflower in a saucepan and then rice it in the food processor.
2. The edges can brown from the cheeses but it is pretty good. You can cook it less if you don't like brown edges.
If you like this recipe, you may also like this Spicy Siracha Cauliflower: