Rosol is a traditional Polish Chicken Soup. It's usually served on Sundays and for special occasions (like weddings, christenings, etc). It's also a traditional remedy for anyone who feels under the weather, as it's believed to have 'healing power.' The chicken broth is super clear and it's poured over the noodles with some chopped carrots, parsley, and pieces of chicken sprinkled in. Read more to learn how to achieve the superior taste and clarity of Polish Chicken Soup.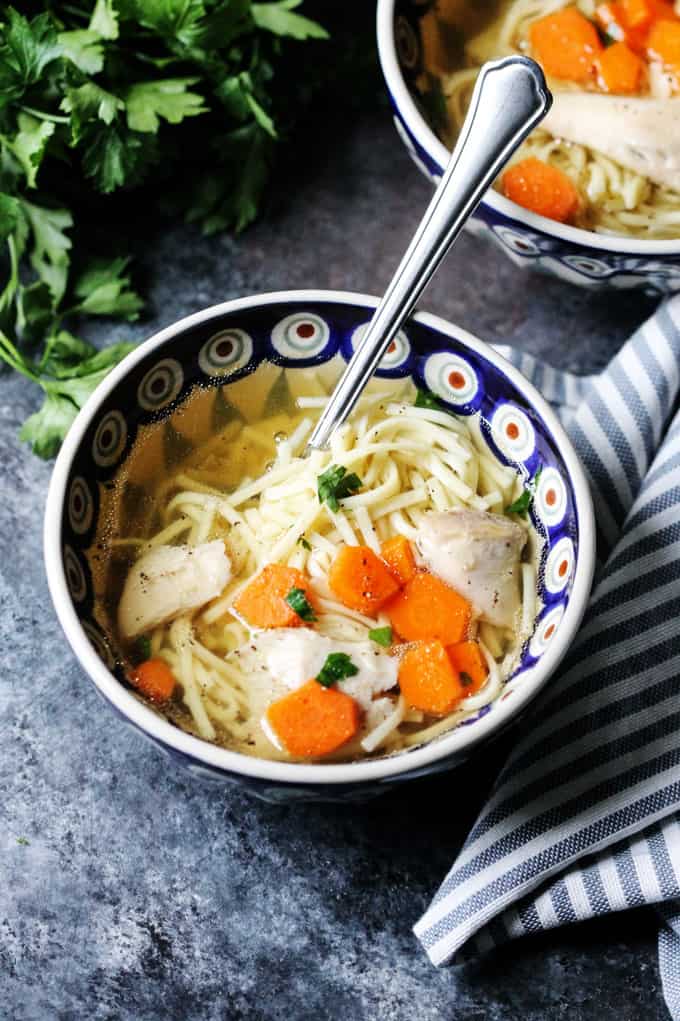 Rosol (Polish Chicken Soup) Served to Celebrate or Heal
I'm not quite sure where this tradition of serving Rosol on Sundays and for fancy gatherings, like weddings, came from. Maybe because it looks fancy, with its super clear broth, or maybe because it needed to cook for a significant period of time, so it couldn't be a quick weeknight meal. Whatever the case, it is unequivocally delicious.
Admittedly though, when I was growing up I wasn't a big fan of chicken soup. I was a very picky eater and I could have gone without the food for significant periods of time. Look at me now! Who would have thought it? Had anyone in my family been told back then that I'd one day be a 'foodie,' they'd surely have laughed out loud.
But when I grew up, I developed a huge appreciation for Rosol. I couldn't imagine a Sunday without it. And now, whenever anyone shows signs of a cold in my house, I'm immediately running to the store to buy all the ingredients to make Rosol. It's believed to have a healing power (especially when the soup is made with bones) and personally, I don't think it's just an old wive's tale. I always feel better right away after one hot bowl of this amazing Polish Chicken Soup.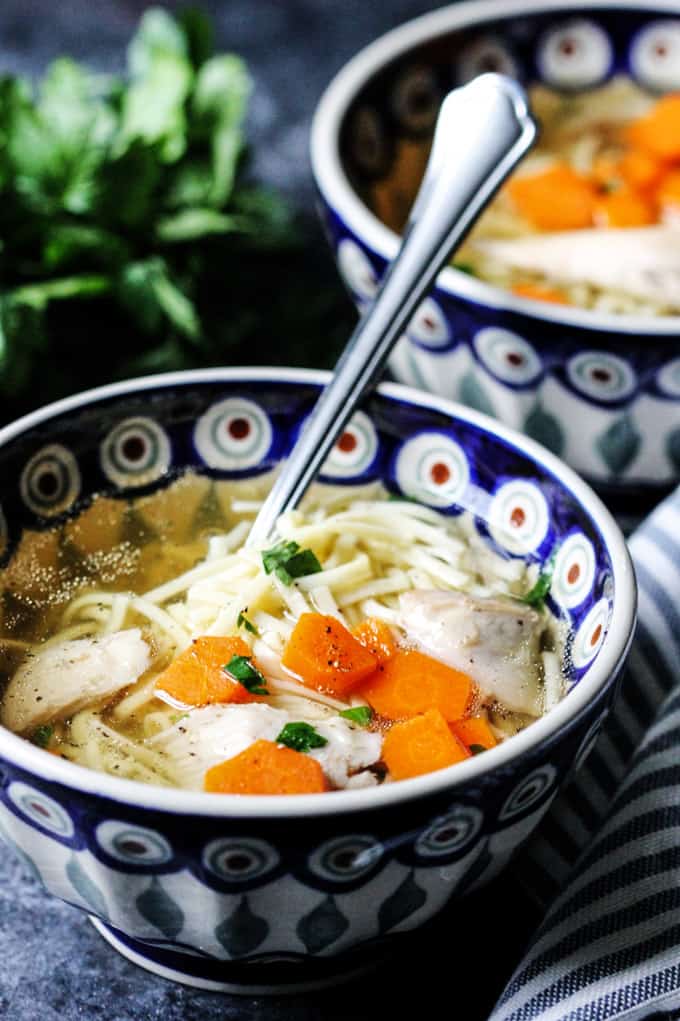 What Makes Rosol a Unique Chicken Soup
You would think that chicken soup is chicken soup, so what's so unique about Rosol? Well, there are a few important things to remember when making Rosol:
You have to use chicken on the bone (it can be a carcass, whole legs, thighs, drumstick, or breast; the important part is that it's on the bone);
You have to add a small amount of beef or veal bone (for extra flavor), but you can't add pork bone, otherwise, your broth won't be clear;
You should use a tablespoon of vinegar (apple cider or otherwise) to extract more of the healing power from the bones;
You don't chop your vegetables. Rather, they're peeled and cooked whole, or just cut in half;
You cook it for an extended period of time (about 2 hours) without boiling (it needs to simmer!);
You need to skim whatever fat accumulates on the top a few times during the cooking process;
You don't add any starch to the soup (like pasta or rice). Rather, you boil the noodles separately and then run the cold water over them, to remove starch, and add to serving bowls;
When the soup is done, you'll remove some of the carrots and chicken pieces, chop them up and add them to your serving bowls;
You'll pour the broth over your noodles with chicken and carrots, through a meshed strainer, to ensure your broth is super clear. Then serve it with freshly chopped parsley. See a few easy steps in the next paragraph….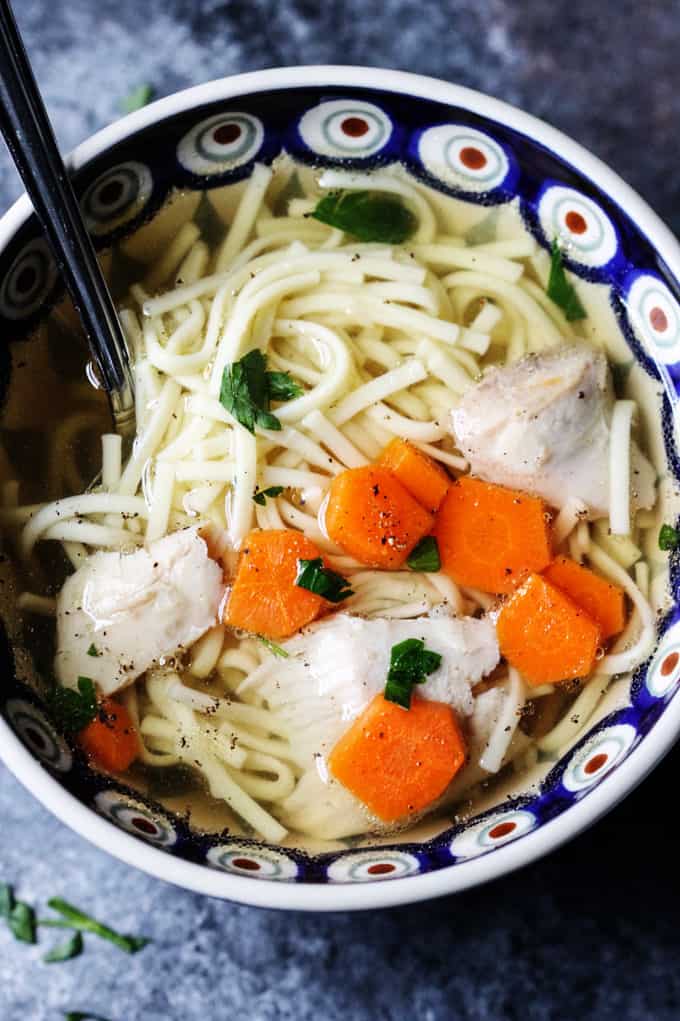 How to Make Rosol
Making Rosol is very easy. You do most of your work at the beginning, and then during the cooking process, you just need to watch so it doesn't boil and skim what's accumulate on a surface a few times. But let's start from the beginning.
Prepare your ingredients for Rosol. Here's what you'll need:
Chicken pieces on the bone (I used 5 chicken drumsticks)
1 small piece of beef bone
4 -5 Carrots
1 -2 Parsnips
Celery root
Leek
2 yellow onions
1/4 of Cabbage head (either savoy or green)
Parsley
1 tbsp Apple Cider Vinegar
5 Allspice
2-3 Bay leaves
Salt and Pepper
Optional: chicken broth cubes, "Magi" (popular in Europe and South America) or "Vegeta" type of seasoning (Vegeta is very popular in Europe and I see it in stores in the US now too). But again all of these are optional to enhance the flavor but are not required. Salt and pepper should be sufficient.
Steps to Make Rosol:
Step 1: Gather all your vegetables. Peel carrots, parsnip, and celery. Clean and trim your leek and wash your parsley. Heat up a skillet and add unpeeled onions in to get some burn marks. The yellow onion skins help with the nice color for the broth. If you get some burn marks it even intensifies the color.
Step 2: Place chicken pieces, beef bone, allspice, and bay leaves into a large pot.
Step 3: Add vegetables and fill the pot with water.
Step 4: Set it on medium to low heat. Do not boil it! Let it simmer for two hours. A few times during the cooking, skim off anything that accumulates on the surface.
Step 5: Boil the noodles separately, according to instructions. Once cooked, rinse with cold water to remove starch. Add noodles to a bowl. Remove a carrot and piece of chicken from the broth, cut it up and add it to your bowl. Ladle the broth into your bowl; first letting it pass through a with a meshed strainer. Add chopped parsley and serve.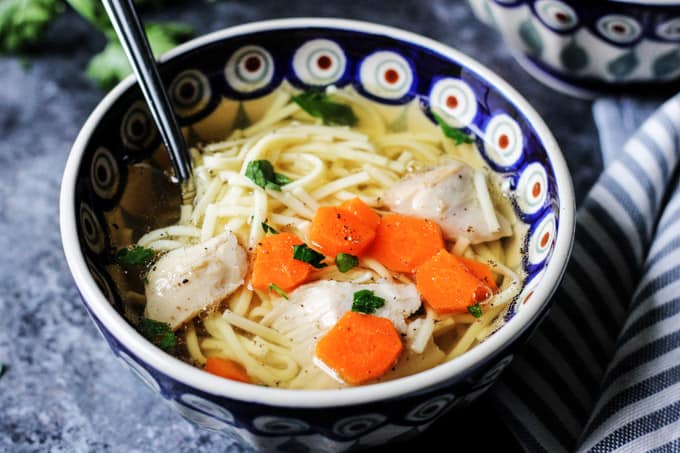 Other Famous European Soups To Try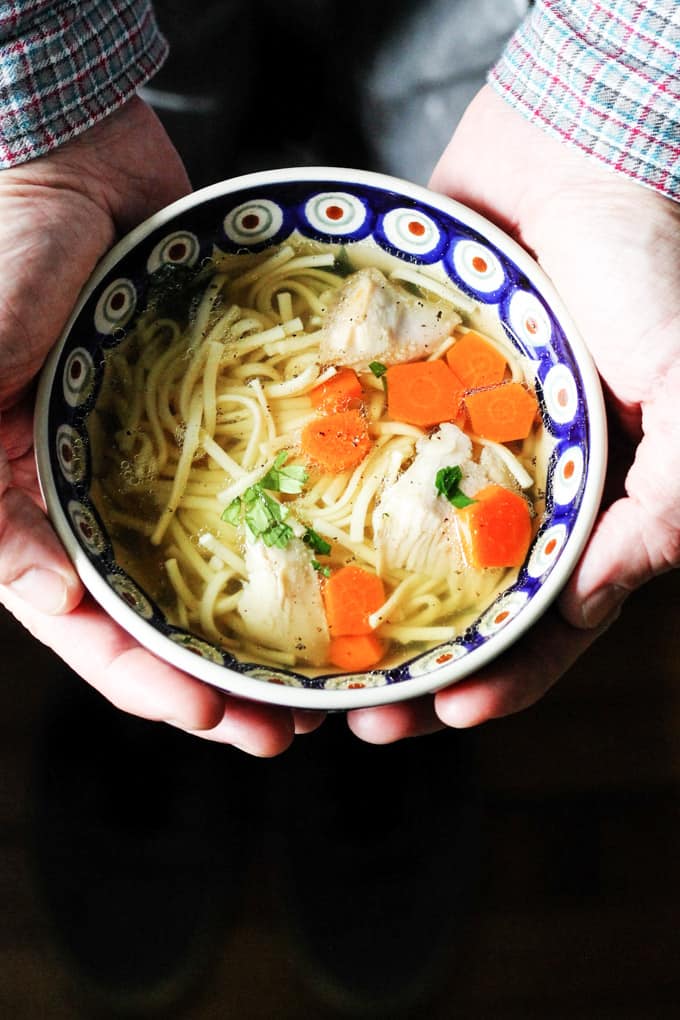 Read about the author Edyta here or follow Eating European on social media: Facebook, Instagram, Pinterest, and Twitter.