Grilled Chicken Shawarma is an amazing dish of Middle Eastern flavors that comes together super quick, smells divine and disappears from plates in seconds. Try this chicken recipe, full of fragrant spices, for your next BBQ and you'll surely "wow" all your guests.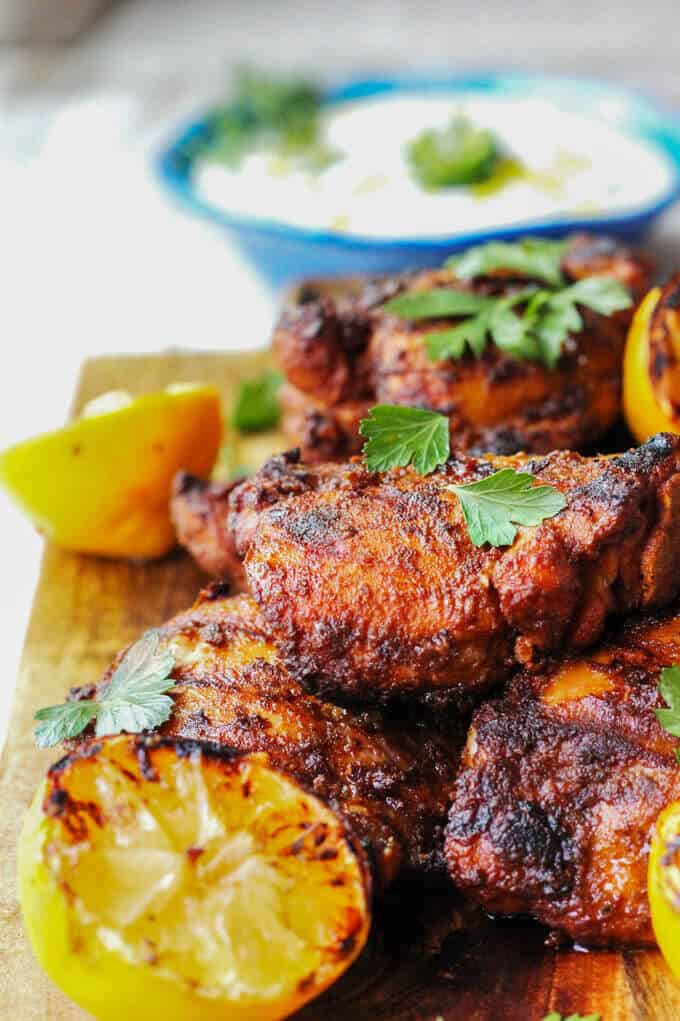 Grilled Chicken Shawarma – The Best Way to Eat Grilled Chicken
Grilled Chicken Shawarma is my new favorite way of eating grilled chicken. It's usually made with boneless skinless chicken thighs so that it can be easily cut into strips and used in pitas, wraps or salads.
For this recipe, I used skinless chicken thighs on the bone. I really think that bone-in meat makes all the difference in how juicy the meat comes out, and it's very easy to grill.
Nevertheless, you can still strip the meat off the bone if you want to use it for wraps or pitas – that's how my husband and my aunt ate it the last time I made it.
Personally, I ate it straight from the bone, smothered with my absolute favorite summer sauce….Traditional Greek Tzatziki. You can also serve it alongside this Summer Panzanella Salad with Garlic Butter Bread or Greek Panzanella Salad with Garlic Lemon Dressing, and just like that, your dinner will be ready.
If you follow this blog you may know that I love bread based salads, as they can serve as both veggie and starch simultaneously.
Other serving options would be Lebanese Mujadara, Greek Spinach Rice or Parsley Potatoes.
Making Grilled Chicken Shawarma is Not Intimidating
If you've never made grilled chicken shawarma before it may intimidate you at the outset. However, the marinade is very simple and uses spices that most already have in their home. Yet, one spice that may not be present in your pantry is Cardamon – but I suggest buying it, as you'll definitely want to make this grilled chicken shawarma recipe more than once in the summer.
The secret to achieving the most flavorful, juicy grilled chicken shawarma possible is to marinate it for a day before cooking, thus letting the flavors marry for 12+ hrs ahead of time.
The next day, simply throw the chicken on the grill and grill on both sides (until cooked through and the internal temperature shows 165 degrees F). Caution: the smell of the grill will be so amazing that you may be tempted to lick the metal grates; this is ill-advised.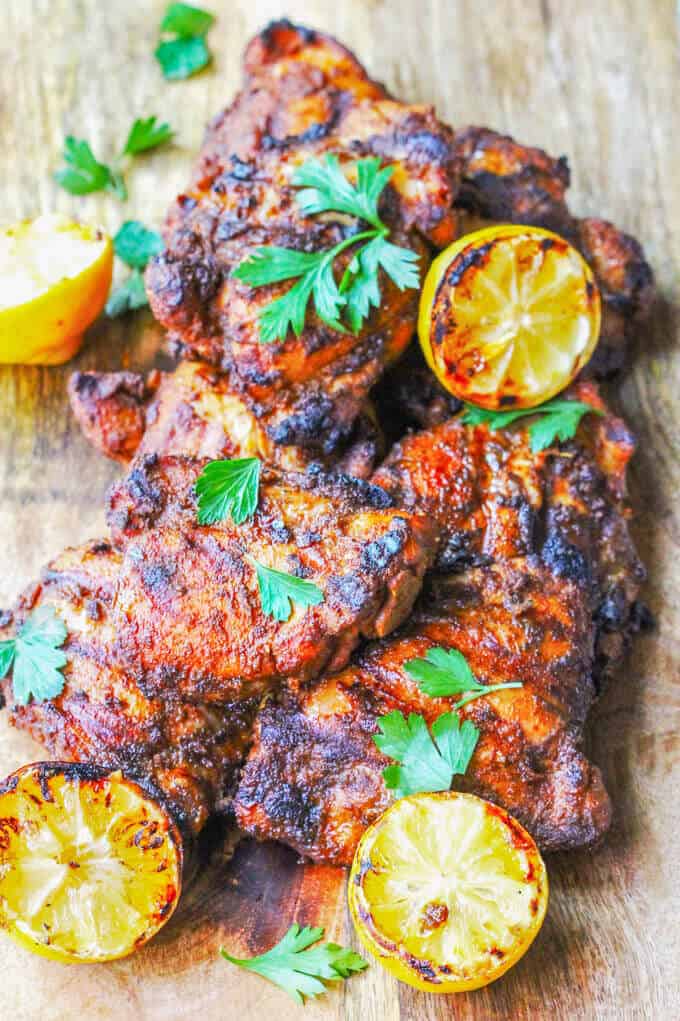 How to Make Marinade for Chicken Shawarma
So what spices will you need to make this flavorful, juicy grilled chicken shawarma? Here's a quick list:
Cumin;
Coriander;
Cardamon;
Smoked paprika;
Cayenne pepper;
Salt & pepper.
For the marinade you'll also need:
Garlic;
Lemon juice;
Extra virgin olive oil.
Once you've combined all the marinade ingredients and added chicken to it, your job is basically done.
The next day the grill will do all the work. Yet, you'll still need to watch it a little bit….but that's all! :). I encourage you to demo this amazing Grilled Chicken Shawarma recipe, my friends.
Oh… and if you are up for a challenge, you can make a homemade pita bread to accompany it. If you decide to go this route, then this recipe for Traditional Greek Pita Bread from Half Baked Harvest will surely be handy.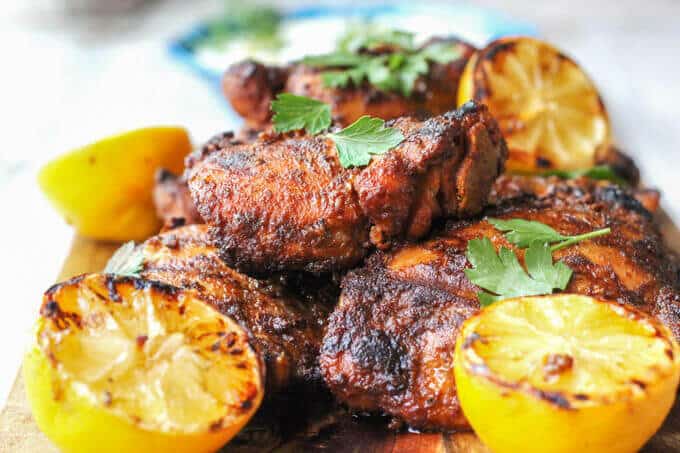 Other Popular Chicken Recipes: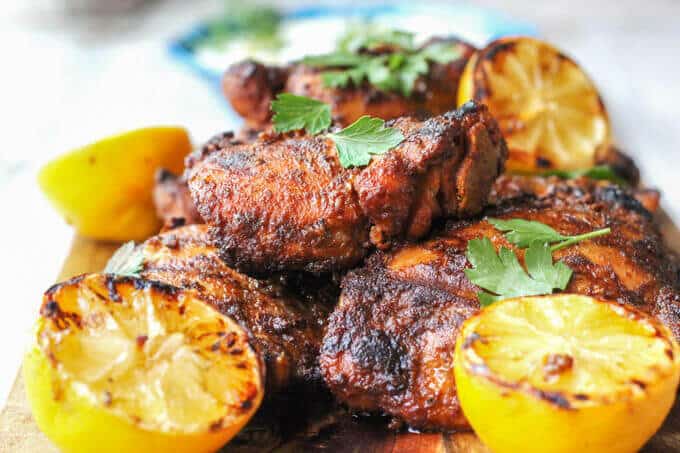 Ingredients
8

Chicken thigh

Skinless, on a bone
Marinade
2

cloves

Garlic

Minced

1

tbsp

Cumin

1

tbsp

Coriander

1

tbsp

Cardamon

2

teaspoon

Smoked paprika

Sweet

1/2

teaspoon

Cayenne pepper

2

teaspoon

Salt

Freshly ground black pepper

1

Lemon

Juiced (or 2 tablespoon of lemon juice)

3

tablespoon

Olive Oil

Extra virgin
Instructions
Add all the marinade ingredients into a bowl and mix together;

Place chicken tights in the large ziplock bag, pour over the marinade and massage the chicken so all the pieces get covered in the marinade;

Close the ziplock and place it in a fridge overnight, for at least 12 hours and as long as 24 hours;

Heat the grill on medium high. You can oil the grill or use the cooking spray;

Place the chicken on the grill and cook for about 5-7 minutes on each side. You can flip it a few times during cooking. The chicken is done when the internal temperature reaches 165F.

Remove the chicken from the grill and let it rest for 5 minutes. Serve it with a side salad, pita bread, and tzatziki sauce.
Notes
I also grilled few lemons cut in half and sprinkle the meat with the lemon juice, but this step is optional. I simply like how lemon elevates all the flavors. And the grilled lemon not only is juicer but also has a little smoky flavor. 
Nutrition
Calories:
382
kcal
|
Carbohydrates:
4
g
|
Protein:
44
g
|
Fat:
20
g
|
Saturated Fat:
3
g
|
Cholesterol:
214
mg
|
Sodium:
1369
mg
|
Potassium:
660
mg
|
Fiber:
1
g
|
Vitamin A:
13.9
%
|
Vitamin C:
21
%
|
Calcium:
5
%
|
Iron:
19
%
If you make this recipe please let me know if it's a keeper for you! Leave a comment below or take a photo and tag me on Instagram. Don't forget to use hashtag #eatingeuropean.
Read about the author Edyta here or follow Eating European on social media: Facebook, Instagram, Pinterest, and Twitter.