This Baked Mustard Chicken with Clementines recipe is inspired by the chef Ottolenghi, from one of my favorite recipes out of the famous 'Jerusalem:  A Cookbook' (Roasted Chicken with Clementines & Arak).
The original Ottolenghi chicken recipe is prepared with a lot of anis flavors with Arak, roasted fennel, and fennel seeds. I know that anis may not be everybody's favorite flavor, so I made a number of modifications to the original recipe and the result is outstanding!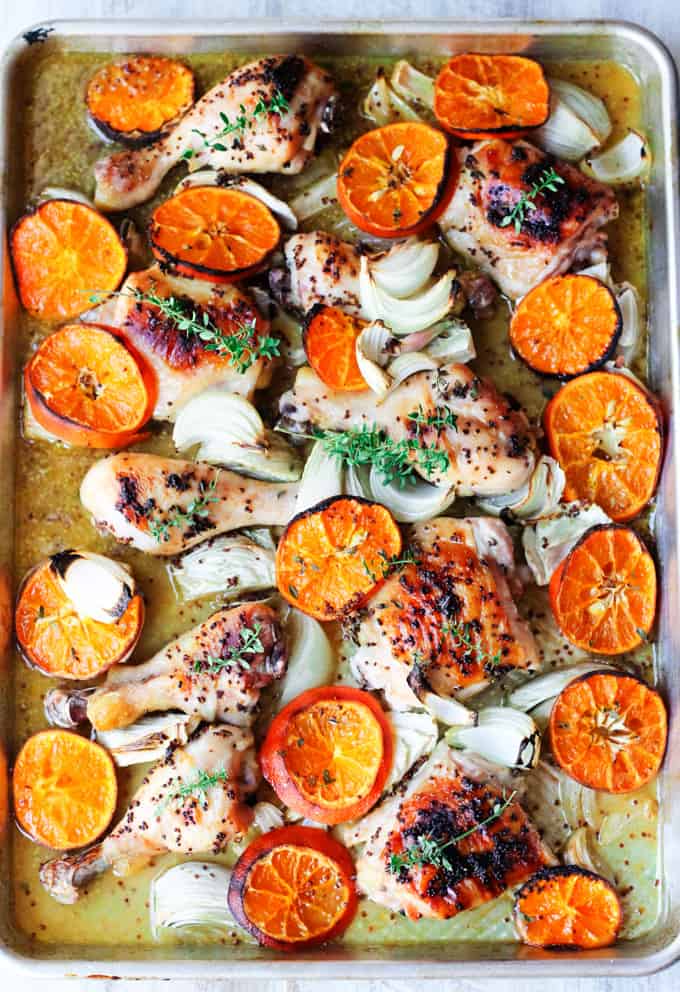 This post may contain affiliate links. You can read my disclosure policy here.
Baked Mustard Chicken – easy dinner idea
This Baked Mustard Chicken with Clementines may become your new favorite, easy dinner. It looks sophisticated because of the addition of clementines, but it's super easy to make and the preparation and cooking time take no longer than an hour.
In my opinion, this chicken looks pretty impressive. So you may also want to serve it to guests with some easy side dishes, like Greek Panzanella Salad or Cacio e Pepe Zucchini Noodles. I usually serve it with white rice, but you could also serve it with a crusty bread or rolls to dunk in the delicious sauce.
How does this Baked Mustard Chicken differ from the original Ottolenghi chicken recipe?
If you haven't seen the 'Jerusalem: A Cookbook
,' (affiliate link) then I encourage you to check it out. It's quite amazing! The Roasted Chicken with Clementines & Arak, from this cookbook, caught my attention straight away. However, I made a number of modifications that I think worked really well.
The original recipe calls for fennel bulb, fennel seeds, and Arak or Ouzo (which are anis based liquors). I happen to love roasted fennel, but I'm not a big fan of the Arak or Ouzo. For my version of this recipe, I skipped the liquor and added white wine instead. I also passed on the fennel seeds. Now don't get me wrong, I like fennel tea sometimes, but in general, I'm not an 'anis flavor' type of girl (no judgments against anis girls).
The original recipe also calls for freshly squeezed orange juice. I, however, squeezed the clementine instead, but either will be just fine.
I also added onions to my version because for some reason roasted fennel and roasted onions pair so well together that I couldn't help myself. Also, it's the season for sweet Vidalia onions, and they're beyond delicious.
The original recipe also calls for whole chicken, divided into pieces. I opted for a mix of chicken thighs and drumsticks. I think they cook quicker and more evenly (no dry meat at all).
How to make this Baked Mustard Chicken
This recipe is pretty easy. It cooks for about 40-45 minutes on a very high temperature of 450F. Make sure to preheat your oven because the assembly of the dish won't take long.
Here's what you'll need for this dish:
Chicken pieces;
Fennel;
Onions;
Clementines;
Fresh thyme;
White wine;
Whole grain mustard;
Brown sugar;
Lemon juice;
Clementine or Orange juice;
Olive oil; and
Salt & Pepper.
First, you'll need to make the brown sugar mustard sauce. In order to do this, you add: white wine, mustard, sugar, lemon and clementine juice, olive oil, salt & pepper; into a bowl and mix well.
Then you'll need to quarter your onions and fennel and then slice up the clementines;
And then you place the chicken and veggies onto a sheet pan;
Top it off with clementine slices and fresh thyme;
Finally, pour the sauce over the entirety of the sheet pan and transfer to the oven to bake. That's it!
How to Serve this Roasted Chicken
If you were to follow instructions for the original Ottolenghi recipe, you'd remove the chicken, veggies, and clementines, from the sheet pan and set it aside. Pour the juices over the dish in your saucepan and cook it until reduced by half.  Then serve with the chicken and veggies together.
Mind you, I didn't actually reduce the sauce, because I thought the sauce was thick enough to pour over the dish. But if you feel like you'd like your sauce to be a bit thicker, then reduce it in a saucepan.
Let me tell you something… This sauce is so delicious! The combination of brown sugar, mustard and citrus juice, creates something really outstanding. It also creates a beautiful glaze for the top of the chicken.
I served it over a plain white rice because this dish is so flavorful that you really don't need any other flavors. As I mentioned above, serving it with a bread would work great too.
If you like the anise flavor, then get yourself the 'Jerusalem: A Cookbook
' (affiliate link) and cook this chicken according to the original recipe. But, if you're like me, make my version of Ottolenghi chicken and enjoy!
We are a participant in the Amazon Services LLC Associates Program, an affiliate advertising program designed to provide a means for us to earn fees by linking to Amazon.com and affiliated sites.
More delicious chicken recipes:
Ingredients
4

Chicken Thighs

6

Chicken Drumsticks

1

Vidallia Onion

Cut into quarters

2

Fennel Bulbs

Cut into Quarters

4

Clementines

sliced

4

strings

Fresh Thyme
For the Sauce
1/2

cup

White Wine

dry

4

tbsp

Olive Oil

Extra Virgin

1

Clementine

juiced

3

tbsp

Lemon Juice

fresh, squeezed

2

tbsp

Whole Grain Mustard

3

tbsp

Brown Sugar
Instructions
Preheat the oven to 475 F.

In a bowl mix all the sauce ingredients and set aside.

On a sheet pan, place the chicken, cut up onions and fennel. Top it with clementines.

Pour the sauce all over the chicken, veggies, and clementines. Sprinkle fresh thyme and transfer the sheet pan to the oven.

Bake in the oven for 40-45 minutes until the chicken is cooked through and the veggies are caramelized.

Serve with rice or bread.
Notes
Use sheet pan big enough to accommodate all the ingredients. You do not want to overcrowd it. It could cause the chicken to steam as opposed to roast/bake. 
If after taking the dish out of the oven your sauce is too loose, remove chicken, veggies, and clementines onto a plate and cover with foil. Add the sauce into a saucepan and cook for a couple of minutes until it is reduced by half.
Nutrition
Calories:
397
kcal
|
Carbohydrates:
22
g
|
Protein:
29
g
|
Fat:
19
g
|
Saturated Fat:
3
g
|
Cholesterol:
141
mg
|
Sodium:
247
mg
|
Potassium:
849
mg
|
Fiber:
4
g
|
Sugar:
12
g
|
Vitamin A:
3.8
%
|
Vitamin C:
54.3
%
|
Calcium:
8.8
%
|
Iron:
11.7
%
Read about the author Edyta here or follow Eating European on social media: Facebook, Instagram, Pinterest, and Twitter.
[mc4wp_form id="6774″]