Pan-Seared Ribeye with Cracked Pepper & Mahon-Menorca Cheese Sauce is a super easy and quick idea for any Holiday dinner. It just takes 15 minutes, from start to finish. You can't beat that!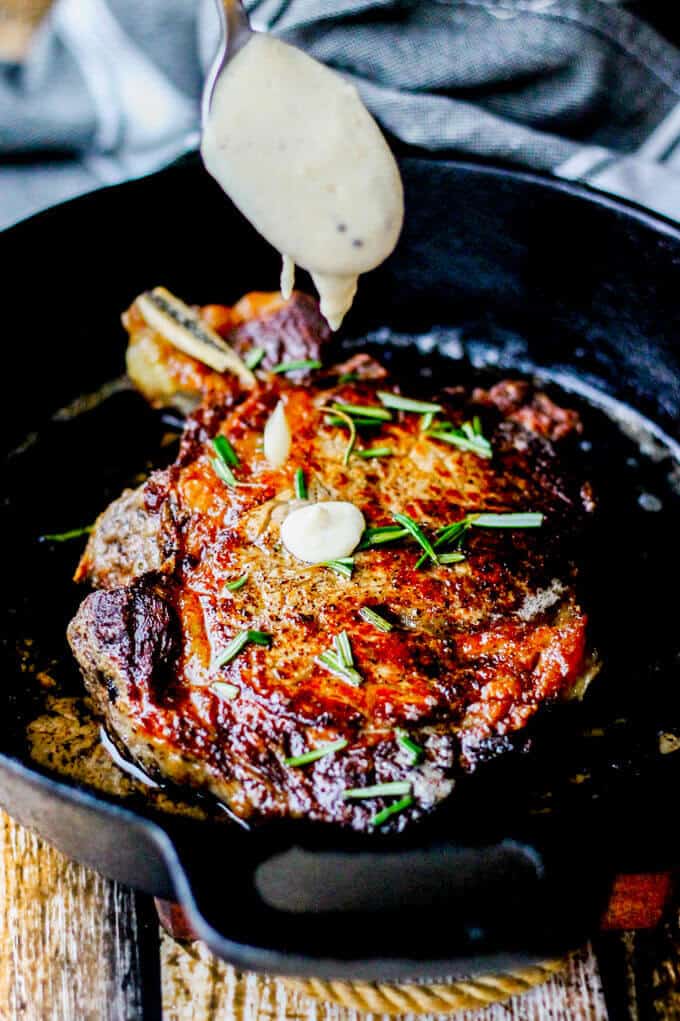 This post for Pan-Seared Ribeye with Cracked Pepper and Mahon-Menorca Cheese Sauce is sponsored by Mahon-Menorca Cheese. Thank you for supporting a brand who helps keep Innocent Delight alive. #MahonCheese
It seems that when it comes to Holidays the natural inclination is to put a fancy type of meat on the table like: leg of lamb, rack of lamb chops, glazed ham or prime rib. Not to disparage these options, but what if you're cooking for a smaller crowd? In that case, I say go get yourself the best cut of steak out there and make this Pan-Seared Ribeye with Cracked Pepper & Mahon Menorca Cheese Sauce. In fact, even if you're cooking for a larger crowd you could grab a big piece of meat, like prime rib, and use my Cracked Pepper & Mahon-Menorca Cheese Sauce to serve it with. It's outstanding!
I chose Ribeye for this recipe, in that we're just doing a quiet Holiday at home this year, and therefore I don't have a ton of ravenous appetites to feed. This cut of meat is fattier then other cuts, making it also very flavorful.
Our two little boys are going to be with us, but if you follow my blog you already know that one is a picky eater, and will not touch a steak, and the other just isn't big enough yet to eat a steak. But my husband, on the other hand, is a HUGE steak lover. If he could, I'd imagine that he'd devour it all the time. But he does watch his diet, so even if he wanted it all the time he does moderate.
How to Pan-Seared Ribeye
I think that the best way to make a steak is to pan-seared it on a cast iron pan as this provides stable heat, and then finish it off in the oven with, an indirect heat.
My husband likes it more on the rare to medium-rare side. So for a 1 lbs steak, I seared it for 2 minutes on each side to achieve a beautiful crust, and then transferred it into preheated to 415F oven for 4 minutes. If you desire it to be more on the medium rare side, then keep it in there for 5 minutes. For a medium cook you should keep it in the oven for 6 minutes. But always keep in mind that a steak needs to rest for about 10 minutes before cutting it to keep all the juices inside. And while its resting it actually continues to cook. When removing from the oven the internal steak temperature should be:
130 to 135F for Rare,
140F for Medium Rare,
155F for Medium and
165F for Well Done.
We celebrate Christmas, so for us this is a perfect day to indulge and have some amazing, juicy steak for dinner. But while this Pan-Seared Ribeye can be delicious on its own, it's the sauce which really takes it to the next level. And if you make it while your steak is in the oven and resting afterwards, then the whole process will take no more than 15 minutes! A win win in my book!!!
How to make Cracked Pepper & Mahon-Menorca Cheese Sauce
Cracked Pepper & Mahon-Menorca Cheese Sauce is very easy to make and it is based on a simple béchamel sauce. You will need:
Butter;
Flour;
Milk;
Lots of cracked black pepper; &
Raw Mahon-Menorca Cheese.
First you'll need to melt 1 tablespoon of butter, then add 1 tablespoon of flour, mix it well and gradually add 1 cup of milk. Once the sauce begins to thicken up, then you will add lots of cracked black pepper, turn off the heat and add your 1 cup shredded Raw Mahon-Menorca Cheese. Pour it over steak and voila! You have perfect Holiday dinner.
I wrote about these Mahon-Menorca Cheeses in this post for Mahon-Menorca Pinwheels with Fig Jam and Serrano Ham that are perfect for the Holidays' appetizer round. But if you missed it, here is some interesting information…
History of Mahon-Menorca Cheese
Mahon-Menorca Cheese is a product with a Protected Guarantee of Origin ("P.G.O"). It means that this is a product which is very closely related to the geographic area where it is produced – the island of Menorca. The geographic and climatic factors, as well as process of making and aging the cheese (a process that has remained unchanged for a long time in farms and which follows ancient practices used), affect he final balance and flavor of the cheese.
Some of the found pottery remains suggest that the cheese was first produced on the island even as early as 3000 BC. By the 13th century their foreign trade was already important but it wasn't until the British rule that the name "Mahon" was first coined – which was the name of the product's shipping port. In 1985 The Guarantee of Origin was conferred, and then in 1997 its protected denomination changed and become "Mahon-Menorca".
Types of Mahon-Menorca Cheeses
Depending on its degree of maturity, the P.G.O. covers the following types of cheeses:
TENDER. Soft and creamy. Yellowish/white in color, with very little developed crust. Its taste is milky with slight undertones of butter. It's aged for 21-60 days.
SEMI-CURED. Characteristic and unmistakable. The crust of this cheese is orange, and the cheese is firm yet easy to cut, showing irregular holes throughout. Its milky taste and flavor is more developed, with reminiscences of toasted nuts and dried fruit. It's aged for 2-5 months.
CURED. A delicacy for cheese connoisseurs. Its texture is firm and hard. It's less creamy and in advanced stages of maturity – it breaks, flaking upon being cut. It has a very developed flavor and aroma, with a complex and intense taste. This cheese is aged more than 5 months.
There is also a new one, a Traditional Style cheese made with Raw Milk that's aged for 6 months. It's also very complex and intense. This is the cheese that I used here for my Cracked Pepper and Mahon-Menorca Cheese sauce because of its incredible flavor.
Where to find Mahon-Menroca Cheese
As mentioned in my previous post, all these cheeses can be easily found throughout the US. Some stores which carry it include:
Fairway,
West Side Market,
Gourmet Garage,
Saveway,
Wholefoods,
Kroger,
Costco,
Central Markets,
Central and
Town & Country Markets.
Alright, I know what we'll be having for our Christmas dinner. If you are looking for some inspiration, then I hope you will give this recipe for Pan-Seared Ribeye with Cracked Pepper and Mahon-Menorca Cheese Sauce a try. Happy Holidays!
Ingredients
Pan-Seared Ribeye
1

lbs

Ribeye steak

2

tbsp

Butter

unsalted

2

tbsp

Olive oil

cooking type

1

spring

Rosemary

fresh

Salt and pepper to taste
Cracked Pepper and Mahon-Menorca Cheese Sauce
1

tbsp

Butter

unsalted

1

tbsp

Flour

all purpose

1

cup

Whole milk

1

cup

Mahon-Menroca Cheese

raw, shredded

1/2

teaspoon

Black pepper

cracked, up to 1 teaspoon, depending on how spicy you like it
Instructions
Pan-Seared Ribeye
Remove the steak from the fridge a half hour before cooking to bring it a room temperature;

Preheat the oven to 415F;

Season the steak with salt and pepper on both sides;

In a cast iron skillet melt butter and olive oil on high heat;

Once the skillet is sizzling, add steak and cook undisturbed for two minutes;

Flip the steak onto the other side and cook for another two minutes;

At this time add rosemary to the pan and using spoon baste the hot rosemary oil over the top of the steak; (for extra flavor)

Transfer the skillet into your preheated oven and cook 4 minutes for rare, 5 minutes for medium rare, 6 minutes for medium;

Using oven safe mittens remove the skillet from the oven and transfer the steak to a cutting board (the skillet will be VERY HOT so BE CAREFUL);

Cover steak with the foil and let it rest for 10 minutes.
Cracked Pepper and Mahon-Menorca Cheese Sauce
While steak is in the oven start working on the sauce;

Melt 1 tablespoon of butter in a pan, add flour and mix well;

Gradually start adding milk and mixing to achieve a smooth consistency;

Cook for about 2 minutes to thicken up;

Add cracked paper and again mix well;

Turn off the heat and add cheese;

Once the cheese is incorporated into the sauce check for seasoning and add salt if needed.

Pour the sauce over steak and enjoy!
Nutrition
Calories:
1066
kcal
|
Carbohydrates:
10
g
|
Protein:
64
g
|
Fat:
86
g
|
Saturated Fat:
41
g
|
Cholesterol:
255
mg
|
Sodium:
674
mg
|
Potassium:
824
mg
|
Sugar:
6
g
|
Vitamin A:
26.6
%
|
Calcium:
56.8
%
|
Iron:
25.6
%
This post is sponsored by Mahon-Menorca Cheese. 
Follow Mahon-Menorca Cheese on FACEBOOK // TWITTER
Read about the author Edyta here or follow Eating European on social media: Facebook, Instagram, Pinterest, and Twitter.
[mc4wp_form id="6774″]