Cacio e Pepe Zucchini Noodles recipe is a perfect combination of one of the most famous Italian pastas with a healthy spiralized vegetable. It requires no cooking and can be served as main or side dish.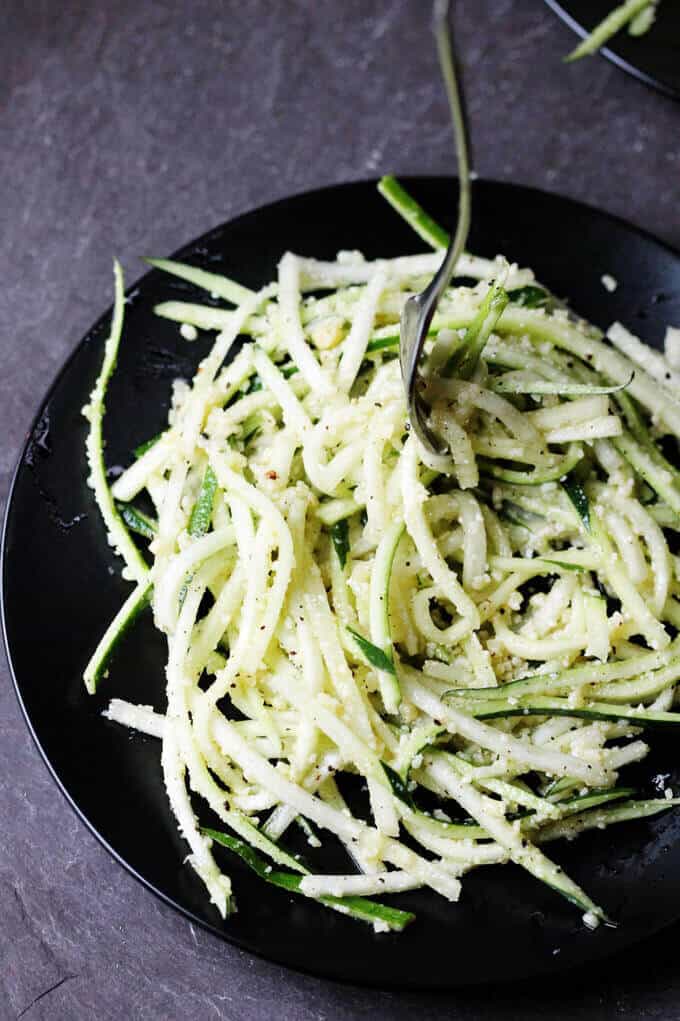 Cacio e Pepe Zucchini Noodles recipe came to my mind when I was trying to find a perfect side dish for someone who is not eating simple carbohydrates at the time. Now the 'someone' here is me; and the why is that I'm trying to loose some pregnancy weight. Not to toot my own horn, but admittedly it's going pretty well.
I've been very disciplined with my diet, with my only allowed lapse being on Mother's Day when I indulged in a freshly baked bun, straight from the oven. Other then that I've been pretty diligent about my diet. To do so I've been incorporating some great pasta substitutes.
Previously I've made these two dishes with spiralized zucchinis: Garlic Lemon Zucchini Noodles and Pesto zucchini noodles with Cherry Tomatoes , and also this one with roasted zucchini: Parmesan Crusted Zucchini with Black Pepper, Lemon Zest and Thyme . While they are amazing, I wanted something new.
Then I remembered that anytime I go to one of my favorite restaurants in NYC: Lupa I ALWAYS have their Bavette Cacio e Pepe pasta…which is out of this world. It's velvety and peppery and I crave it whenever I think about it. The most beautiful thing about this pasta is its simplicity: 4 ingredients, a few minutes, and it's done.
The same can be said about this Cacio e Pepe Zucchini Noodles. You only need few ingredients:
Spiralized Zucchinis;
Olive Oil;
Parmesan Cheese;
Black Pepper;
and maybe a little salt (that depends on how salty the cheese is – I would suggest adding salt at the end only if the dish actually needs it).
And the steps are super simply too. In fact, you don't even have to cook this recipe:
In a large bowl, mix together olive oil and black pepper;
Add zucchini noodles and stir everything together;
At the end add parmesan cheese, mix and serve immediately.
So what exactly does Cacio e Pepe mean?
Cacio e Pepe literally means "cheese and pepper". Cacio e Pepe is a very famous Roman dish that usually includes linguini or spaghetti, Pecorino Romano cheese and black pepper. Some pasta water is added to the dish to help melt the cheese and make it creamy.
For my healthier version I used zucchini instead of pasta, and I also used Parmigiana Regiano instead of Pecorino Romano as I think the sweater, milder cheese goes better with the fresh zucchini. This dish is raw which means that the cheese does not melt but it sticks to the zucchini and it really tastes amazing. Next time you're looking for some new ideas on how to eat zucchini or for an alternative to pasta dishes, try this Cacio e Pepe Zucchini Noodles recipe and I guarantee you will be satisfied.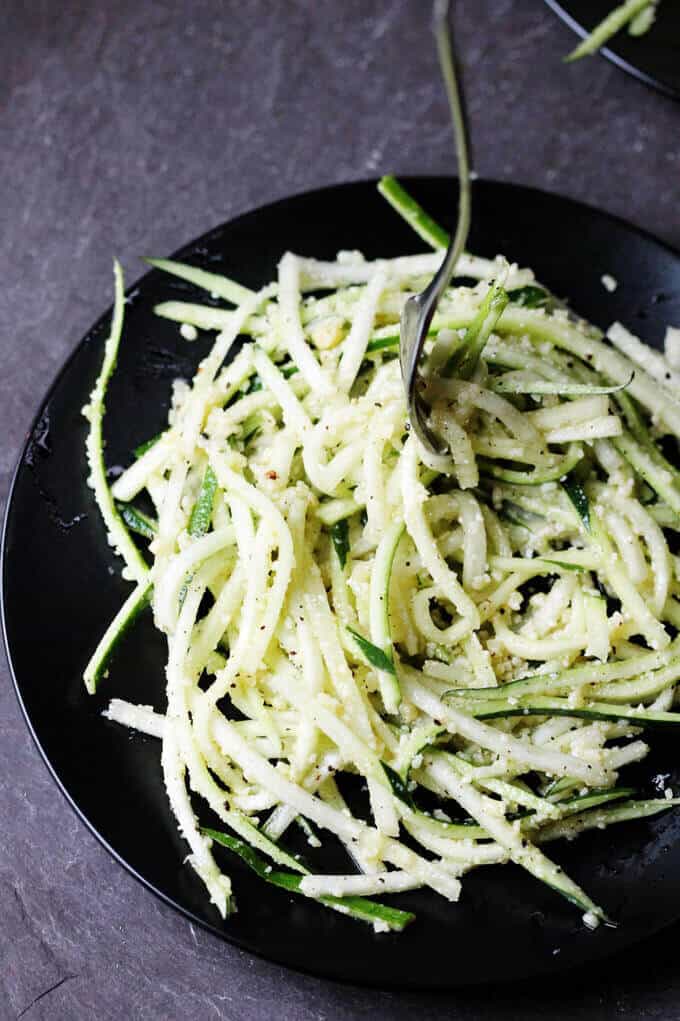 Ingredients
3

zucchinis

medium size, spiralized

1/4

cup

olive oil

extra virgin

1/2

cup

parmesan cheese

grated

1

teaspoon

black pepper

freshly ground

salt

as needed
Instructions
In a large bowl, combine olive oil with black pepper

Add zucchini noodles and toss together

Add cheese and mix well

Check for seasoning; if needed add salt
Notes
You may add more cheese if desired. For me 1/2 cup was sufficient.  
Nutrition Facts
Cacio e Pepe Zucchini Noodles
Amount Per Serving
Calories 194
Calories from Fat 153
% Daily Value*
Total Fat 17g 26%
Cholesterol 8mg 3%
Sodium 212mg 9%
Potassium 395mg 11%
Total Carbohydrates 5g 2%
Protein 6g 12%
* Percent Daily Values are based on a 2000 calorie diet.
Nutrition
Calories:
194
kcal
|
Carbohydrates:
5
g
|
Protein:
6
g
|
Fat:
17
g
|
Saturated Fat:
4
g
|
Cholesterol:
8
mg
|
Sodium:
212
mg
|
Potassium:
395
mg
|
Fiber:
1
g
|
Sugar:
3
g
|
Vitamin A:
7.8
%
|
Vitamin C:
31.9
%
|
Calcium:
17.2
%
|
Iron:
4.3
%
If you like this recipe you may also like these healthy dishes
Chilled Cucumber Mint Soup with Kefir