This post may contain affiliate links which won't change your price but will share some commission.
Healthy Mini Zucchini Muffins –  these super easy, mini sized, one bite, whole wheat healthy muffins are a treat that every kid would love.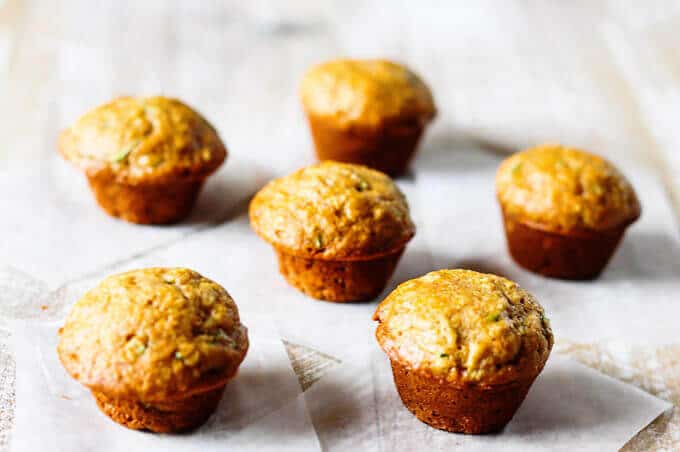 I am a mother of a very picky eating toddler and I always desperately search for the food that would expand his limited diet. These healthy mini zucchini muffins seems to do the trick. He loves them! He calls them "cake", eats the top and ask for another one.
The other day I heard this about cupcakes on the radio, that some people are a frosting people and some are cake people; and about muffins that most people are those that love the top and very few like the bottom of them. I found it very funny since it's exactly what my 3 year old is.
But the top of these healthy muffins is actually super delicious, so I cannot blame him. The best part is that there is whole bunch of good, healthy ingredients hide in them, like:
Vegetables – dah… if you can hide them anywhere, you scored Mom.
Whole wheat – who doesn't need more fiber?
Honey – I cannot even start on all the health benefits of honey.
Coconut oil – who doesn't like it?
Anyways, my point here is that if you need some healthy breakfast for a very picky eaters, get them some "cake".
You can see on his face that the top of this "cake" is going down soon:
I know I'm not the only mother who straggles with a picky eating toddler. I always look for good solutions to pack some nutrients into him. I am kinda lucky that he still lets me feed him with the spoon. This way I can give him soup packed with all possible veggies and he likes it. And I can always add  some spinach and avocado to his morning yogurt with bananas and other fruit.
He does love juicing, though. I started this juicing traditions when he was pretty young and got him engaged in a process. Now, whenever he hears the juicer, he runs into the kitchen, requests a ladder and needs to make juice. Check my recipe for Carrot Apple Juice and see a video that was taken a year ago. That's a great way to pack some veggies into the little ones.
But nothing beats the "cake".

The best part of these healthy mini zucchini muffins is that they come together in no time. Just shred the zucchini, mix dry ingredients, wet ingredients and put everybody together. Fill out mini muffins form and bake for about 15 minutes. They smell incredible.
I found the recipe for Healthy Zucchini Muffins on Gimme Some Oven. I played with the flouer and oats and because a lot of readers made a comments that they were not too sweat, I adjusted them by adding some honey.
They came out outstanding, so thank you Ali for the treat that I was able to make for my picky eater, who loves his "cake", also known as healthy mini zucchini muffins.
Ingredients
1

cup

whole wheat white flour

(organic is best)

2/3

cap all purpose flour

(organic is best)

1/3

cup

of old faction oats

, uncooked

1

teaspoon

baking powder

1

teaspoon

baking soda

1

teaspoon

ground cinamon

1/4

teaspoon

salt

1/2

cup

of maple syrup

1/2

cup

of honey

1

egg

1/2

cup

of whole milk

(or any milk of your preference)

1/4

cup

of melted coconut milk

1

teaspoon

vanila extract

1 1/2

cup

grated zucchini
Instructions
Preheat the oven to 350 degrees F. Spray the 24 muffin pan with cooking spray.

Using the food processor, process oats until very fine (almost like flour).

Mix together dry ingredients: flours, oats, baking powder, baking soda, cinnamon and salt.

In a separate bowl whisk wet ingredients: egg, maple syrup, honey, milk, coconut oil and vanilla extract until combined.

Stir in zucchini and don't overmix.

Divide the batter among 24 mini muffins caps.

Bake for 15 minutes or until the toothpick inserted in the center of muffins comes clean.

Serve warm or let cool down.

Store for 2 days in a fridge or freeze them for later.