Pisto Manchego is a classic Spanish dish that incorporates fresh Mediterranean vegetables like peppers, onions, tomatoes, courgettes (zucchini ) and sometimes even eggplant. It is simmered on low and slowly in a tomato olive oil sauce, and it can be served with shaved cheese, cured ham or fried egg. Sometimes it is called  Spanish ratatouille. 
If you're looking for other Spanish recipes with fresh summer vegetables check Andalusian Gazpacho, Salmorejo Soup or Spanish Tuna Stew.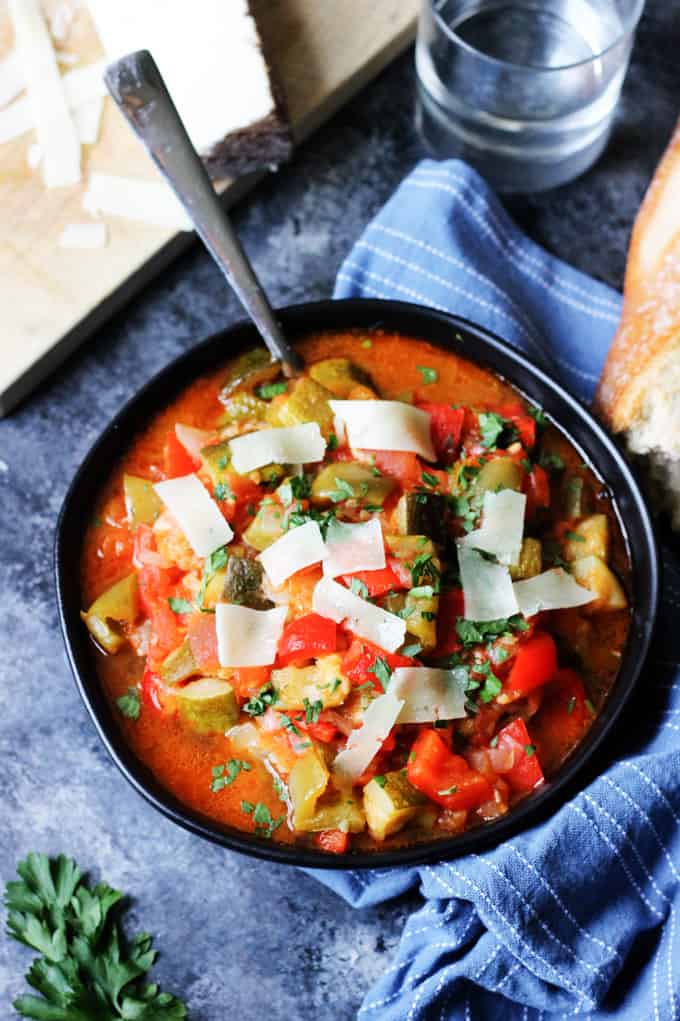 This post may contain affiliate links. I get commissions for purchases made through the affiliate links. You can read my disclosure policy HERE.
What is Pisto Manchego
Pisto Manchego is a traditional Spanish dish that originated in the La Mancha region of Spain. It's a vegetable stew that uses seasonal Mediterranean fresh vegetables like peppers, onions, tomatoes, zucchini and/or eggplant, simmered in olive oil.
Pisto Manchego is often compared to the famous French Ratatouille and for an obvious reason; these dishes are pretty similar. As a matter of fact, Pisto Manchego is often called 'Spanish Ratatouille'. However, some Spaniards would argue that Pisto preceded Ratatouille, which apparently traveled from La Mancha, to Basque county, and finally to France.
But who knows… the truth might be lying somewhere in between. At the end of the day, it doesn't matter because they're both delicious. The difference between them might be as insignificant as the size of the veggies. Ratatouille tends to use more chunky veggies, whereas Pisto has some smaller pieces.
To be totally fair, this kind of vegetable stew is popular throughout other Meditteranean countries as well. You'll find their own versions of this dish in Turkey, Greece, and Italy. But it goes even further. For instance, the Hungarian Lecho is also very similar to Pisto Manchego.
Ingredients Needed to Make Spanish Ratatouille
I'm sure it'll come as no surprise when I say that the better your veggies the better your Pisto. I wouldn't try making this dish in winter months. The quality of the veggies just isn't the same. You need the freshest, ripest, summer vegetables for this Pisto Manchego recipe. Here's your grocery list (for the full recipe with exact measurements, instructions, and nutritional information scroll down to printable recipe card):
Spanish or Vidalia Onion;
Garlic;
Green and Red Bell Peppers;
Zucchini;
Tomatoes (On the vine, or Roma);
Extra Virgin Olive Oil;
Sherry Vinegar ( if you can't find it, you can substitute a red wine vinegar);
Salt & Pepper, to taste;
Smoked Spanish Paprika (optional) – Pisto isn't supposed to be spicy, but we like a little bit of hit and also the taste of Spanish Smoked Paprika so I added it to my recipe;
Manchego Cheese (optional) – I like it and it goes with the name of the dish.
Fresh chopped parsley, for garnish.
How to Make Pisto Manchego
Here are the steps to follow in order to make Pisto Manchego
Step 1: Prep your vegetables: chop onions and garlic. Then cut peppers and zucchini into small squares. Parboil, peel and chop your tomatoes (Tip: Paraboiling your tomatoes in hot water for approximately 3 minutes will ensure that the skin will easily peel off)
Step 2: Preheat olive oil in a dutch oven or another heavy pan with the lid on medium heat. Then saute onions for 5 minutes, uncovered.
Step 3: Add chopped garlic and saute for few more minutes.
Step 4: Add peppers and cook for 5 more minutes.
Step 5: Reduce the heat to low, add zucchini and tomatoes, a little bit of salt and pepper, put the lid on. Let cook covered for about 30 minutes, stirring it occasionally.
Step 6: Check for seasoning and adjust with salt and pepper as needed. Add smoked paprika, if using, and mix all together.
Step 7: Place it in a serving bowl, drizzle some extra virgin olive oil, shave over some Manchego Cheese, sprinkle on some parsley and serve with bread. Enjoy!
Ways to Alter this Recipe
Use eggplant instead of zucchini, or use both;
For the vegan version, skip the cheese;
Use banana peppers instead of bell peppers;
For heat, you can use a hot pepper like jalapeno instead of smoked paprika.
How to Serve Pisto Manchego
Pisto Manchego can be served hot or cold. It can be a dish on its own or served as a side dish. It can even be served as tapas.
Spaniards often would serve Pisto with a fried egg on top (Pisto Con Huevo), or with some Spanish cured ham, like Iberico or Serrano or even chorizo.
It is totally ok however to just shave some Spanish Manchego cheese on top of it and eat with a piece of fresh baguette or other rustic bread.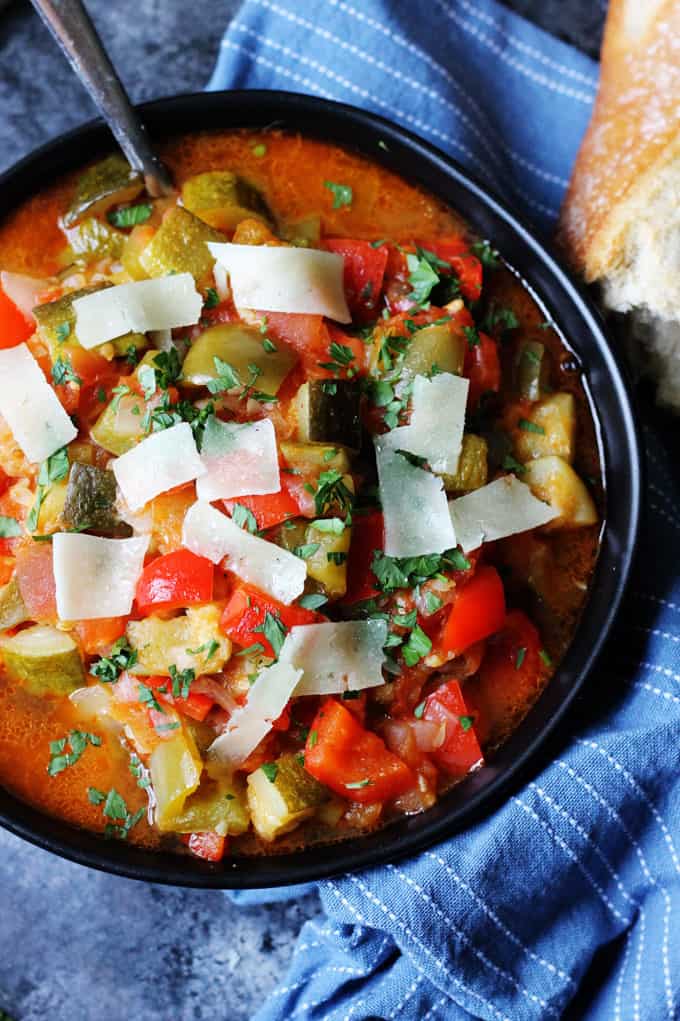 Other Spanish Recipes to Try
If you're interested in trying some other Spanish dishes here are a few of all-time favorites:
Read about the author Edyta here or follow Eating European on social media: Facebook, Instagram, Pinterest, and Twitter.