This post may contain affiliate links which won't change your price but will share some commission.
It's summer here! Tomatoes, peppers, and zucchinis are back in season! This tomato and peppers stew (Hungarian Lecho or Lescho) dish uses the freshest summer ingredients like ripe tomatoes, green and banana peppers, and luscious zucchinis. When it simmers, the house smells incredible.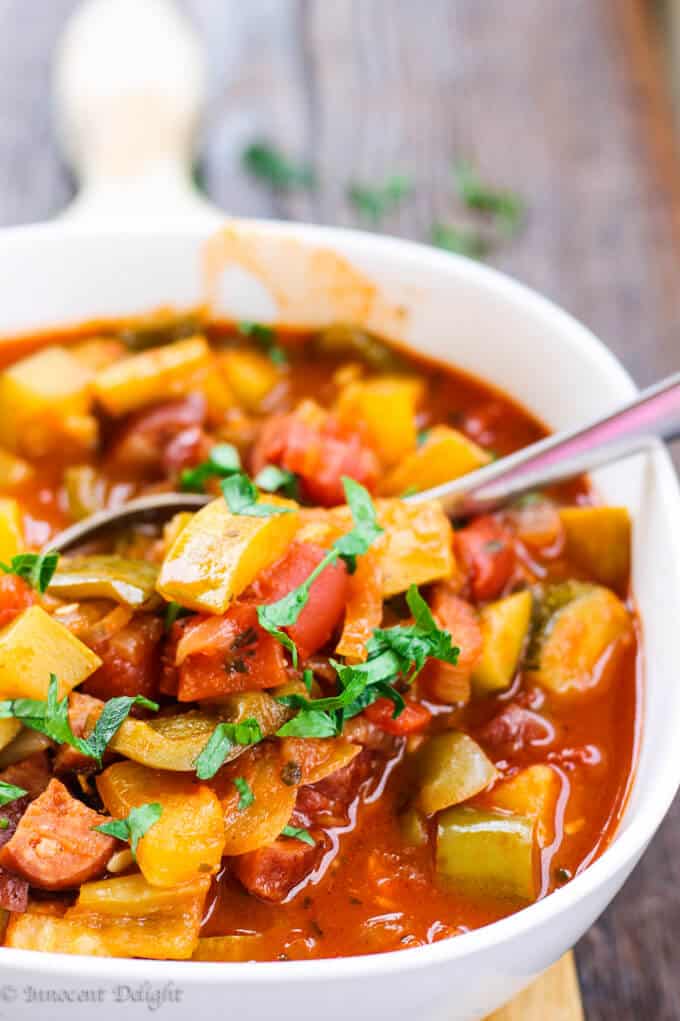 The steps to make this Hungarian Lecho or Lescho (Tomato and Peppers Stew) are super easy:
In a dutch oven or other heavy pot heat up one tablespoon of oil;
Add chopped one large Spanish Onion and cook for 3 minutes;
Add 2 chopped garlic and 1 tablespoon of fresh thyme and cook for another minute;
Add 1 tablespoon of tomato paste and 1 cup of cubed cooked sausage (if using one) and cook for 5 minutes;
Add cubed tomatoes (6 Roma tomatoes), peppers (2 banana and 1 green), and summer medium zucchini;
Add 1 cup of tomato sauce, 1 teaspoon of sweet and smoked paprika (you can add 1/4 teaspoon of hot Hungarian paprika for a spicier version);
Season with salt and pepper, cover, and let it simmer for 20 minutes;
Serve with fresh bread or rice.
That's it. Your perfect summer dinner is done. The printable version of the recipe is at the bottom of this post.
How Did I learn How to Make Classic Hungarian Lecho
When I was in law school, back in my beloved home city of Wroclaw, Poland; one of my German friends came to study at my University. Her mother was Polish but she was born in Germany. Her grandmother had lived in Wroclaw and she would visit her often when she was a little girl. As girls, we use to play together a lot.
She had been studying the law in Germany and when she learned that there was an opportunity to do a year abroad, she wisely chose Wroclaw. This was a ton of fun! Not only I was happy to hang with her often, but also thanks to her I met some pretty cool people from throughout Europe. As an exchange student, she was a member of the international student organization and therefore opened those doors to me.
One of the best ideas that she had during her year was to organize 'International Tuesday's Dinners.' Every Tuesday about 10 people from different countries would meet for dinner at her place. One of them would cook a meal from his or her native country and the rest would bring wine and cleaned up the dishes.
We had people from France, Belgium, Germany, Holland, Hungary, and few other countries, which I cannot remember right now. There were countless nights of amazing conversations, great food, and wine (a winning combination).
Two dishes that really rooted in my mind were: (i) Chicken with white wine and cream sauce prepared by one of the French girls (which until this day I continue to make often for my family as a quick weeknight dinner), and (ii) a Tomato and Peppers Stew – Hungarian Lecho (Lescho), prepared by a guy who was originally from Hungary but moved to Germany for work. This dish was absolutely amazing!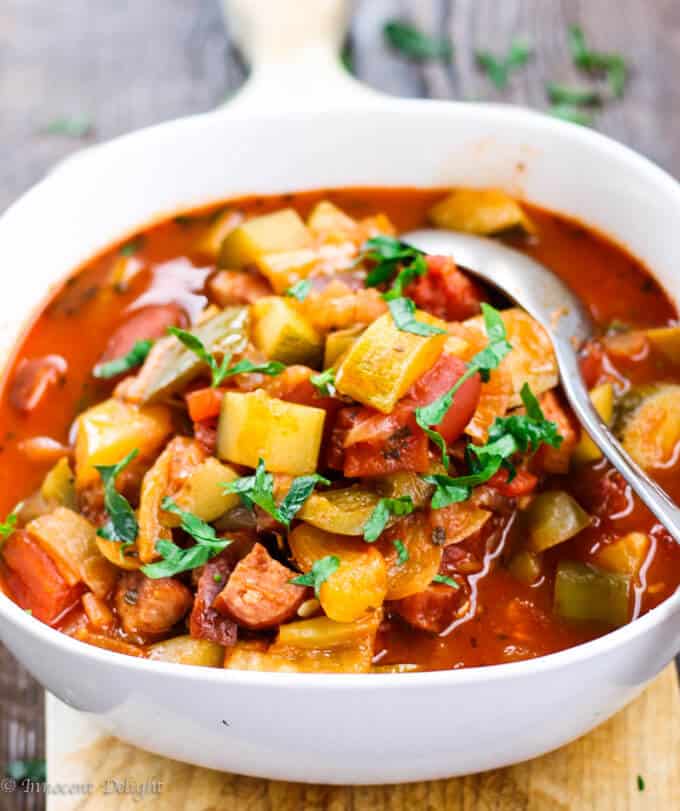 Hungarian Lecho is very popular in Poland
This tomato and peppers stew, a classic Hungarian Lecho, was a very popular dish in Poland (I've even seen people referring to it as "Polish Lecho". I assume the reason being was that many Poles would vacation by the Hungarian lake Balaton and therefore brought some of these popular dishes back home.
My family went there on few times and I very much remember the smell of cooked peppers and tomatoes everywhere I went. I used to make this dish often, back in Poland, and I must admit had I totally forgot about it! How did that happen???
Recently I went to my local farmers' market and while standing in line to get some peppers and zucchini I heard my native language spoken. Two Polish ladies were debating what to cook for dinner. One of them said: how about Lecho?
I was stunned. OMG, I totally forgot about this dish called Lecho. It is/was beyond delicious. I felt compelled to go home and cook it immediately. I purchased all of the ingredients and went back home to start cooking this peppery, tomatoey goodness for dinner. Our house smelled like a vacation by the famous Balaton lake.
What are the basics of this Hungarian Tomato and Peppers Stew
It takes no more than 30 minutes to make! Can it get any easier than that? After I made it and took some photos, I went online to do some research about the dish (….and make sure that I had a proper English spelling of the name).
Then I found one website discussing what are the basics of this dish are and possible ingredients which could be added on.
So, the basics are:
Peppers,
Tomatoes; and
Hungarian paprika (you can use any kind of sweet paprika; you can also add some cayenne for a little extra kick).
As for additions: you can choose zucchini, sausage, and … brace yourself: an egg mixture.
What ignited the light bulb in my head was the Hungarian guy, on the International Tuesday's Dinner, had added this egg mixture and said that this was how his family used to make Lesho (just mix a couple of eggs like you would do for a scrambled egg breakfast – and pour it into the pot stirring at the same time).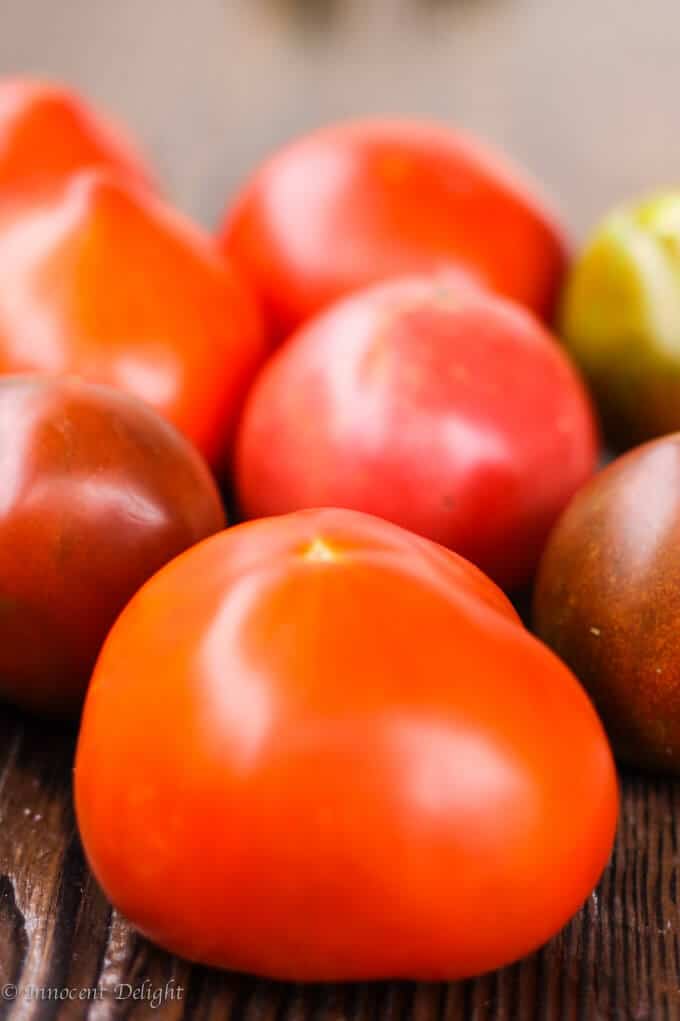 What are popular versions of this Lecho:
Obviously, this dish can be:
Vegan – just the veggies;
Vegetarian – with the egg mixture added; or
With meat – just add sausage.
But let me tell you, the smell of cooked peppers, zucchini, and tomatoes in the house is enchanting. This was the first time that my husband had eaten a Hungarian dish and he absolutely loved it. In that, it's now tomato, zucchini, and peppers season, try it and let me know how you like it.
Oh, and I almost forgot to mention that it is one of those dishes that tastes even better the next day. Just after I had made it, we chose to eat it with fresh crusty bread. The next day I served leftovers of this delicious tomato and peppers stew over rice. Again, no words can describe it… Cheers 🙂
You can read more on the origin of this dish on Wikipedia: https://en.wikipedia.org/wiki/Lecsó
Other Hungarian Dishes to try:
For other perfect summer dishes check these recipes:
This Tomato and Peppers stew dish was initially published on this blog on August 6, 2014.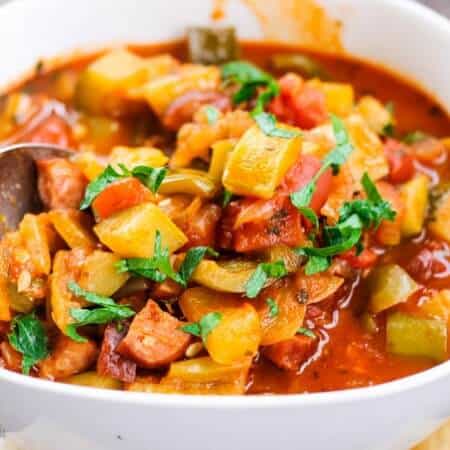 Tomato and peppers stew - classic Hungarian Lecho
This tomato and peppers stew (Hungarian Lecho) dish uses the freshest summer ingredients like ripe tomatoes, green and banana peppers and luscious zucchinis. When it simmers, the house smells incredible.
Print
Pin
Rate
Ingredients
1

onion

large Spanish, chopped

2

cloves

garlic

, minced

1

tablespoon

fresh thyme

, chopped

6

roma tomatoes

, cut in quarters

2

banana peppers

, cut in square pieces

1

green bell pepper

, cut in square pieces

1

zucchini

, cut in square pieces

1

cup

sausage

smoked (optional) -

1

cup

tomato sauce

1

tablespoon

tomato paste

1

teaspoon

sweet paprika

1

teaspoon

smoked paprika

1

tablespoon

olive oil

Salt and freshly ground pepper to taste
Instructions
In a dutch oven or other heavy pot, heat up 1 tablespoon of olive oil;

Add chopped onion and sauté for 3-4 minutes;

Add garlic and fresh thyme, cook for another 2 minutes;

Add tomato paste and cubed sausage, cook for another 5 minutes;

Add peppers and zucchini, tomatoes, tomato sauce, sweet paprika, smoked paprika;

Cover and cook until vegetables are soft but still crunchy, about 15 -20 minutes;

Season with salt and pepper;

Serve with a fresh baguette or rice.
Notes
Sausage is optional here and you can make this dish vegetarian or vegan. I use Polish smoked sausage, but you can use whatever sausage you'd like.
Nutrition
Calories:
281
kcal
|
Carbohydrates:
14
g
|
Protein:
12
g
|
Fat:
20
g
|
Saturated Fat:
5
g
|
Cholesterol:
42
mg
|
Sodium:
740
mg
|
Potassium:
876
mg
|
Fiber:
4
g
|
Sugar:
8
g
|
Vitamin A:
1945
IU
|
Vitamin C:
60
mg
|
Calcium:
47
mg
|
Iron:
2.5
mg
PIN IT FOR LATER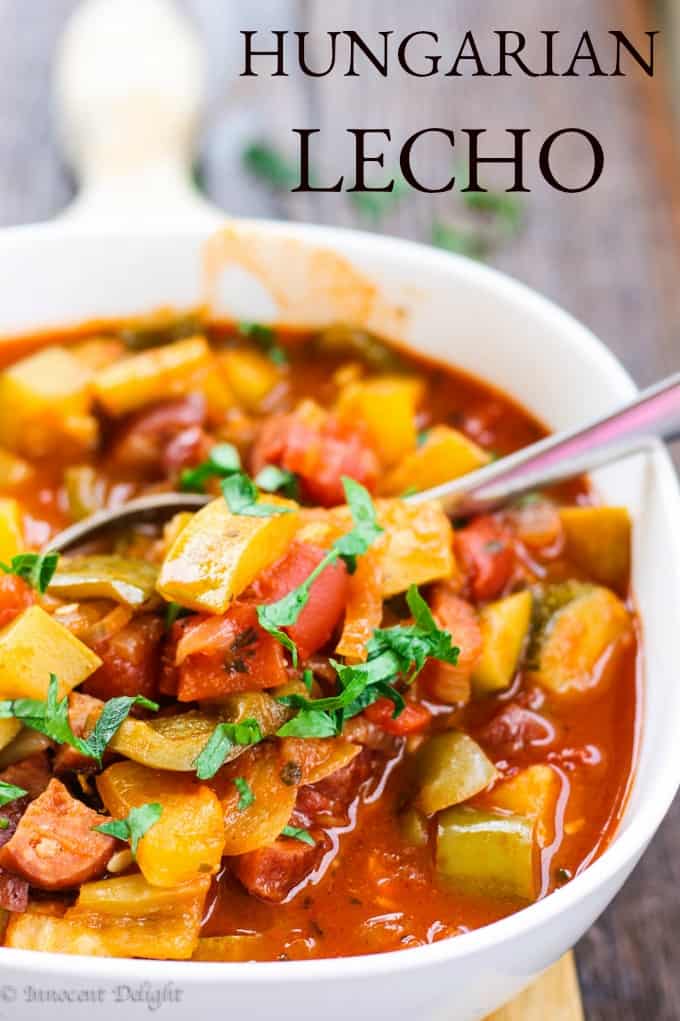 If you like these recipes you may also like these other awesome recipes using tomatoes, peppers or zucchinis:
Pan Con Tomate with Crispy Prosciutto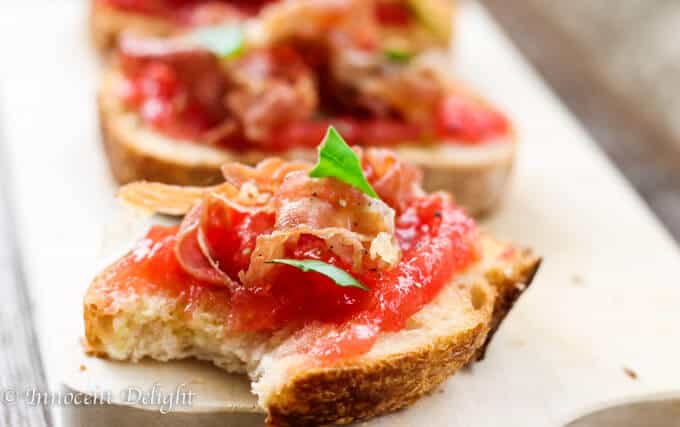 Parmesan Crusted Zucchini with black pepper, lemon zest and thyme
Golden Bell Pepper Soup with Greek Yogurt and Cayenne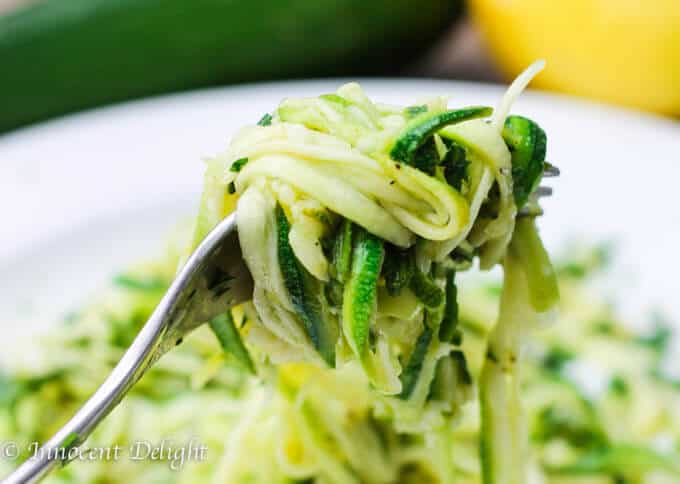 Shakshouka – classic Mediterranean breakfast