This popular Italian salad is a perfect addition to any summer meal or BBQ. Crusty bread that's been infused with garlic butter makes this it irresistible. Next time if you're looking for a perfect side dish try this amazing Summer Panzanella with Garlic Butter Bread.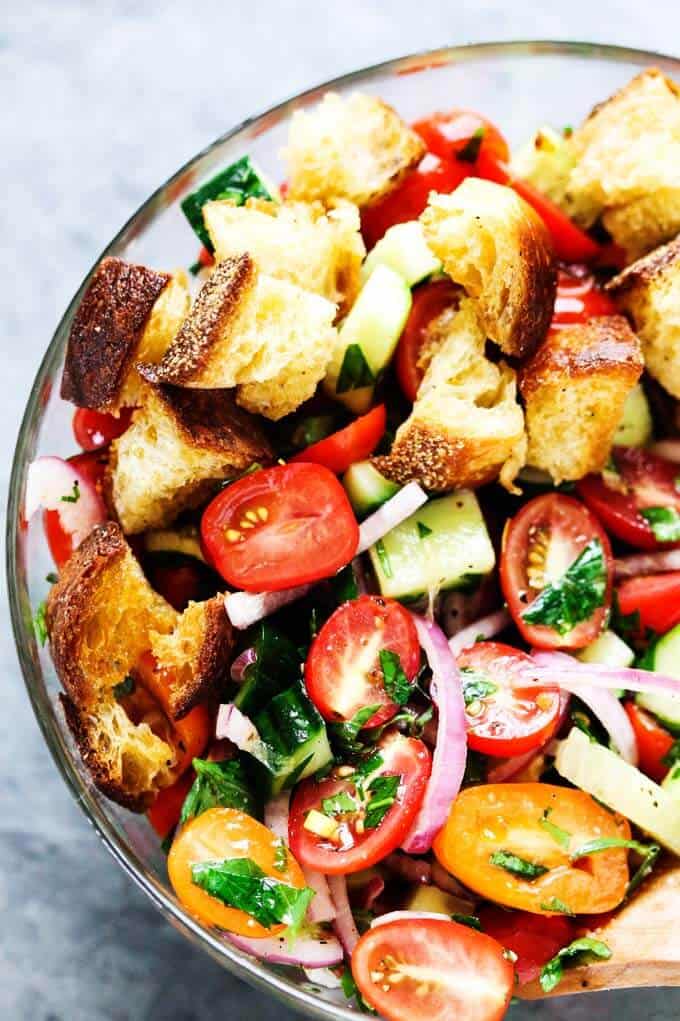 Huge part of the Mediterranean diet are salads that contain some sort of bread with lots of olive oil, of course. This summer panzanella with garlic butter bread is no different.
I used to make my panzanella with just cubed bread and let it soak in the juices that vegetables released with a combination of red wine vinegar and olive oil. But when I tried infusing my bread with garlic and butter first and then bake it until golden perfection, it was a game changer.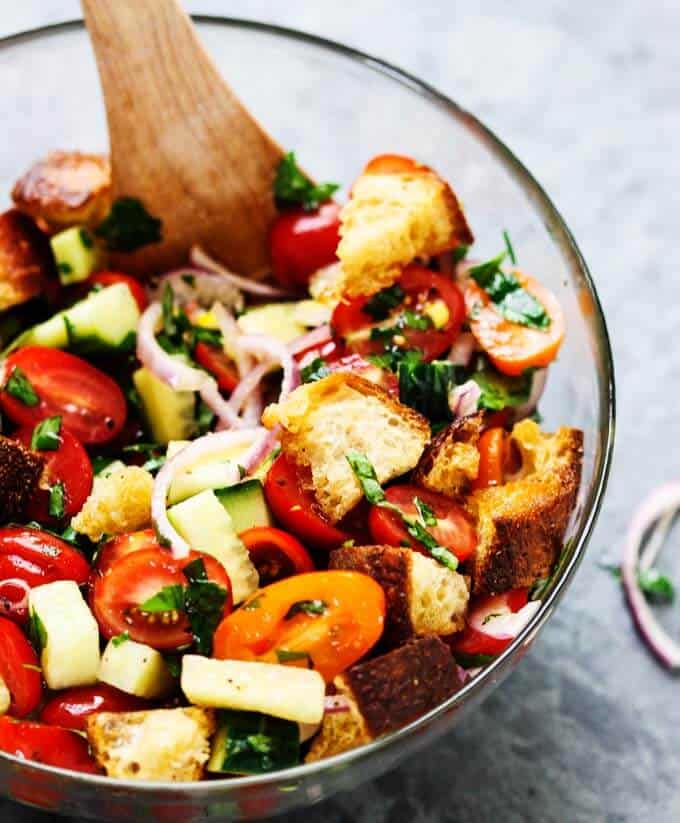 This salad is so perfect for a summer BBQ. You can throw on a grill whatever you feel like, whip up the summer panzanella with garlic butter bread and you have dinner ready in 30 minutes.
What I really like about this salad is, that it is actually almost a whole meal in itself. It's like vegetable sandwich in a bowl. You have your vegetables (fresh tomatoes, cucumbers and red onions – you can't go wrong with that), your carbs in the form of bread and your fats in terms of olive oil and butter.
Ok, ok it doesn't have protein but if you really want to make it like a whole vegetarian meal, just add some chickpeas or mozzarella cheese.
I like it the most with some grilled light chicken, like these Mediterranean Chicken Kebabs or Italian sausage, but again possibilities are endless. I love fresh, fast and easy summer recipe. Have you tried yet my  tomatoes and peppers stew – classic Hungarian Lescho or quinoa pasta with no-cook tomatoes sauce? They are really great and take no time to prep.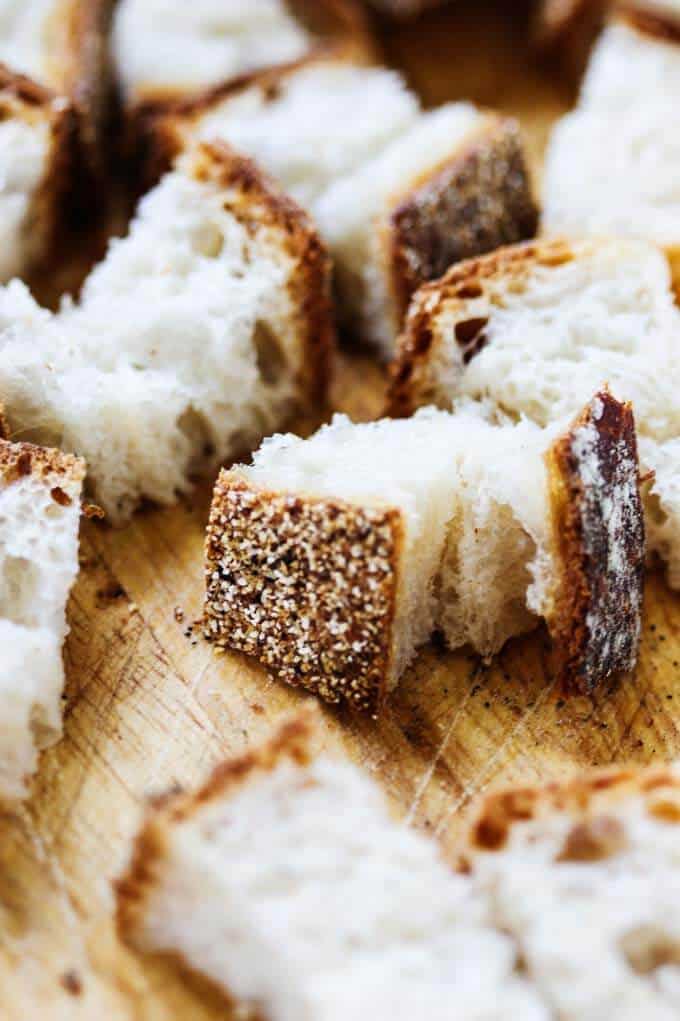 This bread tossed with garlic infused butter and then baked in the oven was to die for. Please don't tell me that you don't want to eat it now. I do…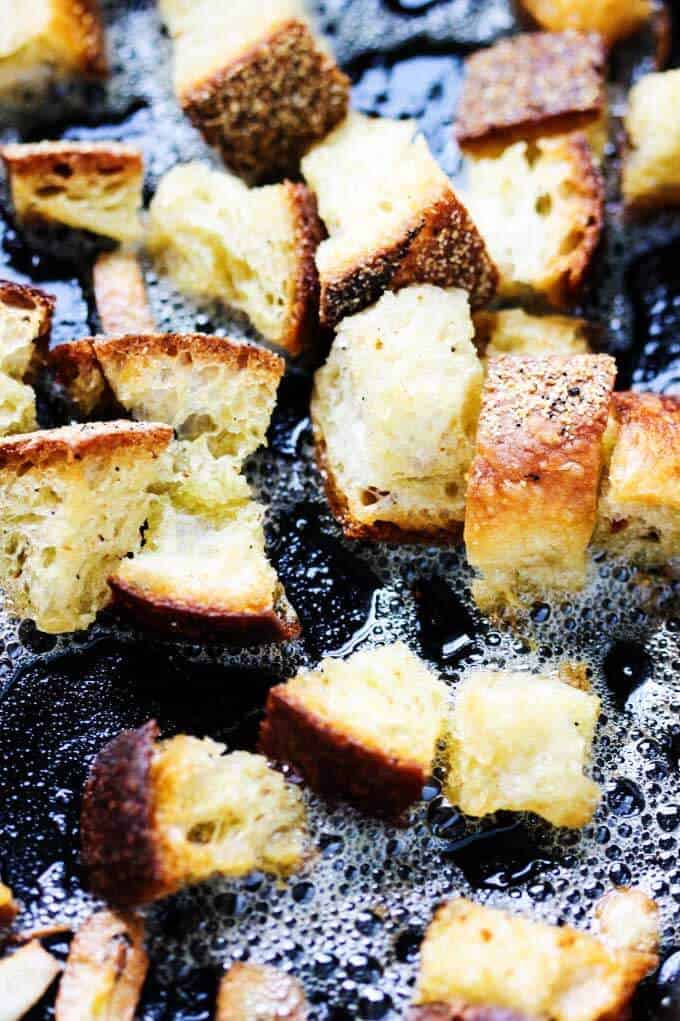 Recently I invited a couple who I met in my home town, for BBQ dinner. They are my Polish people and they are super awesome. We felt the instant connection right from the gecko. The best part is that they have a daughter that is very close to my son's age, so we had two little blond cuties running in my backyard.
Anyways, I prepared my summer BBQ manu. I marinated some Honey Harrisa Chicken Skewers, made a garlic yogurt sauce for this, made some Polish Rice Salad with Corn, Ham, Cucumber and Chives, Polish Sausage and of course my summer panzanella.
I was sure that Polish sausage and Polish salad will be the hit of the night. Gosh, I was mistaken. They were raving about my panzanella. For them it was an absolute winner that night.
I'm not sure if any more endorsement is needed. Try it soon and this salad will stay with you through the whole summer. You will want to make it over and over. I LOVE summer! Cheers my friends.
Oh and by the way, I think that my version of Summer Panzanella with Garlic Butter Bread would not be approved by Florentine traditionalists, at least according to Wikipedia. Panzanella should contain only onions and tomatoes and in fact until the 20th century it was only onions. Isn't that interesting?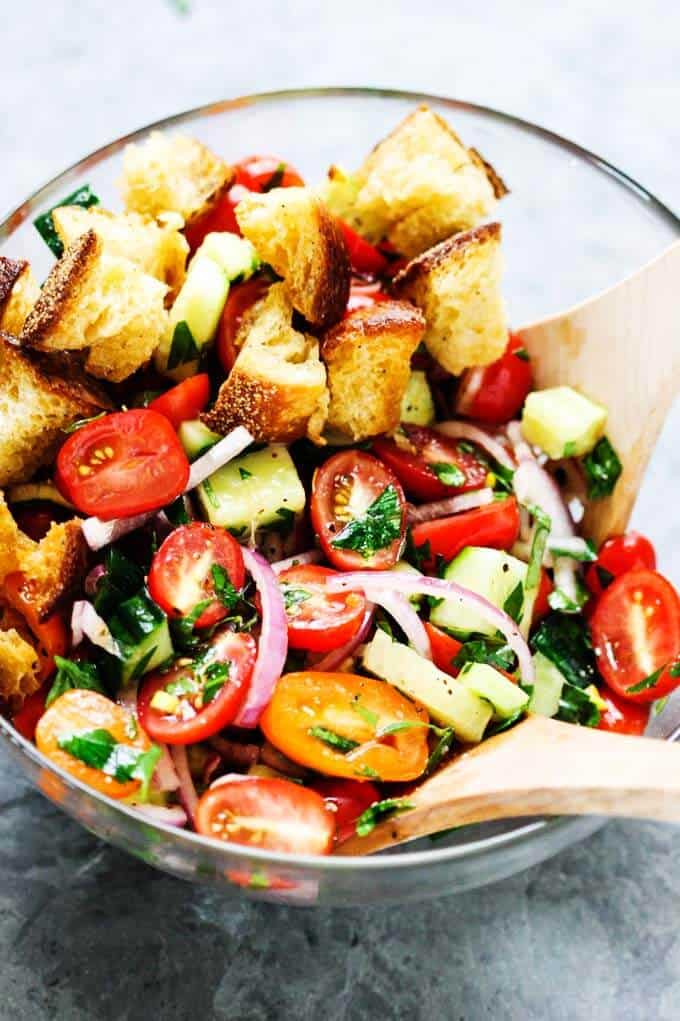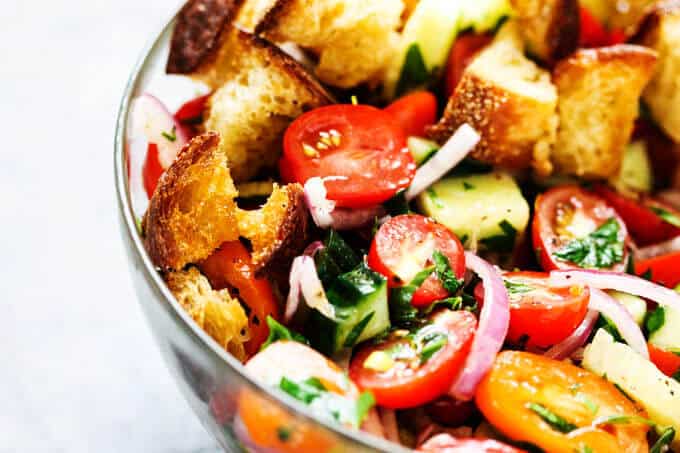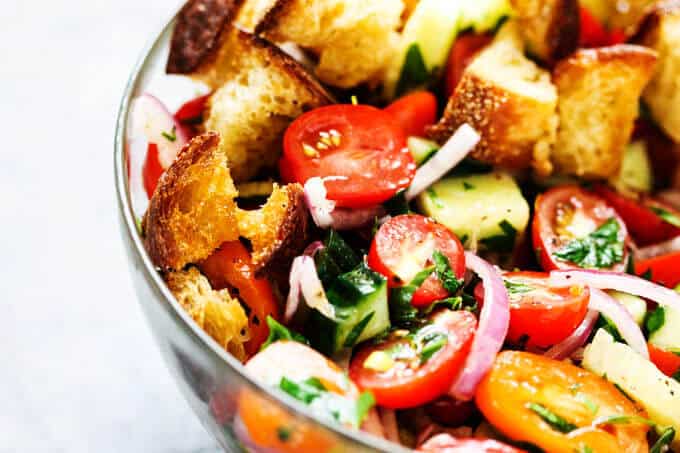 Ingredients
1/2

Ciabatta bread

(about 10 oz), cubed

14

oz

cherry tomatoes

(or cocktail or heirloom tomatoes) or 2-3 bigger tomatoes

1/2

red onion

, thinly sliced

1

English cucumber

, peeled and cut into chunks

3

garlic cloves

, sliced

1/2

cup

olive oil

extra virgin, for bread

4

tablespoon

butter

fresh parsley

chopped (1/2 cup)

8

basil leaves

torn into small pieces

1

tablespoon

red wine vinegar

3

tablespoon

olive oil

for dressing

Salt and Pepper to taste
Instructions
Heat the oven to 350 degrees

Heat 1/2 cup of olive oil with butter together in a large oven proof skillet over medium heat

When butter has melted, remove the skillet from the heat, add garlic and bread and mix it well

Transfer skillet to the oven and bake for 15 minutes until the bread is golden brown, let it cool down

In the meantime prepare the tomatoes, cut the cherry tomatoes in half or if using large tomatoes, core and slice into medium cubes

In a large bowl, mix together, tomatoes, cucumbers, onions

Combine vinegar with 3 tablespoon of olive oil, salt and pepper and pour over the salad

Mix well

Add bread and herbs and toss everything together

It can be served immediately or prepared 15 - 30 minutes in advance
Notes
Nutrition Facts
Summer Panzanella with Garlic Butter Bread Recipe
Amount Per Serving
Calories 399
Calories from Fat 288
% Daily Value*
Total Fat 32g 49%
Cholesterol 20mg 7%
Sodium 260mg 11%
Potassium 237mg 7%
Total Carbohydrates 23g 8%
Protein 4g 8%
* Percent Daily Values are based on a 2000 calorie diet.
Nutrition
Calories:
399
kcal
|
Carbohydrates:
23
g
|
Protein:
4
g
|
Fat:
32
g
|
Saturated Fat:
8
g
|
Cholesterol:
20
mg
|
Sodium:
260
mg
|
Potassium:
237
mg
|
Fiber:
1
g
|
Sugar:
2
g
|
Vitamin A:
12.7
%
|
Vitamin C:
21.4
%
|
Calcium:
2.2
%
|
Iron:
4.1
%
If you like this recipe you may also like:
Horiatiki Salad with Golden Greek Peperoncini (+ a chance to win Meal Kit for two, from CHEF'D)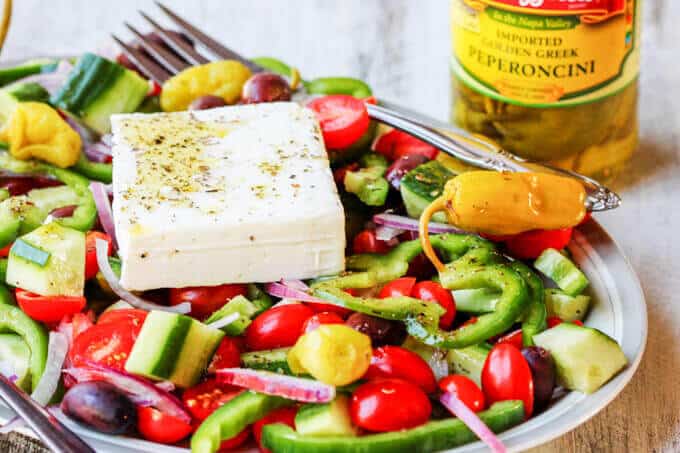 Greek Panzanella Salad with Garlic Lemon Vinaigrette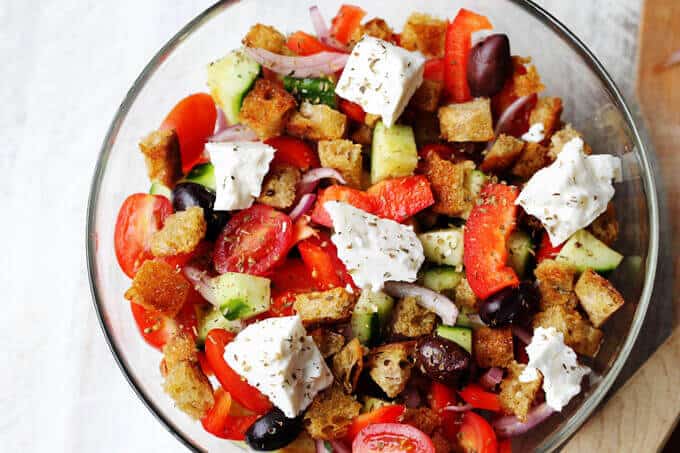 Farfalle Pasta Salad Mediterranean Style
Golden beats salad with Goat Cheese
Or Pan con tomato with crispy prosciutto: