This post may contain affiliate links which won't change your price but will share some commission.
Honey Harrisa Chicken Skewers with Garlic Mint Sauce – amazing combination of Mediterranean flavors in these super tasty skewers with a dollops of refreshing garlic mint sauce. My guests couldn't get enough.
The grilling season is officially open! Simply throwing things on the grill and having a dinner ready in no time was a dream I had through the whole winter. But thankfully cold weather is behind us (at least on the East Coast of USA) and we can do outdoor cooking any time of the week.
Because I absolutely love all the Mediterranean flavors I thought that these honey harrisa chicken skewers with garlic mint sauce will be a perfect addition to my summer repertoire.
My husband is so amazing! He basically created a second living room outdoor for me 🙂 Ok, for us, but I am so in love with it, that I can spend any minute of my summer out there.
He bought a couch with beige cushions, with matching coffee table and matching outdoor drink fridge! (that was actually insane, the fridge didn't come together with the couch…he found it in Home Goods; 100% match). On top of that, he also got us an outdoor rug, so our deck feels super cozy and comfortable.
It's a perfect place to enjoy summer cocktail and easy, no fuss meal.
Speaking of easy and no fuss meal. How easy are these honey harrisa chicken skewers with garlic mint sauce? Well, except for the fact, that in order to get this incredible Medditerranean flavor, they need to be marinaded, the whole preparation takes NO TIME.
Mixing marinade ingredients and cutting chicken into the strips takes no more then 5 minutes. Grilling them takes 3-4 minutes on each side. But you want to marinade them. So the best approach is, to prep the marinade in the evening,  add the chicken, let the marinade do its job and than grill the skewers the next day.
Garlic sauce takes no time either, as the food processor will do all the work for you.
If you are interested, here is a photo of harrisa that I'm using (I'm not affiliated with this brand, I just wanted to show you what I like). You can find it on Amazon. Simply follow the "Get Ingridients" button in my recipe and you can get to Amazon. Type in the name of this harrisa and you can have it in no time.
But, please make sure that you order the mild version. They also have hot/spicy harrisa, which is super hot and you shouldn't use more than 1/2 teaspoon of this. I like the mild one as its giving me this amazing pepper taste and I can use a lot of it. I do have a spicy one too and if you want these chicken skewers to have a little kick feel free to add 1/2 teaspoon of spicy harrisa. I used the spicy version of harrisa in this Shakshouka – Classic Mediterranean Breakfast.
Please try this amazing recipe. It pairs so perfectly with either this Summer Panzanella with Crusty Garlic Bread or with this unique Potato Salad. If you do make it, please let me know how you liked it and show me your photos at #innocentdelight. Cheers friends and happy summer!
Ingredients
Chicken marinade:
2

boneless

, skinless chicken breasts, cut into 1/2 inch strips (or equivalent of chicken tenders)

3

tablespoon

of mild harrisa

3

tablespoon

of olive oil

1

tablespoon

of honey

1/2

teaspoon

of salt and 1/4 teaspoon of fresh ground pepper
Garlic Sauce
3

garlic cloves

, crushed

3

tablespoon

of lemon juice

5

tablespoon

of olive oil

3

tablespoon

of yougurt

(natural or greek)

1

tablespoon

of chopped fresh mint
Instructions
For the chicken
Combine all the ingredients for marinade in a bowl: harrisa, honey, olive oil, salt and pepper

Add chicken strips, mix well, so all the pieces are covered in the marinade

Cover and refrigerate for at least 3 hours or over night

If using wooden skewers, soak them for at least 30 minutes before grilling

Secure each chicken strip with a wooden skewer (horizontally)

Grill on medium heat for 3-4 minutes on each side until golden brown and internal temperature show 165 F
For the sauce:
Place all the ingredients into the food processor and process until smooth

Drizzle over cooked chicken and enjoy
Notes
1. You can sprinkle skewers with fresh chopped parsley for more flavor and dramatic look.
2. You can also use boneless, skinless chicken tights, cut up into strips instead of chicken breast.
3. For spicy version you can add 1/2 teaspoon of spicy harrisa.
If you like this recipe, you may also want to try these summer favorites:
Or this Grilled Shrimp: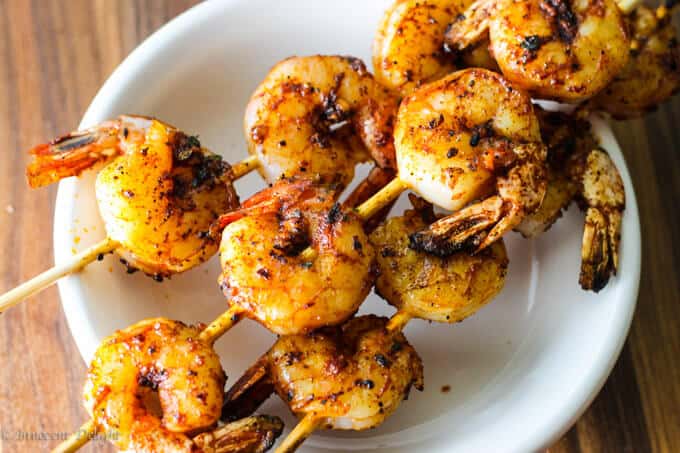 Or this fantastic Grilled Salmon with Simple Homemade Teriyaki Sauce (not European or Mediterranean flavor, but super tasty… I'm allowed to use other cuisines once in a while, right 🙂 )