This post may contain affiliate links which won't change your price but will share some commission.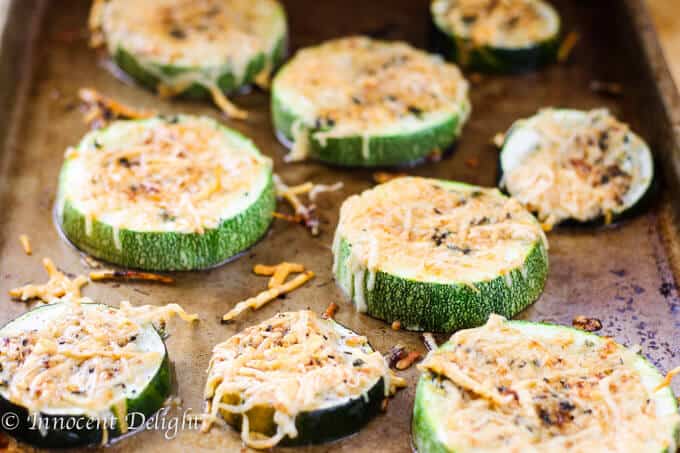 Do you watch "The Kitchen" on the Food Network? I'm a huge fan of this show. Their discussions are very informative and interesting, and to make it better it's also very funny. Often they talk about a dish or a type of food that I'd totally forgotten about and their reminder makes me salivate at the thought. The other day I was watching it and they had the producer of the Food Network talking about the most searched item on the Food Network website….by the title of this post you can probably guess what was it: Zucchini! Hm… parmesan crusted zucchini with black pepper, lemon zest and thyme – that's the thought!
I had this burning desire to make zucchini for quite a while but I was always a bit apprehensive because my husband told me that he doesn't like zucchini. Silly me, I shouldn't have listened. Not making it for quite a while made me forgot about this stunning summer veggie. Nevertheless, what I've learned over the years is that I can usually make a dish that includes ingredients that he thought he didn't like but in my spin on those dishes he surprisingly liked it.  For example, we had cabbage (which he professed his hatred of) and when I made it braised with cream and sprinkled with bacon bits and likewise he loved it. Other examples include: brussels sprouts roasted with bacon and glazed with a balsamic reduction, greek rice with spinach and feta, and the list goes on. The same happened after I served my parmesan crusted zucchini with black pepper, thyme and lemon zest.  See if you can make a convert of your zucchini hater.
After I watched a The Kitchen episode they made me so hungry for zucchini that I proceeded directly to my local farmers market and bought a huge, beautiful zucchini. That night, we had  guests for dinner and I figured that this beauty would make a perfect appetizer.  And, go figure, 'she' stole the show. I made it with shredded parmesan, lemon zest, fresh thyme and lots of black pepper. This dish is so simple and yet incredibly tasty. Yes, healthy can be delicious. This revelation was totally surprising to my husband. After he took a bite, he said that he thought that healthy dishes were supposed to be awful, tasteless and bland. Meanwhile, my zucchini was still a little crunchy and had this wonderful parmesan crust on a top, mixed with a kick from the freshly ground black pepper and lemony zing from both the lemon zest and fresh thyme. Don't tell my husband, but most of the dishes that he eats at home are healthy 🙂 Hopefully this secret is safe between us because I need him to continue his responsibilities as my master taster!
This dish works perfectly as leftovers as well. Just put it in a toaster oven for couple of minutes and they become warm  on the inside and  crispy on the outside again. Next time you a have a summer barbecue party and you want to impress your guests with simple and stunning appetizer, try my recipe for Parmesan crusted zucchini with black pepper, thyme and lemon zest. Your guests will be happy.
Ingredients
1

large zucchini

, sliced into about 12 pieces - 1/4 inch thick

1

cup

of shredded Parmesan Cheese

1

tablespoon

of fresh thyme

Zest from 1 lemon

Lots of freshly ground black pepper
Instructions
Preheat the oven to 350 degrees F

Place the pieces of zucchini on baking sheet with parchment paper

In a bowl, combine cheese, lemon zest and black pepper

Sprinkle mixture on each slice of zucchini

Roast it for approx. 15-20 minutes in the oven

For the last 2-3 minutes place the sheet with zucchini under the broiler

Let it cook slightly and serve