Eggs Mayonnaise ('Jajka w Majonezie') is a traditional Polish appetizer. You can find it in every home around the Holidays, especially Easter. It's super simple to make, requires only a few ingredients, and it tastes absolutely delicious!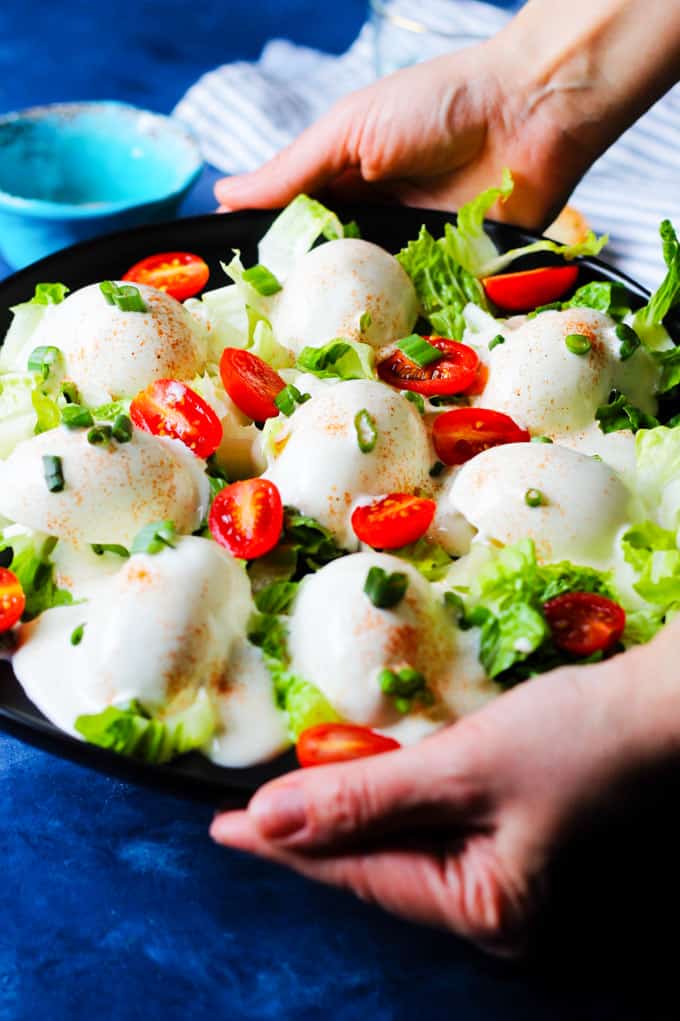 Eggs Mayonnaise – a Delicious Appetizer Popular in Polish Cuisine
If you're a reader of my blog, then you already know that I was born and raised in Poland. In Polish Cuisine there are a handful of dishes that constantly resurface in every house around the holidays, or for any large gathering. This is the case with the Russian Salad, that is called in 'Salatka Jarzynowa,' and with these Eggs Mayonnaise.
I'm not exaggerating when I say that you'll find Eggs Mayonnaise at every holiday, gatherings, birthday parties, etc… The point being, that's how popular they are. Their fanfare can be compared to Deviled Eggs in the U.S., circa 1980's (I realize their popularity is waning).
With Easter now approaching, I figured that introducing you to this delicious Polish egg appetizer was timely. Personally, I make them every year for Easter and my American family is totally in love with them. If you like egg salad you'll love my Eggs Mayonnaise.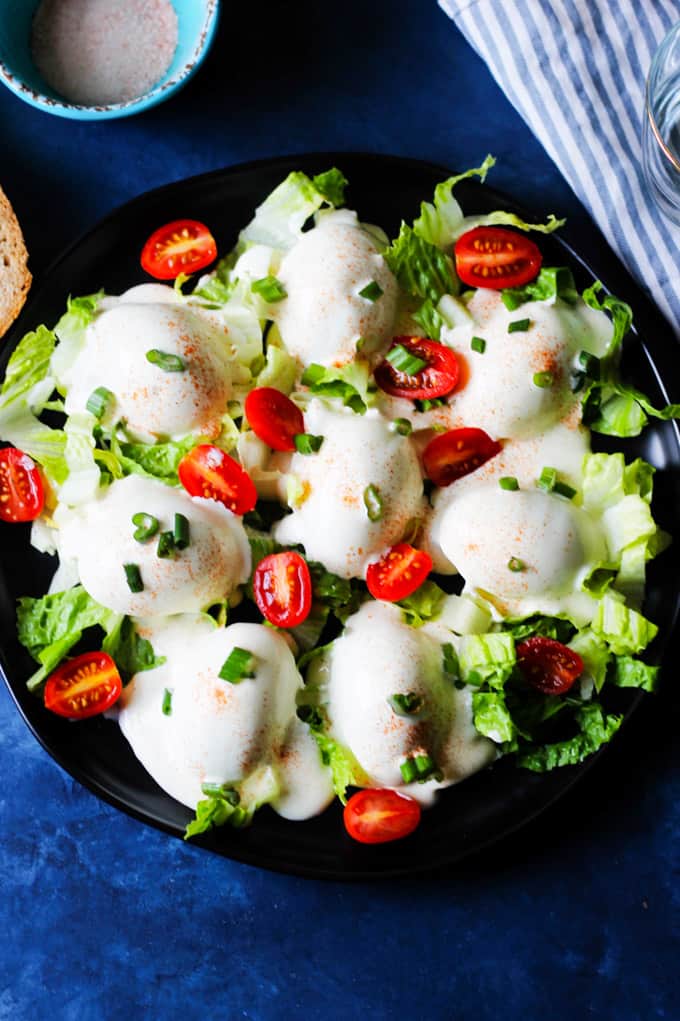 What Ingredients Are Needed to Make Eggs Mayonnaise (Jajka w Majonezie)?
The main ingredients in this recipe for Eggs Mayonnaise are (you probably guessed it)…
Hard-boiled eggs; &
Mayonnaise (with a splash of water).
The rest really depends on your mood or flavor preferences. I like to use:
Romain lettuce cut up in small ribbons as a bed for my eggs, as I really like the crunch it adds to the dish;
Then I like to add some cherry tomatoes because they add a little bit of sweetness to the dish;
And finally, I like to add green onions (either scallions or chives) for a mild onion flavor;
Oh, I almost forgot that I sprinkle a little sweet paprika on top for some color and extra flavor too.
But there are plenty of possibilities here. For example, you can garnish your Eggs Mayonnaise with:
Red or white onions;
Chopped pickles, or cornichons;
Olives;
Roasted red peppers;
Fried bacon bits;
Crunchy fried onions.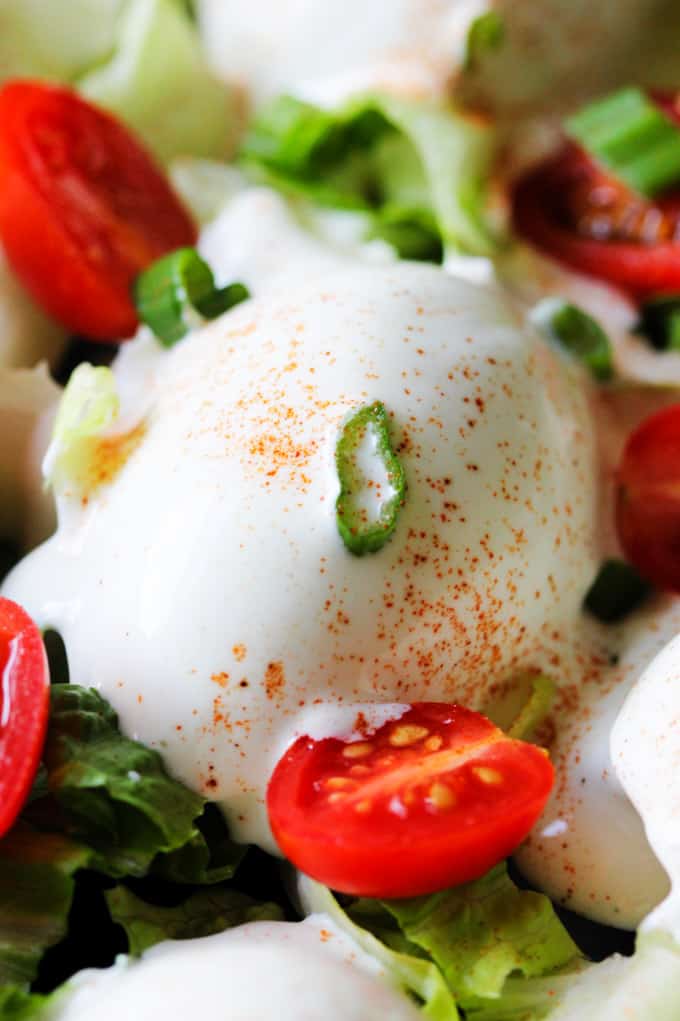 How to Make Eggs Mayonnaise?
The steps to make Eggs Mayonnaise are very simple.
Step 1: Prepare your Mayonnaise – mix together a 1/2 cup of Mayonnaise with 2 tablespoons of room temperature water to achieve a nice silky sauce.
Step 2: Prepare your Eggs – Place 4 eggs into a pot of cold water. Bring it to a boil. Lower the heat to low and boil the eggs for 10 minutes. Then place the eggs in cold water to cool them off completely. Peel and cut your eggs in half, lengthwise.
Step 3: Assemble the dish – If using lettuce, spread it at the bottom of your serving plate. Place the egg halves flat side down and spoon over a tablespoon of mayonnaise sauce on top of each egg half. Garnish with tomatoes and scallions, or the other garnishes of your choice.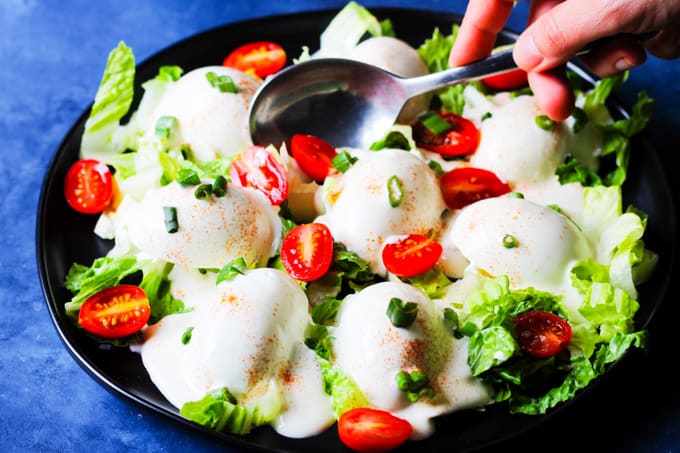 What to Serve Eggs Mayonnaise with?
Eggs Mayonnaise is traditionally served in Poland as an appetizer. And in Poland, we eat everything with bread or rolls. You can use store-bought ones or if you are up for a challenge, you can try one of these recipes:
Other Delicious Eggs Recipes to Try:
If you like this recipe you may also take a look at a few of my other favorite eggs recipes: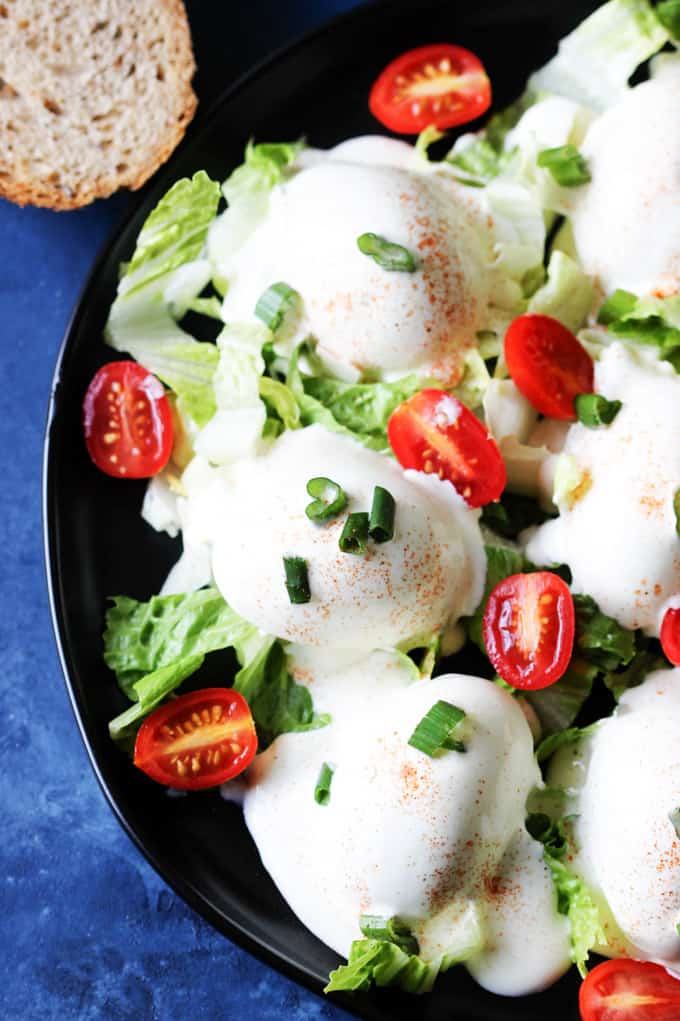 Other Popular Polish Recipes:
This Eggs Mayonnaise is a classic Polish recipe that I often serve on Easter. Here are a couple of my favorite Polish recipes that cameo for different holidays:
Anyways, try my Eggs Mayonnaise this coming Easter and let me know in comments below how you liked them.
Read about the author Edyta here or follow Eating European on social media: Facebook, Instagram, Pinterest, and Twitter.