Sponsored Post: This post is sponsored by The French Ministry of Agriculture but the content and opinions expressed here are mine.
Building the Perfect French Cheese Board can be easier then one might think. This guideline for cheese and wine pairings will help to make any appetizer round super easy, and without losing elegance and sophistication.
I am very excited to partner up with French Ministry of Agriculture again and bring you this little bit of France. Here I present 4 wines from 3 different regions of France, and 4 cheeses also from 3 different regions. The last time I partnered with the French Ministry of Agriculture I made these fantastic Blond Chocolate-Dipped Pistachio Financiers. This time around I'm presenting you with the Perfect French Cheese Board….and no cheese board is replete without some awesome wines to pair it with. Let's celebrate winter with French Wine and Cheese. Shall we?
First, let's talk about the cheeses from Ile de France®. 
Today, the Ile de France brand remains a top seller of soft gourmet cheeses in the United States, which are available in gourmet stores and supermarkets throughout the United States.
ILE DE FRANCE PLAIN GOAT CHEESE is a traditional fresh Chevre from Poitou Charentes, using only the freshest goat's milk in the region.
A perfect pairing with Bordeaux or Beaujolais wines (both featured below).
Great addition to any of your dishes:

Salads,
Steak,
Soups or
Scrambled eggs (listen, it's a French thing), or just simply
On crackers, a piece of baguette, sourdough bread, either
Fresh or melting.
For my husband it tasted best on rustic sourdough bread with fig jam and honey. I tried this combination and I must admit, it was pretty damn good…
SAINT AGUR BLUE CHEESE is a unique and intense Blue cheese with a smooth buttery finish, rich in butterfat (double crème). Blue cheese is typically made from goat's milk, making the texture rather dry.  This blue cheese however is made from cow's milk, and is much creamier.

This cheese is great in

Salads,
Over steak and potatoes, or
On pizza, or
Naked, on a cheese board.

Perfect with

Pears,
Bacon, or pancetta,
Served with a fresh baguette or sourdough bread.

Perfect pairing with George Duboeuf Beaujolais-Villages 2015, Cote du Rhone or a heavier wine like Cabernet Sauvignon.
I loved it with a slice of cooked pancetta and fresh fig.
ILE DE FRANCE BRIE This double crème Brie is produced with fresh, daily collected cow's milk from the Normandy region; delivering a unique rich creamy flavor.
Perfect to pair on a fruit platter with apple slices, berries figs or jams;
On a baguette or crackers;
Served on a burger, or
Baked Brie en Croute (that's my favorite little bite appetizer with raspberries and walnuts – can't go wrong with that).
Perfect with white wines like
SAINT ANDRE a unique texture – easy to pair with sweet and savory – a distinctive taste – for any occasion. Known as "the heavenly cheese", Saint André® is as rich as pure butter. For me this was an absolute winner. I simply love Sainte Andre. I remember the last time I ate it I was pregnant with my second son, which was about 1,5 years ago. Yes, I ate soft, ripened cheese when I was pregnant. And I lived to tell the tale 🙂 I can't believe I waited that long to have it again, though. I know that from now on this is my number 1 cheese on any cheese board, not only the French one.
Great pairing with
Cheeseboards with

Fruits like figs and berries and
Crackers, bread, baguette

Also great with chocolate and ginger bread
Now let's talk about some wines form two different vineyards: Les Vins Georges Duboeuf and Légende.
Les Vins Georges Duboeuf is a family-owned winery in the heart of the Beaujolais region of France that produces wines with an emphasis on quality and terroir since 1964. Georges has become, in a sense, the ambassador of the region and the undisputed "King of Beaujolais".
George Duboeuf Beaujolais-Villages 2015 is a versatile and exceptionally food-friendly wine made from 100% Gamay. Gamay is a light-bodied red wine that's similar in taste to Pinot Noir. It grows primarily next to Burgundy, France (Pinot motherland) in Burgundy. Gamay wines are loved for their delicate floral aromas, subtle earthy notes, and surprising ability to pair with food. Beaujolais-Villages is incredibly versatile – it is a great pairing for cheese and charcuterie, burgers, grilled chicken or roast salmon. Best served lightly chilled.
Georges Duboeuf Pouilly-Fuisse 2015 Made from 100% Chardonnay. Pouilly-Fuissé, as a region, is famous for offering white wines that offer incredible value compared to pricier white Burgundies. Very food-friendly but also great to enjoy on its own.
Légende offers the consumer an enjoyable journey through Bordeaux, and its historic terroir, at a very approachable price point. The prestigious Barons de Rothschild (Lafite) family has owned vineyards in Bordeaux for generations. In addition to the wines issued from their world renowned vineyards, Domaines Barons de Rothschild (Lafite) has been elaborating a range of wines which are easy and pleasant to drink called "Legende".  Affordability meets elegance.
Légende Rouge 2016 was a remarkable vintage in the Bordeaux region, a fairly challenging year for winegrowers, with a very wet start and a very dry period, and finally localized thunderstorms and a beautiful Indian summer that enabled the grapes to reach optimal ripeness. Pairs beautifully with beef, lamb, duck and hard-aged cheeses.
Légende Blanc Elegance meets affordability; every day drinkability. The cooler terroirs produced perfect balances of alcohol and acidity, and very exuberant aromas. 50% Sauvignon Blanc, 40% Semillon, 10% Sauvignon Gris. It pairs beautifully with soft cheeses, especially goat cheese.
Now, that I've introduced all the main players for this board and we know which wines will work with it, let's build up this Perfect French Cheese Board.
I must admit, I made this Perfect French Cheese Board and I opened all the wines to give them a try and here's what happened…. My husband and I were so in love with this food that we decided to forego dinner that night and just ate cheeses and meats while sipping wine. A decadent substitute to a traditional dinner. Alright, getting back to the board:
First we need the cheeses. Here we have:
The we need a vehicle like:
Rustic sourdough bread (it was my choice, because I love it),
Baguette or
Crackers
Then we need something salty like:
Cured meats (charcuterie):

Salami,
Prosciutto, or
Cooked panchetta or bacon,

Assortment of olives, or
You can also add any nuts you like
Then we need something sweet like:
Then we need something fresh like:
Figs,
Blueberries,
Raspberries,
You can also add grapes or apples
And "voila", it's just that simple. You can create this beautiful Perfect French Cheese Board for any day you get the itch or for the Holidays and to celebrate winter with French Wine and Cheese. Cheers my friends!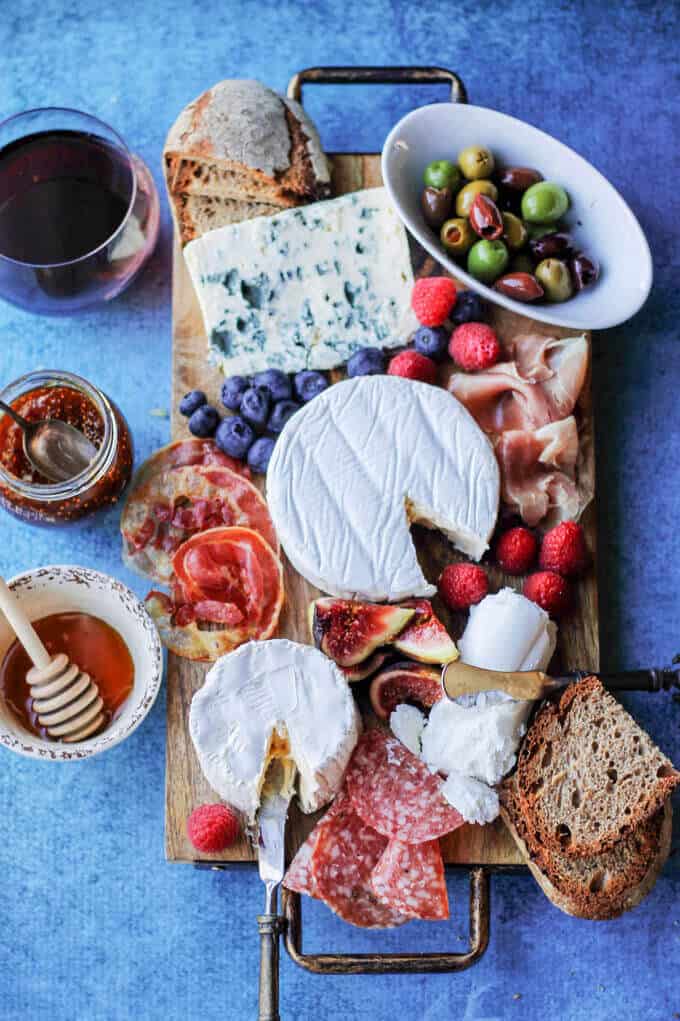 Perfect French Cheese Board
Building the Perfect French Cheese Board can be easier then one might think. This guideline for cheese and wine pairings will help to make any appetizer round super easy, and without losing elegance and sophistication.

Print
Pin
Rate
Ingredients
1

round

Ile De France Brie Cheese

1

round

Saint André Cheese

1

Ile De France Goat Cheese

1

Saint Agur Blue Cheese

Salami

Prosciutto

Pancetta

Figs

Raspberries

Blueberries

Olives

Fig Jam

Honey

Bread, Baguette or Crackers
Instructions
Arrange cheeses, meats, fruit, olives and bread on a platter or wooden board with side of honey and jam. Serve with wine.
Notes
This is more like a guideline then a recipe. You can use as much or as little of each ingredient as you want. You can also add, nuts, apples or dried fruit.
Read about the author Edyta here or follow Eating European on social media: Facebook, Instagram, Pinterest, and Twitter.
[mc4wp_form id="6774″]