This post may contain affiliate links which won't change your price but will share some commission.
This authentic Polish Kapusta recipe  (Sauerkraut with Mushrooms) is very easy to make and requires only a few ingredients. In Poland, it is traditionally served on Christmas Eve as a side dish with different kinds of fish.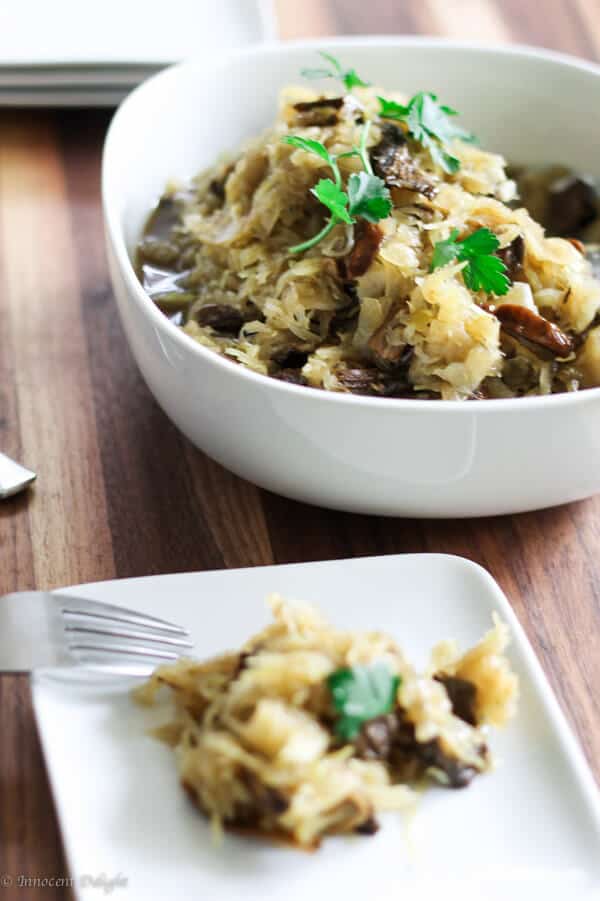 Tradition of Kapusta
Kapusta (Sauerkraut with Mushrooms) – one of my favorite Polish delights –  is super healthy and in most Polish houses, served on Christmas Eve. Traditionally on Christmas Eve, all the dishes should be "lenten" meaning cooked and served without any meat or animal products.
While most recipes call for butter, it's an optional addition. I realize that the saying is 'everything with butter tastes better,' but this one is super delicious when made with just water and splash of olive oil.
My husband and I have had a few Christmases together so far. Each year, he looks forward to the delicious aroma of sauerkraut and mushrooms that fills our house. I usually make pierogi with sauerkraut and mushrooms too; so it's a lot of krauty, shroomy smells dancing around.
The traditions of "Lenten" dishes have loosened up in the past decade and now you can see additions of meat in some Christmas Eve dishes, but not all.
For example, instead of Kapusta, you could have Bigos which is yet another Polish sauerkraut recipe that includes meats, mushrooms, prunes, and wine.
You could also serve Pierogi with Potatoes and Cheese. Sprinkle them with bacon bits on top and you have a delicious twist on a Polish classic.
And you could serve Russian Salad with or without ham.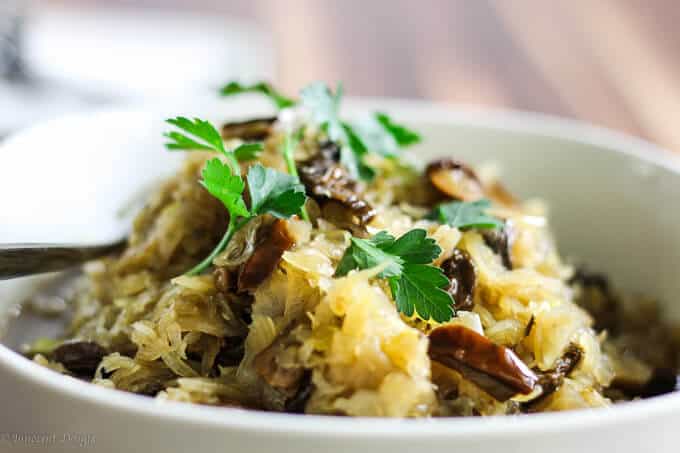 Wild Mushrooms
Wild mushrooms take me back to my childhood in Poland. At least once a year there was an early morning kick-off (I mean the morning that we consider the middle of the night – 4 am wake up call) to a mushroom picking day in the forest!
The earlier you were in the forest, the better. And I'm not talking about one forest. Every forest in Poland, in the mushrooms season, was crawling with pickers. Being one of the first ones there heightened your chances of returning with your bucket full of wild mushrooms.
Sometimes it was so frustrating to walk behind a family member who was able to get the drop on every single mushroom – which left my bucket empty. But the feeling of accomplishment when you finally find your MUSHROOM is simply unforgettable.
Easy steps to make Polish Kapusta
Oh, and did I mentioned that it is super easy to make? Here are a few simple steps:
Rinse and boil the sauerkraut;
Add spices;
Soak and boil wild mushrooms;
Fry up some onions;
Add onions, mushrooms to the sauerkraut;
Add salt, pepper, and a pinch of sugar.
Mix and serve with a sprinkle of partly.
Doesn't that sound super easy? Below you will find a printable Polish Kapusta recipe.
I hope you enjoy this Polish delight of Kapusta (sauerkraut with mushrooms). Please let me know your traditions, I'd love to hear from you!
Other Polish dishes:
If you're looking for more Polish dishes, here are my favorite suggestions:
Kapusta - Polish Sauerkraut with Mushrooms
This authentic Polish recipe for Kapusta (Sauerkraut with Mushrooms) is very easy to make and requires only a few ingredients. It is traditionally served on Christmas Eve as a side dish to a different kind of fish.
Print
Pin
Rate
Ingredients
1/2

lbs

Sauerkraut

2

oz

Dried Wild Mushrooms

2

Onions

medium or 1 large, chopped

2

Bay Leaves

5

corns

Allspice

2

tbsp

Olive Oil

1

teaspoon

Sugar

Salt and Pepper

to taste

1

teaspoon

Parsley

chopped for garnish
Instructions
Rinse the sauerkraut under the running water. Squeeze excess water and chop it.

Place sauerkraut in a pot with water. Water should come to a level where contents are submerged.

Add bay leaves and allspice.

Cook on low heat for about 40-60 minutes until the sauerkraut is soft.

If water evaporates, you may need to add hot boiling water a few times during the process.

In the meantime, place dried mushrooms in a pot with water. Let them stand for half an hour.

Cook the mushrooms in the same water they were soaking in for another half an hour, adding a little bit of salt.

In a frying pan, heat up the olive oil. Add onions and cook for approximately 5 minutes until they are golden brown.

When the mushrooms are cooked, remove them with the slotted spoon and add to the sauerkraut.

Using a cheesecloth (or thin strainer) and ladle, pour one ladle of the mushroom water at the time over the sauerkraut (you may want to add 1-3 ladles to the sauerkraut depending on how much liquid has evaporated)

Cook for about 10 more minutes to reduce some of the liquid (the dish should be wet but not soaking in water).

Add onions and sugar to the pot and stir to combine.

Discard bay leaves.

Add salt and pepper for taste.

Optionally you can add a tablespoon or 2 of butter and mix it well.

Garnish with parsley and serve as a side dish.
Nutrition
Calories:
67
kcal
|
Carbohydrates:
6
g
|
Fat:
4
g
|
Sodium:
252
mg
|
Potassium:
126
mg
|
Fiber:
1
g
|
Sugar:
2
g
|
Vitamin C:
8.6
mg
|
Calcium:
25
mg
|
Iron:
0.7
mg
Read about the author Edyta here or follow Eating European on social media: Facebook, Instagram, Pinterest, and Twitter.