Super Easy European Style Potato Pancakes – this popular dish can be found across Europe: In Poland, Germany, Czech Republic etc as well as in every Jewish deli, known as "Potato Latkes".
Check this recipe for super easy way to make them. No shredding of potatoes involved.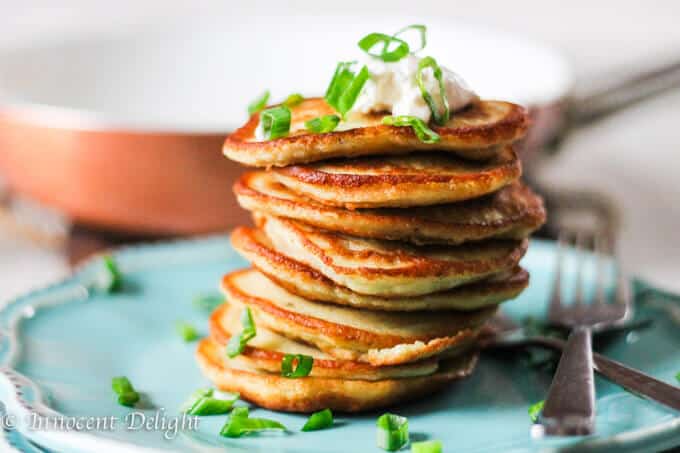 Potato Pancakes are among the most popular dishes in Poland. Every kid loves them.
However, the kids usually want them to be sprinkled with some sugar. Although this is a really popular way of serving Potato Pancakes, it wasn't my cup of tea. I don't know why, but I do prefer savory over sweet, so I serve my Potato Pancakes with sour cream and scallions.
I also love them as a side dish for goulash or beef stew. You can use this recipe and the ultimate result will be out of this world.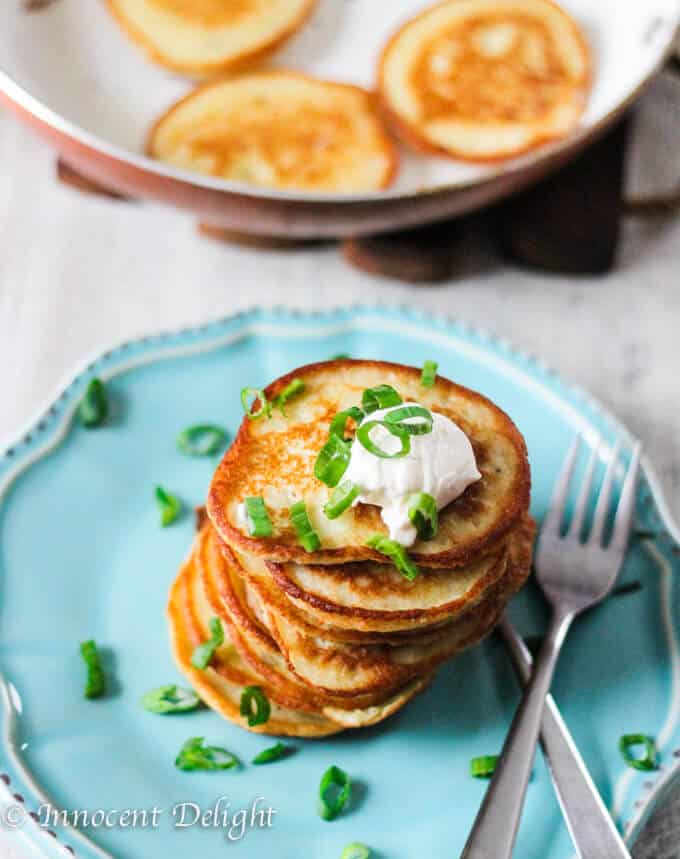 The worst part of making Potato Pancakes was shredding the potatoes and the onions and garlics… It was time consuming, hard and also dangerous (you could shred your knuckles). I found a better, much easier way to make them. And their taste and texture are still great. I use a simple blender (affiliate link).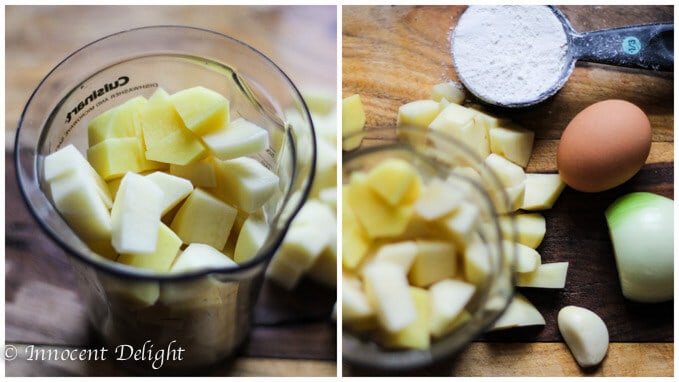 You need about 3 cups of cubed potatoes, half onion, 1 garlic, 1 egg, 1/3 cup of flour and some salt and pepper.
First, add potatoes to the blender (affiliate link) and blend for a few minutes until they release juices.
Then add onions and garlic and blend for a few more minutes.
Once it is blended, pour the mixture through thin mesh strainer and let is sit for about 10 minutes. You want to get rid of the extra moisture.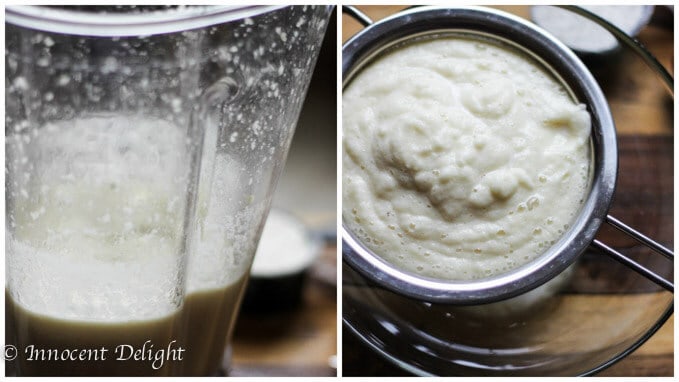 After 10 minutes pour the mixture into the bowl, add egg, flour, salt and pepper and mix together. Then heat up a little bit of oil in the pan and fry up a test pancake.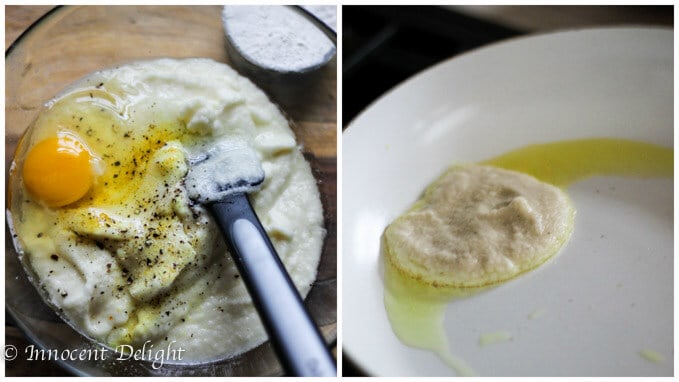 Flip it and fry it on the other side. Then take it out on the paper towel, dry out and taste it. If the pancake needs more salt or pepper, you should adjust seasoning and fry up the remaining of the pancakes.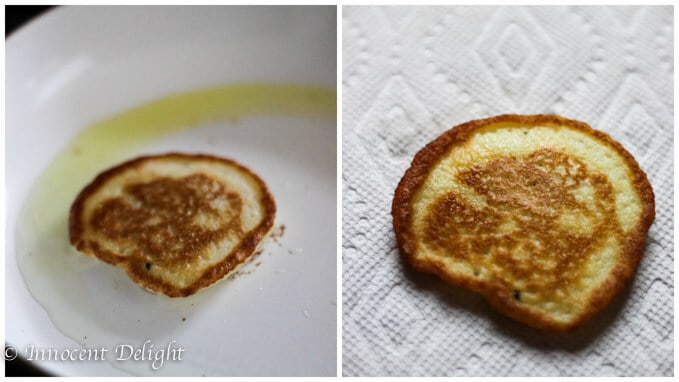 And here they are, beautiful, golden brown, scramptions European Style Potato Pancakes. Can you resist them?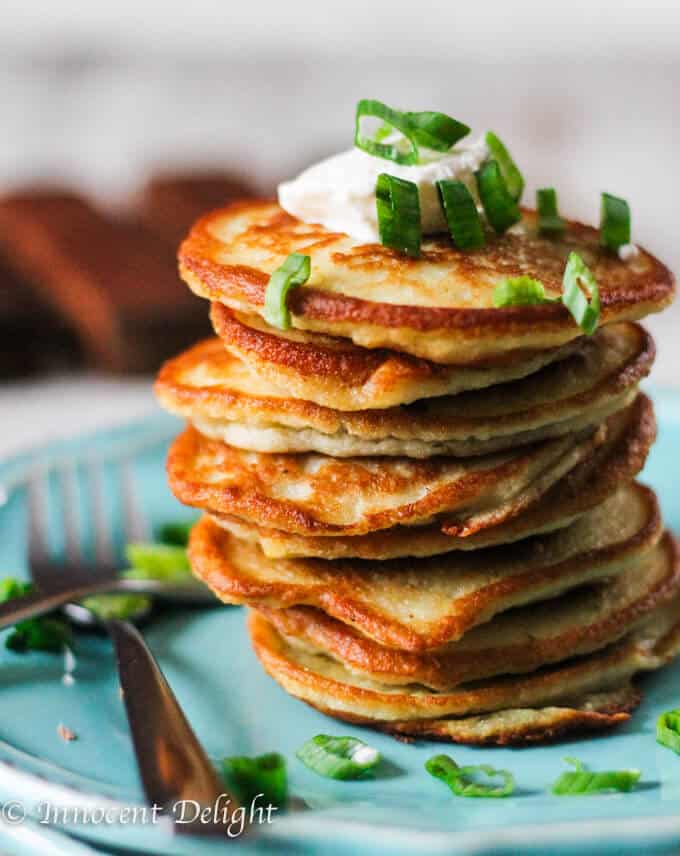 Ingredients
3

cups

of cubed potatoes

1/2

onions

, chopped in big cubes

1

garlic

1/3

cup

of flour

1

egg

1

teaspoon

of salt

(or less)

Freshly ground black pepper

Few tablespoons of oil for frying

Dollop of sour cream and chopped scallions for garnish
Instructions
Place the potatoes in a blender and blend for 2 minutes until they release moisture

Add onions and garlic and blend for another minute

Pour the mixture through thin mesh strainer and let it sit for 10 minutes

After 10 minutes pour the mixture into the bowl

Add egg, flour, salt and pepper and mix together

Heat up a tablespoon of oil and fry up a test pancake

Taste it and adjust seasoning of the mixture if needed

Add oil as needed and fry up the remaining of the pancakes
If you like this European dish you may also like this multicultural dish of Stuffed Cabbage: