These European Style Potato Pancakes are a very popular dish throughout Europe. In Poland, they are known as 'Placki Ziemniaczane,' in Germany as 'Kartoffelpuffer,' in the Czech Republic as 'Bramboracky,' and of course, every Jewish deli refers to them as 'Potato Latkes.'
This Potato Pancake recipe is super easy. The old fashion way of making them required shredding by hand. However for this recipe, there's no shredding of potatoes involved….the blender does the job for you.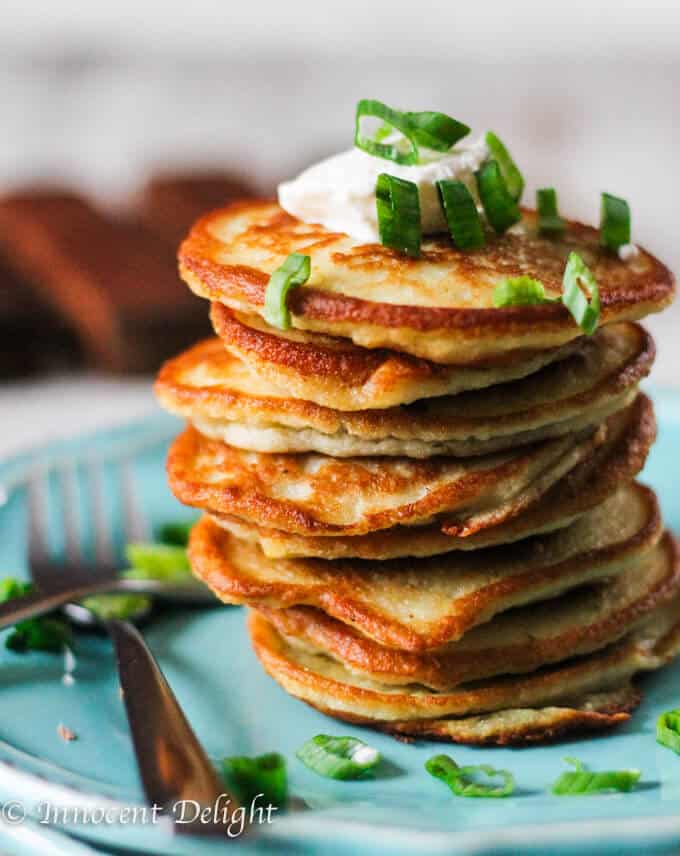 This post may contain affiliate links. You can read my disclosure policy here.
Potato Pancakes – Very Popular Dish Across Europe
I grew up in Poland where Potato Pancakes (Placki Zimeniaczane) are among the most popular dishes. And I know for a fact that Kartoffelpuffer (German Potato Panaces) and Bramboracky (Czech Potato Pancakes) are equally popular in their respective countries. Every kid I know loves them!
Yet, in Poland the kids usually favor them sprinkled with some sugar. Although this is a really popular way of serving Potato Pancakes, it wasn't really my cup of tea. I don't know why, but I've always preferred savory over sweet, so I like my Potato Pancakes with sour cream and scallions.
I also love them as a side dish. See below suggestions on what to serve these best Potato Pancakes with.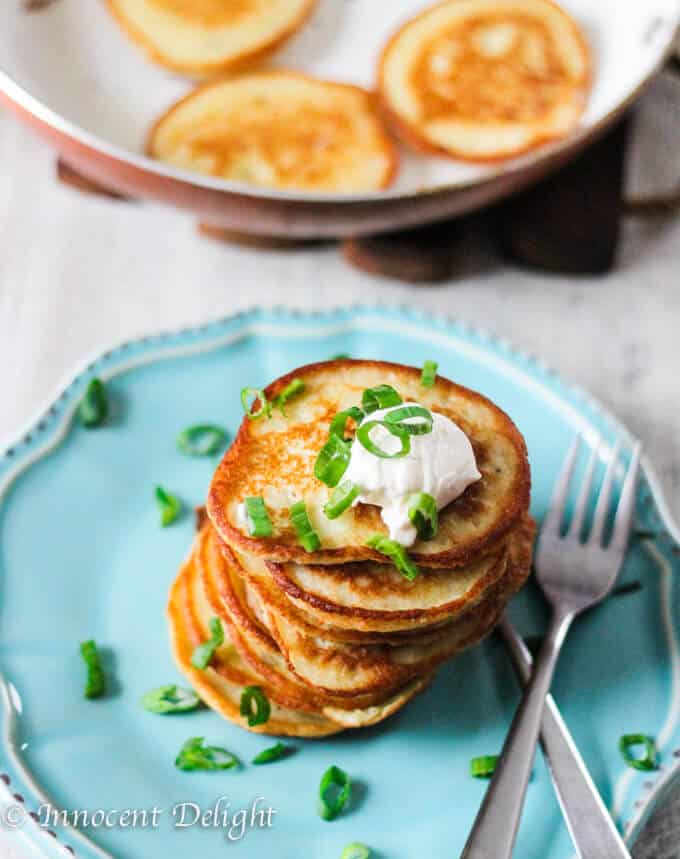 How to Make Potato Pancakes
The worst part of making Potato Pancakes was shredding the potatoes and the onions and cloves of garlic. It was time-consuming, hard, and also dangerous (you could shred your knuckles). I've since found a much easier way to make them. And their taste and texture are still phenomenal. I use a simple blender.
For the Ingredients you will need:
About 3 cups of cubed potatoes (yellow or white potatoes are best for this recipe);
Half of a medium sized Sweet Onion;
1 garlic clove;
1 egg;
1/3 cup of flour;
And some salt & pepper.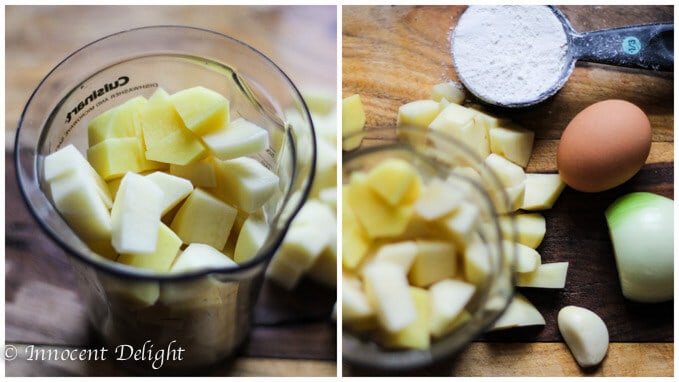 Easy Steps to Make Potato Pancakes
Step 1: Add potatoes to the blender and blend for a few minutes, until they release their juices.
Step 2: Then add onions and garlic and blend for a few more minutes.
Step 3: Once it's completely blended, pour the mixture through a thin mesh strainer and let it sit for about 10 minutes. You want to get rid of the extra moisture.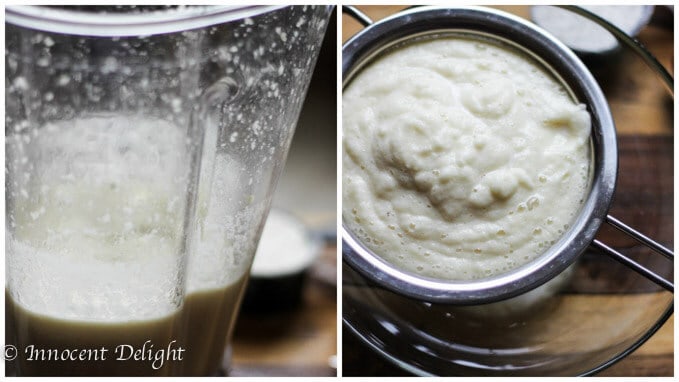 Step 4: After 10 minutes, pour the mixture into a bowl and add egg, flour, salt, and pepper, then mix together.
Step 5: Heat up a little bit of oil in a pan and fry up a test pancake.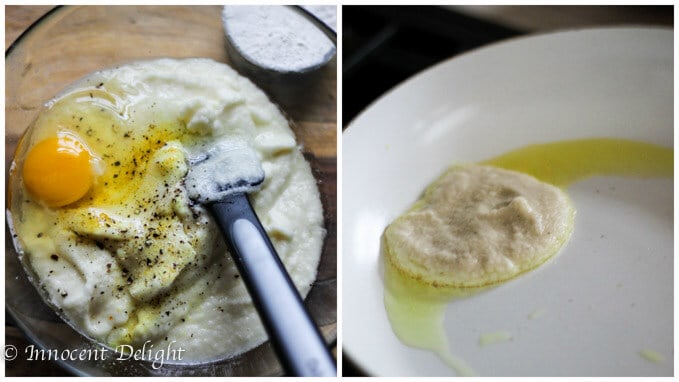 Sep 6: Flip it and fry it on the other side.
Step 7: Then take it out and place it on a paper towel, dry out and taste it. If the pancake needs more salt or pepper, you should adjust seasoning and fry up the remaining pancakes.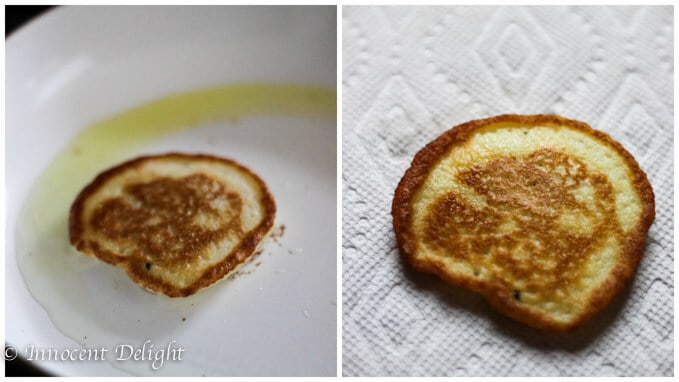 And here they are…beautiful, golden brown, scrumptious Placki Ziemniaczane, Kartoffelpuffer, Bamboracky or Potato Latkas. Can you resist them?
What to serve Potato Pancakes with?
As I mentioned above you can sprinkle them with sugar and serve with sour cream, or for a savory version sprinkle them with some scallions. You can also serve them as a side dish. Here are a couple of my suggestions:

Equipment Needed To Make Potato Pancakes
Here are a couple of items that are needed to make these pancakes. You probably have most of these items already at home:
Other Famous European Recipes to Try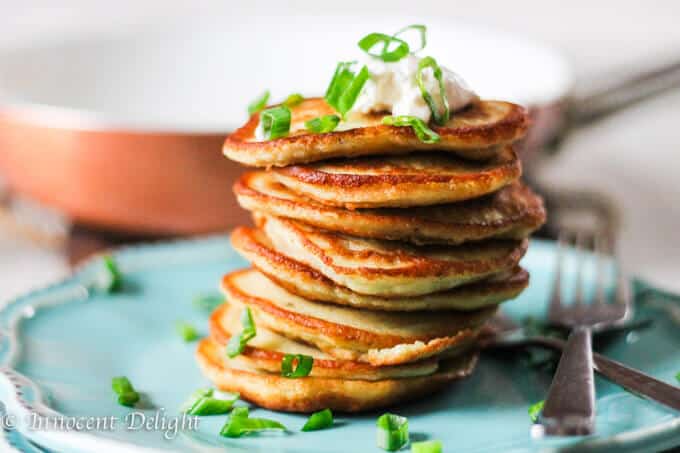 Straining time:
10
minutes
Ingredients
3

cups

Potatoes

Cubed, yellow or white

1/2

Onions

Sweet, chopped in big cubes

1

clove

Garlic

1/3

cup

Flour

1

Egg

1

teaspoon

Salt

Freshly ground black pepper

2

tbsp

Cooking Oil for frying

Sour cream

optional for serving

Scallions

optional for serving
Instructions
Place the potatoes in a blender and blend for 2 minutes until they release moisture

Add onions and garlic and blend for another minute

Pour the mixture through a thin mesh strainer and let it sit for 10 minutes

After 10 minutes pour the mixture into the bowl

Add egg, flour, salt, and pepper and mix together

Heat up a tablespoon of oil and fry up a test pancake

Taste it and adjust seasoning of the mixture if needed

Add oil as needed and fry up the remaining of the pancakes
Notes
From this recipe, I made about 10 pancakes. I calculated per person as a serving. If you need more, double the ingredients.
Nutrition
Calories:
284
kcal
|
Carbohydrates:
38
g
|
Protein:
8
g
|
Fat:
11
g
|
Saturated Fat:
1
g
|
Cholesterol:
54
mg
|
Sodium:
818
mg
|
Potassium:
929
mg
|
Fiber:
5
g
|
Vitamin A:
1.6
%
|
Vitamin C:
31
%
|
Calcium:
7.5
%
|
Iron:
42.8
%
Read about the author Edyta here or follow Eating European on social media: Facebook, Instagram, Pinterest, and Twitter.
This post was originally published on March 6, 2016, and since then was updated to provide additional information.