If you share my passion for a Mediterranean diet (think -… olive oil, grains, veggies, feta, lemons, etc.) as well for European dishes (think – … pierogi, crepes, pasta, kielbasa, pork, latkas, etc.), hopefully this blog will give you some great inspiration. Welcome to Eating European– a place where you can find both classic and creative recipes inspired by European and Mediterranean cuisines.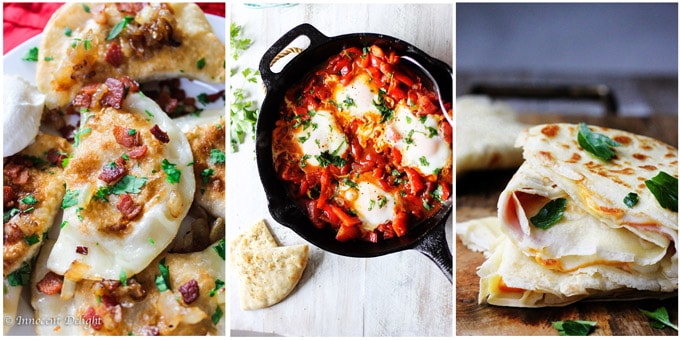 What you can find on Eating European?
DELICIOUS RECIPES OF COURSE!
Sometimes you'll find here a classic/traditional recipes dish here (like this Authentic Polish Pierogi), and other times you may find my twist on traditional recipes (like this Butternut Squash Feta Pierogi), or perhaps a dish that is inspired by specific cuisine (like this Turkish Inspired Eggplant with Tomatoes).
It's our hope that these recipes will either remind you of your travels to Mediterranean region and/or European countries, or maybe of an old family tradition or grandma's cooking or perhaps just simply introduce you to new and exotic dishes from the old continent.
Whatever it is, we encourage you to grab a glass of wine or a cup of tea, and relax and browse through some of our recipes.  For those new to this site, here are some links to recipes typesyou may be interested in:
(Stay tuned, this list may grow as the blogs grow so you may soon find recipes from different regions and countries as well)
Where the recipes from Eating European (formerly known as Innocent Delight) have been featured?
Eating European (previously Innocent Delight) was first launched in April of 2014. Since then many of these recipes have been featured in numerous reputable online publications.  To name a few of these publications:
BuzzFeed:
ElleDecor:
Country Living Magazine
House Beautiful:
Delish
MSN

Easy Shrimp Scampi Spaghetti
Authentic Polish Pierogi with Potatoes and Cheese

TheKitchn

Brown Sugar Pork Chops with Garlic and Herbs

Greatist
She Knows
People
Best to Eat
So, who exactly is behind Eating European?
Edyta – recipe developer, photographer and writer of the Eating European food blog. You can read more about Edyta here.
Eric – Edyta's husband, master taster and fantastic editor. This blog would not be able to exist and grow without his enormous help and support.
Thanks for stopping by. We encourage you to join our amazing community and subscribe to our email list. It's free and we'll send you a notification every time we publish an awesome new recipe.
Also, follow us on social media and say hello. We always love hearing from you. You can find our links here:
 FACEBOOK | INSTAGRAM| PINTEREST | TWITTER