Cabbage and Kielbasa come together to form a perfect Polish summer hunter's stew. It's made from young cabbage, that is at its peak at the begging of the summer, with the addition of a smoky Polish sausage and a fragrant dill. It makes for a delicious European treat.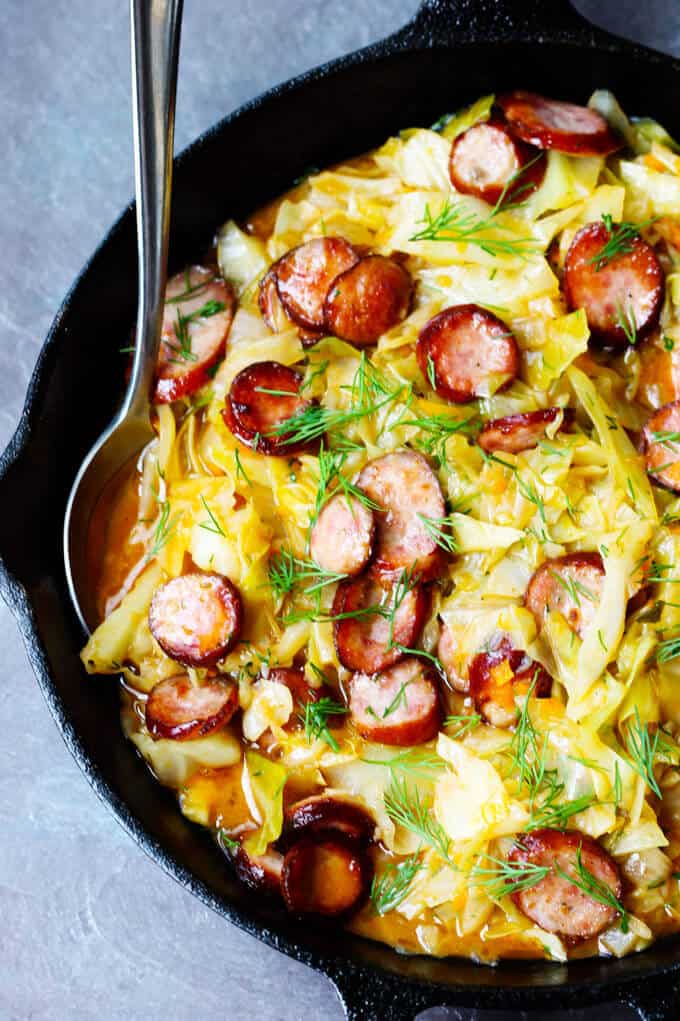 Cabbage and Kielbasa – Popular Summer Dish
Cabbage and Kielbasa pair together to form one of the most popular Polish dishes. It's repeated often, when the summer arrives with it's abundance of young (new) cabbage. Almost every home cook will have their own particular spin on it. They may differ by: types of meat, or spices, or other additions like wine or tomato paste.
And some other folks may skip the kielbasa altogether and make this summer hunter's stew only with vegetables. You may add mushrooms like in this Kapusta (Sauerkraut with Mushrooms) recipe.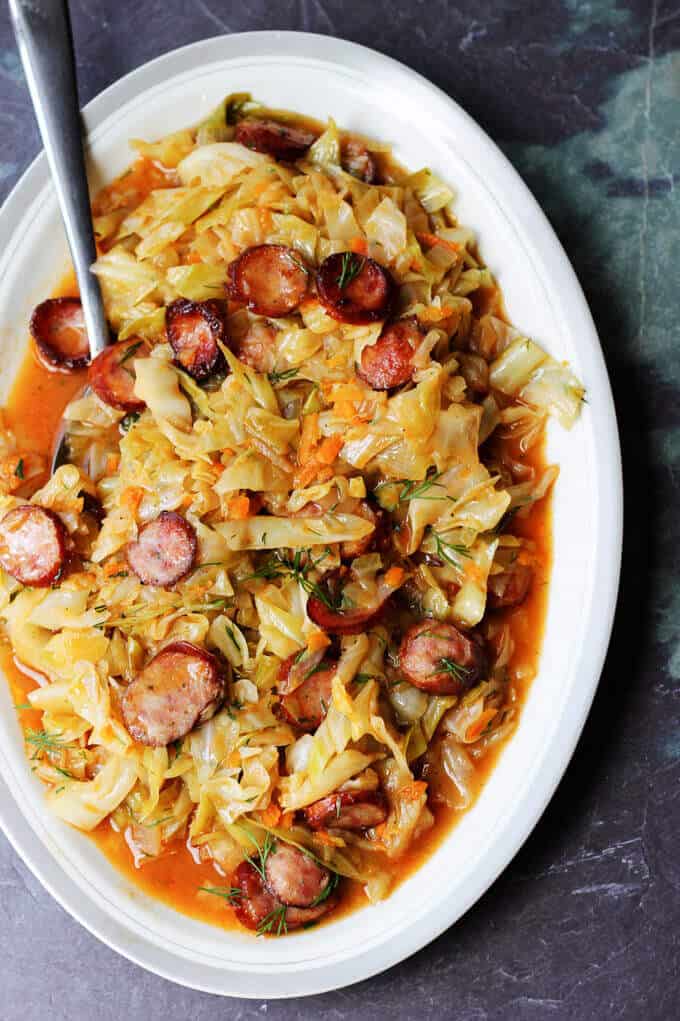 What to Serve This Summer Hunter's Stew with
It's best served with a side of New Dill Potatoes or Potato Pancakes. It can be featured as dinner or as a side dish. I love the smokiness of Polish kielbasa in this stew, so for me this is the best version. Oh, and did I mentioned that my husband wouldn't touch the cabbage without meat in it?
So when I was making this Cabbage and Kielbasa I asked my husband if I could challenge him. Cabbage is on his short list of excommunicated ingredients. I promised him that this dish was really good and he would like it (he just needs to give me a chance). I believe that he just never developed a taste for cooked cabbage, as it is not a popular dish in America. Every Polish kid likes it, and I certainly don't think we have different tastes buds. Rather, we were just exposed to so often that we developed a taste for it.
It's the same story with sauerkraut and beets. I love all of these veggies, while my husband doesn't care for them. However, I think it's all in the preparation. He claimed not to like spinach but he likes my Greek Spinach Rice. He claims to not like sauerkraut but he likes my Sauerkraut and Mushroom Pierogi.
And so I did challenge my hubby with this one too. He tasted it….looked at me….& said: "Not bad," which is HUGE for him! He even took it to work for lunch the next day. If that's not a good testimonial of how good it is, then I don't know what would be 🙂
How to Make Cabbage and Kielbasa (Summer Hunter's Stew)
This Cabbage and Kielbasa dish is pretty simple to make. You'll need:
Young new cabbage (it's the one that you can find from late spring to late summer with green outside leaves);
Carrot;
Onion;
Vegetable stock (I like Better Than Bouillon, Organic Vegetable Base, 8oz but you can use whatever you like – this is Amazon affiliate link, please read disclaimer below);
Tomato paste;
Polish Kielbasa (if you're lucky to have a Polish store around then get the one from there; if not, Polish Kielbasa from supermarket will do the trick).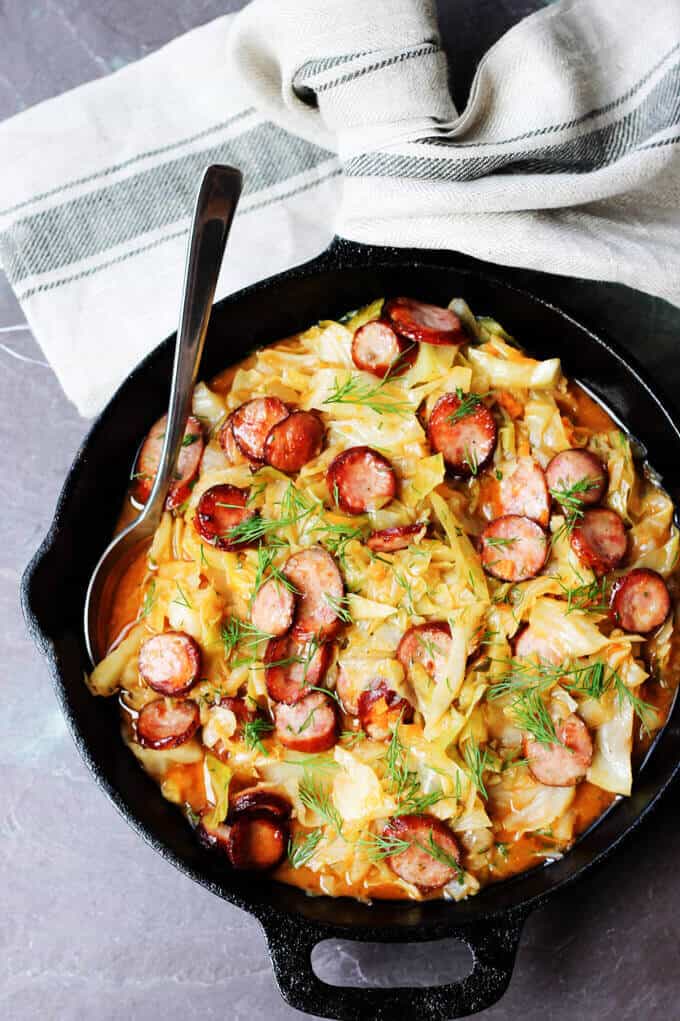 I like to use a Pre Seasoned Cast Iron Skillet (affiliate link) (12.5 inch) by Utopia Kitchen
(affiliate link) for these kinds of dishes. I especially like to cook the kielbasa on it to give it a nice sear; that gives it an amazing golden brown color. If you like cabbage and the sausage then I am conferment that you will really like this Polish Cabbage and Kielbasa dish. And if you're leery, then 'I challenge you.'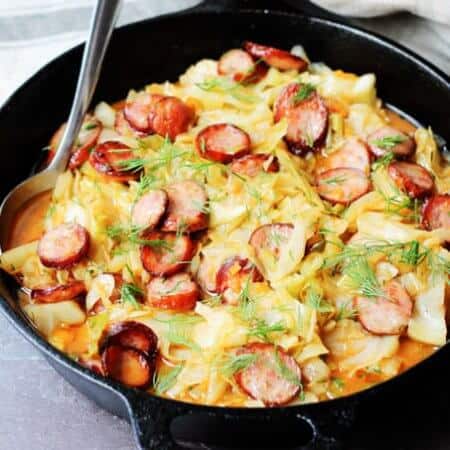 Kielbasa and Cabbage - Summer Hunter's Stew
Kielbasa and Cabbage come together to form a perfect Polish summer hunter's stew. It's made from young cabbage, that is at its peak at the begging of the summer, with the addition of smoky Polish sausage and fragrant dill. It makes for a delicious European treat.
Print
Pin
Rate
Ingredients
1

cabbage

young, cut into small pieces

1

carrot

medium, shredded

1

onion

yellow, medium, chopped

2

cups

kielbasa

sliced

3

tbsp

olive oil

1

tbsp

tomato paste

2

tbsp

dill

fresh, chopped

1/2

teaspoon

caraway seeds

1

bay leave

1,5

tbsp

flour

2

cups

vegetable broth
Instructions
In a large braising pan or cast iron skillet, add one tablespoon of olive oil and chopped onion. Cook for 3-4 minutes until translucent;

Add shredded carrot and chopped cabbage, broth, tomato paste, caraway seeds, and bay leave. Mix well, cover and cook for about 20 minutes. Make sure that all cabbage is covered. If not, add more broth or water;

Check if after 20 minutes the cabbage is soft. If not, cook for a little longer until all cabbage is cooked through and soft. Season with salt and pepper to your liking;

In the meantime, heat up another tablespoon of oil in the cast iron skillet, add sliced kielbasa and cook for a few minutes on each side until golden brown;

Once your cabbage is cooked, add cooked kielbasa;

In a separate pan add flour and cook for about 2 minutes, add the last tablespoon of oil and mix; Add about a cup of broth from cabbage pot, mix well; Add the mixture to the cabbage pot and combine; Let cook for two-3 minutes. Add dill and serve. 
Nutrition
Calories:
361
kcal
|
Carbohydrates:
15
g
|
Protein:
13
g
|
Fat:
27
g
|
Saturated Fat:
8
g
|
Cholesterol:
55
mg
|
Sodium:
1060
mg
|
Potassium:
530
mg
|
Fiber:
4
g
|
Sugar:
7
g
|
Vitamin A:
41.3
%
|
Vitamin C:
71.2
%
|
Calcium:
7.8
%
|
Iron:
11.6
%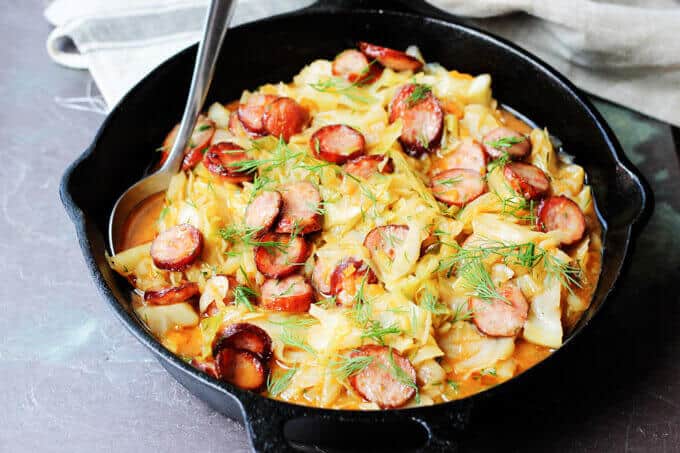 Disclaimer: As an Amazon Affiliate, I earn a small credit when you make a purchase through a link provided here. This is one way to support this blog and my work. I only recommend what I like and use. Please only purchase what you need.
If you like this recipe you may also like these Polish recipes: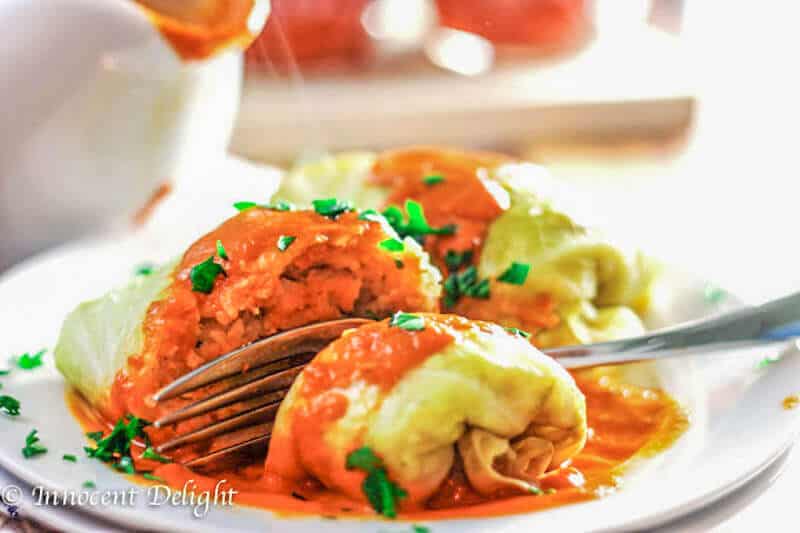 Authentic Polish Pierogi with Potatoes and Cheese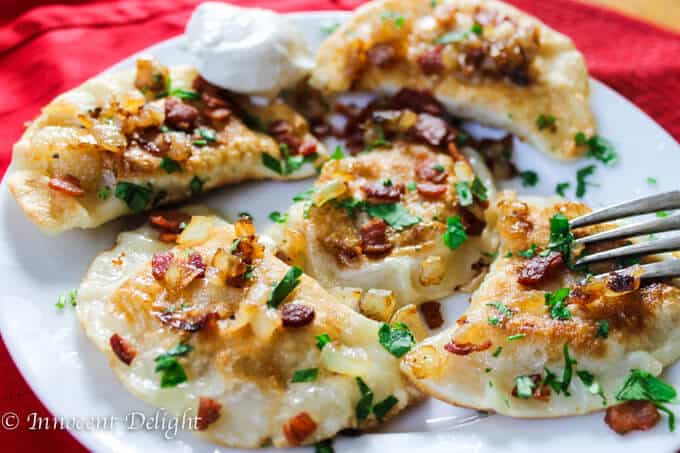 Traditional Polish Dill Pickle Soup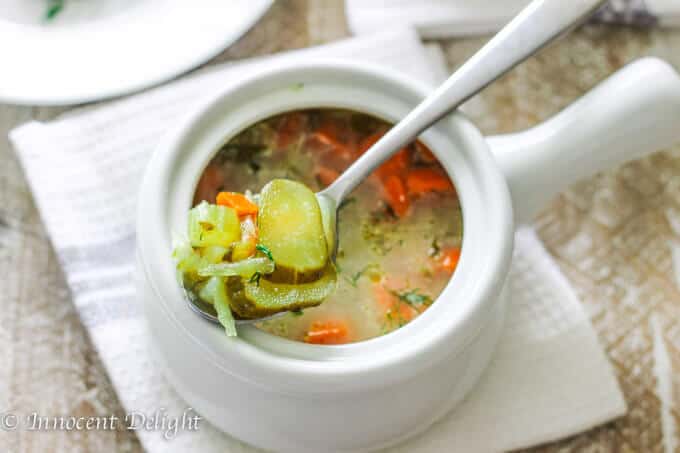 Rainbow Carrots Slow – Polish Side Dish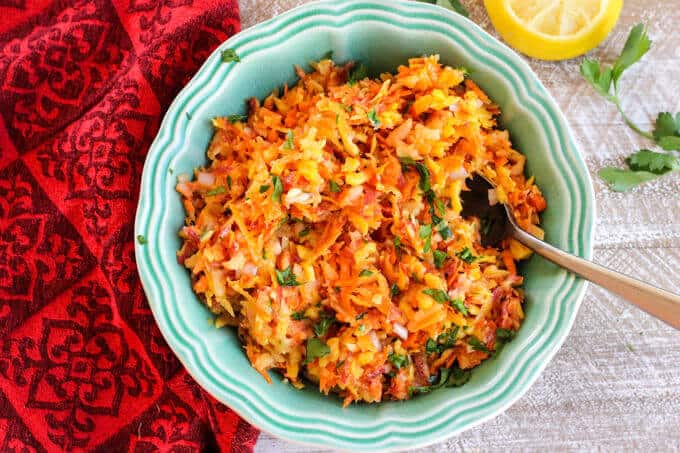 Open Face Mushroom and Cheese Sandwich – Zapiekanaka