Horiatiki Salad with Golden Greek Peperoncini, combines the freshest ingredients of: seasonal tomatoes, cucumbers, green peppers, red onions, tangy Kalamata olives and creamy feta with a mildly piquant, fruity flavored Mezzetta Peperoncini!
Sponsored Post: This post is sponsored by Mezzetta but the content and opinions expressed here are my own.
What is Horiatiki Salad
Horiatiki Salad, or village salad, is what is known in US as Greek Salad. It is a very humble dish that uses the fresh and simple ingredients. It's in season from late spring to early fall – when the tomatoes, cucumbers and peppers are at their peak.
We're now at the beginning of August on East Cost of US and the big, meaty tomatoes are just about to ripen up….but they're not quite there yet.
However, the small, cherry tomatoes are taking over my tomato garden and they too are super delicious; that's why I used them here in this recipe for a Horiatiki Salad.
I know, that this Horiatiki Salad should have big tomatoes cut up over the bowl to get all the juices marinating in there, but I am a huge proponent of using whatever is in season. Hence my use of little cherry tomatoes in this recipe.
So, fast forward about 2 weeks & I'll be using my beef steak tomatoes for this amazingly simple salad. To be perfectly clear, a real Greek salad never contains lettuce!
Here's a list of what Greek Salad does contain:
Tomatoes;
Cucumbers;
Green peppers (not red or yellow);
Red onion;
Kalamata olives;
Good quality sheep's milk feta (served as a block and not crumbled);
Good quality, fragrant extra virgin olive oil (preferable from kalamata olives);
Red wine vinegar; &
Lots of dried oregano (preferably Greek dried oregano)!
Even though, this salad is perfect on its own, I decided to spice up every bite with Mezzetta Peperoncini. Grown on sun-drenched Mediterranean farms, the Mezzetta Peperoncini flavors create a eating experience which will awaken your senses.
In fact, they can transform even an everyday dish to crave worthy. You can add them whole….you can chop them….you can buy them already chopped, and use them whenever you want to energize and brighten up an every day recipe.
This Horiatiki Salad with Golden Greek Peperoncini just screams summer. And when the tomatoes are at their best you'll crave this salad with a little peperoncini kick, all the time. I can guarantee that a jar of these Mezzetta Peperoncini will be empty before you even know it.
Haven't you been in a situation when you bough a jar of peppers, used some of them, then forgotten them in a fridge?
I've been there more than once. However, not with these Golden Greek Peperoncini though. They are just so good – I can just eat them straight from the jar.
However,  you can use these peperoncini in a number of different ways to energize and brighten your meals, adding flavorful contrast and complexity to turn the boring into WOW!
How to use Peperoncini:
Cut them up (or buy the jar of already cut peppers) and add them to your favorite sandwich for a lunch or an appetizer;
Add as a topping to your favorite pizza, burgers or hot dogs;
Add to the beef stew;
Add to pasta sauce;
Add to any salad either whole or cut up; OR
Chop them and add to your favorite dip.
There are so many ways to enjoy this bold, bright flavored of Mezzetta peperoncini! My newest addiction is adding them to my all-time favorite summer salad: Horiatiki Salad.
I've visited Greek islands on a few occasions in my life, and every time I've landed in Greece I wanted to have my Horiatiki Salad immediately. There's nothing better then fresh vegetables with a super fragrant olive oil, a splash of red wine vinegar and dried oregano.
At least that's what I thought until I went into a Greek Tavern in New York, and they served my favorite Horiatiki Salad with peperoncini too. I was blown away.
Ever since I've always added peperonicini to my Greek Salads, and I have not found fresher, more versatile ones than Mezzetta Golden Greek Peperoncini.
If you're looking for more Greek recipes here is a list of some of my favorites:
Horiatiki Salad with Golden Greek Peperoncini
Horiatiki Salad with Golden Greek Peperoncini
combines the freshest ingredients of seasonal tomatoes, cucumbers, green peppers, red onions, tangy kalamata olives and creamy feta with mildly piquant, fruity flavor
Mezzetta Peperoncini
.
Print
Pin
Rate
Ingredients
2

cups

tomatoes

halved or cubed

2

cups

cucumber

English, cubed

1

Bell pepper

green, sliced

1/2

red onion

medium, sliced

1/2

cup

olives

Kalamata

1/2

cup

peperoncini

Golden Greek Mezzetta

7

oz

feta cheese

in a block
Dressing
1/2

cup

olive oil

extra virgin

2

tbsp

vinegar

red wine

1

teaspoon

dried oregano

1/2

teaspoon

salt

1/2

teaspoon

black pepper

freshly ground
Instructions
If using cherry tomatoes, then cut them in half. If using Roma or Beefsteak tomatoes, cut them in 1 inch cubes;

Partially peel a cucumber and cut it into cubes, similar in size to the tomatoes;

Cut the Bell pepper and onion in thin slices or rings;

Place the vegetables into a bowl, then add olives and peperonicini;

Combine all dressing ingredients and pour over the salad; then mix well and place onto a serving dish;

Top salad with a block of feta & serve immediately (or sooner) with a crusty bread.
Notes
I used whole teaspoon of dried oregano for this dressing as the salad should have a lot of it. If you feel like you may not like that much oregano, start with 1/2 teaspoon. 
Nutrition Facts
Horiatiki Salad with Golden Greek Peperoncini
Amount Per Serving
Calories 290
Calories from Fat 243
% Daily Value*
Total Fat 27g 42%
Cholesterol 29mg 10%
Sodium 744mg 31%
Potassium 280mg 8%
Total Carbohydrates 7g 2%
Protein 6g 12%
* Percent Daily Values are based on a 2000 calorie diet.
Nutrition
Calories:
290
kcal
|
Carbohydrates:
7
g
|
Protein:
6
g
|
Fat:
27
g
|
Saturated Fat:
7
g
|
Cholesterol:
29
mg
|
Sodium:
744
mg
|
Potassium:
280
mg
|
Fiber:
2
g
|
Sugar:
4
g
|
Vitamin A:
25.7
%
|
Vitamin C:
51.8
%
|
Calcium:
18.2
%
|
Iron:
4.1
%
 Step by step tutorial on how to make Authentic Greek Salad:
Cut up tomatoes and cucumbers;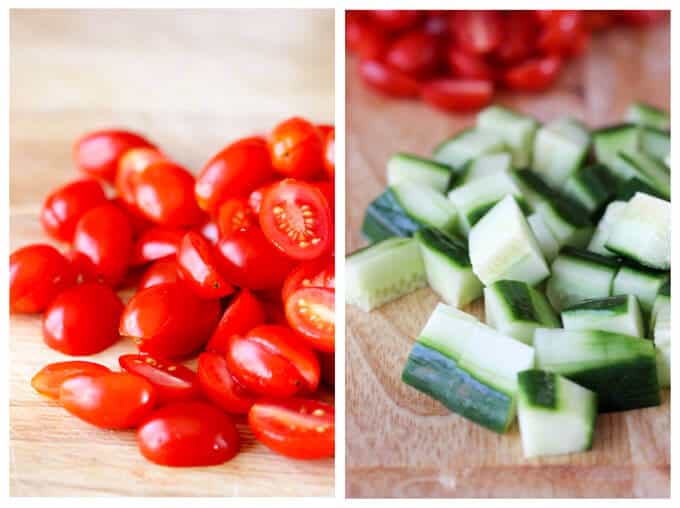 2. Slice bell peppers and red onions;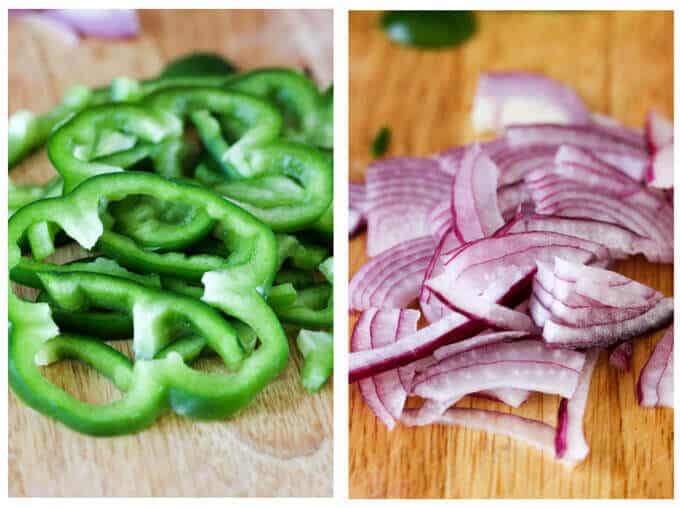 3. Prepare peperoncini and olives;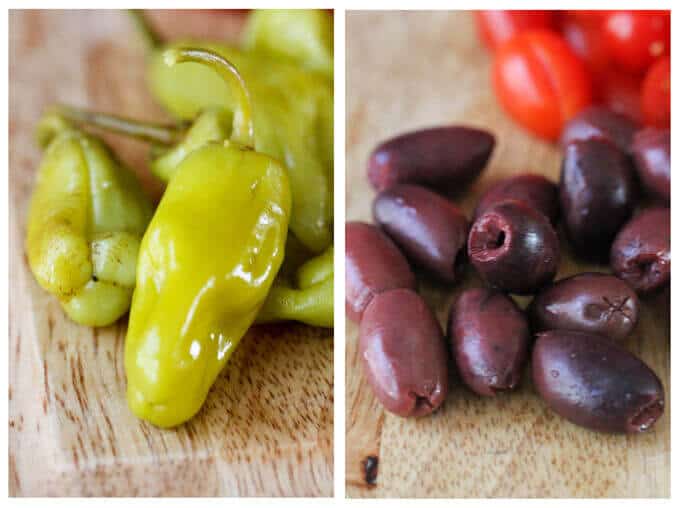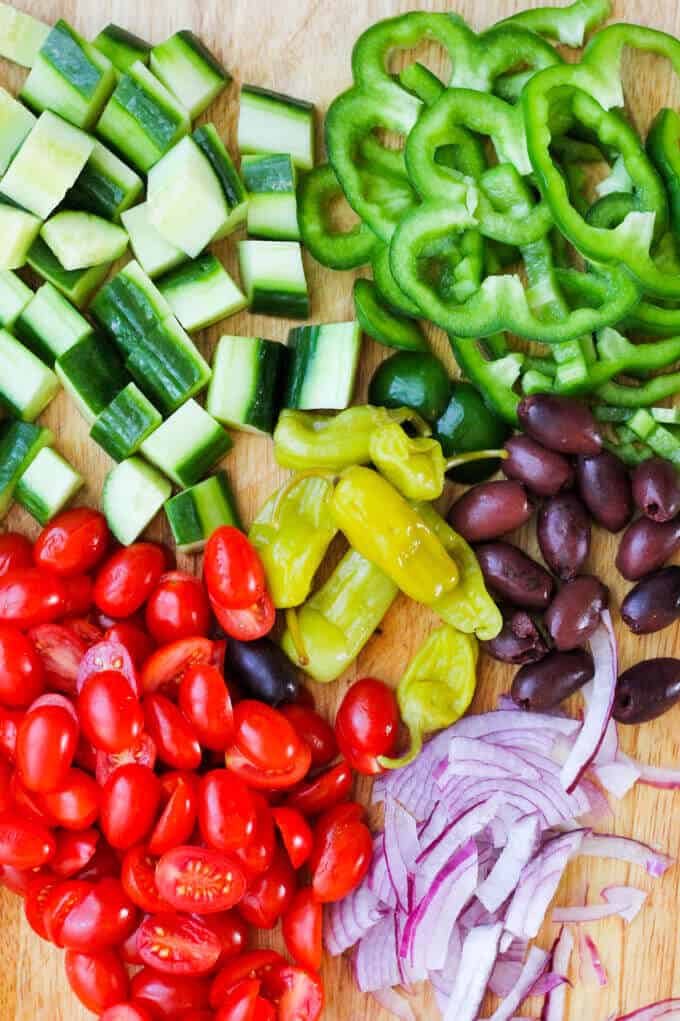 3. Combine vegetables with olives and peperoncini, then pour over dressing & top with a block of feta…then serve!