Kolokithopita, or Greek Zucchini Pie, is a perfect comfort food for the Summer. The dish is a simple combination of zucchini, onions, herbs, eggs & feta, wrapped in a flaky phyllo dough, which makes for an awesome, light vegetarian meal.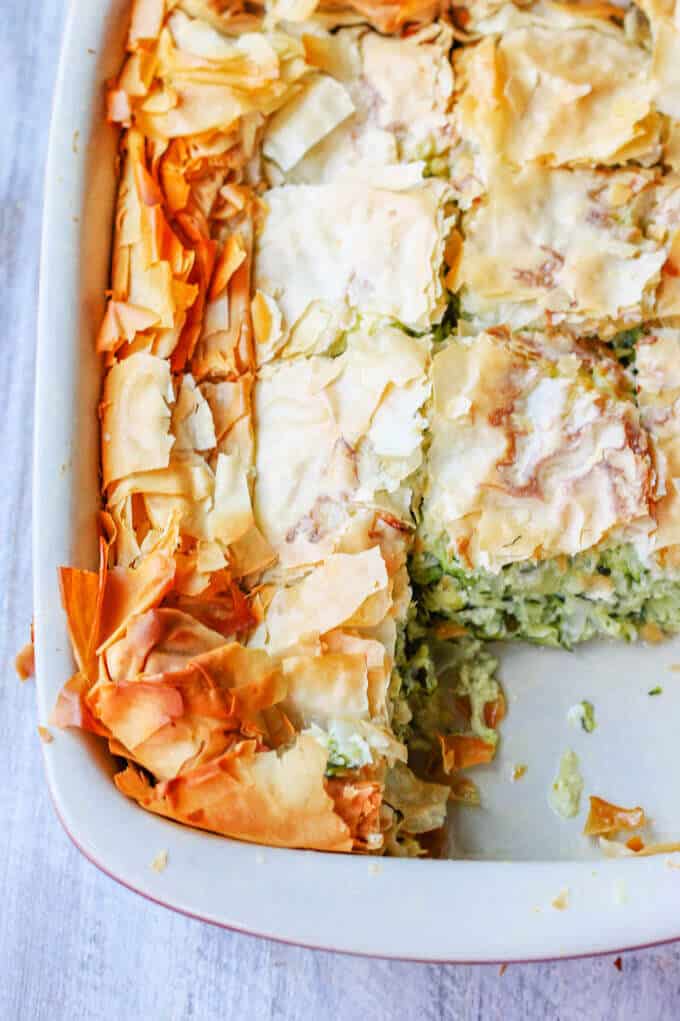 This post may contain affiliate links. You can read my disclosure policy here.
What is Kolokithopita?
'Kolokithopita', or Greek Zucchini Pie, is like 'Spanakopita,' except it substitutes zucchini for spinach. I had actually posted a photo taken with my iPhone on Instagram right after I made it and one of the comments was: "Like a zucchini spanakopita?" Exactly! So if you are a Greek Spinach Pie lover, you'll surely like this zucchini pie as well.
Actually let me throw 1 caveat in there, I think you need to like zucchini as well. See, my husband doesn't care for zucchini at all so this pie was not for him – whereas he's a big Spanakopita fan. Bonus point for me: I enjoyed the WHOLE Kolokithopita just for myself 🙂
But with all seriousness, I have to mention that Greeks call pumpkin and zucchini "kolokhita". As such Kolokithopita can be made with "sweet" pumpkin or zucchini. I made here one with zucchini because 1. it's a perfect summer dish with all the abundance of zucchini and 2. because I love zucchini.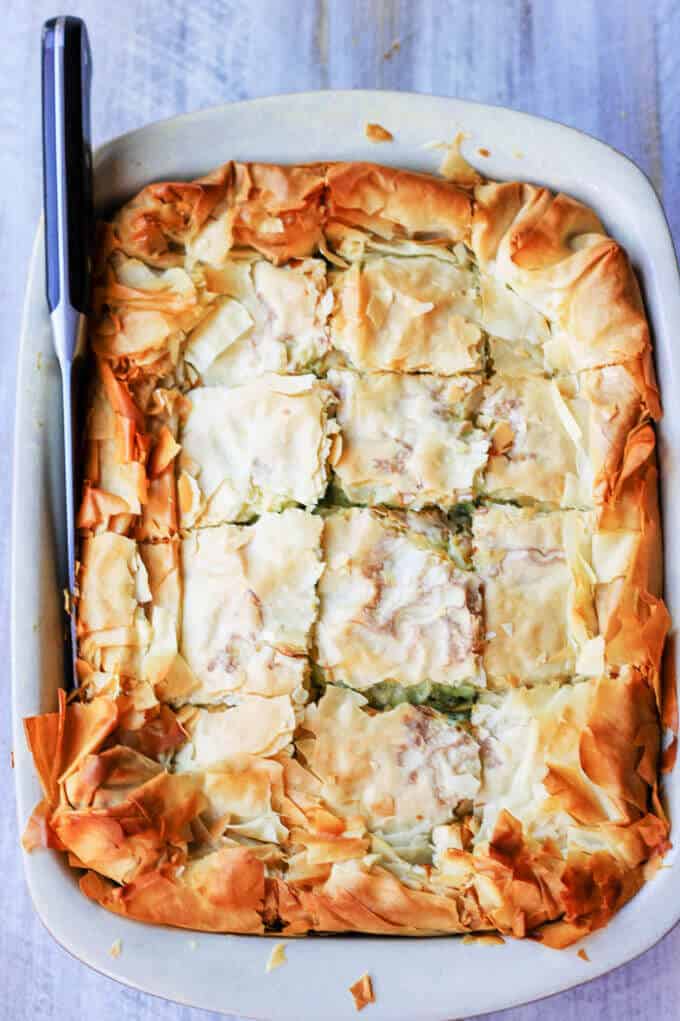 Why did I make zucchini pie?
This zucchini pie is totally my kind of food. I really think that Greek cuisine is my favorite of them all. I could eat Greek food everyday. Best part is, I can top everything with feta! Just check these few recipes:
The other day I was shopping in a freezer section in my favorite local food store and they had some pretty good Greek options, but they also stocked just a plain phyllo dough. I grabbed one with the desire to make something as soon as possible.
Little did I know that my freezer was destined for a malfunction that night and I was compelled to use my phyllo dough literally the next day; as it got beautifully defrosted and cried out to be used. I had tons of ideas of what to make with it, but for some reason Kolokithopita was calling my name.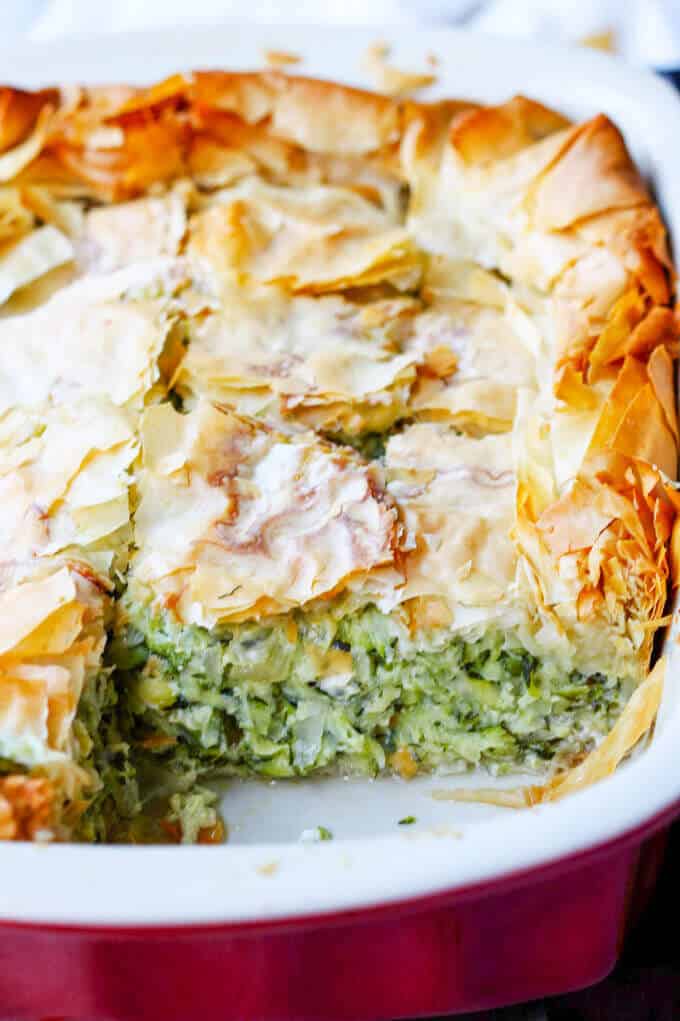 What do you need to make this Greek Zucchini Pie
I had a ripe zucchini in the garden, and all the other ingredients at home already, so it was an easy choice for me. I shredded a couple of zucchinis and let them sit on the coriander for about an hour to release their excess water. Here is a list of what else you'll need for this Greek Kolokithopita recipe party:
Phyllo dough;
Extra virgin olive oil;
Yellow onion;
Dill;
Parsley;
Mint;
Eggs;
Feta cheese;
Salt & black pepper.
As mentioned, this Greek Kolokitopita is super easy to make. Here are simple steps:
You'll need to chop the onions and sauté them before adding to your shredded zucchini;
Then you'll mix eggs with feta, salt and pepper and add to the zucchini/onion mixture;
Add chopped fresh herbs and your filling is ready to go;
The fun part is with the phyllo dough: you'll need 6 layers on the bottom and 6 layers on the top – brush (affiliate link) each layer with olive oil, which makes every subsequent layer feels more and more comfortable, like a nice bed. It is really cool;
Once you have your bottom phyllo dough ready, pour over the zucchini mixture and top with another 6 layers of phyllo dough; make some cuts in the dough on top and bake until golden brown (scroll down for full printable recipe).
I used 9 x 13″ casserole dish (affiliate link). You can find a similar casserole here. (affiliate link)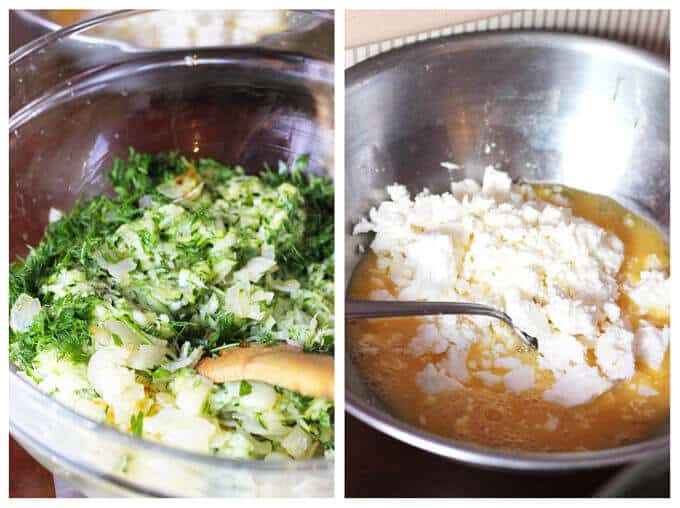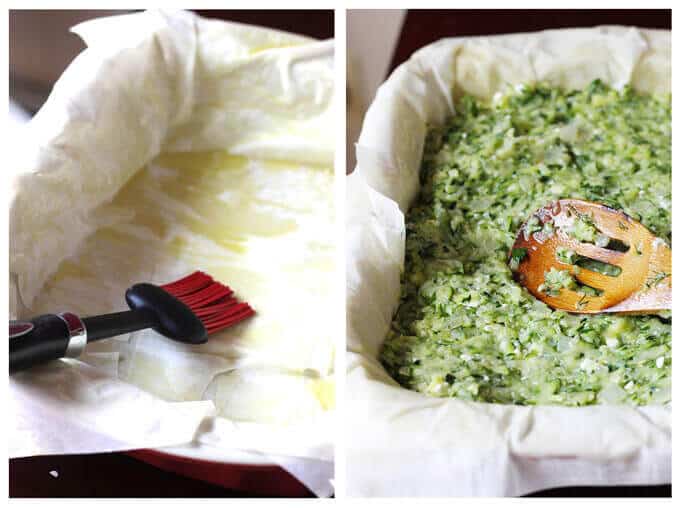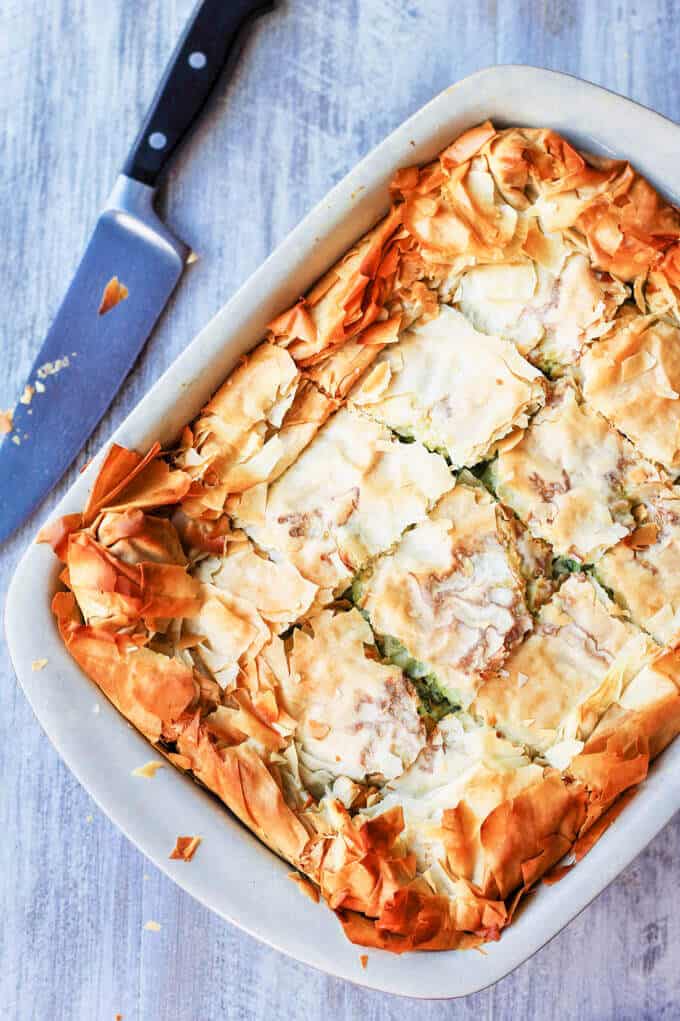 If you're a zucchini lover, a spanakopita lover, and find yourself with some phyllo dough in a freezer, then don't hesitate to make this amazing Kolokithopita – Greek Zucchini Pie recipe. I guarantee you'll love it.
If you're hungry for more Greek inspired recipes, check these out: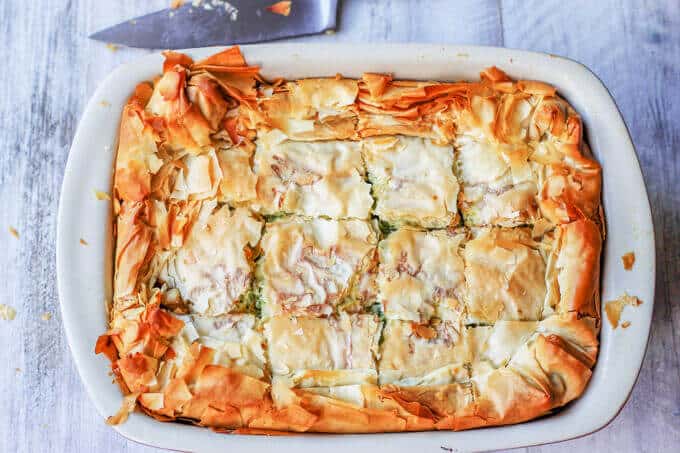 Ingredients
6

zucchini

medium, shredded

1

onion

yellow, medium, chopped

3

eggs

7

oz

feta

crumbled

12

sheets

phyllo dough

thawed

1/2

cup

olive oil

extra virgin

2

tbsp

parsley

fresh, chopped

2

tbsp

dill

fresh, chopped

1

tbsp

mint

fresh, chopped

1/2

teaspoon

Salt

Freshly Ground Pepper
Instructions
Shred the zucchini and place it in a coriander for about an hour;

Heat up one tablespoon of olive oil on a skillet, add chopped onions and cook for about 3-4 minutes until translucent; cool it down;

Preheat the oven to 350 F (180C);

Chop parsley, dill and mint;

In a bowl combine feta and eggs, season with salt & pepper;

Squeezing extra excess of water out, place zucchini in a large bowl; add onions, herbs and eggs/feta mixture;

Brush the bottom of baking dish (13 x 9 inches) with olive oil; place first layer of phyllo dough and brush with olive oil; continue until you have 6 layers;

Pour the zucchini filling into the baking dish;

Cover with a sheet of phyllo dough and brush with olive oil; continue until you have 6 layers of phyllo dough;

Fold over the flaps of the dough, and brush the entire top with olive oil;

Using knife make few wholes in the dough;

Bake in the center of the oven for an hour or until the crust is crisp and golden brown.

Cut into squares and serve warm.
Notes
The recipe calls for half a teaspoon of salt as feta is salty. If you want, you may skip the salt altogether;
Nutrition
Calories:
324
kcal
|
Carbohydrates:
22
g
|
Protein:
9
g
|
Fat:
22
g
|
Saturated Fat:
6
g
|
Cholesterol:
83
mg
|
Sodium:
596
mg
|
Potassium:
468
mg
|
Fiber:
2
g
|
Sugar:
5
g
|
Vitamin A:
11.7
%
|
Vitamin C:
34.7
%
|
Calcium:
16.3
%
|
Iron:
11.5
%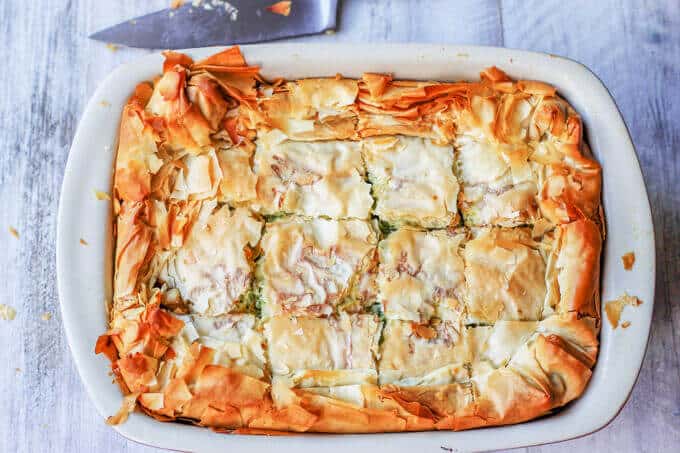 Read about the author Edyta here or follow Eating European on social media: Facebook, Instagram, Pinterest, and Twitter.
[mc4wp_form id="6774″]
Disclaimer: As an Amazon Affiliate, I earn a small credit when you make a purchase through a link provided here. This is one way to support this blog and my work. I only recommend what I like and use. Please only purchase what you need.