Melitzanosalata is a Greek Eggplant Dip that's made from roasted or charred eggplants, garlic, onions, olive oil, lemon juice, and parsley. It has a chunky consistency and is usually served as a mezze (appetizer) with either a pita or crusty bread. If you're looking for full emersion, you can top it with some Kalamata olives for an extra punch of flavor.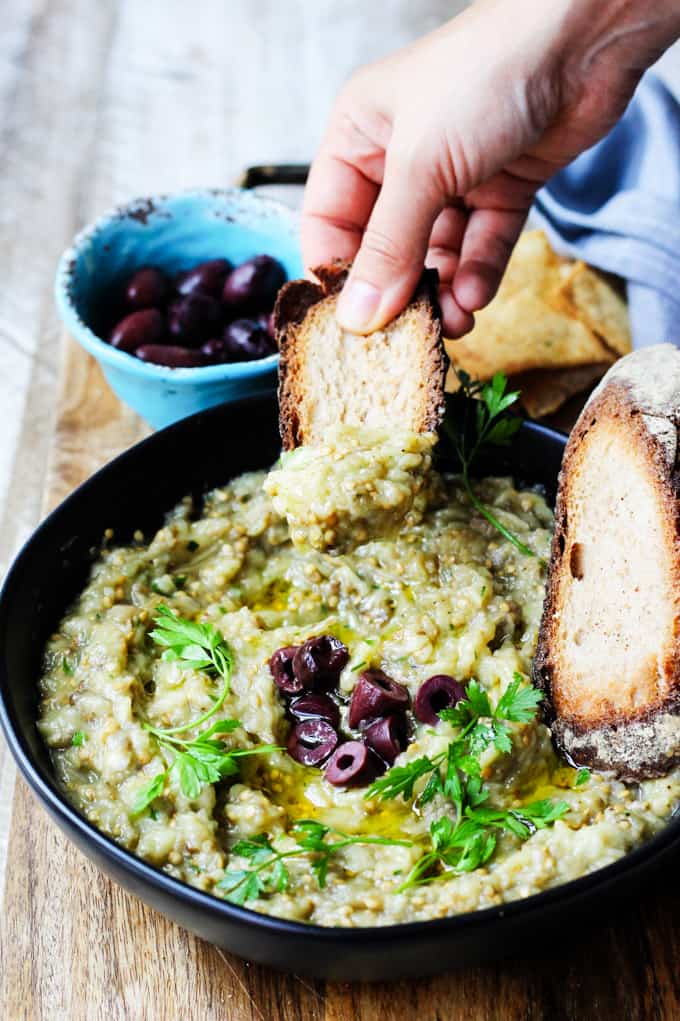 This post may contain affiliate links. You can read my disclosure policy here.
Melitzanosalata served as a Mezze
In Greek restaurants and taverns, this appetizer round is usually presented as a Mezze (which literally means "small plates") and is served on a table family-style, to share. In fact, dips like this one, are super popular throughout the Greek isles. Some other popular ones that you'll typically find include:
Tzatziki (Greek Yogurt, Cucumber and Garlic Dip);
Hummus (Chickpea with Tahini dip);
Taramosalata (Fish Roe Dip);
Skordalia (Mashed Potatoes Dip with Garlic and Almonds); &
Tirokafteri (Spicy Feta Roasted Peppers Dip).
I love them all!!! And because we've got an abundance of eggplants from the local farms on Long Island, I was inspired to share one of my favorites: Melitzanosalata – which is really an amazing Greek eggplant dish.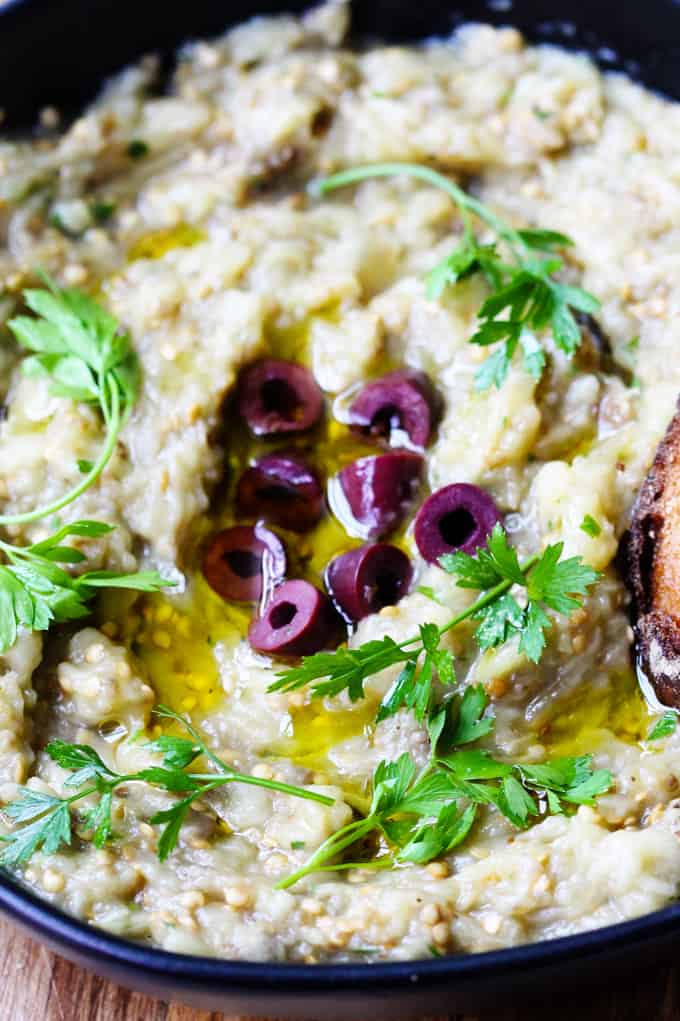 Below I'll show you the ingredients and steps needed for this greek eggplant dish. Mind you, this is not the full recipe but is intended to show you how this dish is done. In order to get exact measurements, ingredients, instructions and nutritional information scroll down for the full printable recipe. 
The list of ingredients needed to make the Melitzanosalata (Greek Eggplant Dip) is short and simple:
Eggplant;
Garlic;
Onions;
Extra Virgin Olive Oil;
Lemon Juice;
Red Wine Vinegar;
Fresh Parsley;
Salt & Pepper;
(Optional) Smoked Paprika, & Olives for garnish.
Again, while the printable recipe below will provide all the exact ingredients, measurements, etc…; I will walk you through how to make it here in a few easy steps.
Steps to Making Melitzanosalata (Greek Eggplant Dip)
Preheat your oven to 425F;
Puncture eggplants with a fork all over;
Roast for about an hour, rotating them every 15 minutes;
Remove from the oven and let them cool off;
Once cooled enough to handle, remove skins and place flush in a colander for 15 minutes. Then move to your cutting board (affiliate link) and roughly chop it;
In the meantime, add garlic, olive oil, vinegar, lemon juice, salt & pepper, in a mini processor or a cup with a handheld blender (affiliate link), and process until smooth;
Add eggplants into a bowl, mash them with a fork;
Shred the onions directly into the bowl;
Add freshly chopped parsley;
Add dressing mixture and mix to combine;
Chill for an hour and serve with some olives, crusty bread, or pita bread;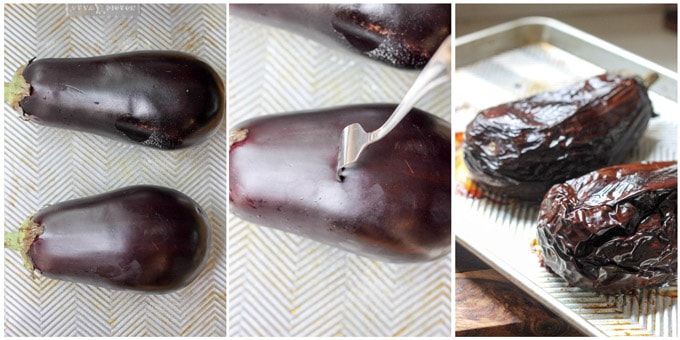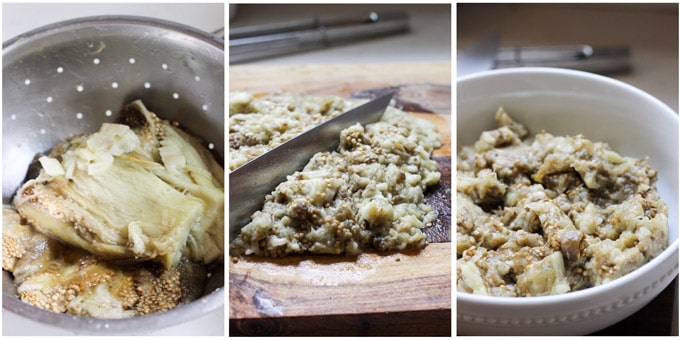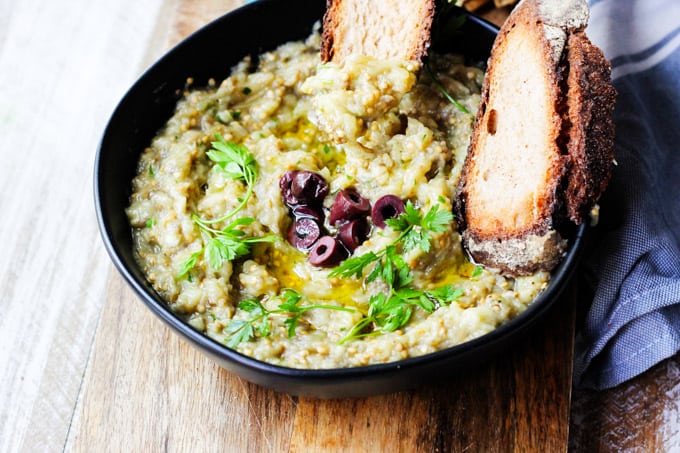 What's the difference between Melitzanosalata and Baba Ghanoush?
From my perspective, it seems like Baba Ghanoush is more widely known amongst Americans than Melitzanosalata. This isn't surprising, especially considering that most Mediterranean restaurants serve Baba Ghanoush. However, Baba Ghanoush has an Arabic origin, and the primary difference with Melitzanosalata is found in texture and ingredients.
Melitzanosalata is all about eggplant! It's the focal point of the dish and is left in its basic form. On the other hand, Baba Ghanoush has a totally smoother texture as it is typically processed with a fair amount of tahini. Now don't I'm not picking favorites here. I absolutely love them both, but you can totally taste the difference. I wonder which one you'll prefer.
Things that you might need to make this Greek Eggplant Dip
We are a participant in the Amazon Services LLC Associates Program, an affiliate advertising program designed to provide a means for us to earn fees by linking to Amazon.com and affiliated sites.
If you're looking for more Greek recipes, here is a couple of awesome ones: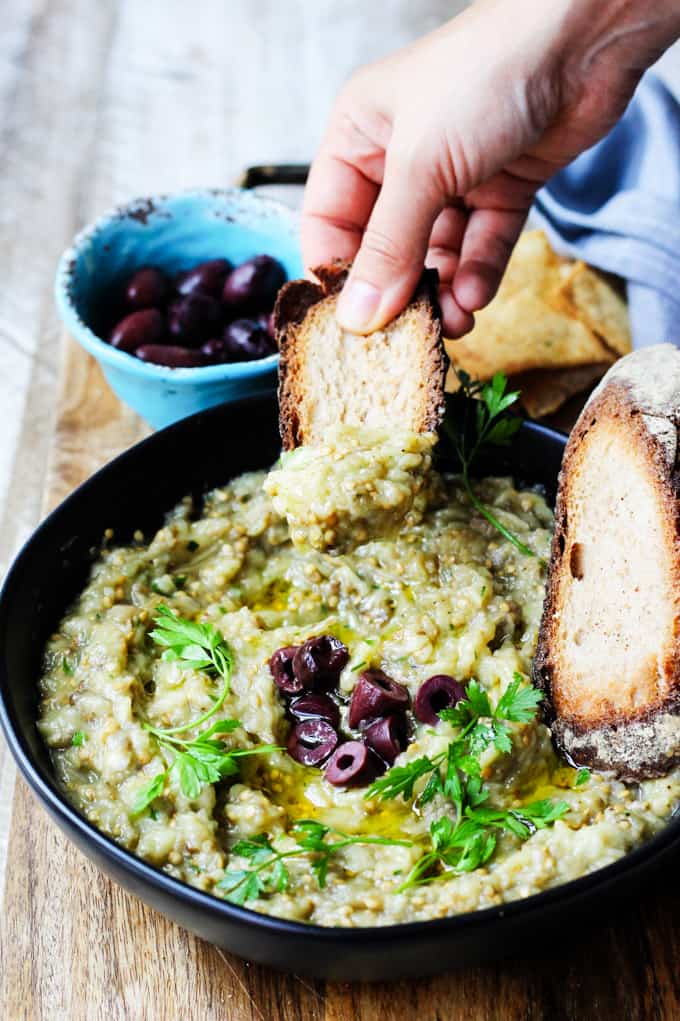 Total Time:
1
hour
10
minutes
Ingredients
2

Eggplants

Large

1/4

Vidalia Onion or other Sweet Onion

Medium

2

cloves

Garlic

1/2

cup

Olive Oil

Extra Virgin

2

tbsp

Lemon Juice

Freshly squeezed

1

tbsp

Red Wine Vinegar

1

tbsp

Parsley

Freshly chopped

Salt & Pepper, to taste

Spanish Smoked Paprika (hot or sweet)

optional
Instructions
Preheat your oven to 400F;

Puncture the eggplants with the fork all over. Place eggplants on baking sheet sprayed with cooking spray or brushed with olive oil;

Roast eggplants for approximately 60 minutes, rotating every 15 minutes;

In the meantime, place garlic, olive oil, lemon juice, vinegar, a pinch of salt & pepper in a food processor and process until smooth;

Once the eggplants are roasted, take them out of the oven and let cool off;

Once the eggplants are cool enough to handle, remove skin and place flush in a colander. Let it sit there for 15 minutes. Move to the cutting board and roughly chop;

Place eggplant in a bowl, and shred onion directly into the bowl;

Add chopped parsley;

Add garlic, olive oil, lemon, vinegar mixture and mix gently to combine;

Taste for seasoning and adjust accordingly;

If desired, add sweet or hot Spanish smoked Paprika;

Chill for an hour before serving;

Serve as an appetizer or mezze with olives, crusty bread or pita bread.
Nutrition
Calories:
151
kcal
|
Carbohydrates:
7
g
|
Protein:
1
g
|
Fat:
13
g
|
Saturated Fat:
1
g
|
Sodium:
3
mg
|
Potassium:
267
mg
|
Fiber:
3
g
|
Sugar:
4
g
|
Vitamin A:
1.3
%
|
Vitamin C:
6.2
%
|
Calcium:
1.2
%
|
Iron:
2
%
Read about the author Edyta here or follow Eating European on social media: Facebook, Instagram, Pinterest, and Twitter.
[mc4wp_form id="6774″]