This post may contain affiliate links which won't change your price but will share some commission.
Greek Tirokafteri, or Htipiti, is a Spicy Feta Dip served as a mezze, a Greek appetizer. It's creamy and tangy with the right amount of salt, spiciness, and acidity. You can often find it in Greek Restaurants and Tavernas served alongside other Greek dips like tzatziki, eggplant dip (Melitzanosalata), or hummus.
If you love Greek food and want more delicious dips, try this hummus with pinenuts, Greek eggplant dip (melitzanosalata), or famous tzatziki.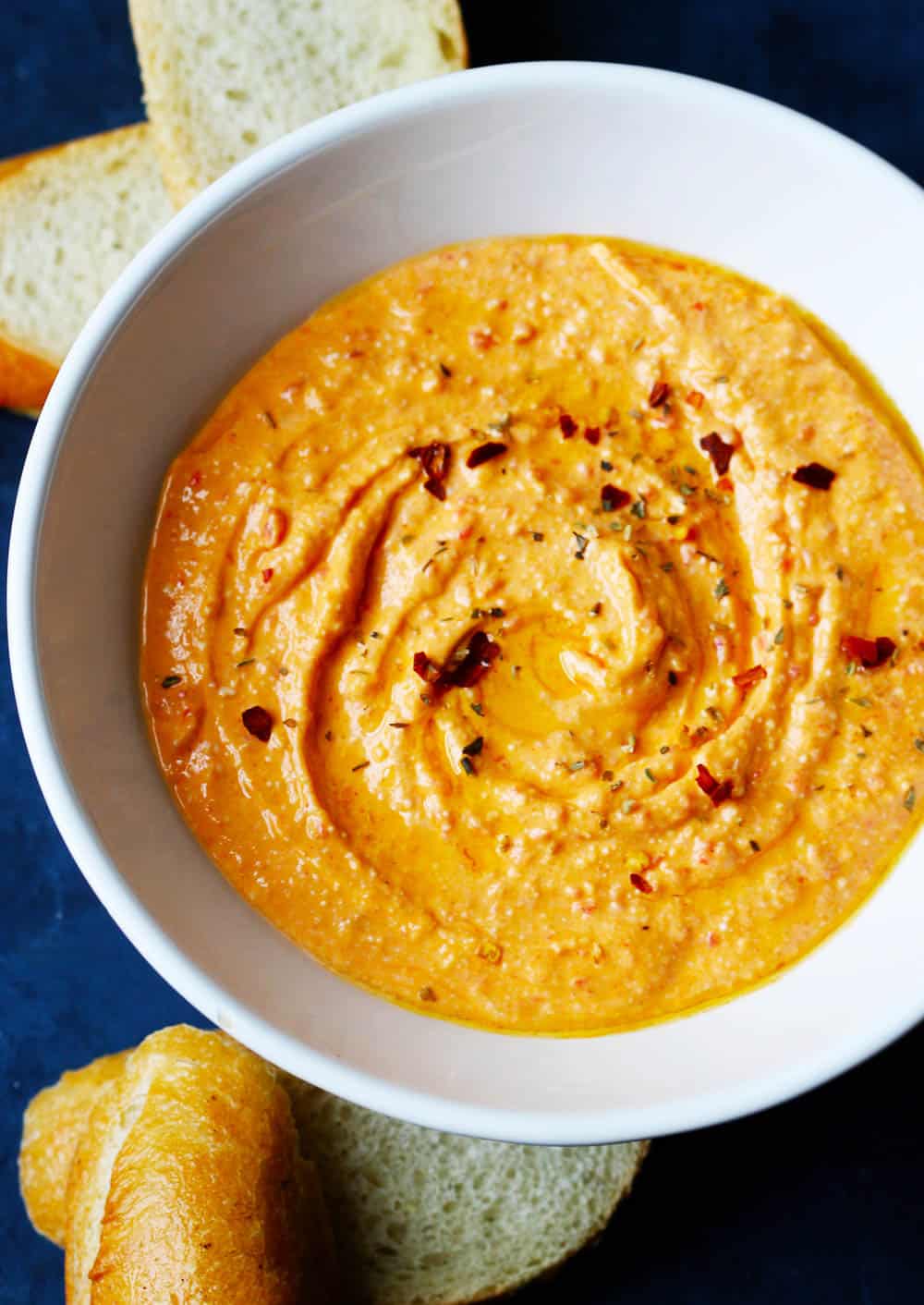 Author's Notes about Tirokafteri
If you ever travel to Greece and find yourself in one of the amazing Taverns, the simple food served there will astonish you. They use few ingredients to produce an outstanding meal. Look at this Greek Horiatiki Salad, kolokitokeftedes (zucchini fritters), chickpea soup, Greek lemon potatoes, Greek Spinich Rice with Feta (my kids' absolute favorite), or Greek chicken with tomatoes and cauliflower. That is to name a few.
Greek food is my favorite so I might be biased here, but it is THAT good. The story with this simple and super easy meze Tirokafteri is no different. Spicy Feta Dip – you don't even have to try it to imagine the incredible sound of it. It's FETA, it's SPICY, and it's a DIP. Win-win.
But to top it all, it's also incredibly easy to make, versatile to serve as an appetizer or a side dish, and a total crowd-pleaser. Many happy people will be around the table if you decide to serve it at your next party.
But first, let's look at what we need to make it.
Ingredients Needed to Make this Spicy Red Pepper Feta Dip
Feta – you can't make a Spicy Feta Dip without Feta. However, the quality matters here. You will need a very good one. I love using Dodoni, which I used to find in Costco, but they don't have it anymore, and now I buy it at Stop and Shop. If you can't find it, Trader Joe's has a good option of Feta in brine. The rule of thumb here is to buy feta in brine. No crumbled one or the one wrapped in plastic. It needs to taste fresh and moist. Otherwise, your spicy feta dip will not turn out delicious.
Roasted Red Peppers – you can roast the peppers yourself. If you need a recipe, this Roasted Red Peppers by Ina Garten is a good option. I use a shortcut and buy roasted peppers. There is a plethora of delicious roasted peppers in stores. Choose the company you trust the most, and you will be good to go.
Olive Oil – it goes without saying that the quality of the Olive Oil mattes. First, it needs to be Extra Virgin Olive Oil. If you have Greek olive oil, it will work wonders here. If you don't have it and want to try it, I recommend the Greek Olive Oil The Mediterranean Dish sells. Olive oil will smooth it out and add a velvety texture to this dip.
Red Wine Vinegar – again, the good quality of vinegar is a must. It adds the right amount of acidity to this beautiful Greek dip.
Red Pepper Flakes – these little flakes are so incredible; they allow you to control the spiciness of the dip. You can add a little or a lot, depending on how spicy you like.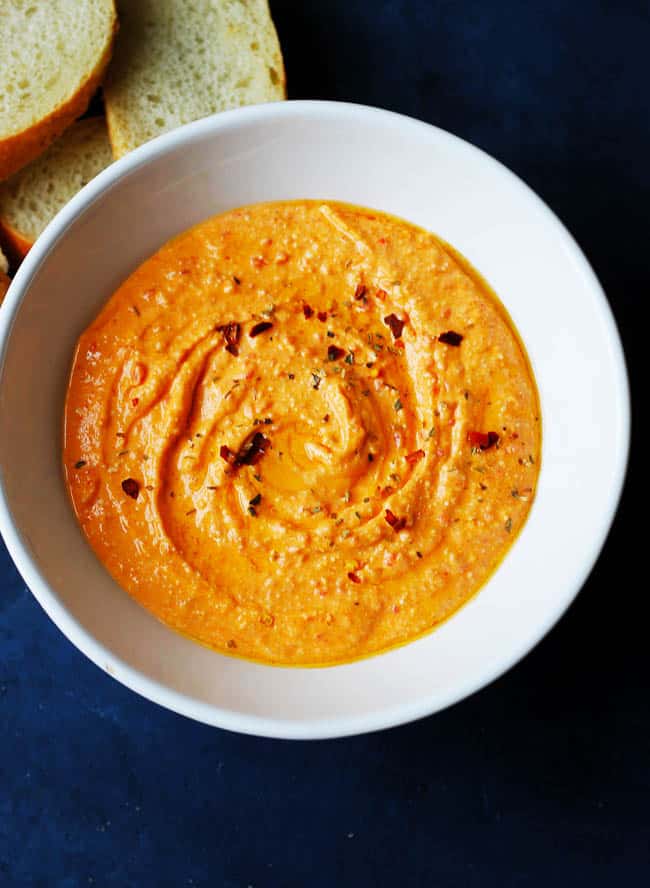 How to Make the Greek Spicy Feta Dip
Step 1: Gather all your ingredients: feta, roasted peppers, olive oil, red wine vinegar, and pepper flakes. Then, grab your food processor.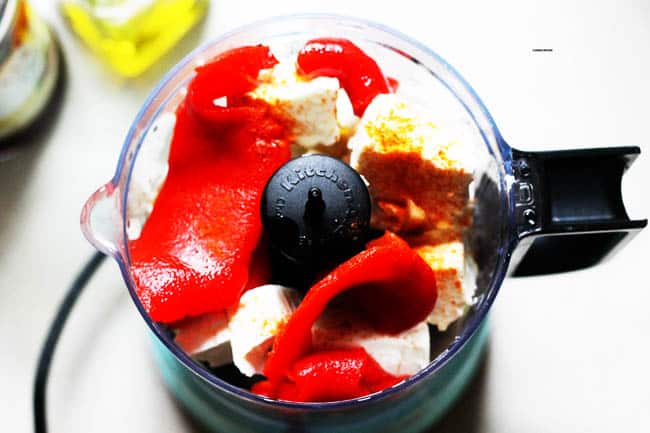 Step 2: Add your ingredients to the food process and process until smooth,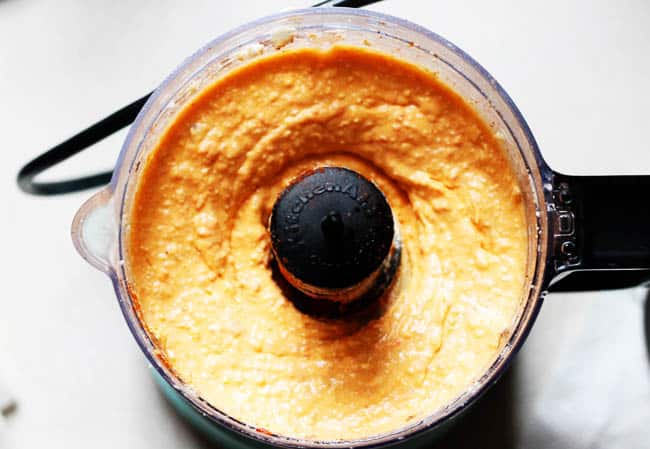 Step 3: Pour into a bowl, sprinkle with more pepper flakes, and drizzle with extra virgin oil.
Step 4: Serve with fresh baguette, pita bread, or chips. Enjoy!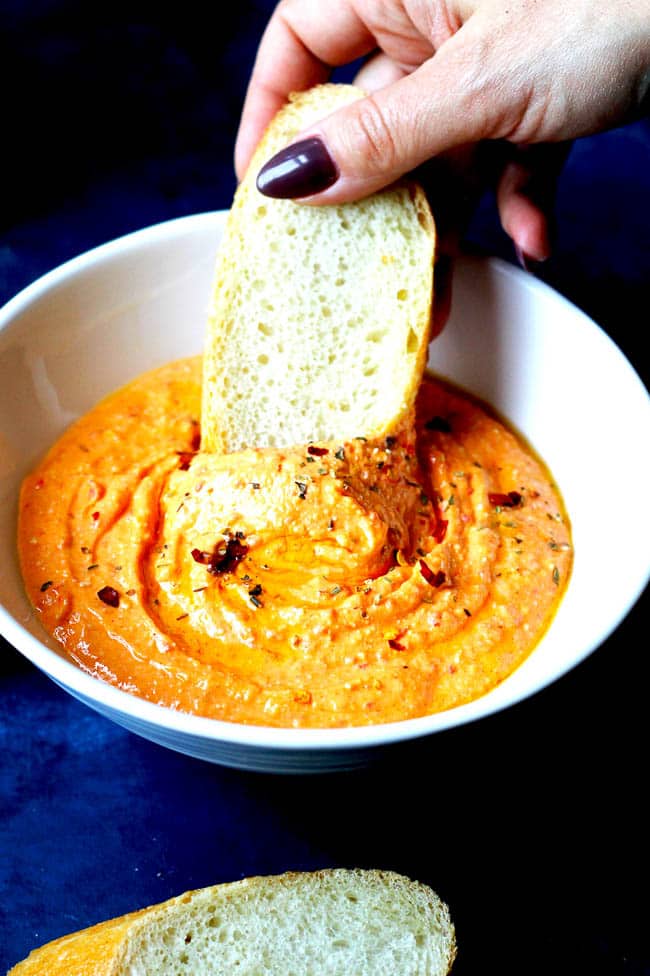 If you are looking for more recipes with Feta, try these:
Here is a printable recipe for Greek Spicy Feta Dip
Ingredients
10

oz

Feta in brine

broken into chunks

12

oz

jar of Roasted Peppers

about two small peppers, drained and thorn

2

tbsp

olive oil

extra virgin

1

tbsp

red wine vinegar

¼

teaspoon

red pepper flakes

and more to garnish
Instructions
Make the dip: Add feta cheese, roasted peppers, red wine vinegar, and pepper flakes to the food processor with the blade attachment. Cover and process to break it down. While processing, drizzle olive oil until smooth.

Serve: Transfer the dip into a serving bowl, garnish with more pepper flakes and a drizzle of olive oil. Serve with baguette, pita bread, or chips. Enjoy
Notes
Use good quality Feta in brine, no crumbled or plastic wrap ones
Use good quality extra virgin olive oil and red wine vinegar
Instead of red pepper flakes, you may use fresh spicy peppers like chillis or jalapenos - keep in mind that the seeds are the ones that produce the heat, so add as little or as much as you like
You can roast your peppers instead of using Jared ones, but I like the shortcut of the store-bought good quality roasted red peppers
You can make it ahead of time. Bring it to room temperature before serving.
You can keep it in a refrigerator for up to 3 days.
Nutrition
Calories:
266
kcal
|
Carbohydrates:
6
g
|
Protein:
11
g
|
Fat:
23
g
|
Saturated Fat:
10
g
|
Polyunsaturated Fat:
1
g
|
Monounsaturated Fat:
8
g
|
Cholesterol:
63
mg
|
Sodium:
1975
mg
|
Potassium:
172
mg
|
Fiber:
1
g
|
Sugar:
0.01
g
|
Vitamin A:
778
IU
|
Vitamin C:
40
mg
|
Calcium:
385
mg
|
Iron:
1
mg
FAQs and Pro Tips
Should I use salt and pepper for this recipe?
I always say to season everything as you go, but in this instance, I would leave the salt and pepper out. Feta brings enough saltiness to this dish, and the pepper flakes have enough spice.
How can I substitute red pepper flakes?
Using pepper flakes here is a shortcut, as the Greeks would use spicy pepper. If you wish to go that round, add some chopped jalapeno. Just remember that the seeds are the ones that give this pepper its spice, so start small and add more as you go if you wish for more heat.
What else can I use for the garnish?
I used some extra pepper flakes and olive oil, but you can be creative here. Crumbled feta on top, kalamata olives, and fresh parsley are all great options.
How long does it take to make this recipe?
This is the best part. It only takes about 10 minutes to get this Pepper Feta Dip on your table. The food processor does most of the work for you.
Can I make it ahead of time?
Absolutely. Make it up to a day before and store it in an air-tight container in the refrigerator. Just take it out about an hour before serving so it can come to room temperature and not be too thick.
How long does it keep in a fridge?
You can store it in the refrigerator for up to 3 days.