Greek Chickpea Soup ('Revithosoupa') is a traditional Greek vegan soup that uses simple ingredients. This version uses canned chickpeas and is ready in 20 minutes.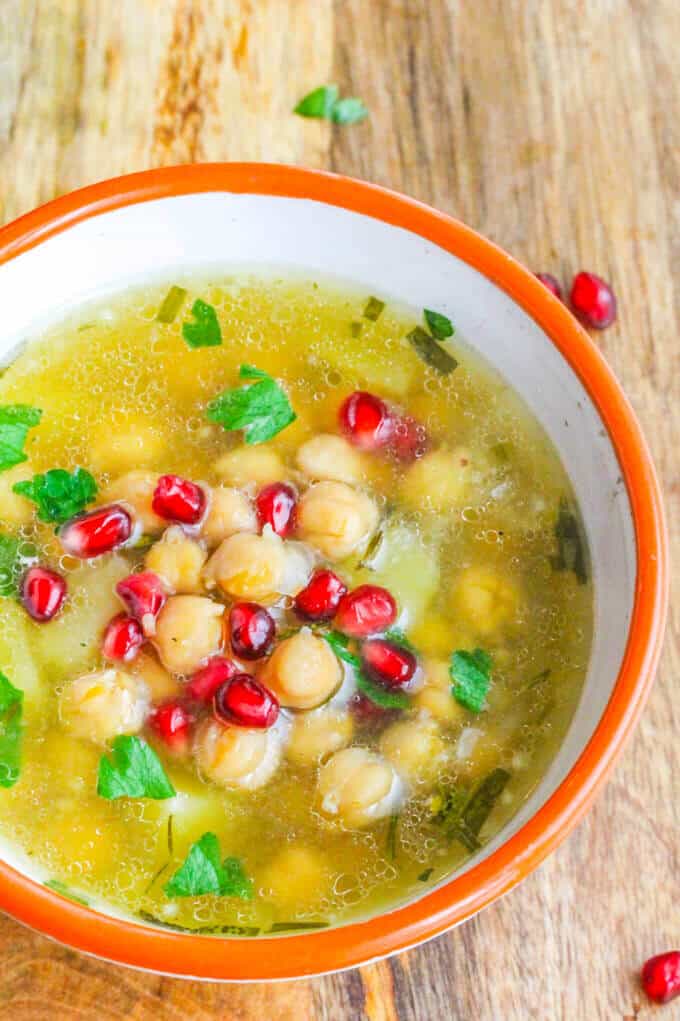 What is Revithosoupa
Greek Chickpea Soup is also known as 'Revithosoupa' or 'Revithia.' It's usually served during cold winter months. Trust me, I realize that we're now in the middle of the summer here in NYC…but bear with me. I chose to recreate this soup for a rainy, unpleasant day and it served its purpose just fine – despite not being it's traditional season. I wanted to make this Greek Chickpea Soup for the blog for a while so I thought it was a perfect opportunity.
I'm not sure if you're from the same school of thought, but I have no compunctions about having soup in the summer (especially on a rainy days) and better still if that soup is super light. This one is just 150 calories per serving! And if you can find a light soups such as this one, which manages to be filling at the same time, then you can indulge all year long.
Other alternative soups which I feel serve the same purpose are this Tomatoes Red Lentil Coconut Soup or my Greek Lentil Soup. While you're at it, I encourage you to dunk this freshly homemade crusty bread  in the soup. I guess I should stop now because I'm getting hungry.
If you don't feel like making soup right now you can always save it for later, as the fall will be here soon enough.
What is Revithosoupa made with
Traditionally this Greek Chickpea Soup is made with dried chickpeas that are soaked overnight and then cooked until soft. The process takes a little longer but I encourage you to go for it if you have time. If, however, you are short on time and want to eat something quick and satisfying, canned chickpeas are a fine substitute to make this awesome soup.
You'll only need a few ingredients:
Chickpeas;
Potatoes;
Garlic;
Rosemary;
Olive oil;
Pomegranates seeds;
Lemon juice; &
Fresh parsley.
And if you feel like making a fragrant bread to accompany this soup you may also want to take a look at the recipe from Food Fanatic: Rosemary Olive Oil Bread.
My printable recipe calls for canned chickpeas and that's why this soup is so quick to make. Literally it'll just take 20 minutes – start to finish. However, if you want to go "authentic," and have some time on your hands, use this method:
How to make Revithosoupa with dried chickpeas
Soak about 12 oz of dried chickpeas overnight;
The next day drain the chickpeas, place in a pot, cover with twice amount of water and bring to boil; skim off the foam;
Add garlic, rosemary, olive oil and peppercorns; cover and cook for about 1.5 hrs (do not add salt);
Add more water if needed, add potatoes and cook for about 15 minutes until they are tender; then
Add lemon juice, salt and serve with pomegranates seeds.
This recipe was adopted from my favorite Meditterranean cookbook:
.(affiliate link)
I highly recommend it. Every recipe that I've ever tried making from this book seems to comes out wonderfully.
If you're looking for more Greek recipes try these:
Kolokhitopita – Greek Zucchini Pie
Greek Spinach Rice with Feta – Spanakorizo
Greek Chickpea Soup - Revithosoupa
Greek Chickpea Soup (Revithosoupa) is a traditional Greek vegan soup that uses simple ingredients. This version uses canned chickpeas and it is ready in 20 minutes.
Print
Pin
Rate
Ingredients
1

can

chickpeas

15 0z

6

cloves

garlic

minced

1

potato

medium, cubed

2

springs

rosemary

fresh, chopped

1

tbsp

pomegranate seeds

1/2

teaspoon

black peppercorns

crushed

lemon juice

to taste

salt

to taste

1

tbsp

olive oil

extra virgin
Instructions
In a heavy soup pot heat up olive oil and add garlic with rosemary; cook for a minute and add potatoes. Make sure not to burn the garlic.

Add 4 cups of water or broth, cover and let cook for about 15 minutes, add rinsed chickpeas, cover and cook for another 5 minutes.

Add salt, pepper and lemon juice. Adjust seasoning to your liking. Add more water if needed.

Serve with pomegranate seeds and enjoy.
Nutrition
Calories:
150
kcal
|
Carbohydrates:
19
g
|
Protein:
3
g
|
Fat:
7
g
|
Saturated Fat:
1
g
|
Sodium:
13
mg
|
Potassium:
493
mg
|
Fiber:
3
g
|
Sugar:
1
g
|
Vitamin A:
30
IU
|
Vitamin C:
16.3
mg
|
Calcium:
61
mg
|
Iron:
4
mg
Disclaimer: As an Amazon Affiliate, I earn a small credit when you make a purchase through a link provided here. This is one way to support this blog and my work. I only recommend what I like and use. Please only purchase what you need.
If you like this recipe you may also like these recipes using chickpeas or pomegranates: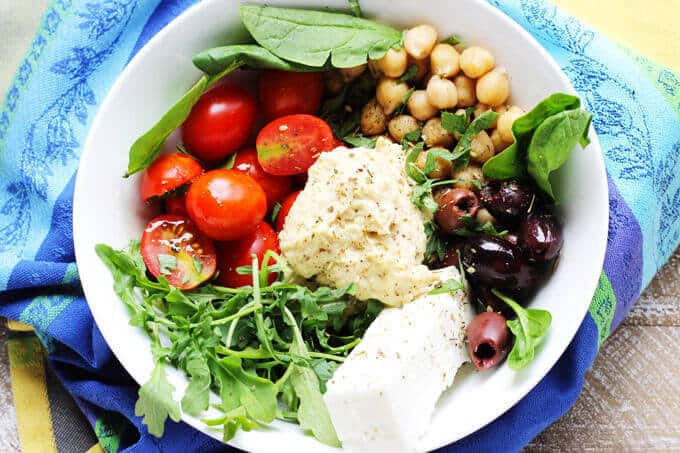 Chipotle Hummus with Roasted Pine Nuts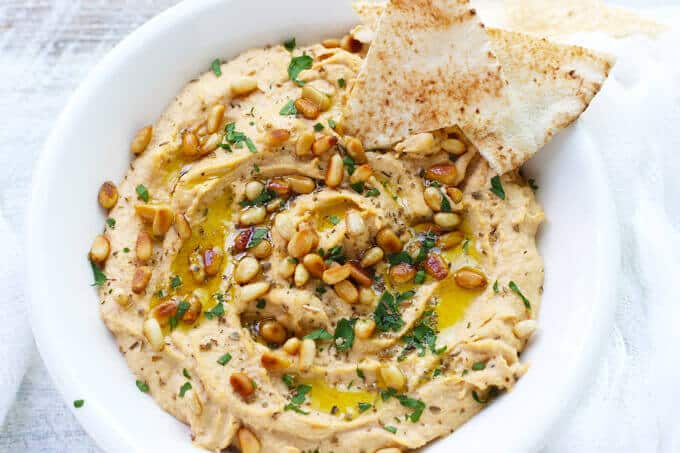 Chickpea Egg Fritters with Tahini Sauce
Butternut Beef Stew with Cinnamon and Pomegranates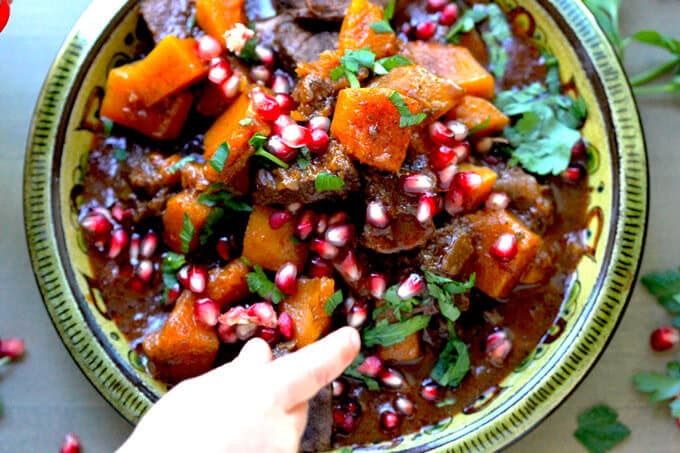 You can also go to Pinterest to see the whole gallery of my recipes.