Leftover Turkey Spanish Rice – after you're done with turkey sandwiches and soups after Thanksgiving, and you still have your turkey leftovers, try this recipe to top it all off.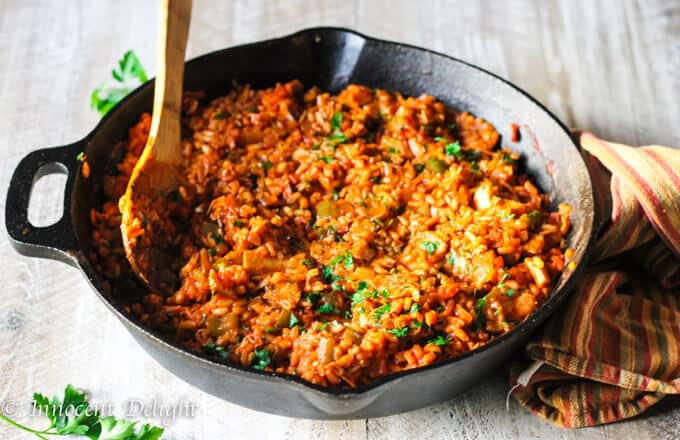 Ok, you guys…, I know I'm late with this Leftover Turkey Spanish Rice recipe. All the turkey is already gone. Mine too. But I couldn't not share this recipe. I have been so busy recently that I literally couldn't find time to sit down and have this post out. I had all my photos done and the time literally just took off.
I decided to share this Leftover Turkey Spanish Rice recipe anyways, thinking that some of you may cook turkey for Christmas or any other holiday that you celebrate in the month of December or maybe you will want to keep it for the next year's after Thanksgiving meal.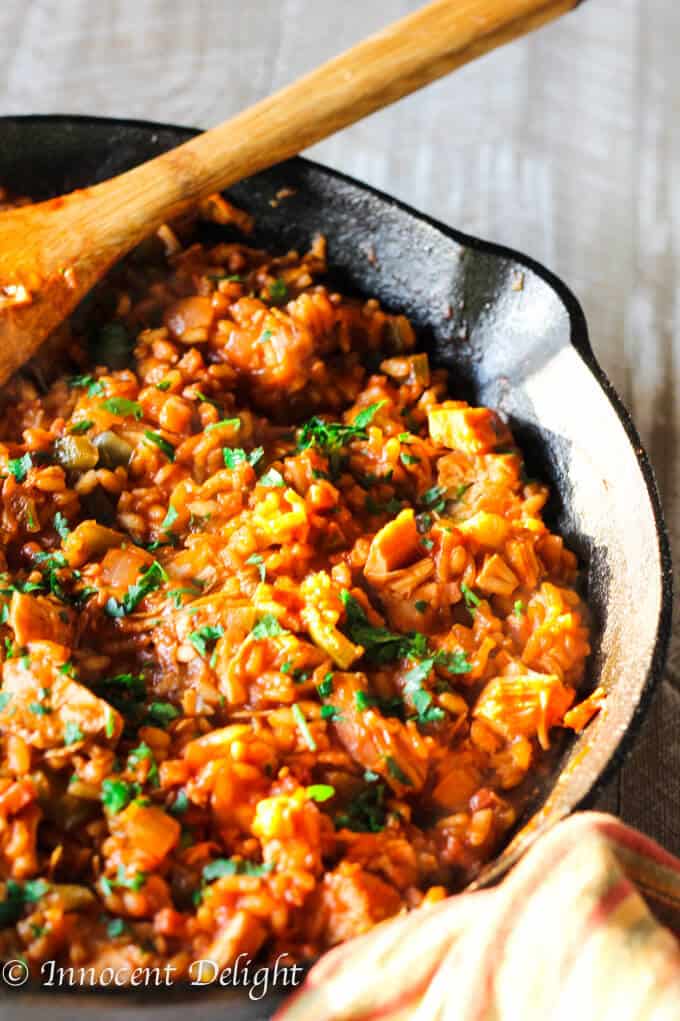 I called it Leftover Turkey Spanish Rice, but you can actually use whatever you have at home. This recipe is not really "Spanish". I used Arborio rice that you normally use for Risotto and I also used  pancetta instead of chorizo. I did use Spanish Smoked Paprika (affiliate link), sprinkles of Spanish Saffron and tomato sauce.
It did have Spanish flavor, but my point here is that you can use anything you have at home. Rice is super versatile, and you can add any ingredients that you feel would work with it. For me, the inspiration was the Polio can Aroz.
I thought that if you can make chicken with rice, why not try it with leftover turkey. And the result was unbelievable. It's definitely my new favorite turkey leftover recipes. My Leftover Turkey Soup is still a staple in our house the next day after Thanksgiving, but this new dish is going to be our new "go to".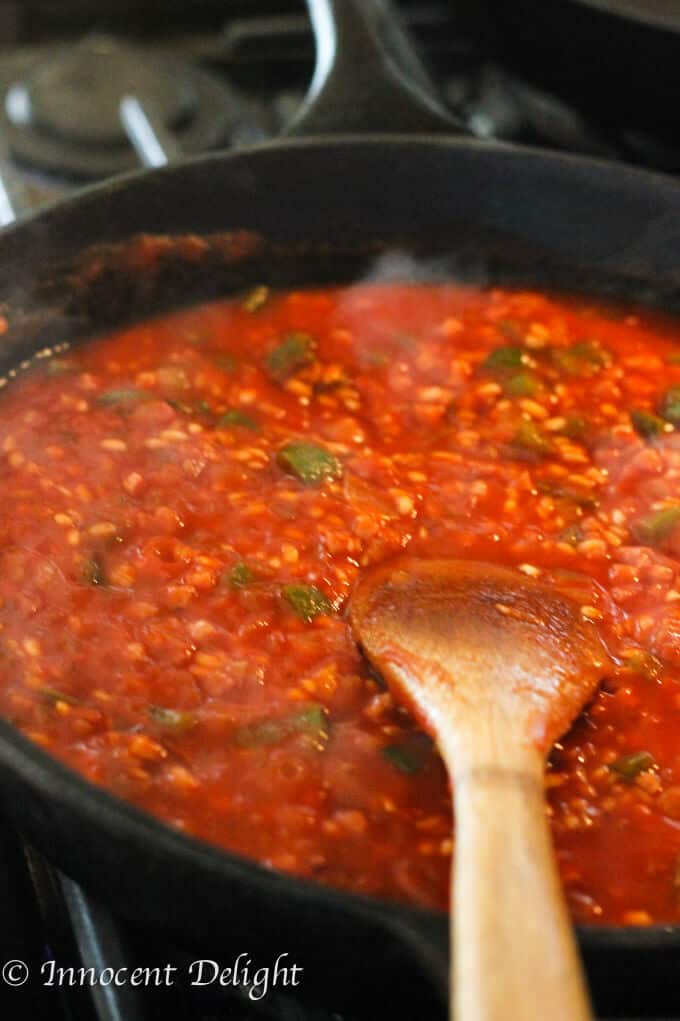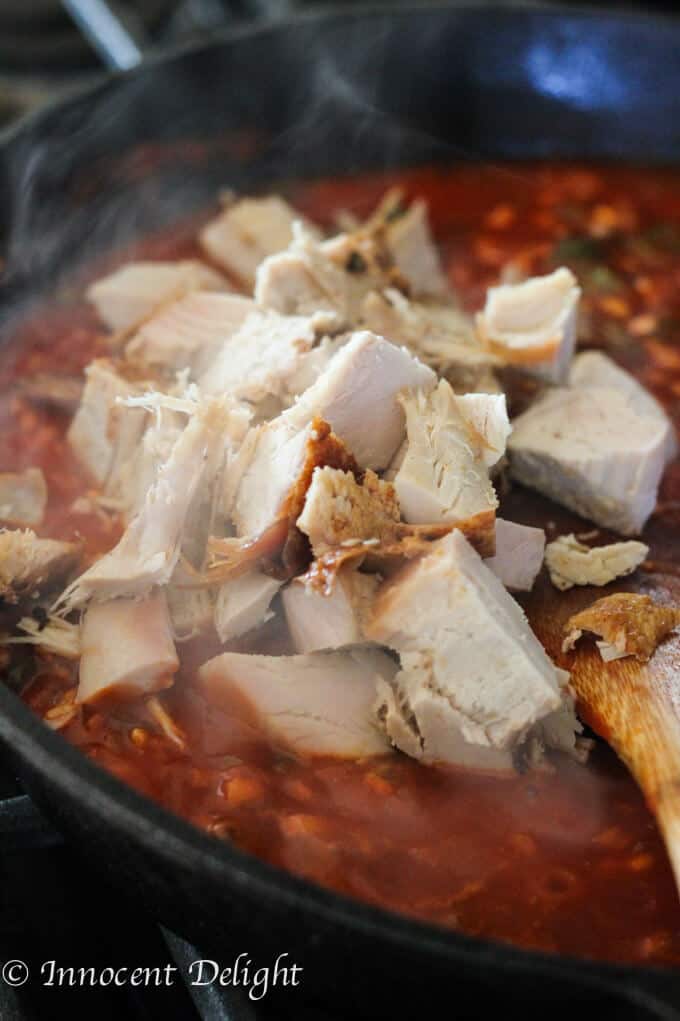 I used my cast iron pan as I really like when the rice sticks to the bottom a little bit and creates this kind of "Paella" feeling. First, I cooked some cubed pancetta, then I added onions, peppers, garlic Spanish smoked paprika (affiliate link), saffron, and cooked it for a couple of minutes.
Then I added rice and let it get coated. Then I poured wine, followed by tomato sauce and chicken stock.
I was adding more chicken stock if the rice seemed to need more liquid and some more time to cook. There's not much science to it. It's super-duper simple and tastes absolutely amazing. And again, super versatile.
You don't need to stick to my ingredients to make it outstanding. But feel free to use this absolutely amazing, simple and fragrant recipe of my Leftover Turkey Spanish Rice the next time you ended up with some leftover meat from your Thanksgiving dinner. Cheers to Holidays Season!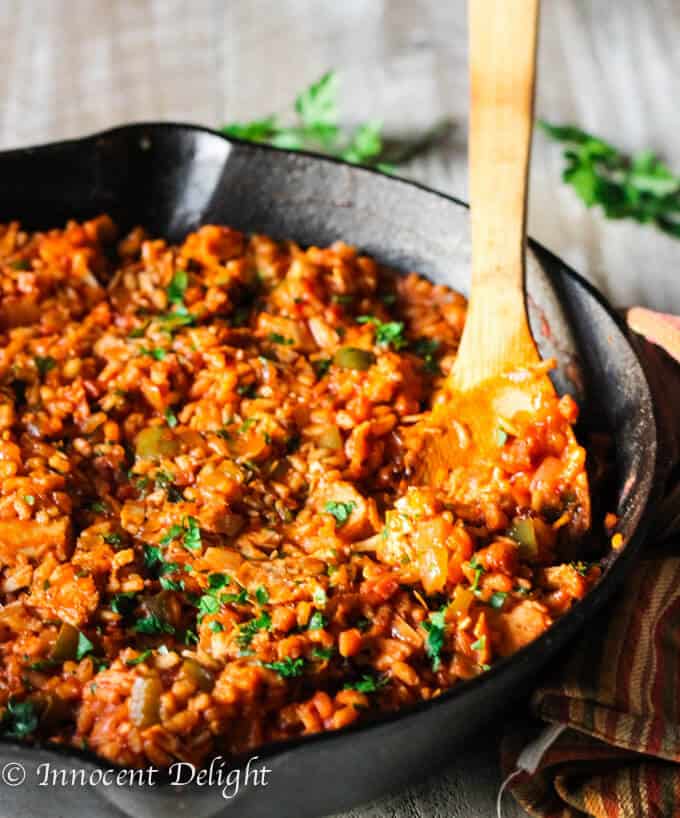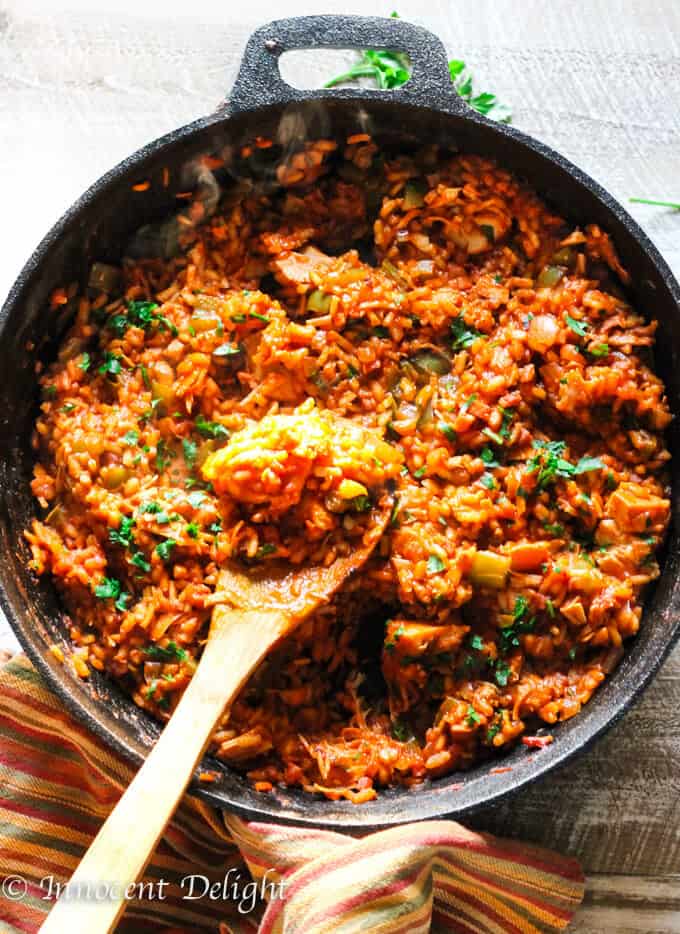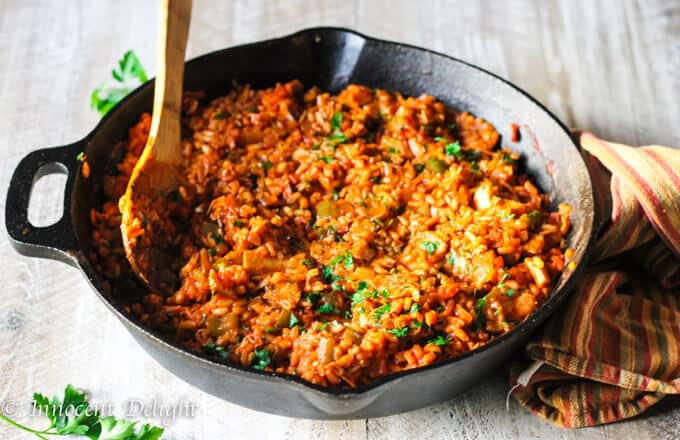 Ingredients
4

oz

of cubed Pancetta

1

Spanish Onion

, chopped

2

garlic gloves

, chopped

1

green pepper

, chopped

1

cup

of rice

1

can of tomato sauce

( 15 oz)

Few threads of Spanish saffron

1/2

teaspoon

of sweet smoked paprika

1/2

teaspoon

of hot Smoked Spanish Paprika

2

cups

of cubed leftover turkey

1

tablespoon

of chopped

, fresh parsley

1/3

cup

of white wine

1,5 - 2

cups

of chicken broth

Salt an freshly ground pepper to taste
Instructions
In a large cast iron skillet cook pancetta for 2-3 minutes until golden (you don't need to add fat as pancetta will release its own fat and cook the meat in it)

Add onions and cook for another 3 minutes until the onions are translucent

Add peppers and cook for another 2-3 minutes

Then add garlic, sweet smoked paprika, Spanish smoked paprika, salt, pepper and pinch of saffron

Add rice and let it cook for a minute or two to get coated with all the ingredients and flavors

Add wine and let it cook until almost evaporated for about 2-3 minutes

Then pour the tomato sauce and 1 cup of chicken stock

Add leftover turkey

Stir it, cover and cook for 10 minutes

If your rice requires a lot of moisture, add another 1/2 cup of chicken stock; Keep adding some more chicken stock until your rice is tender and cooked through ( another 20-30 minutes)

Sprinkle with fresh parsley and serve immediately