This post may contain affiliate links which won't change your price but will share some commission.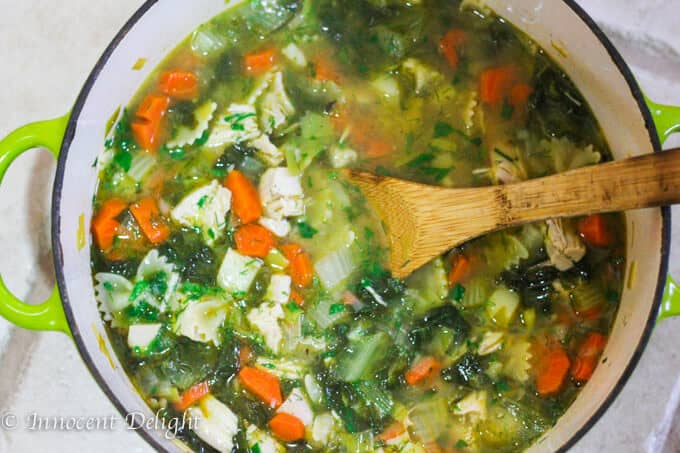 How was your Thanksgiving? Ours was pretty amazing. My husband said that it was the best dinner he'd eaten the whole year. I must humbly admit, it was pretty damn good. I made a Maple Mustard Glazed Turkey that had been brining for 3 days prior to roasting, a stuffing featuring 3 different types of mushrooms, a rich cranberry sauce with orange and cinnamon, parmesan mashed potatoes with a salsa verde swirl and brussels sprouts with bacon and a balsamic glaze. Some of these recipes will appear on this blog in a near future. Anyhow, we had plenty of leftovers and the next day we had one of the most amazing sandwiches ever, with all the ingredients from our dinner crammed in there. While obviously a sandwich is a leftover must, if your leftovers are plentiful then I recommend this amazing Leftover Turkey Soup.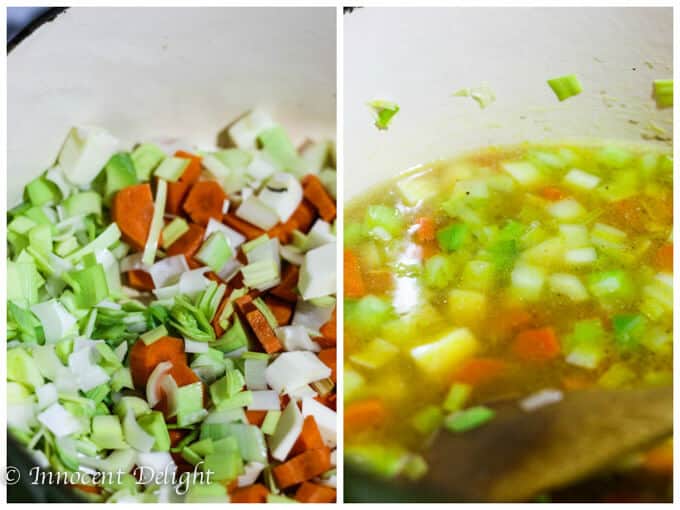 I made this Leftover Turkey Soup last year and again this year and the taste was just amazing. I am probably posting it too late, as all the turkey may be already consumed, but if you like it then I'd recommend you give it a go for next year – or sooner if another bird is in your future. Regardless whether a turkey is in your near future, please realize that this recipe can also be used for roast chicken leftovers too. The rule of thumb here is to not throw out the bones once the bird is consumed. After we finished dinner, I put all the bones into a crockpot, added vegetables – carrots, celery, parsley, onions, garlic – a little bit of salt and set it up for 8 hours on low heat and then went to bed. The next day, I had the most amazing turkey broth ever. The only job left here was to strain it and voila….your broth is done.
The idea for this soup came from last year's Food Network Magazine. This soup contains escarole, lemon and farfarelle pasta. Once you have your broth, the soup is extremely easy to make and will take you only about 50 minutes to make. Start by sautéing carrots, leaks, parsnips and celery for about 10 minutes, then add the broth and cook for about 20 minutes until the veggies are tender. Add escarole and a lemon strip, then cook for another 10 minutes. Add pasta and turkey and cook for a couple of minutes more, and then at the end add herbs – parley & dill – and sprinkle with lemon juice. If needed, add salt and pepper to taste. That's it! You'll have the most amazing Leftover Turkey Soup ever.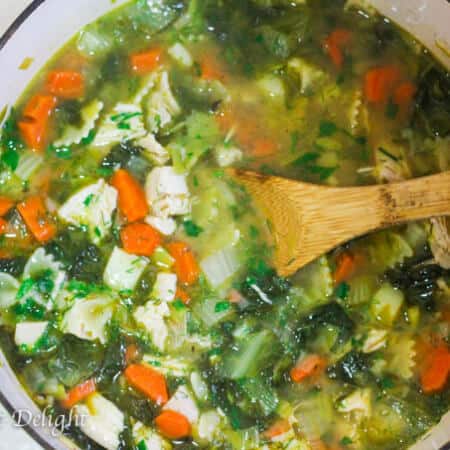 Ingredients
Leftover Turkey Soup
2

tablespoons

of olive oil

1

leak

, sliced

3

celery stalks

, chopped

3

carrots

, chopped

1

parsnip

, chopped

3-4

quarts

of turkey broth

(see below)

10

leaves

of escarole

1

strip of half a lemon

2-3

cups

of leftover turkey

, chopped

1

cup

farfarelle pasta

Juice of a half lemon

1/4

cup

of fresh dill and parsley

Kosher salt

Fresh ground black pepper
Turkey Broth
1

turkey carcass and any other leftover bones

2

onions

, cut into chunks

2

carrots

, cut into chunks

3

celery stalks

, cut into chunks

4

cloves

of garlic

, smashed

Bunch of parsley

1

teaspoon

Black peppercorn

1

bay leave

1

teaspoon

of salt
Instructions
Leftover Turkey Soup
Heat the olive oil in a Dutch oven or other large pot

Add carrots, leaks, celery and parsnip and sauté for 10 minutes

Add broth and cook for about 20 minutes until the vegetables are tender

Add escarole and lemon strip, cook for another 10 minutes

Add turkey and pasta and cook for about 5 minutes

At the end add lemon juice, and herbs

Season with salt and pepper and serve.
Turkey Broth
Add all the ingredients to the slow cooker, close it, set it up for 8 hours.

Once cooked strain broth through fine strainer.