This Whole Roasted Cauliflower with Mediterranean spices and feta, then drizzled with lemon juice and sprinkled with parsley, is incredibly flavorful and very easy to prepare.  If you want to impress your guests, try this recipe.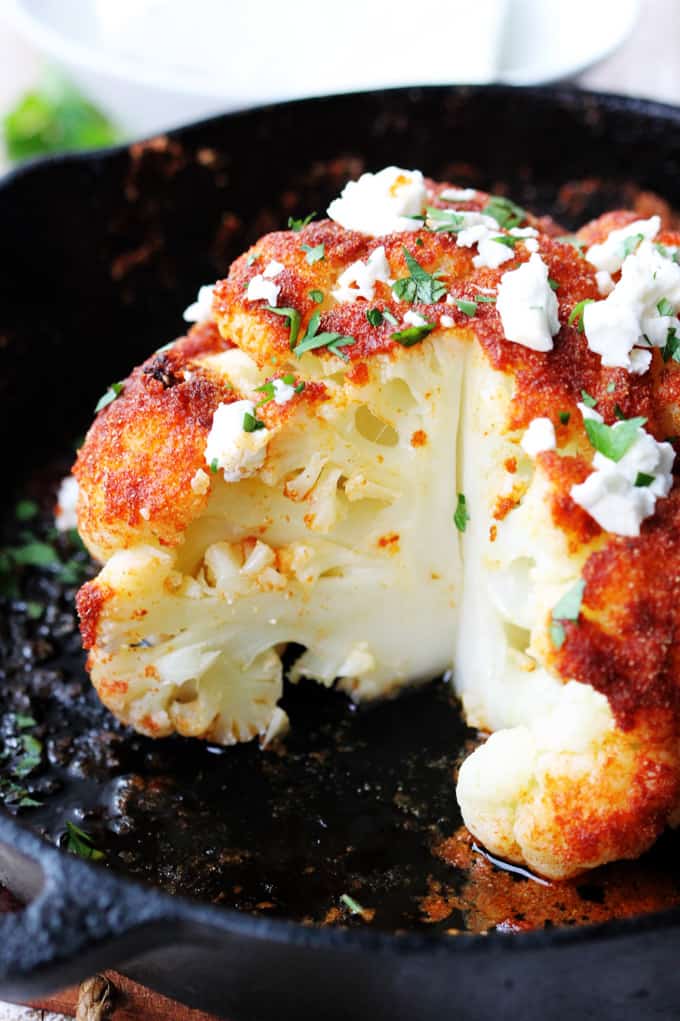 This post may contain affiliate links. You can read my disclosure policy here.
Why make Whole Roasted Cauliflower?
You may be asking yourself this question while looking at this roasted cauliflower recipe. Well, the answer is pretty simple. You want to roast the whole cauliflower because:
First , roasting whole cauliflower creates amazing texture – crispy on the outside, yet still tender on the inside;
Second, a whole cauliflower manages to keep its earthy, sweet flavor as the moisture is drawn out.
And third, it's very easy to prepare (I will show you 2 easy techniques below). If you are on a look out for an easy cauliflower recipe, this is the one.
So, what's so special about this Roasted Cauliflower?
I think that the simple answer to this question is its: versatility. I made mine Mediterranean Style, with some Mediterranean spices like (smoked paprika, cumin and garlic), feta, lemon juice and olive oil.
But the possibilities here are endless. For example, you can roast it with just salt, pepper and olive oil, and once its done serve it with your favorite sauces like:
Pesto (sometimes I make a homemade one, but if I don't have fresh basil, I love the one from Costco – I usually keep some in a freezer);
Romesco Sauce – which is a Spanish Peppers and Tomato Sauce made with smoked paprika – it is super delicious;
Tahini Sauce – I made this sauce for the chickpea egg fritters but it works great here too.
You can also serve it straight without any additions, or just sprinkle it with Parmesan cheese.
Instead of olive oil you could also substitute in butter or even some bacon fat and then sprinkle it with some bacon bits. In fact that's a super delicious way to get even your non-cauliflower eaters to eat it.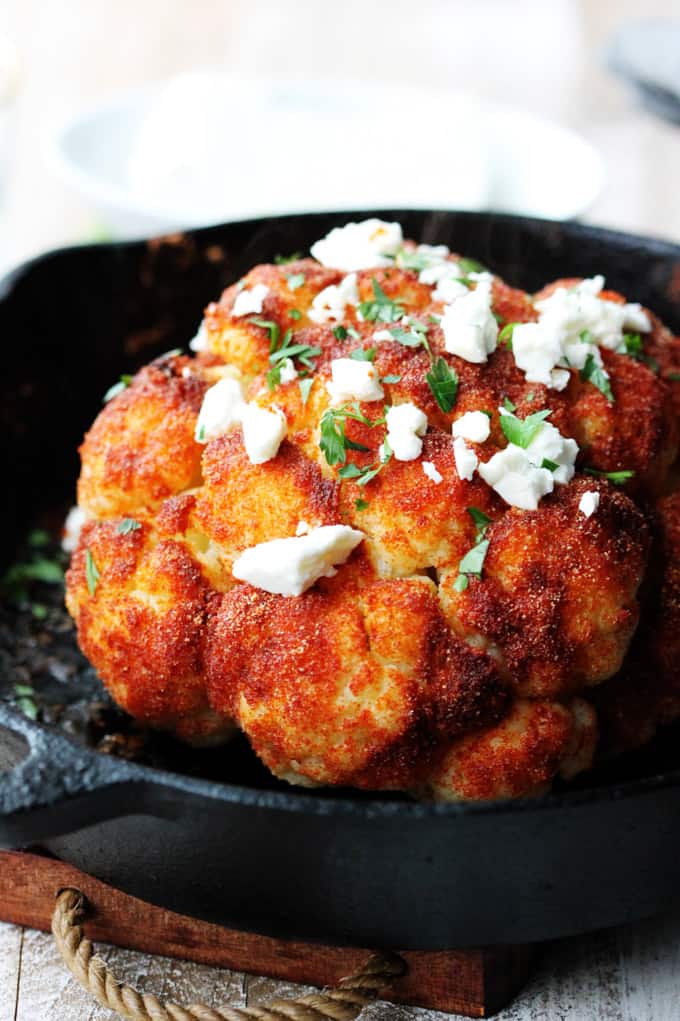 How to roast whole cauliflower?
Below, I'll show you two easy techniques for roasting whole cauliflower, one is quicker but it requires a little bit more preparation whereas the other is simpler in preparation but requires more time to cook.
Roasting whole cauliflower with a pre-boil.
This is my preferred method when I am short on time and this is the one that I've featured in this recipe.
Trim the leaves from the base of your cauliflower and cut up the stem so it can stand without support;
Boil water in a pot large enough to fit in the whole cauliflower;
Add salt (for a large pot (affiliate link) you can add 1-2 tablespoon of salt) – this will make the cauliflower a bit more flavorful;
Boil the cauliflower for approximately 10 minutes, and then carefully remove from hot water;
Place the cauliflower into a cast iron skillet (affiliate link) or other heavy, oven proof skillet. Then drizzle with olive oil, sprinkle with spices, and roast for about 15 minutes;
Remove from the oven, place on a serving plate, garnish with feta and parsley and drizzle with lemon juice and extra virgin olive oil.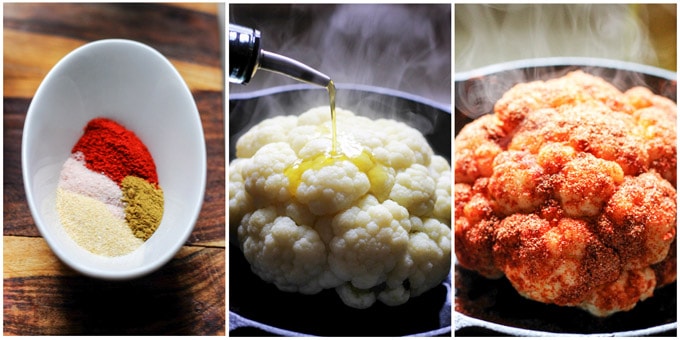 Roasting whole cauliflower entirely in the oven
For this method you will:
Preheat your oven to 400F;
Drizzle the cauliflower with olive oil and rub in your spices, and then place it (core-side down) on a cast-iron skillet or other heavy, oven-proof skillet;
Add 1 cup of water or vegetable broth, then cover with foil, and place in the oven for a half an hour to steam.
Then remove the foil and continue to roast your cauliflower, uncovered, until tender (for approximately 1 hour);
Remove your pan from the oven and gently transport your cauliflower onto a serving plate. Add feta, parsley, lemon juice and extra virgin olive oil.
What you'll need to make this Whole Roasted Cauliflower Mediterranean Style
Ingredients:

Whole cauliflower
Extra Virgin Olive Oil
Smoked Paprika
Cumin
Garlic Powder
Salt & Pepper
Feta Cheese
Lemon Juice
Parsley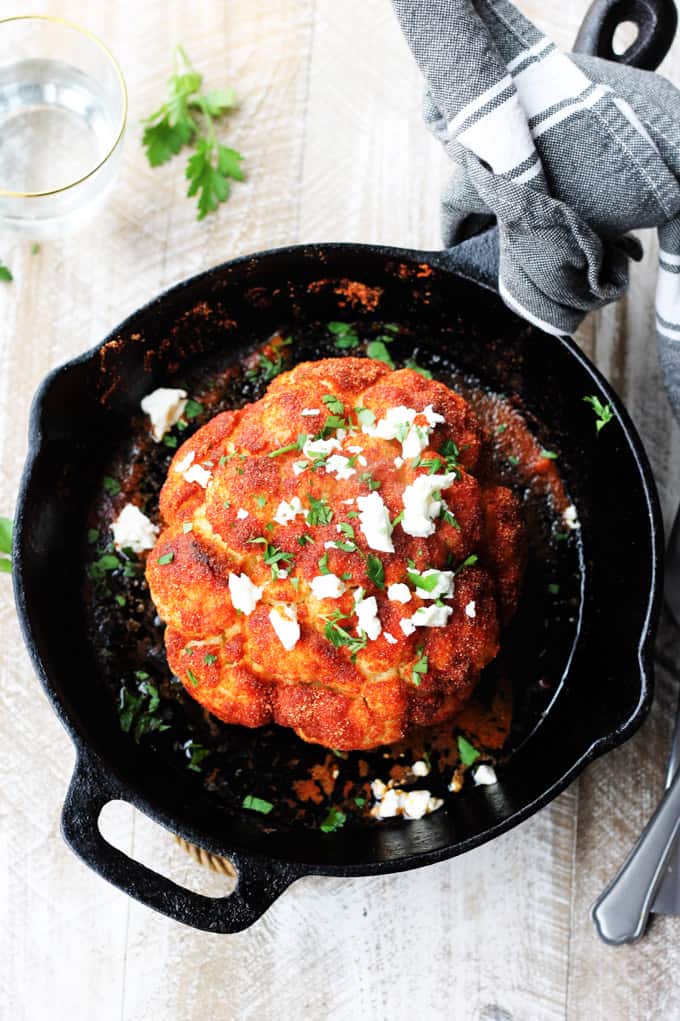 Alternative: Roasted Cauliflower Steaks instead of the whole roasted cauliflower.
You can always cut up your cauliflower into 1 inch steaks and then roast them, instead of the whole cauliflower. Here's how to make it:
Preheat your oven to 400 F;
Remove the leaves from the base of the cauliflower;
Cut up your cauliflower into 1 inch slices;
Brush (affiliate link) the steaks with olive oil and season with spices;
Roast your cauliflower for 15-20 minutes, flip over, sprinkle some more seasoning and roast for an additional 10 minutes.
What to serve the roasted cauliflower with?
To serve this roasted cauliflower, cut it into wedges, sprinkle with some more feta, lemon and olive oil. It can be served as vegetarian main dish or a side dish to any meat dishes. If you're looking for some suggestions, here are some of my favorites:
How to store leftovers roasted cauliflower
You can store leftovers in a refrigerator for up to 4 days. You can use them with salads or soup. This Cauliflower Coconut Soup could work perfectly with these roasted cauliflower leftovers.
If you want to impress your friends and family, serve them this whole roasted cauliflower. It really plates beautifully. And if you make it, then I encourage you to let us know which method you used to prepare it and how it worked out.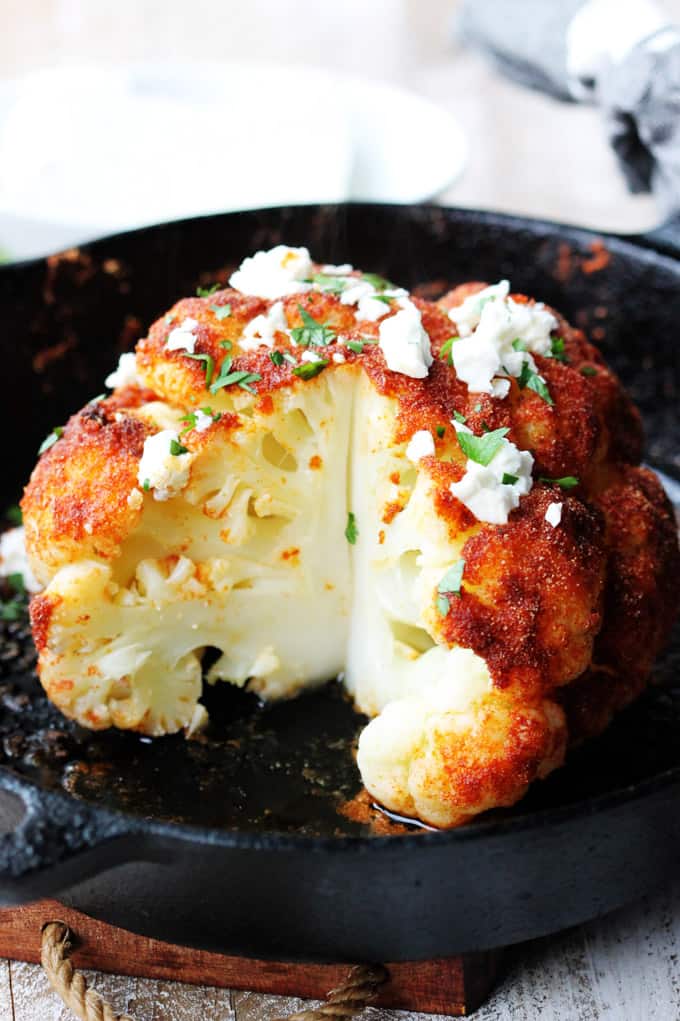 Ingredients
1

Whole Cauliflower

2

tbsp

Olive Oil

Extra Virgin + extra for drizzling

1

tbsp

Smoked Paprika

mild

1

teaspoon

Garlic Powder

1

teaspoon

Cumin

1/4

teaspoon

Salt

+ approximately 1 tablespoon for pot of water

1/2

Lemon

juiced

1/3

cup

Feta cheese

crumbled

1

tbsp

Parsley

fresh, chopped
Instructions
Preheat your oven to 400F;

Trim the bottom of your cauliflower by removing all the leaves;

Place the cauliflower in a pot of water with salt (about 1 tablespoon of salt or you can also use stock instead - this will allow the cauliflower to get season on the inside);

Bring the pot to a boil and cook your cauliflower for about 10 minutes;

Either drain your cauliflower or remove it with the heavy duty fork and place in the cast iron skillet;

Pour olive oil all over your cauliflower;

Add paprika, cumin, garlic powder and salt into a small bowl and mix well;

Sprinkle the spice mixture all over your cauliflower;

Place the skillet in the oven and roast the cauliflower for approximately 15 minutes;

Remove the skillet from the oven and sprinkle with feta, parsley, lemon juice and more extra virgin olive oil;

Serve with some extra feta and lemon wedges on a side. Enjoy.
Nutrition
Calories:
115
kcal
|
Carbohydrates:
4
g
|
Protein:
2
g
|
Fat:
10
g
|
Saturated Fat:
2
g
|
Cholesterol:
11
mg
|
Sodium:
296
mg
|
Potassium:
156
mg
|
Fiber:
1
g
|
Sugar:
1
g
|
Vitamin A:
19.9
%
|
Vitamin C:
25.8
%
|
Calcium:
8
%
|
Iron:
5.8
%
I encourage you to FOLLOW Eating European on FACEBOOK | INSTAGRAM| PINTEREST | TWITTER for all the latest recipes and updates.
If you're looking for more cauliflower recipes here are couple of my favorites:
Read about the author Edyta here or follow Eating European on social media: Facebook, Instagram, Pinterest, and Twitter.
[mc4wp_form id="6774″]