Cauliflower Fried Rice Mediterranean Style is a super quick, healthy and delicious dish that can serve as a vegetarian main dish, or as a yummy side dish. You just need 15 minutes and a handful of ingredients, like cauliflower (or riced cauliflower), onions, tomatoes, feta and olives.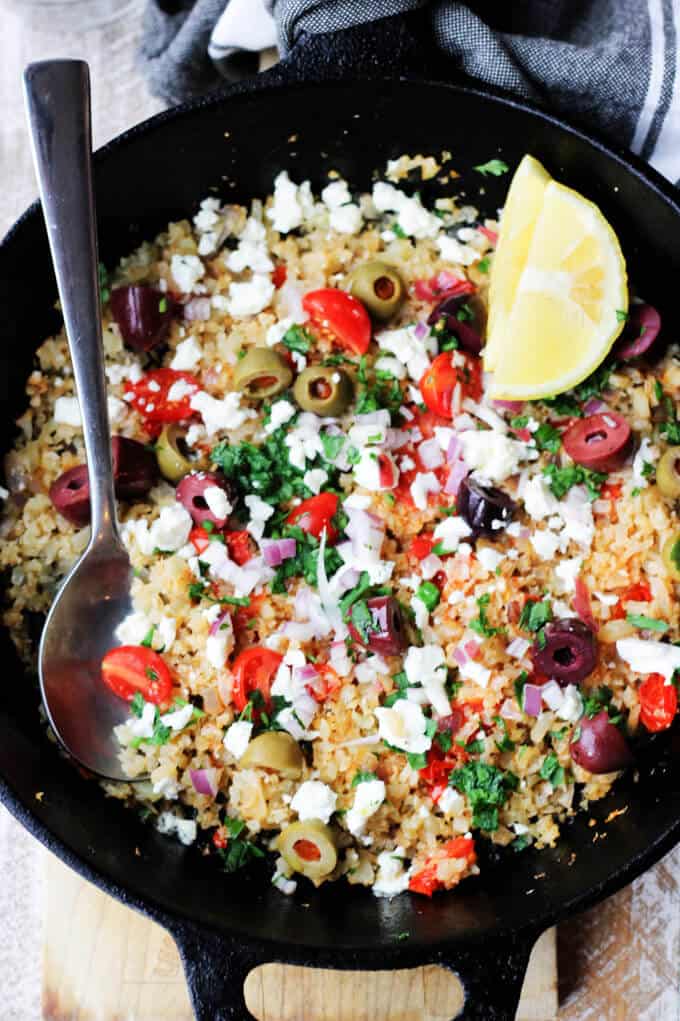 If you're feeling sluggish after all this Holiday indulgence, you may need this simple and healthy meal on your plate ASAP. It's very light (very low on calories,  carbs & Keto friendly), tasty (it packs all the Mediterranean flavors) and it takes no time to prep. I mean, really, you need no more than 15 minutes. Serve it as a main dish or a side dish.
If you're wonder what's "riced cauliflower", here's your simple answer:
Cauliflower rice, or riced cauliflower, is nothing more than simple cauliflower added to the food processor (affiliate link) and pulsed few times until the cauliflower is broken down into tiny granules. It's reminiscent of couscous, in size, but rice in texture. If you don't have food processor (affiliate link), you can still make riced cauliflower by using a grater.
If you have a whole cauliflower head, then you just need to remove the leaves, cut off the base of the root and chop the cauliflower into florets. Then either add to food processor (affiliate link) or grate. From one head of cauliflower you can make about 4 cups of riced cauliflower. You can see how I made it in this recipe for Cauliflower Crust Pizza Bites.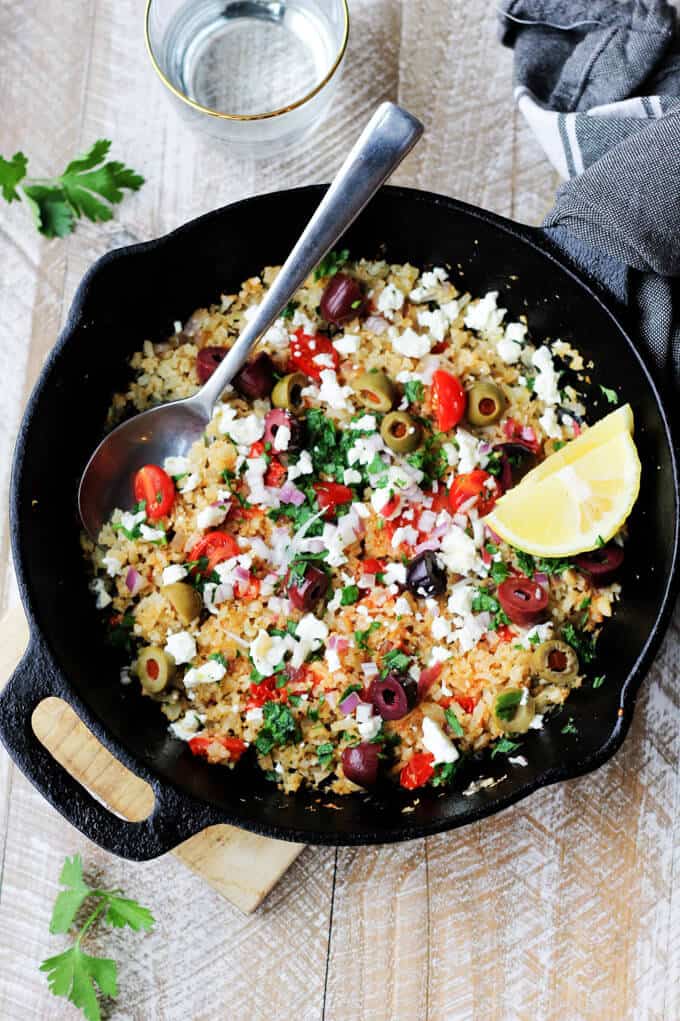 Now you can ask how to make Cauliflower Fried Rice
There are plenty of recipes out there for Cauliflower Fried Rice but most of them are using an Asian fusion ingredients usually found in fried rice. Obviously they feature soy sauce as their primary seasoning. Don't get me wrong, I think this kind of cauliflower fried rice is delicious and I make it often for myself, but here I wanted to give you a little bit of a different option. One that focuses on tastes and flavors from around the Mediterranean Sea.
My Cauliflower Fried Rice Mediterranean Style is made with:
Cauliflower;
Onions;
Tomatoes,
Olives;
Feta; &
A standard Mediterranean pantry staples and aromatics:

Extra Virgin Olive Oil;
Lemon;
Parsley;
Salt & pepper
To make this Cauliflower Fried Rice Mediterranean Style, follow these simple steps:
Sauté some chopped onions, until translucent;
Add chopped tomatoes and cook for a few minutes;
Then add riced cauliflower (either homemade or frozen store-bought) and cook for 5 minutes;
And then add olives, parsley & feta;
Season to taste with salt and pepper;
Drizzle with some more olive oil and fresh lemon juice
And voila, you're done.
For this recipe I used store bought Riced Cauliflower from Trader Joes (the one from the freezer section). They also have Riced Cauliflower in the fridge section, but I don't recommend this one, unless will use it immediately, this cauliflower will likely go bad. Either "rice" it yourself, or use this frozen cheat. You won't even need to defrost it. It cooks super quick. Also know that other stores are now carrying riced cauliflower in their freezer sections as well. Chose whichever you prefer.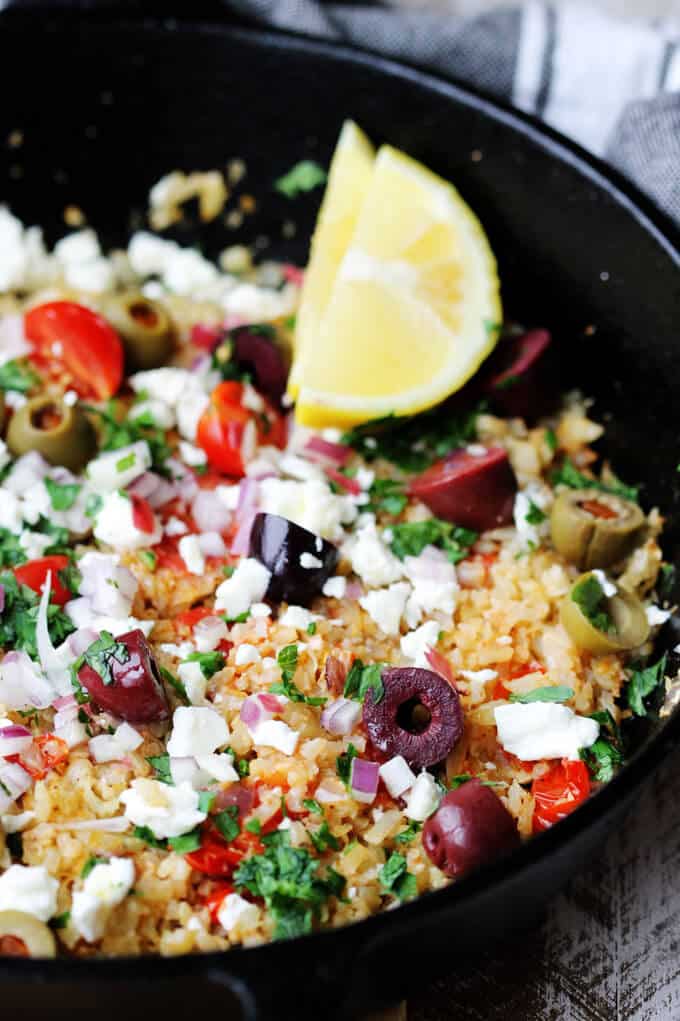 What to serve this Cauliflower Fried Rice with?
If you want to serve it as a side dish, here are coupe of suggestions to serve it with: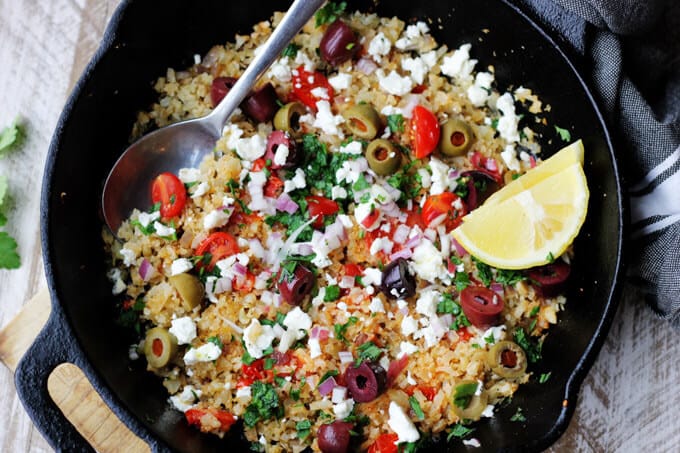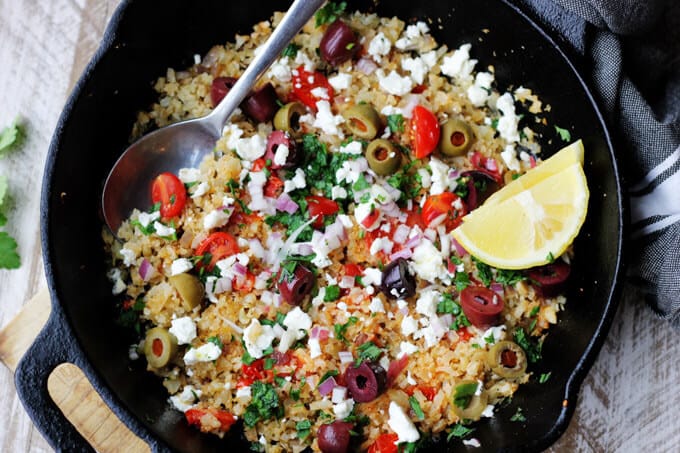 Ingredients
2

cups

Cauliflower Rice

or 1/2 cauliflower head, processed or shredded

1/4

cup

Red Onion

chopped

1/2

cup

Cherry Tomatoes

cut in half

1/2

cup

Olives

green and kalamata, cut in half

1/3

cup

Feta cheese

crumbled

1

tbsp

Parsley

chopped

1

tbsp

Olive Oil

Extra Virgin

1/2

teaspoon

Lemon juice

up to half a lemon juiced

Salt and Pepper

to tast
Instructions
Heat up half a tablespoon of olive oil in a skillet. Add half of the onions and cook until translucent;

Add tomatoes and cook for a few minutes until soft;

Add cauliflower rice* and cook for 5 minutes. If using frozen cauliflower rice you may need to to cook if for a minute or two longer;

Once cauliflower is cooked add parsley, lemon juice**, remaining olive oil and check for seasoning. Add salt and pepper as desired.

At the end add feta and remaining fresh onions and serve.
Notes
*You can use frozen store bought cauliflower rice; if you use fresh cauliflower head, remove the leaves and cut the cauliflower into florets. Use half of the cauliflower for this recipe. Eater add cauliflower to food processor and pulse few times until  cauliflower is granulated or use grater and shred it. 
**I used half a lemon juiced, but the amount of acidity is a personal preference. Start with just a little squeeze (half a teaspoon) and if you think you need more lemon juice the whole half. 
You can add more fresh tomatoes on top.
Nutrition
Calories:
116
kcal
|
Carbohydrates:
7
g
|
Protein:
3
g
|
Fat:
9
g
|
Saturated Fat:
2
g
|
Cholesterol:
11
mg
|
Sodium:
429
mg
|
Potassium:
298
mg
|
Fiber:
2
g
|
Sugar:
2
g
|
Vitamin A:
5.8
%
|
Vitamin C:
62.1
%
|
Calcium:
9.2
%
|
Iron:
4.3
%
More Recipes to Try:
If you are still looking for healthy Mediterranean cauliflower recipes you may want to check these recipes:
Read about the author Edyta here or follow Eating European on social media: Facebook, Instagram, Pinterest, and Twitter.
[mc4wp_form id="6774″]