Cheesy Broccoli Au Gratin is a delicious dish that features America's favorite vegetable, topped with amazing cheesy sauce that is baked to perfection. Just a few simple ingredients, mixed with the sophistication of a Gruyere cheese, marry together to make this dish both rustic and elegant. Even broccoli critics can become converts.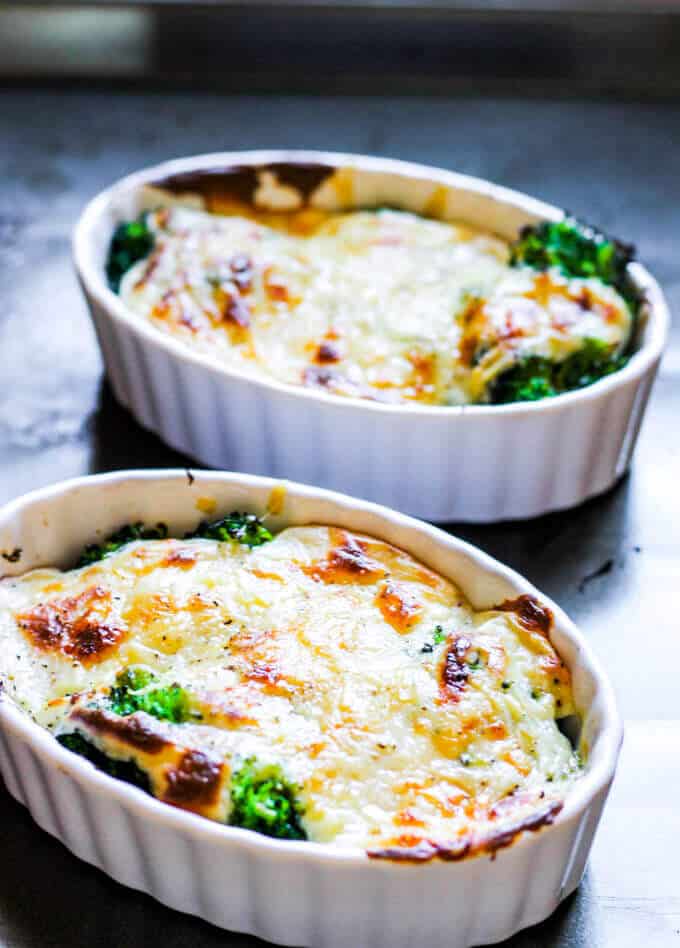 Broccoli Au Gratin, smothered in cheesy, delicious sauce….mmmm….I can say without hesitation that it is, in my opinion, absolutely the best way to eat broccoli. I've had a love affair with this Broccoli Au Gratin dish since my early twenties. There had been an Italian restaurant in my hometown of Wroclaw, Poland, called "La Scala," which 1st introduced the dish to me. While I recollect this as the restaurant's signature dish, perhaps that's just because it was my personal obsession.
I had been trying to recreate their version for a long time, but I just wasn't achieving it. That was, until I  finally discovered that was the cheese which made all the difference. I was watching some mindless cooking show and they were making a similar dish (but with leeks) and they had been using Gruyer. And so it was that the light ignited & I realized the error of my earlier attempts. It had to be Gruyer; and as this post testifies, that was it. It came out so good and reminded me of the taste of this Broccoli Au Gratin from La Scala.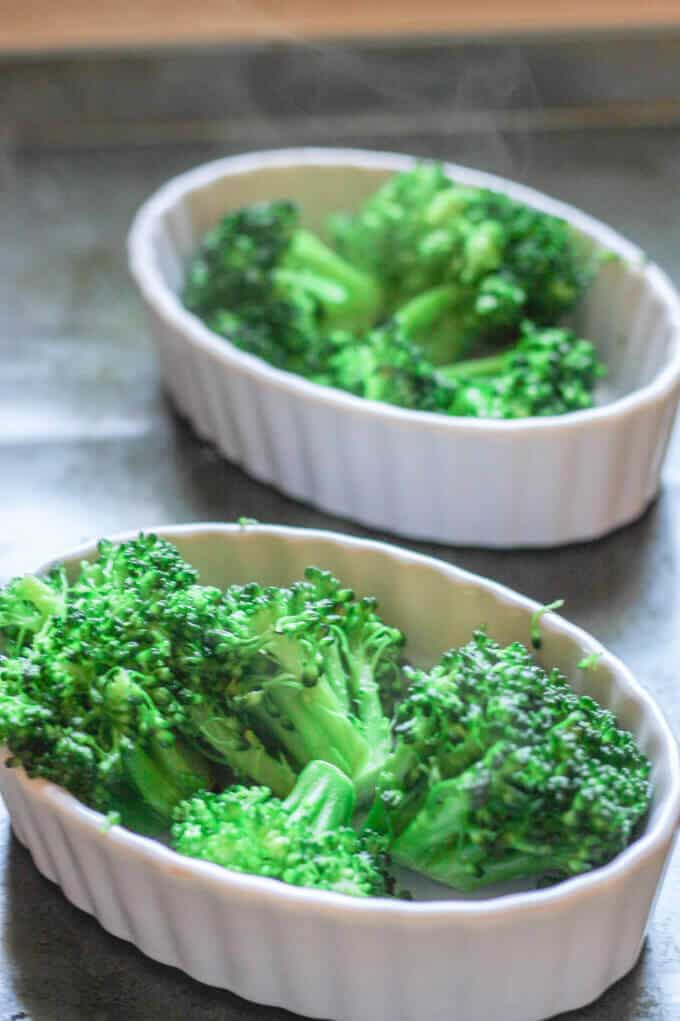 Without teasing my obsession prior to, I made this Broccoli Au Gratin for lunch on a lazy Saturday afternoon. My husband had been out running errands and came home hungry and tired – a mood which I find most receptive to new dishes. I served him a ramekin of this dish and then casually retreated outside to play with our son. After he finished his dish, he came out to the backyard and said, "That was some serious broccoli!" Coming from him…that meant that this dish was really outstanding.
If you're a first timer to my blog you may not realize it but he has a guarded skepticism when it comes to veggies. However, on the basis of this reaction, he seemed receptive to putting this one into heavy rotation. I am confident that even the biggest broccoli critic could be converted with this one. So, if you have a kid or a significant other who refuses broccoli, I recommend you testing their reluctance with this dish. You may be surprised to see empty ramekins (affiliate link) and hungry eyes clamoring for more.
And it is pretty easy to make. All you'll need to do is:
Steam some broccoli;
Make a basic béchamel sauce with pinch of nutmeg. Add gruyere….and more gruyere (it should be cheesy, no?);
Assemble;
Put it into the oven;
And….viola…your job is done!
Once completed, I suggest that you break off a piece of baguette or crusty bread (like this Homemade Dutch Oven Crusty Bread) and dip it into this cheesy goodness. I also recommend using some garlic compound butter for your bread. You can check this guide on how to Make Simple Garlic Butter. The best thing is that while you're sating your need for cheese, you're also simultaneously getting your greens in with this Broccoli Au Gratin. You can pair it with this amazing Brown Sugar Pork Chops with Garlic and Herbs or this Slow Cooker Whole Roasted Chicken.
And it's not a one-trick-pony. Other broccoli substitutes include:
Leeks;
Green beans;
Cauliflower;
Zucchini.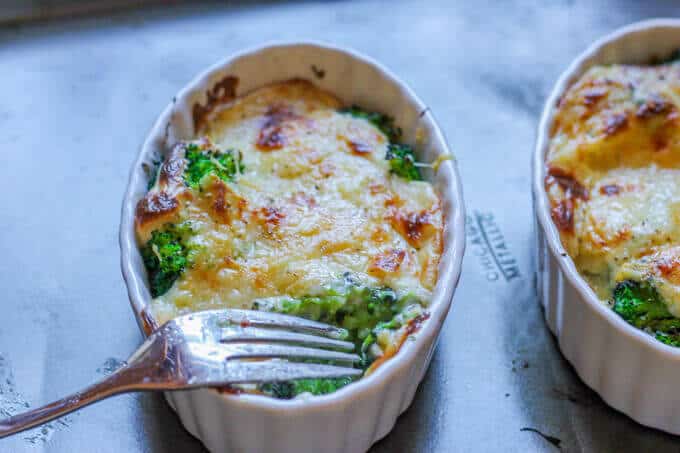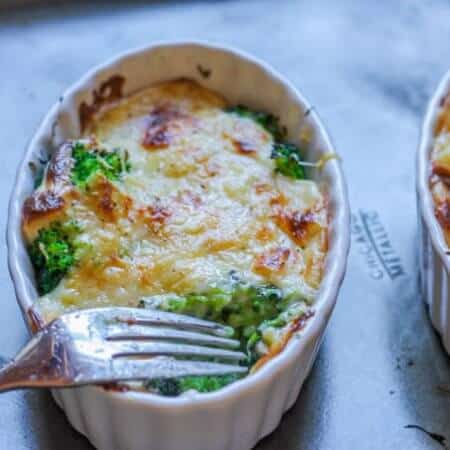 Broccoli Au Gratin
Broccoli Au Gratin is a delicious dish of American favorite vegetable topped with amazing cheesy sauce that is baked to perfection. Few simple ingredients mixed with sophisticated Gruyere cheese makes this dish both rustic and elegant. Even broccoli skeptics can become fans.
Print
Pin
Rate
Ingredients
2

cups

broccoli

florets

2

tablespoon

butter

2

tablespoon

flour

2

cups

milk

Pinch of nutmeg

1,5

cups

Gruyere cheese

freshly grated

Salt and pepper to taste
Instructions
Heat oven to 400 F;

Place broccoli in boiling water and cook for about 5 minutes, strain though colander;

In a pan melt the butter, add flower and whisk until combined;

Cook it for about 5-6 minutes;

Meanwhile heat up the milk and add 1 cup at the time;

Stir it constantly to avoid any lumps;

Cook for about 10 minutes to make sure that all raw flour taste is gone;

Take off the heat;

Season with salt, pepper and pinch of nutmeg;

Add 1 cup of cheese and stir to combine;

Divide broccoli between 2 ramekins;

Spoon the sauce on top of the broccoli;

Add more cheese and black pepper;

Place ramekins on a baking sheet and put into the oven;

Bake for 15 minutes or until the cheese is golden brown and bubbly.
Notes
The portion size of this recipe is for 4 people if it is a side dish. If you want to make it a main dish, this recipe would be for 2 portions. You may adjust accordingly depending on your dish and number of people served.
I used 1% milk in this recipe as it already has enough fat from butter and cheese, but any milk will do fine. 
Nutrition
Calories:
284
kcal
|
Carbohydrates:
6
g
|
Protein:
16
g
|
Fat:
21
g
|
Saturated Fat:
12
g
|
Cholesterol:
69
mg
|
Sodium:
231
mg
|
Potassium:
183
mg
|
Fiber:
1
g
|
Vitamin A:
18.6
%
|
Vitamin C:
49.2
%
|
Calcium:
52.2
%
|
Iron:
3.3
%
Nutrition Facts
Broccoli Au Gratin
Amount Per Serving
Calories 284
Calories from Fat 189
% Daily Value*
Total Fat 21g 32%
Cholesterol 69mg 23%
Sodium 231mg 10%
Potassium 183mg 5%
Total Carbohydrates 6g 2%
Protein 16g 32%
* Percent Daily Values are based on a 2000 calorie diet.
This dish was originally published on April 14, 2015 and was since updated to provide additional information.
If you like this recipe you may also like these cheesy recipe:
Crepes with Egg, Ham and Cheese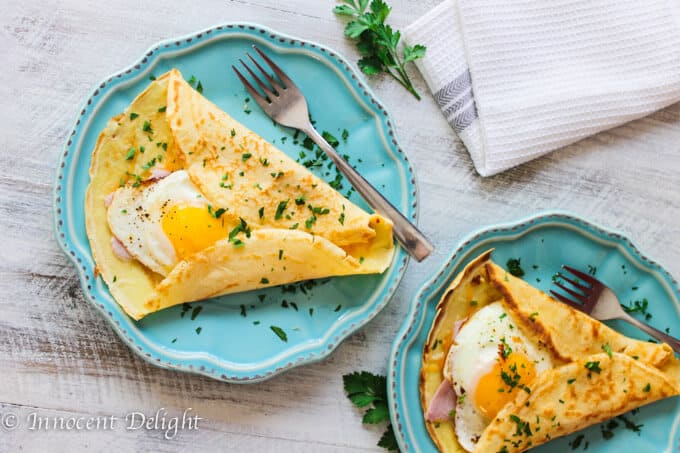 Raspberry Brie En Croute with Toasted Walnuts