This post may contain affiliate links which won't change your price but will share some commission.
Potato Leek Casserole is made with sliced potatoes, garlic, saute leeks, a combination of cream and Gruyere cheese and is baked to perfection.
Potatoes and leeks are a match made in heaven…like cookies & milk, like peanut butter & chocolate, like cheese & wine, like champagne & strawberries….but I digress. All right, so you've got my point? They just work perfectly together. When you add Gruyere cheese and heavy cream to them, it seemingly amplifies an already perfect marriage of flavors. I'm sure you'll agree once you try this potato leek casserole.
How to make this Potato Leek Casserole?
Potato leek casserole is pretty simple to make. You need to just follow a few easy steps:
Heat up 2 tablespoons of butter in a skillet; add chopped and cleaned leeks, and cook until soft (about 10 minutes).
Add 2 cups of cream, salt, and pepper; and cook until it thickens up slightly (about 3 minutes).
Peel the potatoes (Russet potatoes work great, but yellow are fine too).
Using either a knife or mandolin, cut the potatoes into thin slices.
Rub a separate cast iron skillet or casserole dish with garlic and spread with 2 tablespoons of butter.
Place the first layer of potatoes down; cover with a third of leek/cream mixture, and top with a half cup of Gruyere.
Repeat process with two more layers and all remaining cheese.
Cover with foil and place into a 350° preheated oven.
Bake, covered, for 40; then remove foil and bake for another 10 – until the cheese is golden and bubbly.
Let the dish cool off for ten minutes before serving
Scroll down for the full printable recipe of this wonderful potato leek casserole.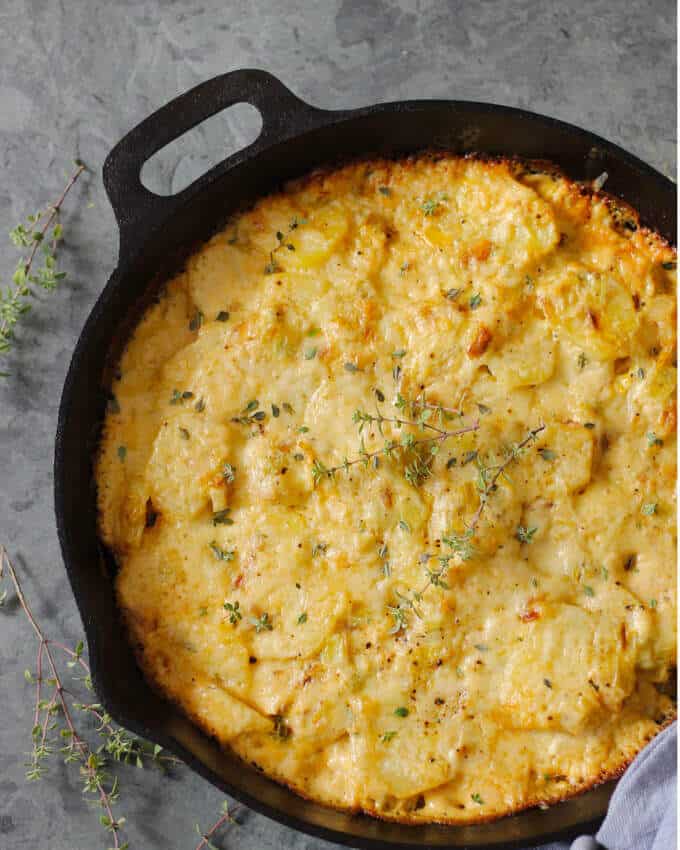 What to serve this Potato Leek Casserole with?
The best part of this dish is that it's super versatile. It can be served with many different kinds of dishes – like meat, fish, or vegetables. It can act as a side dish or vegetarian entree.
This potato leek casserole is elegant and can serve as a perfect side dish for your next holiday's festivities.
If you're looking for a dinner inspiration, I would suggest pairing it with one of the following my favorites recipes: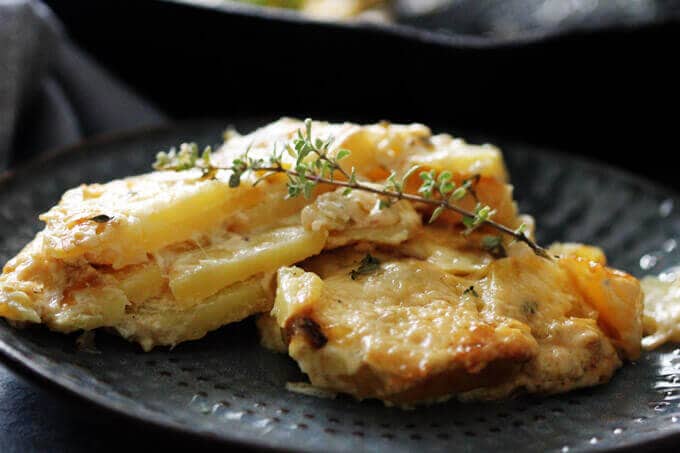 How does this Potato Leek Casserole taste?
If I didn't make it abundantly clear above, this is an amazing combination of tastes! I'm pretty sure a lot of you have heard about the velvety potato leek soup called 'Vichyssoise. '
While the name suggests that this soup has French origins, Julia Child actually calls it "an American invention." While the origins of this soup are in question, what is not is its flavor.
My point here is that this soup is super delicious. I often make it for my son. When he was a little over one-year-old I had sent it to his daycare for lunch.
When I returned that day, one of the teachers was amazed and said that while she didn't know what was in this soup, it was apparent that my son loved it and acted as he wanted even more.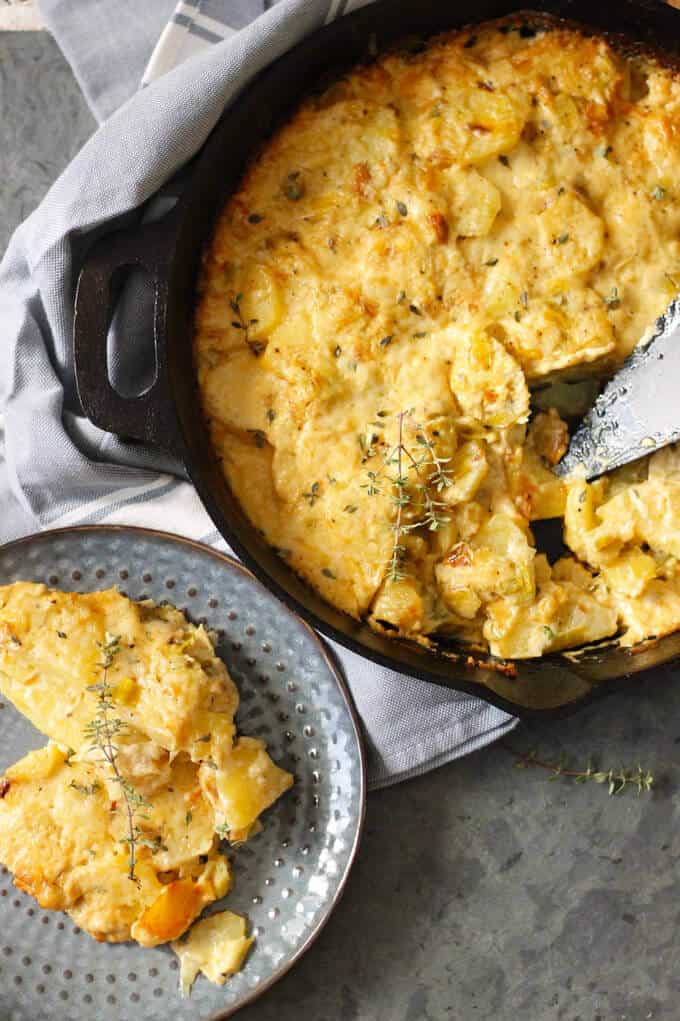 For those of you who are familiar with the taste of the classic Vichyssoise soup, then I suggest you envision it with cream and cheese; and in so doing you're now imagining the taste of my potato leek casserole.
It is heaven on earth! It's like elevated scalloped potatoes. I encourage you to try and let us know how you liked it.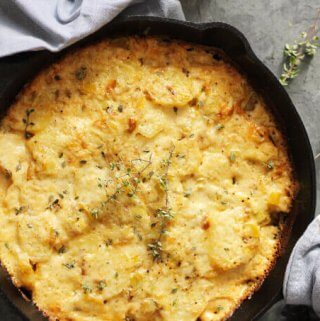 Potato Leek Casserole
This side dish is made based on Julia Child's Potato Dauphinois Gratin but has a twist of the addition of sautéed leeks and resembles in taste the famous Potato Leek Soup; This casserole is full of flavor with garlic, cream, Gruyere cheese, and thyme. It's rich, decadent and elegant at the same time. It can be served as a perfect side dish for any Holidays or other gatherings.
Print
Pin
Rate
Ingredients
2

pounds

of Russet Potatoes

(See note 1), peeled and cut into 1/8 inch slices

2

leeks

, trimmed, washed and chopped

1

garlic clove

, cut in half

4

tablespoon

of butter

2

cups

of Gruyere Cheese

(or Cheddar - See note 2)

2

cups

of heavy cream

2

teaspoon

of fresh thyme

Salt and Pepper to taste
Instructions
Trim and cut the leeks in half inches squares (cut the leeks lengthwise twice, first in half, then in quarters and then chop);

Place the leeks in a bowl of water to remove all the sand;

Scoop them out with a slotted spoon from the top and place on the paper towel to remove extra water;

In a skillet melt 2 tablespoons of butter;

Add leeks and sauté them until soft, stirring often for about 10 minutes;

Add cream, salt, and pepper and let the cream cook with leeks for about 3-4 minutes until the mixture thickens slightly, set aside

Using either mandolin or sharp small knife cut the potatoes in 1/8 inch slices;

Rub the garlic all over either the cast iron skillet or casserole dish and smear with 2 tablespoon of butter (9 inches round or 8x8 inches square);

Spread the first layer of potatoes at the bottom of the dish;

Add 1/3 of the cream-leek mixture;

Sprinkle with salt, pepper, 1/2 cup of cheese and 1/3 of thyme;

Repeat the process with two more layers and use all the remaining cheese on top;

Cover the dish with foil and bake for about 40 minutes in preheated oven to 350 F;

Then remove the foil and bake it for another 10 minutes until the cheese is golden and bubbly.
Notes
1. I used yellow potatoes, but Russet will work great as you need starchy potatoes
2. If you cannot find Gruyere or you don't want to use it as it is pretty pricey, you may substitute with Cheddar or other well-melting cheese.
Nutrition
Calories:
471
kcal
|
Carbohydrates:
19
g
|
Protein:
14
g
|
Fat:
38
g
|
Saturated Fat:
23
g
|
Cholesterol:
132
mg
|
Sodium:
199
mg
|
Potassium:
579
mg
|
Fiber:
3
g
|
Sugar:
1
g
|
Vitamin A:
1735
IU
|
Vitamin C:
16.1
mg
|
Calcium:
421
mg
|
Iron:
4.2
mg
If you like this recipe, you may also like these amazing side dishes: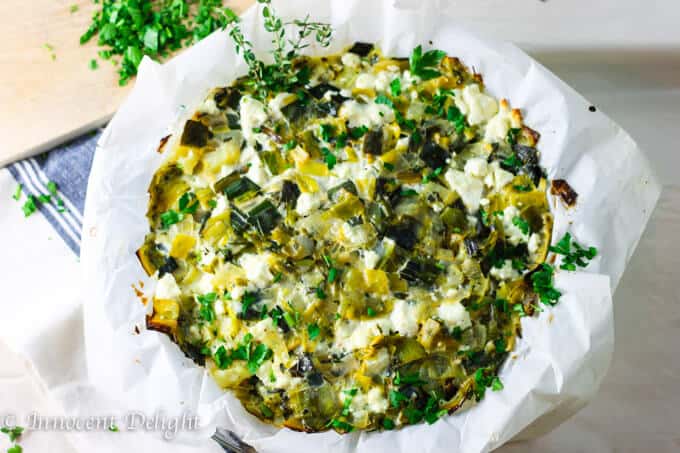 New Dill Potatoes with Scallion Cream Sauce
Maple Mashed Sweet Potatoes with Candied Pecans, Craisins and Chives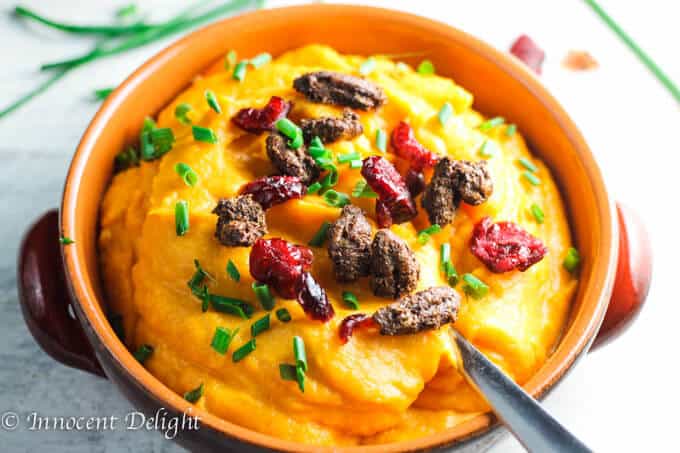 Super Easy European Style Potato Pancakes