This post may contain affiliate links which won't change your price but will share some commission.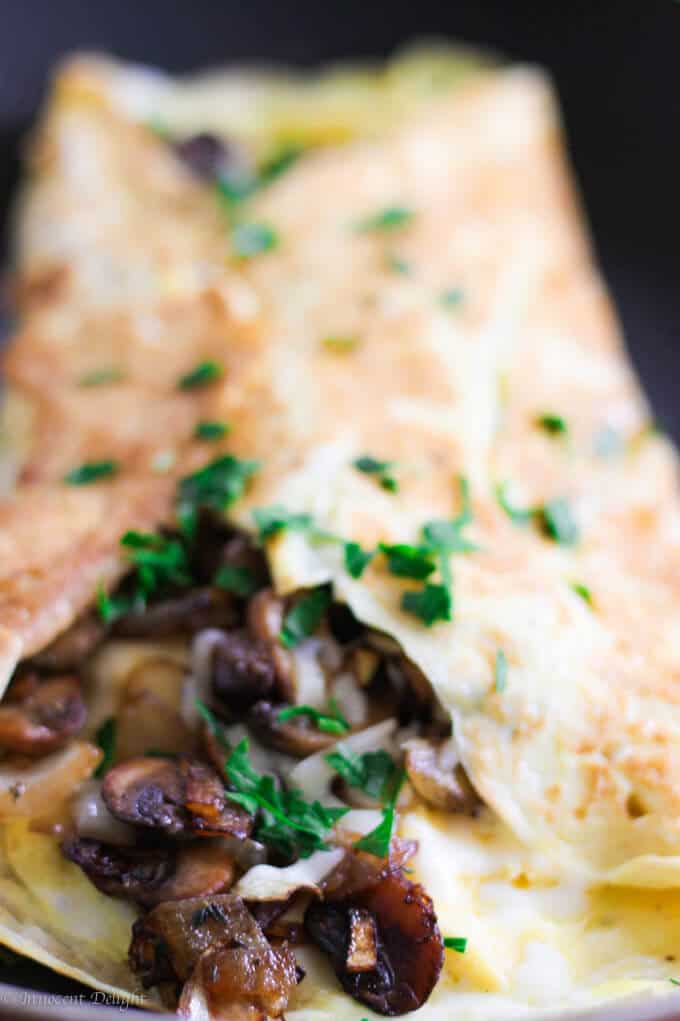 An omelet with mushrooms and onions topped with mozzarella cheese: What's not to like? If you're a mushroom person (like me), this breakfast is for you. So easy to make too. While the French would tell you that making a perfect, fluffy omelet isn't as easy as it may seem, I was fortunate enough to see one of my French/Polish friends prove that it actually is easy. The trick is to have a very hot pan and enough butter or oil in the pan that when you pour the eggs, the omelet sizzles. Then swirl the pan around, pushing the eggs to the middle of the pan to make space for the running egg tops.  You'll quickly achieve one consistent surface that can thicken up. You don't need to flip it. Once the eggs are set, you add your filling and fold the edges. Push a little with the spatula and voila! I almost forgot – before you even start, you should beat the eggs so they can get as much air as possible; this will make them fluffier. And that's the secret to the perfect french omelet.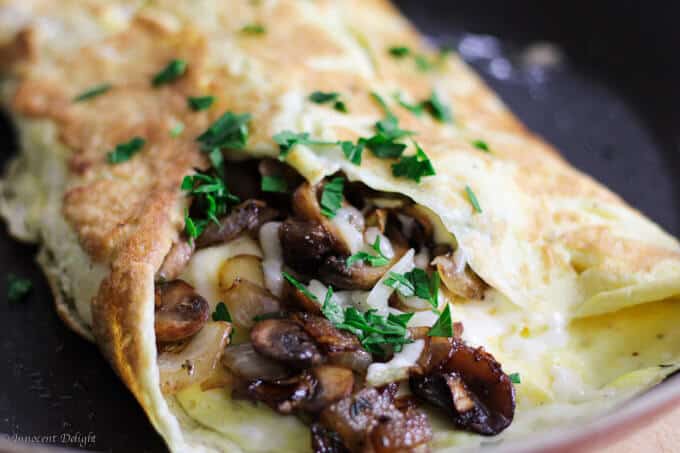 I previously wrote about how great mushrooms are and all their health benefits. It doesn't really matter if they are wild mushrooms or farmed button once – they're all good for you.
Ingredients
3

Eggs

1/2

cup

of mushrooms

1/3

cup

of onions

1/3

cup

of mozzarella cheese

Salt and pepper

1/2

teaspoon

of parsley

2-3

tablespoon

of olive oil or melted butter
Instructions
In a frying pan heat up 1 tablespoon of olive oil. Add onions and cook until soft and translucent for about 3-4 minutes

Add mushrooms and cook until soft, about 5 -7 minutes

Season with salt and pepper

In the meantime, beat 3 eggs. Season with salt and pepper

Heat up remaining 1-2 tablespoons of olive oil in a pan

Once the oil is hot pour the eggs onto the pan and swirl around

Push the edges to the middle of the pan to let runny eggs settle

Once the eggs are set add the mushrooms and onions

Add mozzarella cheese

Fold the edges and push with the spatula

Sprinkle with green parsley

Serve immediately
Notes
The recipe is for one serving. My husband and I usually share the omelet like this, but it may not be enough for everyone. Multiply the ingredients by as many serving as you need and make extra omelets. Enjoy 🙂