This post may contain affiliate links which won't change your price but will share some commission.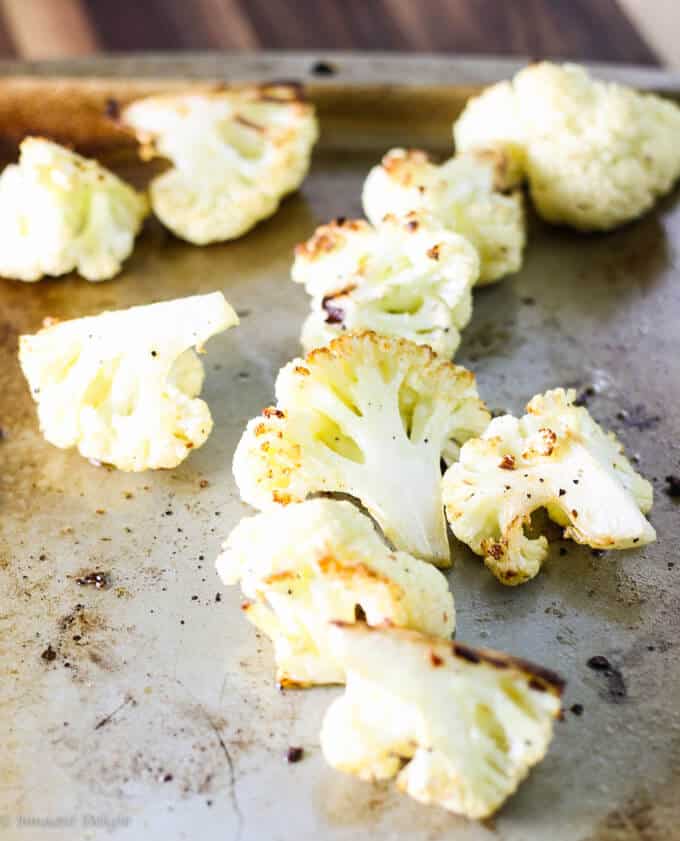 This is the post that will start the simple side dishes cycle. In this one the main role will be played by: Cauliflower.
Here's a very simple and delicious side dish with a kick. Don't get fooled by this white vegetable – it's packed with vitamins and minerals that make it a super food.  As part of the cruciferous family (i.e., broccoli, cabbage, ect…) it has anti-cancer abilities, it detoxifies your body, it has plenty of antioxidants, and it supports heart and brain health. So, while it looks white and innocent, it actually can do some good 🙂
This recipe has changed my husband's view on the cauliflower. The cauliflower, like a few other veggies, are something that my husband traditionally has had a distaste for. Fortunately I was able to create couple of "go to" side vegetable dishes that he is OK with!!
Delicious roasted cauliflower with spicy red pepper flakes, olive oil and lemon is one of them.  Give it a try, you might get some converts too.
Ingredients
1

head of cauliflower

trimmed and cut into florets

2

tablespoon

of extra virgin olive oil

1/4

teaspoon

red-pepper flakes

1

tablespoon

finely grated lemon zest plus 2 tablespoons of lemon juice
Instructions
Pre-heat the oven to 375 degrees

Place the cauliflower on a baking sheet

Sprinkle with 1 tablespoon of olive oil, salt, pepper and red-pepper flakes

Bake the cauliflower until golden brown, but still crispy inside - about 10 to 15 mins (try a little piece before taking out)

Once the cauliflower is done, transfer to a bowl and toss with lemon zest and juice and remaining tablespoon of olive oil

Season with salt and pepper and serve warm or at room temperature