This post may contain affiliate links which won't change your price but will share some commission.
A perfect, healthy, vegan, gluten-free treat for a chilly fall or freezing cold winter day. Tomatoes Red Lentils Coconut Soup...doesn't it sound amazing?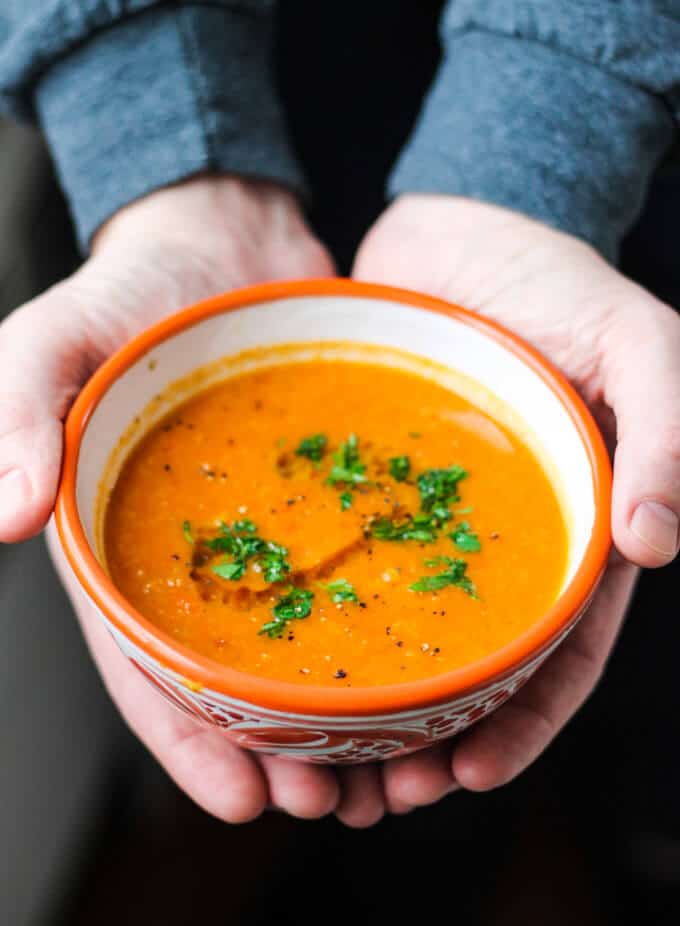 This Tomatoes Red Lentils Coconut Soup recipe was originally posted on February 16, 2016 and is, far & away, the most popular soup recipe on this blog. Therefore, I wanted to bring it back to life, as the colder days are quickly approaching on the east coast of US, and this soup is the perfect compliment.
Not only is this soup very popular on Pinterest, but it was also featured in ELLE Decor and Country Living Magazine. I can assure you there's something about it and I encourage you to try. If you do, please make sure to let me know in the comments how you liked it.
The Origin of the Tomatoes Red Lentils Coconut Soup
When I came up with this recipe, I was inspired by an Indian Daal dish that I once made. It contained red lentils, cauliflower, tomatoes and coconut milk….and, of course, Indian spices. But the combination was something that really resonated with me.
The marriage of the flavors was perfect. One time when I made this dish, I actually brought it to work and asked my Indian friend to try it (the gauntlet). She was stunned and said that it tasted like her mother's. I thought it was a huge compliment. Then I thought that if lentils, tomatoes and coconut went so well in this dish, I repurpose them in a soup.
And so, that's how my Tomatoes Red Lentils Coconut Soup was born.
I absolutely loooove tomato soups. And when I was growing up the tomato soup looked totally different than the 'cream of tomato' soup so well know in US. Polish tomatoes soup is made based on broth (meat, vegetable, etc…), with a tomato paste, and finished with a little mixture of flour with cream to thicken it up. We serve it either with noodles or rice.
With that said, I am indifferent, I love every kind of tomato soup. Whether it's Polish, American or my new version of super healthy vegan, gluten-free and "coconutty" tomato soup. I'll take them all, immediately, if not sooner. Apparently my 4-year old shares this obsession. He ate this soup like  it was nobody's business.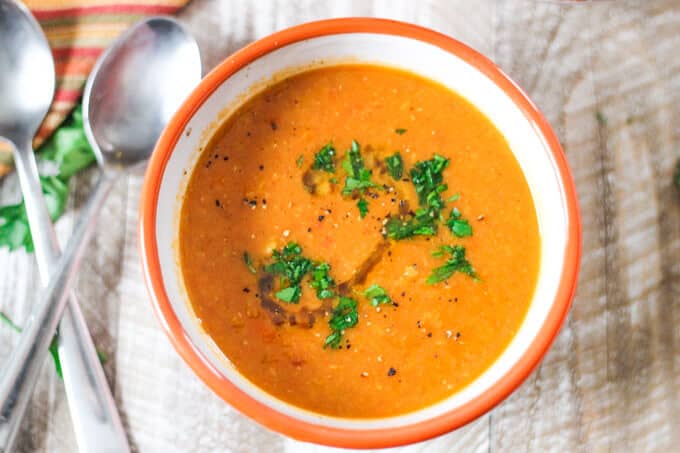 How to make this Tomatoes Red Lentils Coconut Soup
The best thing about this soup, is that it's super easy to make. You only need few ingredients:
Onions;
Can of chopped tomatoes;
Split red lentils;
Olive oil;
Broth; &
Coconut milk.
You start by sautéing some onions, add tomatoes, rinsed lentils, cover with broth, add salt & pepper, and  then let it simmer, until the lentils are cooked through. At the end, add coconut milk and, just like that, you're done! I like to puree some of the soup to thicken it up, but this step is optional – depending on whether you prefer soups more chunky or creamy.
You can sprinkle some parsley on top and enjoy this amazing soup on a chilly fall or cold winter day. Serve it with homemade crusty bread and you're good to go. In fact, I'm running to the kitchen to get another bowl.
Tomatoes Red Lentils Coconut Soup
Perfect healthy, vegan, gluten free treat on chilly fall or freezing cold winter days. Tomatoes Red Lentils Coconut Soup - doesn't it sound amazing?
Print
Pin
Rate
Ingredients
1

onion

chopped

1

cup

lentils

split, red, rinsed

2

tablespoon

tomato paste

1

can

chopped tomatoes

(15 0z)

1

can

coconut milk

(15 Oz)

1

tablespoon

olive oil

plus more for garnish

3-4

cups

water or broth

Salt and pepper to taste

Parsley to garnish
Instructions
In a dutch oven or other heavy pan, heat up the oil, add onion and cook for 3 minutes until translucent

Add tomato paste, lentils, and can of tomatoes

Stirr and let it cook for another 3 minutes

Add water or broth, cover and let it cook for about 20 minutes

Add coconut milk, salt and pepper and cook for another 10 minutes

Adjust seasoning

At this time you can use immerse blander and blend some of the soup (or as much as you like; I like it a little chunky so I only pureed a little bit to give it texture)

Serve with parsley, olive oil and cracked pepper.

Enjoy
Nutrition
Calories:
282
kcal
|
Carbohydrates:
26
g
|
Protein:
10
g
|
Fat:
16
g
|
Saturated Fat:
12
g
|
Sodium:
151
mg
|
Potassium:
655
mg
|
Fiber:
10
g
|
Sugar:
3
g
|
Vitamin A:
175
IU
|
Vitamin C:
11
mg
|
Calcium:
57
mg
|
Iron:
5.4
mg
I encourage you to FOLLOW Eating European on FACEBOOK | INSTAGRAM| PINTEREST | TWITTER for all the latest recipes and updates.
If you like this recipe you may also like these soup recipes:
Greek Lentils Soup with Feta – Fakes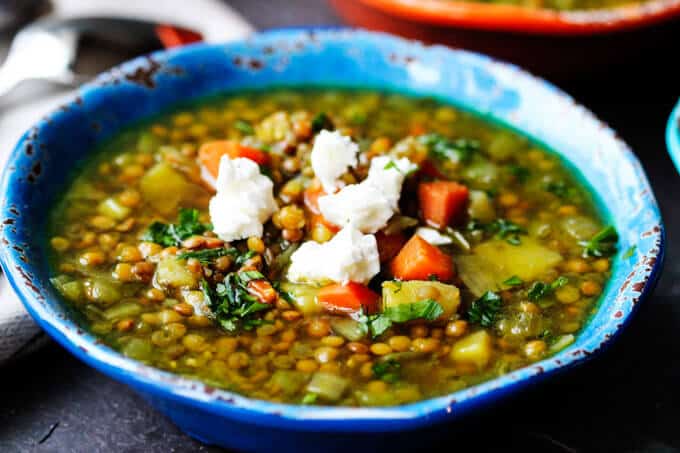 Greek Chickpea Soup – Revithosoupa
Traditional Polish Dill Pickle Soup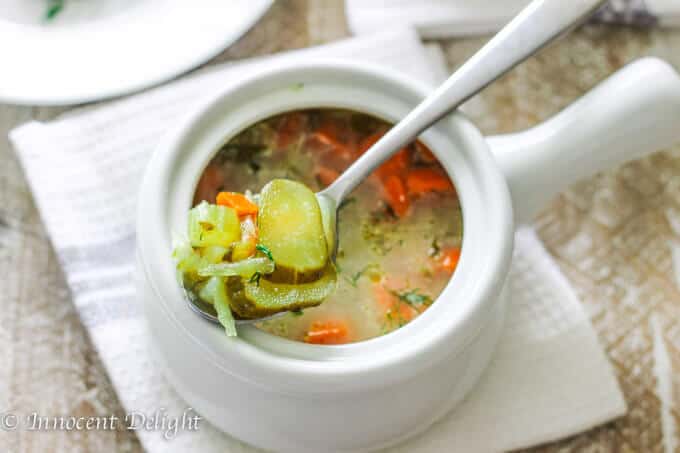 Golden Bell Pepper Soup with Cayenne Pepper and Greek Yogurt